Matt Angel. It's crazy to us just how popular pro wrestling is sometimes in Ontario. The fans, the cult following of wrestling fans. It's almost like the wrestling figure collectors, the indy wrestling scene. It's a very close tight group, but we would like to take you down the 401 West, past the C*4 promotion in Ottawa, and into a whole new province of Canada, Quebec.
This French-speaking province has a rich history. Amazing tastes of food. And one of the most successful hockey teams in NHL history. When it comes to Quebec's wrestling, things are no different within that section of this province's history of pro wrestling. Andre The Giant was discovered there which ended up him working with Vince McMahon SR. Quebec could be considered Andre's second home! Gino Brito, Ivan Koloff, Beast KING FTM, Kevin Owens, Sami Zayn. And to this day in Quebec's wrestling scene, it continues to be one to always watch for those sweet Canadian diamonds. Proof of this is a young man from Quebec, Matt Angel.
Matt Angel is considered as one of the best in Quebec today.
For a young pro wrestler, he's already been in the ring with reputable names like Matt Taven, Shawn Spears, Simon Grimm, Pete Dunne, Cedric Alexander, David Starr, Mike Bailey. And he's still young and growing into one of the best in Eastern Canada. With looks of a champion and only eight years of experience, he's one to watch out for! One day, this boy will be signed to a major promotion, remember that we said it here first!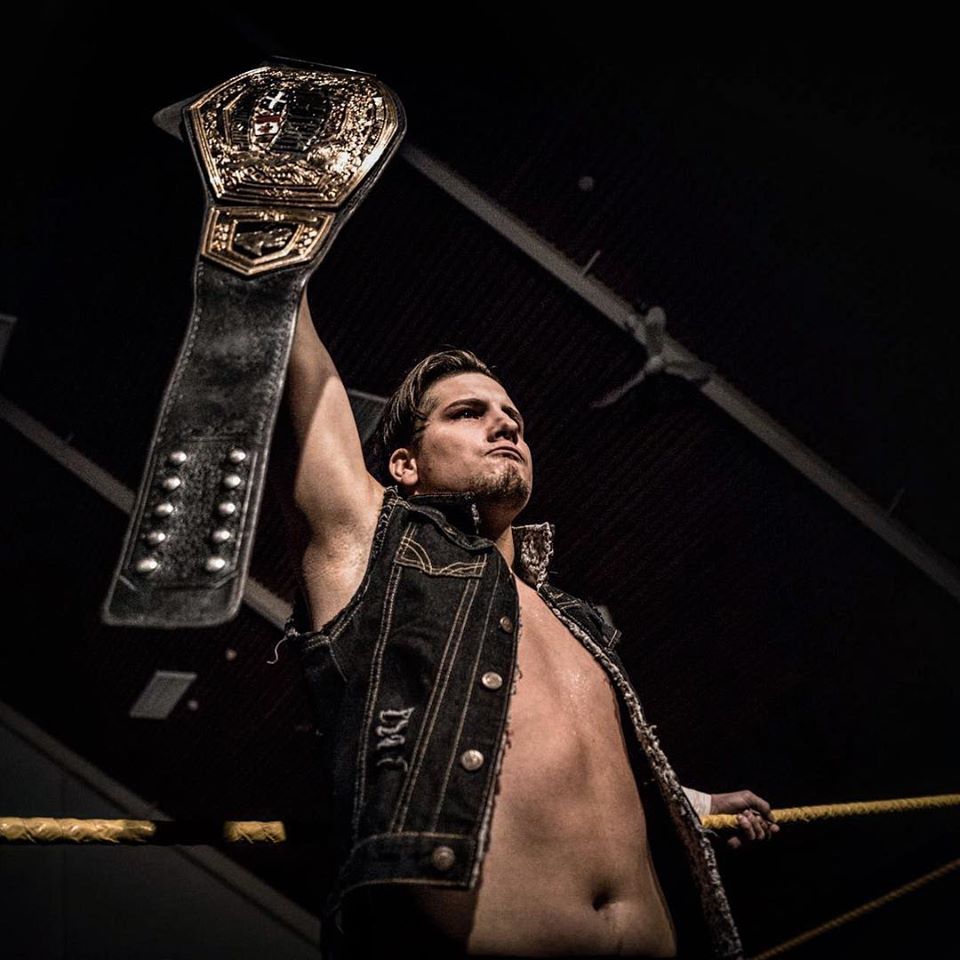 Angel started his wrestling journey eight years ago when he started his training with DGenerate at JCW in Saguenay QC. Working his way through the ropes of how wrestling works, he finally started his in-ring career with as a tag wrestler with Jim Harrison in 2011. Together as Attaque Aerienne, Matt Angel and Jim Harrison stood side by side as students of the game. Attaque Aerienne stayed as a tag team for two years, until finally one day they split. Both rivaled with each other, ending it with a great match in July 2013 with Angel getting the victory.
Staying as a singles competitor for most of 2014, Angel gained the experience he needed to overcome adversity and become a pro wrestling champion.
In early 2015, Angel had a JCW Championship match against Le Roi Jason. This being the first singles title shot of his early career, Angel didn't look to fail. And he didn't. Winning his first singles title. Becoming the JCW Provincial Champion. He held this title for the majority of 2015 until a familiar rival and friend of his past would show up to challenge him. I'm referring to Jim Harrison.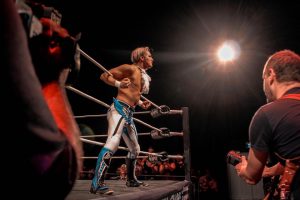 Once again, these two familiar Jonquiere Championship Wrestling performers squared off for the championship. Unfortunately, Jim Harrison took the championship from Angel. Leaving the squared circle with his head held high, Matt Angel stayed active for the rest of 2015. Appearing all over Quebec and Ontario, promotions like North Shore Pro Wrestling, Torture Chamber Pro Wrestling. BATTLEWAR Pro Wrestling, Ottawa promotion. Capital City Championship Combat (C*4) as well as remaining a regular within Jonquiere Championship Wrestling.
It almost seems like 2016 was his warmup year to what he is today. Nothing could ever stop this man.
Even as of today the same drive is deep within him to be the best. Come March of 2016, Matt Angel found his way to a different title for a different promotion. He faced the NSPW Junior heavyweight champion Alex Price at the Quebec promotions popular Gold Rush event. A huge test for a young Angel. Yet a test that he overcame becoming the new NSPW champion.
This title win would be very significant for Matt Angel as he ended up keeping the title for 326 days.
Defeating names like Jim Harrison, Ivan Sullivan, and even having a wrestling classic with Cedric Alexander. Still making appearances all over eastern Canada, he defended his title constantly. To name a few – NSPW, UCW, C*4, FCL, BATTLEWAR and remaining a JCW loyal. Come 2017, the high-flying Matt Angel we know today truly bursts into something truly special!
Entering 2017 as the NSPW Junior Heavyweight Champion, he defended his title in the first month successfully. Only to win a fatal four-way match the next month earning an opportunity for a shot at the IWS Canadian Title. Shortly after all this success, Matt Angel felt the first blow losing his NSWP Junior Heavyweight Championship. Ending his 329-day reign, a title run to be proud of. You think he'd be down and out.
But he continued his wrestling dominance all over the Eastern part of Canada. Winning a Battle Royal for a shot at the JCW World Heavyweight title only to win it in the same night! Come the fall Matt Angel got his shot at the IWS Canadian title he won earlier in the year. And in a fatal four-way against some of Quebec's best, Angel won another title!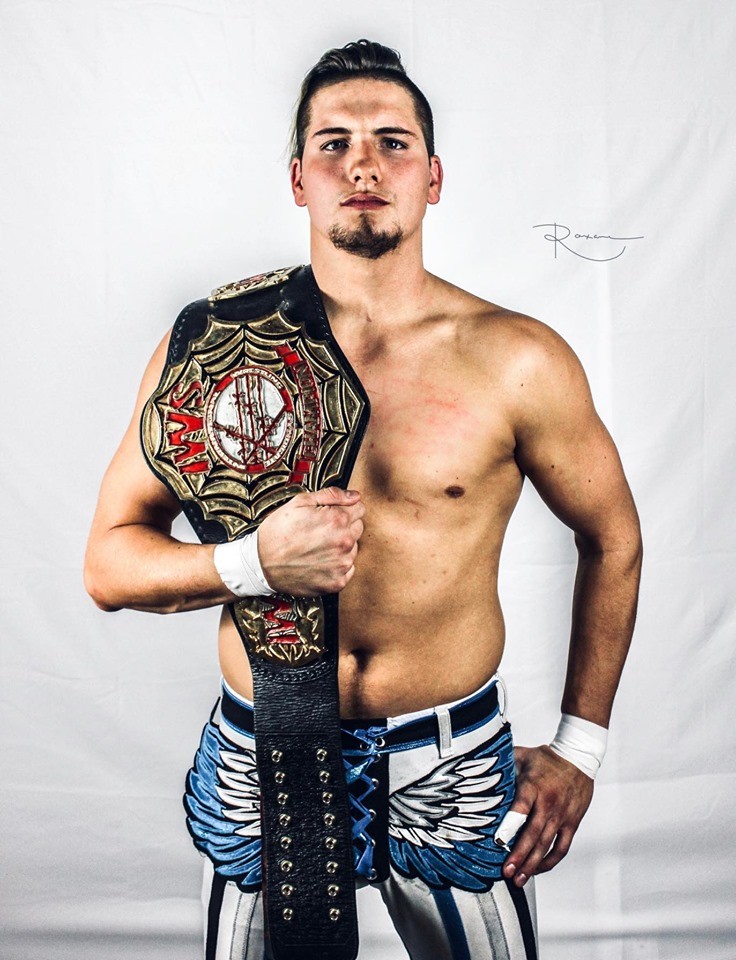 In January 2018, Matt Angel faced off against one of the world's best, a Godfather to NXT UK, now an NXT regular, Pete Dunne.
Putting his IWS Canadian title on the line, Angel invited Dunne into province he's dominated. The two warriors went at it until it was declared a no contest. This match truly gave Matt Angel creditability of being one of the best in Quebec!
Still craving more, Matt Angel won the LLCV Championship defeating Kevin Bennet in the process. Then in March of 2018, Matt Angel defended his IWS title against Frank Milano, and ECW legend, Rob Van Dam. Finding a huge victory, he continues his unstoppable momentum into one of the hottest Indy stars today – David Starr. Both put on a wrestling clinic with Matt Angel coming on top.
With Matt Angel on such a roll, he got a chance to wrestle Simon Grimm. And once again come out Angel came out victorious. After a huge IWS Canadian title defense in a ladder match mid-April, Angel finally was brought down from the sky losing the LLCV Championship. Then in May, he lost the IWS Canadian Championship to Marcus Burke. Ending of his 236-day reign.
Matt Angel wouldn't find gold again until he won the NSPW tag team championship with Untouchables brother, Travis Toxic.
Just shortly after he marched into Ontario borders, challenging the long-reigning champion Kobe Durst. With C*4 (Ottawa promotion) fans watching yet another wrestling clinic involving Matt Angel, the Quebec wrestler won the championship. Although a great champion, it was a short reign only holding it for 70 days, losing it to Impact Superstar Josh Alexander.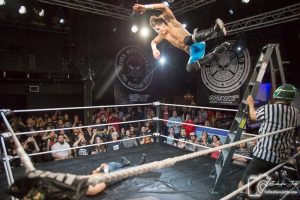 This year Matt Angel has competed in Smash Wrestling, Destiny Wrestling, Greektown Wrestling, NCW, LDDC, and all over Quebec as well as the Maritimes. Staying true to the tough Quebec faction the Untouchables, Matt Angel has teamed himself with Marko Estrada and Travis Toxic. He shows just how great he is as a team wrestler or singles competitor. In C*4 wrestling, Matt Angel even found tag team success winning their tag team titles with one of Ontario's youngest stars, Kobe Durst. Today, Matt Angel beat Benjamin Tull for the IWS World heavyweight championship, a title he still holds and defends today!
As the year comes to a close we can only watch Matt Angel continue his success in becoming one of the best wrestlers Canada has produced.