In the world of professional wrestling, there are so many characters and gimmicks, names, and reputations, in Ontario, you can be fooled that Freddie Mercury is back from the dead, it's not him, sorry Queen Fans. No, it's the Independent Lucha Libre sensation, Freddie Mercurio!
Since 2005, when he had his first pro gig, Freddie has been crafting his passion in professional wrestling and has found great success on the Independent Wrestling scene all over the world! Using his seventeen years of experience and knowledge gained by his main trainers Greg Burridge (co-owner of Lucha Britannia) Garry Vanderhome (Trainer for London School of Lucha Libre) Justin Richards, Mark Sloan (First ever to hold FWA British Heavyweight Championship) and Dragon Asai!!! He will, he will, rock you, wherever and whenever he steps in the squared circle!
It's important to note that Freddie trained in the original FWA Academy in Portsmouth, which is in the United Kingdom, making him British! That's right folks, that's no fake accent, our friend and pal Freddie is from across the pond! However, long before he was Freddie, he trained at 3CW where he had his debut match as Marky B Kraze! In RPW (Rebel Pro Wrestling) that is British Wrestling Legend Blondie Barrett promotion, he worked under the name Ska Superstar! Continuing to grow, he used other names like Charlie Checkmate, Mosca Cojenera, and landing spots all over the UK and Germany, he made his presence in promotions like 3 Count Wrestling, 1PW, MEW, FWA Academy! Until one day he relocated for a refresh in the South Coast.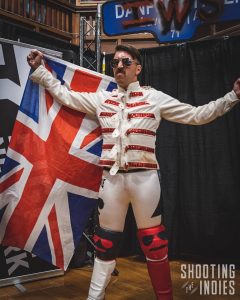 It's common for wrestlers to relocate to just keep growing as an individual as well get your name out there and stay fresh. Freddie didn't expect this relocation may have been the best thing to happen to him as a pro wrestler. Hooking up with former trainer Justin Richardson at his training JRSW, he used his time there to reignite the fire and passion to perform as a professional wrestler! This grew into something he may have thought would never exist, and unfortunately, when the school closed down he was left only wanting more. So looking for his next adventure he found the London School of Lucha Libre, and that's when his life truly changed forever.
Within the London School of Lucha Libre, he tried many masked gimmicks and unmasked gimmicks, even some gimmicks that would truly have your knickers in a twist. But, it was at the London School of Lucha Libre that he evolved into what we know him as today, debuting for Lucha Britannia as Freddie Mercurio! Becoming Freddie Mercurio ignited his professional wrestling career becoming a two time Lucha Britannia Champion! A Lucha Britannia King Of Chaos crown holder! Even winning the Premier Promotions Rumblemania trophy! Wanting even more, Freddie took the risk that not everyone would make in life, leaving the country completely and relocating in Canada!
Bringing experience, charisma, energy, and one heck of a gimmick, Freddie Mercurio is a fan favorite wherever he appears across Canada! His fan base follows him as he appears in promotions Deathproof fight club, Demand Lucha (Toronto) he even won Commonwealth Openweight Championship and is still champion!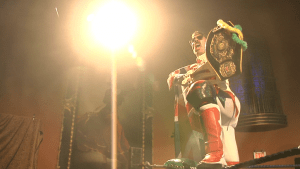 Acclaim Pro Wrestling (Ottawa) where he won the APW heavyweight championship off Big Magic on September 9, 2017. He's performed in IWS (Quebec) C4-Wrestling (Ottawa) CBPW (Kitchener) PWA (Kitchener) Steel City Pro Wrestling (Hamilton) and Greektown Wrestling from Toronto! Regardless of where he goes, wrestling fans await the anticipated well known for unicornsault by Mercurio to finish his opponents!
A high demand Lucha in Canada, Freddie even found using his life experience as characters to his advantage showing up on Global News and CP24! He does shows at the Bad Dog Theatre as well as being a part of the Toronto Comedy Bar! Even taking his well-known Unicorn Moonsault within the independent scene to the next level. He is starting his own colorful new streetwear brand called Mythical Moonsault! It's all mythical creatures doing backflips! It is hard to argue that Freddie is nothing but a successful risk-taker. The man is driven by success, and passion for pro wrestling, Freddie Mercurio is one of the most successful independents inside and outside the ring.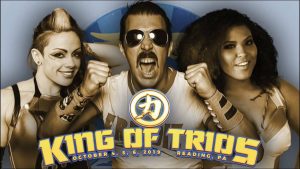 In the future, US fans can see his United States Debut. As he will compete for Chikara for the prestigious King Of Trios Event!
You can also keep an eye out for him on the promotions I've named above, as well as check out his Mythical Moonsault Facebook page and see all his cool shirts he's created! Freddie is also on pro wrestling tees website where you can support him with all his merchandise he has for his fans, and don't forget to follow him on Instagram @LuchaFreddie or like his Facebook page!