Yakshemesh, and welcome back to the PROGRESS Prerogative. This is the column where I cast a critical eye over each of PROGRESS's Chapters in chronological order. We've arrived at Chapter 15: Just Because You're Paranoid Doesn't Mean They're Not Out To Get You. There's a big eight-man tag in the main event featuring Regression, and a rather juicy Natural Progression Series match too. Let's dive into Just Because You're Paranoid Doesn't Mean They're Not Out To Get You.
Chapter 15: Just Because You're Paranoid, Doesn't Mean They're Not Out To Get You. Sunday, September 29th, 2014. The Electric Ballroom, Camden, UK.
Martin Kirby & Doug Williams vs Screw Indy Wrestling
Sha Samuels and Mark Haskins team up against the makeshift team of Martin Kirby and Doug Williams to get things started at Just Because You're Paranoid Doesn't Mean They're Not Out To Get You. This must be around that dreadful time that Kirby's regular partner Kris Travis was diagnosed with cancer. A horribly sad, dreadful thing to happen, and he's still very much missed today.
I found myself drifting away during the course of the match, to be perfectly honest. It was neither here nor there; Martin Kirby, for obvious reasons, was not his usual self. Screw Indy Wrestling as a concept is dead in the water too. Why bother with these guys when you have Regression at the top of the card? Haskins takes the pin over Doug with his feet on the ropes for leverage. Not a champagne start to Chapter 15.
Flash Morgan Webster vs Pete Dunne – Natural Progression Series Round 2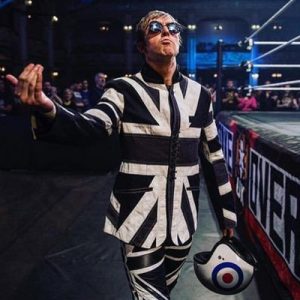 This is more like it! Natural Progression Series 2 continues as Pete Dunne faces off with Flash Morgan Webster at Just Because You're Paranoid Doesn't Mean They're Not Out To Get You. We all know that these would go on to be big names on a worldwide scale, but it is great to see them leaving it all in the ring here. The match is all-action, starting with Dunne's trademark joint manipulation. The match kicks up into top gear fairly rapidly following that.
Flash gets to show what he can do as he hits his inverted senton, big plancha to the outside but misses a 450 splash. 'Dynamite' Pete Dunne takes control back hitting the Bitter End for a two count. I can't get used to that not being the finish. Dunne hits a tombstone for another near fall, before Morgan rallies for the home stretch. And it is the Welshman who takes the win, hitting a 450 splash at the second time of trying. An excellent match, which showed everyone what both are made of.
Stixx vs Pastor William Eaver
A battle of the big lads follows as Pastor William Eaver takes on Stixx at Just Because You're Paranoid Doesn't Mean They're Not Out To Get You. This is a pretty decent, bruising encounter. It's surprising to see just how good William Eaver is already, although he hasn't got the character down just yet. Stixx, as I've said before, is someone who played a big part in PROGRESS's early days, and it'd be nice to see him back in some capacity.
Lots of religion based chanting from the Ultras directed towards Pastor Bill. I mean, that's his gimmick, so… okay? One excellent spot sees Stixx run corner to corner and hit a cross body at waist level. The camera is positioned at the exact right height that he nearly smashes into the cameraman. Simple but effective. The finish sees Eaver pin Stixx with a crucifix *ahem*.
Rampage Brown vs Zack Sabre Jr vs Marty Scurll
LDRS of the New School, Marty Scurll and Zack Sabre Jr, face each other and Rampage Brown next. The winner of this gets a shot at Jimmy Havoc's PROGRESS championship at a later date, so there's real stakes to the match. And what a match it is! There's some excellent comedy in the early going as Scurll and Sabre take turns trying to shoulder tackle Rampage. Needless to say, they aren't successful.
Following Scurll's sudden but inevitable betrayal of ZSJ, the soon-to-be Villain takes control of the match. He works over both opponents to the sound of taunts about his hair. Sabre gains the upper hand, and grounds both men in turn with his mesmeric chain submission wrestling. Rampage plays his part too, delivering explosive beatdowns on both the LDRS. And indeed that proves to be the deciding factor. following a Penalty Kick to Scurll, Brown hoists ZSJ up for a piledriver – 1,2,3. That was a very good match, indeed.
RJ Singh vs Michael Gilbert
So myself and @DazzlerWrestler have done a bit of growing up… #bhangradads
? @OliRingside pic.twitter.com/YnHq0zGQNh

— RJ Singh (@RJSinghisKing) October 16, 2019
No Gimmick Necessary Michael Gilberts faces off with RJ Singh in a very unusual encounter next at Just Because You're Paranoid Doesn't Mean They're Not Out To Get You. Unusual because RJ comes out as Wolfpac era Sting, complete with face paint and a baseball bat. He even makes his way to Metallica's Seek and Destroy (the least good song on Kill 'Em All, IMO). RJ Sting plays all the hits: Stinger Splash, Scorpion Death Drop, Scorpion Death Lock. Gilbert quickly reverses that last move and gets the tap out victory.
Before Gilbert can leave the ring, however, RJ Singh Cara makes an entrance. Double duty for the Bhangra Knight at Chapter 15 (as well as Gilbert, obvs). This is great stuff, but I'm not sure why Singh is suddenly a comedy jobber. Again, he hits what I'm sure are probably Sin Cara's signature moves (?) before Gilbert taps him out with an armbar.
Before Gilbert can leave this time, RJ Singh re-enters as… RJ Singh. Another quick one here, as Singh's Ethnic Submission (Camel Clutch), is reversed into a Tazmission for another tapout. It's what happens after the third, and final match that tees things up nicely.
Stixx makes his way out to defend his friend RJ, and the two slowly begin to argue about what just happened. Stixx tells Singh that there are guys in the back half their age, and they should start acting their age. RJ says that all Stixx is good for these days is pushing a pram around. Stixx retaliates by saying that RJ only gets booked to appeal to the minority crowd. This is intense, ultra-realistic promo work by both. The result is that they will face one another in a retirement match at Chapter 16. Fantastic work by both men on the microphone there.
Martin Stone vs Dave Mastiff vs El Ligero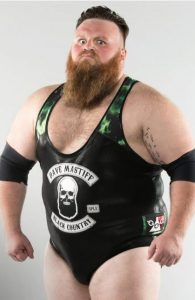 Martin Stone (Danny Burch), who had not long left NXT after his first stint, makes his debut in a three-way dance against the future Banter Edition. Dave Mastiff and El Ligero will become one of the most entertaining double acts in PROGRESS down the line. For now, though, they are on opposite sides of the ring. On the line is another slot to challenge Jimmy Havoc for the PROGRESS championship.
There's some very good strong style action in the match as the three guys kick the tar out of the one another. Stone gives a good account for himself, perfectly illustrating why he would get re-signed in a year or two. The highlight of the match has to be Ligero executing a beautiful Code Red on Mastiff – just wonderful. Mastiff would rally, however, and claim the pin over Stone following a cannonball. A fine match.
Noam Dar, FSU and Will Ospreay vs Jimmy Havoc, London Riots and Paul Robinson – Titles vs Careers
The big eight-man main event at Just Because You're Paranoid Doesn't Mean They're Not Out To Get You starts strong as Regression and Team PROGRESS brawl straight to the outside. A couple of dicey looking spots performed as Rob Lynch slams Mark Andrews onto the bare floor. Noam Dar one-ups that by launching Jimmy Havoc onto the same floor with a power slam moments later. I'm not a fan of spots like that because they will impact the performers' health in later years.
Back in the ring, things slow down somewhat and we're given a traditional tag match where the heels dominate. Will Ospreay takes the brunt of the offense from Regression as each of them take it in turns to wear him down. It's Eddie Dennis who gets the hot tag, and he shows why he's low key one of the strongest guys on the scene. He lifts Rob Lynch in a fireman's carry and Havoc in a slam position at the same time! He follows that up by perfectly catching Paul Robinson in suplex position as he dives at him from the top rope. Sensational!
The sequence that nearly got PROGRESS banned from the Electric Ballroom is up next. The camera cuts to Ospreay and Havoc brawling up on the balcony. It's probably 20 feet high, I would say – there or thereabouts. Firstly, young Will superkicks Jimmy over the edge to the ground floor (obviously the crew and other wrestlers break his fall). Ospreay then thinks about it for a moment, and moonsaults from the balcony to the floor taking everybody out. Hair-Raising stuff in the best possible way.
Referee Chris Roberts counts everybody out to chants of 'bullshit' from the crowd. Jim Smallman is having none of that and says that since Havoc abuses the system he will too. The match is back on, and things move very, very quickly in this final leg. Ospreay nearly comes a cropper due to a Meteora from Robinson. FSU hit the Next Stop Driver on Lynch for a near fall. Noam Dar nearly taps out Havoc with Champagne Super Kneebar. It's Ospreay who gets the win though after a 630 splash on Rob Lynch. The London Riots are gone from PROGRESS (wink).
Just Because You're Paranoid Doesn't Mean They're Not Out To Get You ends with one of the greatest wrestling themes ever as Andrew WK's 'Party Hard' plays over the PA. A party atmosphere follows with Will Ospreay crowd surfing, and the other lads celebrating with the Ultras. I'm gutted that I never got to be part of that kind of scene live (sad emoji).
And that wraps up another edition of the PROGRESS Prerogative; I hope you enjoyed my look back at Chapter 15 Just Because You're Paranoid Doesn't Mean They're Not Out To Get You. Catch you on the flippy flop for Chapter 16: Very Very Very Breaky Breaky Bishii Bishii. The PROGRESS Prerogative – Chapter One: The Beginning
The PROGRESS Prerogative – Chapter Two: The March of Progress
The PROGRESS Prerogative – Chapter Three: Fifty Shades of Pain
The PROGRESS Prerogative – Chapter Four: The Ballad of El Ligero
The PROGRESS Prerogative – Chapter Five: For Those About to Fight, We Salute You
The PROGRESS Prerogative – Chapter Six: We [ Heart ] Violence
The PROGRESS Prerogative – Chapter Seven: Every Saint Has A Past, Every Sinner Has A Future
The PROGRESS Prerogative – Chapter Eight – The Big Boys Guide To Strong Style