Welcome back everybody for the eleventh installment of the PROGRESS Prerogative. For the uninitiated, this is the column where we review each of PROGRESS Wrestling's shows (or Chapters) in chronological order. This week finds us at Chapter 11: To Fight War, You Must Become War. This is a very appropriate title considering that Chapter 10 saw Regression – Jimmy Havoc and The London Riots – take control of the company essentially. How will Jim Smallman, Glen Joseph, and Jon Briley fight back? Let's see, right now.
Chapter 11: To Fight War, You Must Become War. Sunday, January 26th, 2014. The Garage, Islington, UK.
Stixx & Dave Mastiff vs Screw Indy Wrestling: Nathan Cruz & Mark Haskins – Tag Title Tournament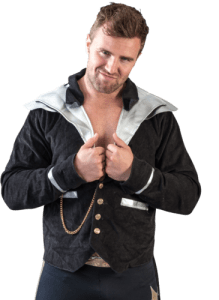 We're informed prior to the match that the winners of the two tag matches tonight will move on to Chapter 12 and a triple threat match to crown PROGRESS tag team champions. Project Ego qualified at Chapter 11, so who will join them out of Stixx and Dave Mastiff and Screw Indy Wrestling?
The early going features a fair bit of comedy as Cruz begs off from getting in the ring with Mastiff. He works some solid sequences with Stixx, as does Haskins, but they hold off on The Bastard for a wee while. Once he gets the tag, Mastiff runs wild clobbering his smaller opponents. That won't be enough for the win, however, as Haskins gets the pin on Stixx following a Michinoku Driver. That's an impressive finish to a strong opening contest.
Flash Morgan Webster vs Josh Bodom – Natural Progression Series First Round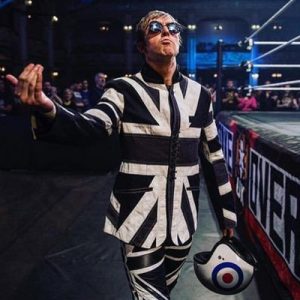 PROGRESS waste no time in starting the second Natural Progression Series next, as both Flash Morgan Webster and Josh Bodom debut. Webster, of course, is now a WWE champion and the less said about Bodom the better. Nonetheless, the two are a good match in terms of style, so this should be a good match.
The two men acquit themselves very well in their maiden voyage on the good ship PROGRESS. They have a very fast-paced match after a short feeling out period, and neither seems to have the edge as such. The stand out sequence sees Webster hit a plancha to the outside as the Ultras scramble to get out of the way in time. Not even Bodom's Bliss Buster can put away the Modfather, as Webster takes the w after a beautiful 450 splash. NPS2 is off to a great start with this contest; long may it continue.
El Ligero vs Noam Dar
Late night workout, in conjunction with @TheRock.

He isn't here spotting me or anything, it's just a nice hoody. pic.twitter.com/Ny0RebpiKu

— Ligero (@Ligero1) September 3, 2019
Former PROGRESS champion E Ligero faces off with Noam Dar in a rematch from Chapter 7. Ligs won that contest, will the result here be the same? The two men come at the match in a similar fashion to their last encounter. That's the case initially, at least. The match begins in a very gentlemanly manner, with both showing due deference to the other.
Things become a lot more vicious in the final half of the match though. Ligero in particular really lays in with the closed fists. He also launches the Scotsman into several rows of chairs with a death valley driver. Nasty. In the end, it all comes to down a Samoa Joe special: a surprise roll-up from Noam Dar claims victory. That was an excellent match and one that leaves room for another in their series. Good work from both chaps.
FSU vs Swords of Essex – Tag Title Tournament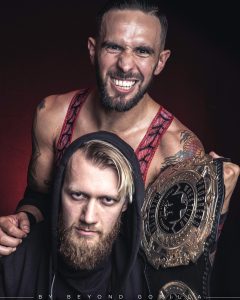 The final tag team tournament first-round match is next as FSU (Mark Andrews & Eddie Dennis) face off with the Swords of Essex (Paul Robinson & Will Ospreay). A rematch of sorts from the previous chapter's NPS final, there's a lot of high flying and fun to be had during the course of this match.
We see the debut of Eddie Mysterio as Eddie Dennis produces his lucha mask to do the lucha dance with Paul Robinson. He follows that up with a chokeslam and crossed arm cover, so he's covering all bases there. The Essex lads take slightly more of the match than FSU, but it really is a close, and thrilling battle between PROGRESS's two most proficient teams. Ultimately this all comes down to Mandrews' edge over Will Ospreay. As Jim notes on commentary, this is the third time that Andrews pins Ospreay in a PROGRESS ring. A picture-perfect cradle huracanrana seals the deal for FSU to advance to the final. Great match between two of the best teams in PROGRESS history.
Tommy End vs Rampage Brown
Former PROGRESS champion Rampage Brown takes on rising star Tommy End in the penultimate contest of the show for To Fight War, You Must Become War. End is known for his stiff strikes, and with his jiu-jitsu background they are stiff. Rampage is known for bludgeoning his opponents with power moves. That makes it all the more surprising when Screw Indy Wrestling's main man nails End with a kick at the bell. An excellent, explosive start to the match there.
From there we see a great exhibition for the Dutchman's repertoire, which we never get to see these days due to him never appearing on SmackDown. End nails his trademark spots such as the no-hands Asai Moonsault and Black Mass. It's strange to see the latter not be the end of the match. In a slightly scary moment, End wipes out several Ultras sat in the front row trying to double foot-stomp Rampage. It's all for naught, however, as Brown counters a springboard something with a lariat for the three count. Rampage just squeaked a win there and endorses his fallen opponent afterward.
Zack Sabre Jr vs Jimmy Havoc – PROGRESS Championship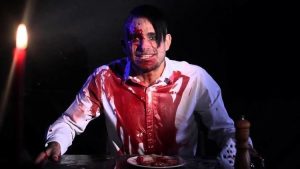 Next up, on To Fight War, You Must Become War is the borderline psychotic Jimmy Havoc defends his newly won PROGRESS Championship against the best technical wrestler on the planet. Zack Sabre Jr is the first of many scores for Jimmy to settle as he begins to challenge everybody who has previously defeated him in a PROGRESS ring. Jim Smallman also has a little surprise for Havoc as he introduces the special referee for the match – 'Party' Marty Scurll.
The story of this match is fairly simple: the champion is no match for ZSJ's superior grappling ability. It isn't a one-sided contest by any stretch, but Sabre is the man who takes the majority of the offense. And what offense! His trademark silky-smooth submission chain wrestling is in full flow. He also busts out some brutal high-impact moves, such as an evil dragon suplex off the top rope. That's some Misawa/Kobashi style action right there.
The Technical Wizard has the visual win with an armbar twice. Once whilst outside the ring, and once when Scurll has been incapacitated. Even Party Marty gets sparked out when he's wearing a striped shirt! A security guy throws the championship staff into the ring for Jimmy! We have a new member of Regression! The King of the Goths hits the Teabag Driver on the staff and demands Jim Smallman get in the ring to declare the match "or I will wrap my hands around his throat and f—-ing kill him". It's safe to say that we are firmly out of the PG zone here. As Havoc chokes ZSJ, Smallman raises his hand three times and it drops three times. Havoc retains in stunning, brutal fashion.
There's a bit of chaos outside after the decision as Havoc full-on boots Smallman and pushes Glen Joseph. He tells them he's going to make their lives miserable and leaves with the security guard through the fire exit! Simply stunning. I'd forgotten just how powerful the Regression storyline is, it really is a heat magnet and so well executed.
That's all for this week's edition sorry, folks. Thanks for reading, To Fight War, You Must Become War. We shall return for Chapter 12 next week, though. Catch you on the flippedy flop.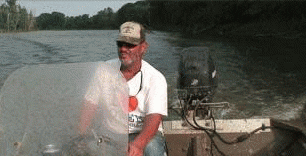 The PROGRESS Prerogative – Chapter One: The Beginning
The PROGRESS Prerogative – Chapter Two: The March of Progress
The PROGRESS Prerogative – Chapter Three: Fifty Shades of Pain
The PROGRESS Prerogative – Chapter Four: The Ballad of El Ligero
The PROGRESS Prerogative – Chapter Five: For Those About to Fight, We Salute You
The PROGRESS Prerogative – Chapter Six: We [ Heart ] Violence
The PROGRESS Prerogative – Chapter Seven: Every Saint Has A Past, Every Sinner Has A Future
The PROGRESS Prerogative – Chapter Eight – The Big Boys Guide To Strong Style