'Ello, 'ello, 'ello, what's all this then? This, dear boy/girl, is the PROGRESS Prerogative, the blog that reviews each of PROGRESS Wrestling's Chapters in order. This week is Chapter 13: Unbelievable Jeff! and is available as a complete show via YouTube. This was done due to a technical issue, and the show not being presented at quite the right level to ask people to pay. And so we have our first watch along edition of Prerogative! The show is embedded just below, for your viewing pleasure.
https://www.youtube.com/watch?v=it2coTptmlM
This show is well worth a look, so have a watch then have a read and shout at me in the comments below. And away we go!!!
PROGRESS Wrestling Chapter 13: Unbelievable Jeff! Sunday, 18th May 2014. The Electric Ballroom, Camden, UK.
Darrell Allen vs Rampage Brown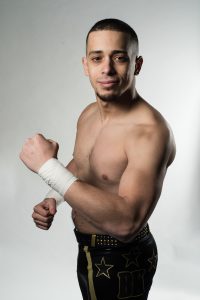 The show kicks off with a classic big man – little man match as Rampage Brown faces off with Darrell Allen. It feels like we've seen nothing but this concept of the match involving Rampage in PROGRESS, but this contest still feels very fresh. As I've said before, the Dazzler is a massively underrated talent from the BritWres scene.
Indeed, what makes the match feel so fresh is just how much of the offense Allen gives to the larger man. He starts at 100 miles per hour, and never really lets up the pace. Drilling the former PROGRESS champion with big moves, such as a hurricanrana on the outside, the Bhangra Knight has a very good showcase. Despite his dominance of the body of the match, it's Rampage who claims the win following a short burst of violence. He whips Allen throat first into the middle rope and then hits his signature piledriver for the three count. An excellent opening account for Chapter 13.
'Dynamite' Pete Dunne vs Robbie X – Natural Progression Series
Making his PROGRESS debut, representing Defend Indy Wrestling, it's a young man named Pete Dunne. Also making his debut, sans Scottish flag mask, it's the luchador from up North, Robbie X. A spot in the next round of the Natural Progression Series is up for grabs, so both men will be giving it everything that they have.
The main point of curiosity here is in seeing Pete Dunne in action before he adopted the Bruiserweight character. It can be quite odd seeing him smiling for the Ultras, and the fact that the Bitter End is used mid-match for a two count is surreal. Robbie X is a great talent and holds up his side of the match more than capably. At one point, he hits a great Asai moonsault to the floor – basically into the crowd. Lovely stuff. Dunne takes the win to advance following a Texas Cloverleaf submission. Excellent debuts for both men.
Eddie Dennis vs Michael Gilbert (Mikey Whiplash)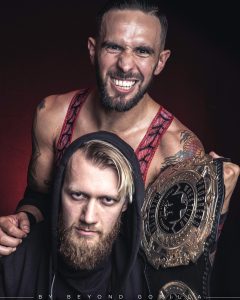 'The Pride of Wales' Eddie Dennis takes on Michael Gilbert next at Unbelievable Jeff. Gilbert is more usually known as the fishnet/face paint-wearing Mikey Whiplash. At this point in time, he is going through a 'no gimmicks needed' gimmick. I prefer the fishnets and face paint myself, but hey ho, what can you do?
Dennis makes the most of Gilbert's no-frills gimmick by sticking his lucha mask on and becoming Eddie Mysterio. The Welsh/Mexican legend takes it to Gilbert initially, but is soon demasked, for shame! No frills Gilbert then wrestles a no-frills match up as he grounds Dennis with cravats, and other old-school stretches. Just when it seems as though Eddie has the match in the bag, Gilberts claims the quick pin on a counter. A fun, little match, but I really prefer Gilbert in fishnets and facepaint. Ahem.
Swords of Essex vs London Riots vs Project Ego vs Screw Indy Wrestling (Mark Haskins & Sha Samuels) – Number One Contenders Elimination Match
"Willie won't back down to world leaders. Because I haven't a clue who they are and I'm not willing to learn"
– Groundskeeper Willie pic.twitter.com/Zn23huQXCU

— ᵂⁱˡˡ ᴼˢᵖʳᵉᵃʸ • ウィル・オスプレイ (@WillOspreay) October 6, 2019
A big, old fatal four is up next as Swords of Essex take on Screw Indy Wrestling, London Riots, and Project Ego at Unbelievable Jeff. Interesting to note that Sha Samuels has joined Screw Indy Wrestling as he partners with the future Overkill.
I hope Kris Travis took home a decent wage for Chapter 13, because he took an absolute hammering, bless him. What must have been a good ten-minute stretch went by with the three other teams taking it in turns to batter Travis. The thing that turned the tide was a good, old fashioned dive sequence. The highlight of this is when Project Ego fling Paul Robinson to the outside with a massive double biel. In the aftermath of the dives, SIW and Project Ego are both counted out for brawling. Slightly odd booking for an elimination match, in my opinion.
It's Will Ospreay's turn to take a pasting next as the Riots dominate him with their rugged offense.
A shocker happens when he tries to make a hot tag to Robinson who jumps off the apron and leaves. The bad times are coming for Ospreay. Although he manages to kick out of the District Line, Will can't take the win over the two Regression fellas and eats a pin after a mid-air spear.
But it doesn't quite end there. Jimmy Havoc runs into the ring and instructs the Riots to tape Ospreay to a chair. He grabs a mic and tells Jim Smallman that unless he stops booking him in "stupid matches" (like a four-way or ladder match), he will take out his frustrations on people that Jim likes. Havoc tells Ospreay he's going to torture him and produces a large switchblade from his sock. Mental. Stuck in the Middle With You plays over the PA, as Jimmy intimates that he will cut Will's ear off. He's fortunately saved as FSU and Pete Dunne chase off Regression. Holy hell, what an angle!
El Ligero vs Tommy End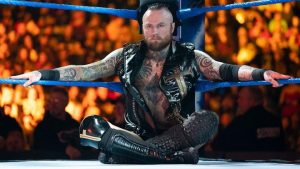 Tommy End and El Ligero face off in a match that I assume was placed to calm the nerves of viewers for Unbelievable Jeff. Two fan favorites faces off in a respectful duel is just what the doctor ordered after the madness that preceded it.
And so it proves, as the Mexican Sensation and the Antihero have a nice, little contest with lashings of lucha and catch as catch can. The finish is a bit different as Michael gilbert reappears and pulls Ligs out of the ring, causing a disqualification. Ligero asks that the match be restarted, but less than a minute afterwards is tapping out to End's dragon sleeper. That's a couple of strange finishes on this show now.
Gilbert beats down Ligero after the decision, presumably setting up a match for Chapter 14.
Zack Sabre Jr vs Prince Devitt
Oooooooooooooooooooooooooh! This is a bit tasty, isn't it? Two of the best wrestlers in the world in ZSJ and Devitt (Finn Balor) facing off in a PROGRESS ring. This is from the days before the Demon, when Devitt changed his war paint up on a match-by-match basis. On this occasion, he emerges dressed as Heath Ledger's version of the Joker (the best version, IMO).
The match itself is a bit of a minor classic. It begins with a real bang as Devitt hots a shotgun dropkick followed by the Coup De Gras for a two count. The two men go back and forth for the duration in a real game of one-upmanship. Sabre is always looking to lock in the armbar, whilst Devitt hits hard and often. The highlight of Joker Devitt's assault is his once-signature running dropkick to a seated opponent. I've missed seeing that.
The finish comes after the Irishman has narrowly evaded the armbar several times before hitting the Bloody Sunday DDT. Cue standing ovation and hugs all around. And well deserved it was, too.
Mark Andrews vs Jimmy Havoc – Ladder Match for the PROGRESS Championship
Mandrews faces off with Jimmy Havoc in the main event of the Chapter next in a lovely, lovely ladder match for Unbelievable Jeff. The bad blood between these two stems from Jimmy's ambushing of Andrews's title win over Rampage Brown. Havoc has been on a tear since forming Regression, and Mandrews now holds the tag team titles with Eddie Dennis. A topline encounter, indeed.
It may not surprise you to learn that this match features some spectacular spots. Jimmy power bombing Andrews from the apron through a table at ringside. Mandrews launching Havoc from the second rope through a table. Mandrews nailing a somersault plancha from the ladder to the outside. It's like an old-school ECW match, only with good wrestlers!
This wouldn't be a heel Jimmy Havoc match without lashings of interference, and so it is that the London Riots make their second appearance of the show.
They give the charismatic Welshman a bit of a shoeing, before Eddie Dennis and Pete Dunne run in for the save. The four chaps brawl around ringside, and Paul Robinson runs in wearing a pair of jeans and a chain around his neck. Same gear to this day and I bloody love it!
Robbo drills Andrews with a bevy of vicious chair shots to the back and shakes Havoc's hand. The newest member of Regression has been unveiled, and he's a bit of a bastard. The finish is academic now as Jimmy climbs the ladder to claim the IOU (substituting for the PROGRESS championship staff). Havoc and Regression reign once more over the powers that be at PROGRESS.
Unbelievable Jeff was a great show. I'd go as far as to say it was the best Chapter so far, as it covered a lot of bases in terms of style and content. Give the show a watch, and let me know what you thought in the comments below. See you next time for Chapter 14.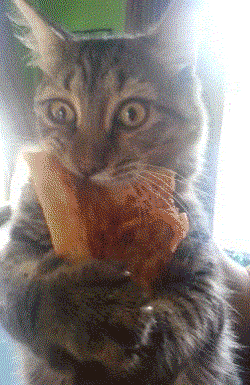 The PROGRESS Prerogative – Chapter One: The Beginning
The PROGRESS Prerogative – Chapter Two: The March of Progress
The PROGRESS Prerogative – Chapter Three: Fifty Shades of Pain
The PROGRESS Prerogative – Chapter Four: The Ballad of El Ligero
The PROGRESS Prerogative – Chapter Five: For Those About to Fight, We Salute You
The PROGRESS Prerogative – Chapter Six: We [ Heart ] Violence
The PROGRESS Prerogative – Chapter Seven: Every Saint Has A Past, Every Sinner Has A Future
The PROGRESS Prerogative – Chapter Eight – The Big Boys Guide To Strong Style