Aloha! Welcome back to the PROGRESS Prerogative! The blog that reviews each of PROGRESS's Chapters in turn. As you might have gleaned, this week we are up to Chapter 12: We're Gonna Need A Bigger Room. The title refers to the fact that the show has moved from usual venue The Garage to its new home of the Electric Ballroom in Camden. Also, it refers to some film about a shark. Let's get crack-a-lacking!
PROGRESS Wrestling Chapter 12: We're Gonna Need A Bigger Room. Sunday, March 30th, 2014. The Electric Ballroom, Camden, UK.
Paul Robinson vs Tommy End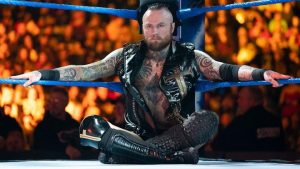 PROGRESS's first match inside the Electric Ballroom sees a battle of the black belts as Paul Robinson clashes with Tommy End. This is a very interesting match up as the two competitors have fairly similar styles with some differences. End has a longer reach and the height advantage, whilst Robinson is the quicker and is a far superior high flyer.
The match itself runs at an absolutely breakneck pace, with neither really stopping to pause for breath at any point. As both have legit martial arts backgrounds, there is a proliferation of sweet-ass kicks. They clatter into each other's jaws with stiff kicks several times, and this gets the Ultras off their seats straight away. Robinson executes an excellent shooting star whilst standing on the Antihero's stomach at one point for an excellent near fall. Nevertheless, End claims the victory after hitting a nasty looking Coup De Gras. A nice, quick opening match there.
Grado vs Madman Manson
The battle of the comedy behemoths is next on the card, as Grado faces off against his partner from a couple of Chapters ago, Madman Manson. Both men are putting all on the line here: Grado's Bum Bag Championship and Manson's Balls are both up for grabs. If I've already lost you I can't say that I blame you, but personally, I love this stuff.
The match begins with a Hogan/Rock style stare down and then goes into several ultra co-operative chain wrestling. Grado loudly proclaims he wants to do the 'one where I crawl through your legs', but Manson backs up whilst he does so! Swerved him, bro. When the referee is otherwise occupied, the Madman nails Grado with the bumbag. To heighten the drama, Grado not-so-subtly smears tomato ketchup over his forehead. What a donnybrook! Despite being busted open, Grado gets the win after hitting a Rock Bottom followed by a Stunner followed by a Pedigree. Thus, the battle for the ages concluded.
Will Ospreay vs Zack Gibson – Natural Progression Series Round One
The Natural Progression Series takes in two more young talents who would subsequently go very far indeed. Zack Gibson faces off against Will Ospreay (with Paul Robinson in his corner) in a battle of contrasting styles. Gibson runs the majority of the match with his typical, methodical offense that he is so good at. Of course, Ospreay's comebacks skew towards the spectacular, as he flies around the ring.
There's a lot of chanting from the Ultras directed towards Gibson during this also. Liverpool FC's anthem 'You'll Never Walk Alone' is repurposed as 'You'll Always Sign On' among other anti-Northern sentiments. It's all good craic. The final few minutes of the bout feature a bevy of big moves. Gibson hits Helter Skelter; Ospreay hits the Oscutter and a shooting star. Gibson hits a brainbuster; Ospreay hits a cannonball to the outside. The finish comes as Paul Robinson argues with the referee allowing Gibson to low blow Ospreay. Young Will taps out to the Shankly Gates shortly after.
There's a bit of dissension between the Swords of Essex afterward as Ospreay is unhappy with Robbo. Still, they leave after a handshake, still basically on the same page.
Bhangra Knights vs London Riots – Street Fight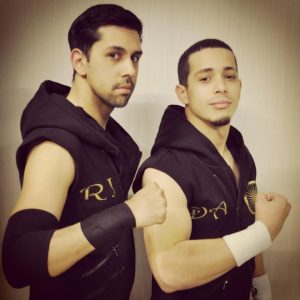 I don't think it can really be overstated how much heat the London Riots have in their match with Bhangra Knights next. The crowd all turn their backs on them again as they make their entrance, Rob Lynch has a beer thrown over him during the match, it's a genuinely dangerous feeling atmosphere at We're Gonna Need A Bigger Room.
The weapons come out straight away as the Riots bring, among other things, traffic cone into the ring. This backfires as Darrell Allen hits his opponent with an atomic drop onto the top of it. Ouch! Hubcaps, Singapore canes, steel chairs – there is a lot of hard shots to the head in this one. There's a scary moment towards the end as the Riots and RJ Singh nearly falls from the top rope trying to execute a powerbomb. A quick adjustment and a District Line powerbomb secure the win for the two lads from Regression. Quite a tidy match all in all.
FSU vs Project Ego vs Screw Indy Wrestling – PROGRESS Tag Team Championship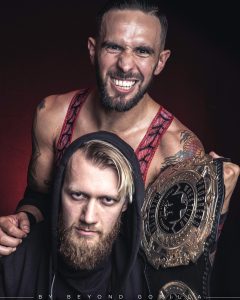 The first-ever PROGRESS tag team champions will be crowned next as FSU, Project Ego and Screw Indy Wrestling vie for the championship shield at We're Gonna Need A Bigger Room. Another interesting title design, after the staff for the singles title, the tag shield comes in two halves. Almost a yin/yang symbol, the tag team that will hold it will have half each and join it together to make the whole.
The three teams leave it all the ring as they absolutely hammer one another for the duration. There's a nice bit of comedy as Kris Travis keeps swapping wristbands from Defend Indy Wrestling to Screw Indy Wrestling too. Man of the match has to be Mark Haskins who hits a move I have never seen before. It's essentially a standing Indian Death Lock into a brainbuster/DDT. Mandrews feels the brunt of that, but it isn't enough to keep him down. Indeed, he is on the victorious team as FSU gets the win following a Next Stop Driver. A very popular win for the boys from Wales, and a great match to boot.
Doug Williams vs Dave Mastiff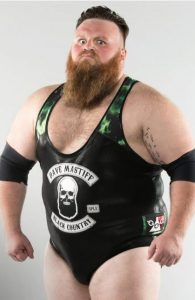 It's a couple of big lads wrestling next as Doug Williams takes on Dave Mastiff at We're Gonna Need A Bigger Room. There are two main things to note in this one as far as I'm concerned. One, Mastiff finally gets his classic "He's big, he's bad, ask your Mum, he might be your Dad," introduction. Two, Screw Indy Wrestling's valet Katherine Rose comes out and is destroyed by both men. That spot seems distinctly unlike PROGRESS, or certainly how they would be seen in years to come.
As far as the match goes, this is a good heavy-hitting contest between a couple of monsters. Whilst it might have been nice to see Williams try for Chaos Theory, I doubt whether the physics of it could have worked. 'The Bastard' takes the victory after landing his cannonball dive into the corner. We'll have to see where the angle with SIW goes in future shows.
Jimmy Havoc vs Marty Scurll vs Rampage Brown vs El Ligero – PROGRESS Championship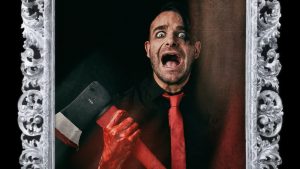 The debut show in the Electric Ballroom is capped off with an absolutely stacked main event for We're Gonna Need A Bigger Room. Jimmy Havoc defends his PROGRESS title against former champions Rampage Brown and El Ligero, and future champion 'Party' Marty Scurll. There appears to be a large target on Jimmy Havoc's chest, and everybody is taking aim for it.
There are two additional points of interest to note in this match. Firstly, it appears as though Rampage is no longer associated with Screw Indy Wrestling. No mention is made of the faction during his ring introduction, which Jim Smallman handles. Secondly, Marty Scurll's tights have the word 'Villain' emblazoned on the back. Not sure what that's all about 😉
In the early going everyone splits off into twos. Jimmy Havoc brawls with Marty Scurll on the outside, and El Ligero and Rampage go at it in the ring. The Ultras are sent scattering when Jimmy sets up three chairs to lay Marty on top of. He then drills him with a sickening double foot stomp from the second rope! It looks very nasty indeed. Ligero has a turn at a big spot as he hits a somersault dive from the balcony onto Rampage and Scurll. Rampage is up next as he hits four powerbombs in a row on the champion. Havoc's head is bouncing off the mat each time, quite horribly.
Following an ECW-esque moment of the crowd throwing their chairs into the ring, we head for the grand finish. Rampage hits Marty Scurll with a great twisting piledriver, but Jimmy nips in for the pin and retains his title. That was an excellent contest between four men who were hungry to put themselves and PROGRESS on the map. Excellent action throughout.
We get a bit of afters as Rampage hits Jimmy with two more piledrivers. Mark Andrews then comes out from the back and says that he will be facing Jimmy at Chapter 13 in a ladder match! Jim Smallman smirks and says "there's always a plan B, Jimmy." While not as hot as the Regression angle at Chapter 11 We're Gonna Need A Bigger Room. This storyline is fabulously engrossing. Please do give it a watch at demandprogress.pivotshare.com if you are able.
That's all for this week, folks. It can be a scary world out there, so take care of yourself and the people around you. See you next time for a special watch-along version of the PROGRESS Prerogative, as we crack on to Chapter 13.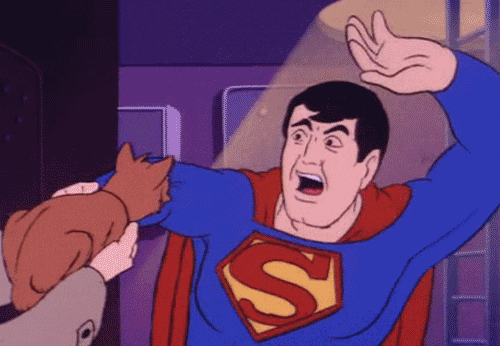 The PROGRESS Prerogative – Chapter One: The Beginning
The PROGRESS Prerogative – Chapter Two: The March of Progress
The PROGRESS Prerogative – Chapter Three: Fifty Shades of Pain
The PROGRESS Prerogative – Chapter Four: The Ballad of El Ligero
The PROGRESS Prerogative – Chapter Five: For Those About to Fight, We Salute You
The PROGRESS Prerogative – Chapter Six: We [ Heart ] Violence
The PROGRESS Prerogative – Chapter Seven: Every Saint Has A Past, Every Sinner Has A Future
The PROGRESS Prerogative – Chapter Eight – The Big Boys Guide To Strong Style