Hello friends, acquaintances, and well-wishers (who wish me no specific harm). Welcome back to the ninth edition of the PROGRESS Prerogative. This is the blog that reviews each PROGRESS Wrestling Chapter in chronological order. This week my sniper-like sights are set on Chapter 9: Hold Me, Thrill Me, Kick Me, Kill Me. Nice reference to U2/an awful Batman film there.
Chapter 9: Hold Me, Thrill Me, Kick Me, Kill Me, Sunday, September 29th, 2013
The Garage, Islington, UK
Dave Mastiff vs Tommy End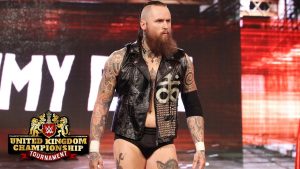 Tommy End, the man who will be known as Aleister Black in a few years, makes his PROGRESS debut to kick off the show for Hold Me, Thrill Me, Kick Me, Kill Me. His opponent is a much larger man in 'The Bastard' Dave Mastiff, so this should be an interesting clash of styles.
The match takes a while to hit its stride in fairness, with both men wrestling a similar style that equates to a hoss battle. It's only around halfway through that something clicks into place and The Anti Hero shows everyone what he can do. Surprisingly, though today's eyes, Mastiff kicks out of both a Black Mass and a Coup De Gras. He rallies briefly with some more power-based offense, before succumbing to a second Coup De Gras. And that's all she wrote for the big man.
A decent battle to start the show there, but the two men definitely have more in the tank for a future rematch.
Eddie Dennis vs Paul Robinson – Natural Progression Series
The Natural Progression Series' semi-final stage concludes next, as Eddie Dennis faces off with Paul Robinson. As a reminder, the winner of the tournament gets a shot at the PROGRESS champion at a time of their choosing.
The size difference between the two men is quite startling as they square up to one another. Dennis must have a good two feet on Robinson. That difference is reflected in the match itself as the Welshman dominates the main body of the contest. Robbo just can't seem to get going, although he does hit the odd high-flying move. Some astounding, Kevin Dunn-Esque camerawork in this one also, as the image shakes about to the point of inducing nausea.
Despite the size difference, despite giving most of the offense to Dennis, it's Robinson who advances to the final! He picks up the pin following a very nice shooting star press. The Essex lad will face Mark Andrews in the final of a rather excellent first tournament.
Ricochet vs Zack Sabre Jr vs Mark Haskins
Ricochet, the once and future (?) king, returns to PROGRESS next in a sweet looking triple threat. His opponents: Zack Sabre Jr and Screw Indy Wrestling's Mark Haskins. My, my, my.
And indeed the match is a bit of a minor classic. The three men go back and forth for the entirety of the contest resulting in some sterling sequences. Ricochet truly is a special wrestler, isn't he? Holy mackerel, he brings the fire during this one. An early sequence with Zack Sabre Jr being a standout, as he flips his way out of danger time and time again. Mark Haskins puts in a shift too, mind you, although he does seem to take a backseat as far as being on the offensive is concerned.
The finish comes when ZSJ nails Haskins with a Penalty Kick to score the pin. A fantastic showing from all three men. Those same three men who now work for WWE, NJPW, and ROH, incidentally. You can see exactly why they were hired right here, folks.
Stixx vs Nathan Cruz
Screw Indy Wrestling's second bout of the night sees Nathan Cruz try and exact revenge on Stixx for his defeat of Mark Haskins. It's been quite impressive to see how quickly Stixx has turned the crowd around for his abrupt face turn. Indeed, I find him to be a likable presence and to be pretty good in the ring.
This one is a bit of an epic clocking in at just about twenty minutes. And it feels like every single one of those twenty minutes, as the action is very much punch-kick based. Cruz takes about the first twelve minutes of the offense, for the main part outside the ring. The crowd voiced their displeasure at not being able to see the action as they are wont to do. Eventually, Stixx makes his big comeback, hitting power moves and nailing Cruz with some great knee strikes.
The big man finishes Cruz off the same way that he did Haskins at Chapter 8: with a half crab submission. Not the best match on the card, but it picked up towards the final straight there.
Bhangra Knights & Grado vs Project Ego & Tyson T-Bone
Comedy shenanigans next, as Grado makes his debut for PROGRESS. He teams with the Bhangra Knights to take on Project Ego and Tyson T-Bone.
Lots of spots in this one, as Project Ego are placed into various compromising positions if you catch my drift. Grado hits his trademark spots, such as the Bionic Elbow, Rock Bottom, et al. The finish comes when Kris Travis rolls up Grado for the win for his team. The real story happens after the match has finished, however.
The London Riots enter the ring and kick the hell out of Grado and the Knights, only for Jimmy Havoc to make the save. Jim Smallman starts on the mic, saying how proud he is of PROGRESS and the fans and their love for pro wrestling. Suddenly, Havoc nails Smallman with a steel chair and continues to hit him with it once he is on the mat.
Havoc says that he wanted to show that he was a real wrestler in PROGRESS, but Jim kept on putting him in deathmatches. He's got no respect for Jim, or co-owner Glen Robinson, but he does respect the London Riots. This is a very hot angle, with the crowd throwing rubbish into the ring and at Jimmy for his betrayal. This is the start of a faction that will be known as Regression; they're going to be causing chaos for some time to come.
Doug Williams vs Rampage Brown – PROGRESS Championship
The main event sees the PROGRESS championship defended by Screw Indy Wrestling's Rampage Brown. His opponent, Doug Williams, is somewhat of a legend in the business and should provide a tough contest for the champ. Glen Robinson announces the men, and there is no commentary as a result of Regression's actions in the previous segment.
With quite similar styles and builds, the match features some great back and forth action. Williams hits his trademark Bomb Scare knee from the top rope for an excellent near fall, but can't quite nail his Chaos Theory rolling suplex. Rampage brings his usual array of big power moves, as well as interfering cornerman Nathan Cruz.
Indeed, it is Cruz who proves to be the difference-maker, as he distracts Doug for long enough that Brown can naik him with his piledriver and the pin. A fairly short, but quite satisfying match between two big lads, then for Hold Me, Thrill Me, Kick Me, Kill Me.
That's it for this week, but the PROGRESS Prerogative will return with Chapter 10 next week! To celebrate, why not have #ALittleBitOfTheBubbly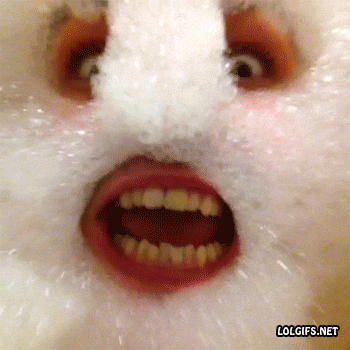 The PROGRESS Prerogative – Chapter One: The Beginning
The PROGRESS Prerogative – Chapter Two: The March of Progress
The PROGRESS Prerogative – Chapter Three: Fifty Shades of Pain
The PROGRESS Prerogative – Chapter Four: The Ballad of El Ligero
The PROGRESS Prerogative – Chapter Five: For Those About to Fight, We Salute You
The PROGRESS Prerogative – Chapter Six: We [ Heart ] Violence
The PROGRESS Prerogative – Chapter Seven: Every Saint Has A Past, Every Sinner Has A Future
The PROGRESS Prerogative – Chapter Eight – The Big Boys Guide To Strong Style