Wrestling's recent loss of comic, tv host & co-host, game show host and actor, Regis "Mr. TV" Philbin still lingers more than anyone. He is credited as having logged in the most television hours than anyone on the planet by Guinness Book of World Records. Regis Philbin claimed to others he briefly did some mid-1950's wrestling tv announcing, like his game show host idol Dennis James.
Regis did, indeed, have a long relationship with the wrestling industry. One that he utilized in the 1960s while co-hosting the Joey Bishop show. Regis also did some guesting on Johnny Carson's Tonight Show. As well as Jerry Lewis's weekly half-hour variety show. And of course on his weekday morning talk shows. They ran from the early '60s to when he retired seven years ago.
Regis Philbin started writing for tv and comics in 1959. Before his 60's-mid 70's LA area morning weekday show began, he first began hosting one in San Diego. During the early 1960s, where he'd eventually move to the ABC affiliate in Los Angeles, KABC7. It was first called The Morning Show, retitled AM with Regis Philbin. It went through various format changes. In the '70s, he began using female co-hosts like Sarah Purcell, L.A. Dodger great Steve's wife Cindy Garver. And carmaker John DeLauren's wife, Christina. He liked bouncing off banter with vibrant women which would carry over to his national show with Kathie Lee Gifford and later Kelly Ripa.
Regis Philbin | American Television Legend Had A Headlock on Our Hearts
But it was his last 70's version of his ABC, daily Los Angeles morning talk show that eventually caught Hollywood and entertainment buzz. Unlike the few other area morning shows, his guests truly included a cache of Hollywood's elite plus athletes. And strange people as he saw Steve Allen and Ernie Kovacs utilize on NBC's earliest late-night incarnations of The Tonight Show. Plus, some pro wrestlers who got the rub from doing that morning show.
Most famously, Fred Blassie was on Regis' AM Los Angeles weekday morning show several times on KABC7. This became the template-in-progress for his later New York
"LIVE!"
 show.
Fred had been on Regis' San Diego radio show at least once. This was where they met before Fred was ever on the TV version. Fred's first recorded Regis tv show morning appearance appears to be late 1962 or early 1963. He was talking up his appearance on CBS's Dick Van Dyke Show for that Twizzler episode. Capitalizing on The TWIST music/dance craze begun by Chubby Checker and finessed by The Beatles.
At the show's ending, Fred airplane spins star Dick Van Dyke. Creator Carl Reiner said it was one of his favorite episodes as he too had seen Blassie's WWA territory run as champ. Carl wrote that Fred was one of the "more wild characters we ever had on the show." Regis was infatuated with Fred and would have him on repeatedly over the years. Including another WWA star and champion in Destroyer Dick Beyer. He brought Regis one of his masks which the two wore while the interview was conducted. Dick told the story of how his first wife had knitted his very first, which he called "ahead sock, Destroyer mask out of women's leg-stocking material. He then showed it to Jules Strongbow, the booker/promoter, who soon helped create a far more professional looking version Dick would later use in Japan, Canada, etc. 
Blassie and Regis, over their years together, became firm friends and stayed in regular contact outside the show.
Arguably the most famous Blassie appearance on Regis' in the mid-'60s was during a recurring worked part. Towards the end where Regis would try to mess up Fred's carefully-combed bleached hair. But this time, Regis accidentally caught his finger in one of Fred's jacket buttonholes. "Fred jumped up out of nowhere," according to Philbin, "but somehow, my finger was really stuck and accidentally got broken." From then on, Fred was on any time he'd claim to have legit broken Regis' finger intentionally.
Usually, these segments would include Fred eventually losing it and yelling at Regis. Then they'd go to commercial. Fred would privately credit Regis for really making his wrestling career go mainstream. Gaining new fans each time he was on the show. But publicly, Fred would bellow, "I made Regis into the star he became. He owes it all to me!" Regis maintained contact with Fred's widow, Miyako Blassie. Always calling and sending her birthday and holiday cards.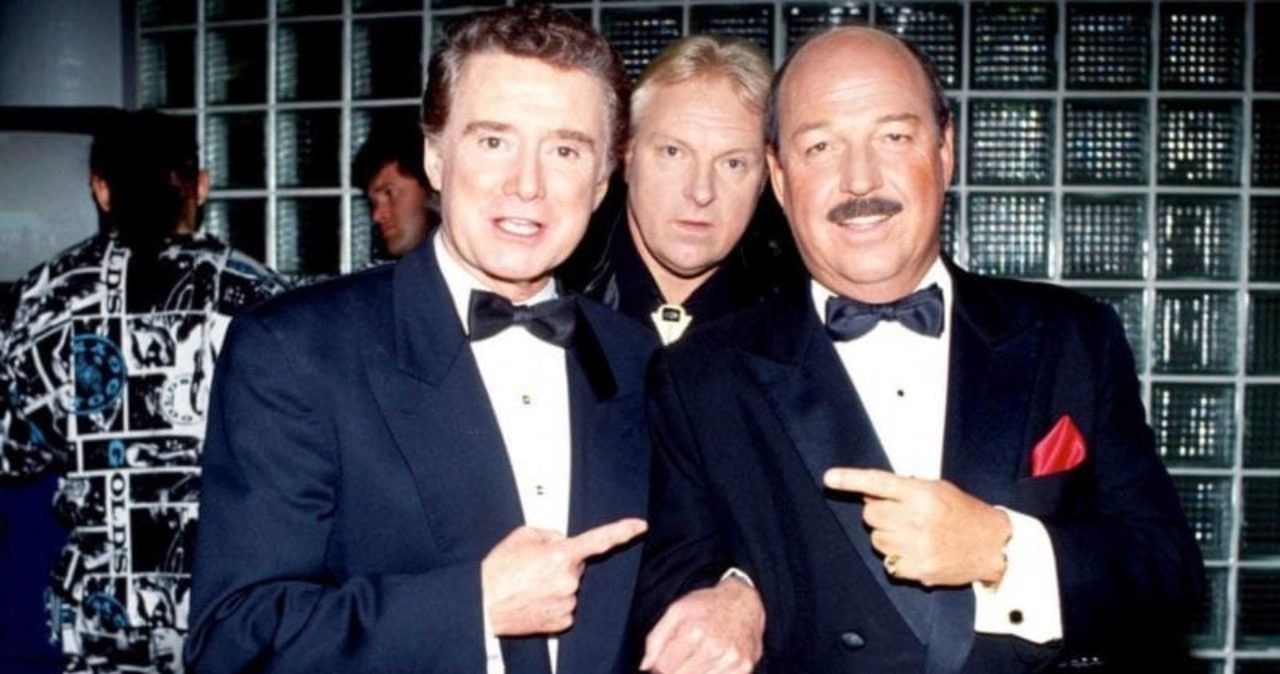 Regis moonlighted from his morning show in 1967-69 as he became Joey Bishop's sidekick for an ill-fated ABC Network show. Their attempt to unseat NBC's Johnny Carson's long-running Tonight Show. He brought Blassie back, and Fred presented him with a Brass Knucks honorary trophy. While also showing him how to use knucks "to become "a champeen." Fred always tried to get heat by claiming he hated Regis's favorite singer Frank Sinatra. Which was about as far from a shoot as it gets, which Bishop quipped about teasingly. One could almost see the smoke coming out of Fred's ears. Worried his work might be discovered since he was in actuality, an even bigger Sinatra fan than Regis.
He continued doing his morning weekday show.
We believe Regis had other pro wrestlers from Los Angeles. Cal Eaton/Jules Strongbow 60's wrestling office had their phone ringing for Bobo Brazil, Bearcat Wright, George "Crybaby" Cannon, Killer Buddy Austin, Gorilla Monsoon or even Strongbow.
REEG (as those who knew him would call him) once nearly accidentally exposed the biz in the Summer of 1971. He taped a remote at the Lawrence Welk charity golf tournament. The annual event always had wrestlers there most years as the co-chair was Jimmy Lennon Sr (our famous Los Angeles territories' ring announcer). Jimmy was also uncle to the famous Lennon singing sisters on Welk's ABC weekly Saturday music show. Back to that 1971 tournament where Fred was hitting the links.
Lebell had taped tons of footage all on one shoot back in March. To show each week on tv with Fred in a hospital bed, selling the Monsel's Power super famous angle w/ John Tolos. Setting up their August '71 massive LA Coliseum outdoor show they were in the main event. The moment Regis saw Fred he shoved a mike into Fred's face. Fred blurted "Reeg, I'm supposed to be in the hospital this week (selling the eye injury & wearing an eye patch)"- which Fred didn't have on while teeing off! Nothing was wrong with Fred obviously, but thankfully Fred convinced them NOT to air it. And luckily, it didn't.
But our big boss, promoter Mike Lebell was allegedly a bit upset at what could've ruined the angle.
Once Regis lost his LA ABC network area affiliate weekday morning show, he briefly did the same show (including having on a few area wrestling legends like Dick the Bruiser) in St Louis. But corporate ABC brass moved it in the latter 1970s to New York where the show again had a few name-changes. Initially The AM Show and then The Morning Show. At first, it was local to the major New York television marketplace but was eventually called "Live With Regis" and went national in 1988. He'd have Fred back on mainly when WWF went national in '83-'84 along with Hulk Hogan, Randy Savage, and wife Liz.
In later years, WWE stars such The Undertaker along with his manager Bill "Paul Bearer" Moody, Ric Flair and Kurt Angle were featured. Along with DDP, Bobby Heenan, Gene Okerlund, Steve Austin, The Rock, John Cena, HHH, and many more. WWE immediately honored him on their website including that famous vignette that also aired on RAW saluting his many contributions to the biz and his lifelong support of it. Including interviewing talent at least one Wrestlemania pay-per-view for the actual show!
Freddie Blassie's last Live with Regis appearance
During Blassie's very last "Live" appearance, Regis made a big deal at the time that Fred was "now seen on WWF tv as a good guy for the first time. Being a nice guy for a change suits you, Fred." Fred continued to pretend to stay a soft-spoken face which he'd never done on any Regis show. Still, when Regis would keep pushing him just in fun for the audience, Blassie's face went to a mock scowl saying, "don't test me Regis" when the latter acted like he might reach up and mess with Fred's hair again as he had over the years. 
Regis won two daytime Emmy Awards as top entertainment/new show host and other awards like The People's Choice Honors.
In 1999, he hosted ABC's evening game show "Who Wants To Be A Millionaire," winning awards for that. The daytime show name change soon became Live! with Regis and Kathy Lee for 15 years before she was reportedly pushed out by ABC brass and replaced by soap actress Kelly Ripa.

Whenever Regis returned to his home in LA that he and wife Joy maintained, he'd dine Saturday mornings in Beverly Hills at the famous Nat and Al's Deli restaurant institution with Don Rickles, Jimmy Kimmell and Larry King and sometimes others like comic icons Mel Brooks, George Wallace and Jerry Seinfeld there as well as at Cantor's Famous Deli in Hollywood on Fairfax Blvd. All of Hollywood, particularly comics and comic actors like David Letterman, Bette Midler, Chevy Chase, Dan Akyroyd, Billy Crystal, and tons more, professed their love of Regis Philbin after his recent passing at age 88.
Paying Tribute
In paying tribute to Regis Philbin on network TV, they've been showing rare outtake footage from his NY Live! Show where during breaks at least three times, he'd put reverse arm-locks on first Kathy Lee and later Kelly Ripa, but both Blassie and Dick Beyer in the early '60s, put Regis in that very same hold and he'd mock cry in pain, selling it as previously instructed before the audiences were let in. And it was heartwarming to hear Regis privately call Fred Blassie "kiddo," which was his term of endearment for only his real friends, while Fred called him "brother."
Regis Philbin certainly had a strangle-lock on American television viewing, day or night, and a total institution worldwide. His Hollywood Blvd star isn't that far away from that of Vince McMahon's. It's comforting that the non-wrestling world also feels the same way we do about losing Philbin. One of the few equally brash and wild enough to verbally go toe-to-toe with Blassie on tv. And if you saw it, who could ever forget when Regis also tried making fun of Fred's 70's and 80's WWWF/WWF nickname "the Hollywood Fashion Plate?"
A warm, excellent human being.
Who quickly turned back into a little kid when he was around the boys like Blassie and Beyer. Far more so than when he was with the more traditional film and tv stars. You "can't teach" that as it came from within Regis' heart. Pro Wrestling lost a real giant. Also want to send condolences to the family and friends of 1980's GLOW tv wrestling star, Sally The Farmer's Daughter(Becky Mullen), who was the first of three, but the original on in GLOW's very first season. Fellow Glow star "Hollywood" Jeannie Basson put a GoFundMe-like online fundraiser. To help contribute to the fund created to aid with his cremation, etc.
This is to help with the costs as the family is in dire need. Becky suffered well over a year of health issues battling several forms of severe stage-4 cancer. Jeannie, who was Sally/Becky's biggest singles foe in GLOW, has been on several podcasts, etc. Trying to help the Mullen family, who were heartbroken at the loss.