In all facets of her life, wrestling included, Big Swole lives up to her namesake. As one of the more recent signees in All Elite Wrestling, Swole enters the promotion with one of the most undeniable personalities. When she makes her entrance, flexing and slapping hands with fans, it's not controversial to say she's rich with confidence. In this AEW talent preview, we will cover Swole's past, her beginnings in wrestling, and where she is today.
The path that Big Swole took to wrestling is intriguing, to say the least. On a recent episode of AEW Dark, she opened up about a traumatic moment in her past. On April 3rd, 2008, the Clearwater, Florida native was diagnosed with Crohn's disease. As if this wasn't enough, she was told she only had a short time to live until her intestines exploded. Following emergency surgery, the former U.S. Air Force fire truck mechanic's trajectory changed. From one field to another, she moved from military service to the squared circle.
In the mid-2010s, Big Swole started her wrestling training in North Carolina.
It was here where she learned under George South, who wrestled for companies including Jim Crockett Promotions, at Highspots. Early in her career, Swole went by the ring name, "Aerial Monroe." She made her in-ring debut in November of 2015 for the Charlotte-based Queens of Combat. Monroe teamed with Savannah Evans, forming the team Pretty Fantastic, to defeat Miss Diss Lexia and Roni Nicole of The Voluptuous Vixens Wrestling Academy.
Monroe continued to team with Evans in early 2016, the two of them joining Devyn Nicole to form The Sexy Young Caramels. The trio faced off against the likes of Lexia, Amanda Rodriguez, and Su Yung. In July, Monroe made her debut for SHINE Wrestling. At SHINE 36, she faced Nicole in a losing effort. The following month, Monroe appeared on an episode of Monday Night RAW, losing to Nia Jax in a match that lasted a little over one minute. This would not be the final time that Monroe appeared on World Wrestling Entertainment programming.
Following her RAW appearance, Monroe made multiple appearances for QOC during the remainder of 2016. She scored victories over Nicole and Angel Rose. Monroe ended 2016 with another appearance for SHINE, facing Candy Cartwright at the promotion's final event of the year. In February of 2017, Monroe sought tag team gold. Alongside Nicole and Evans, Monroe competed in the QOC Tag Team Championship Tournament. From March to May, Monroe made additional SHINE appearances, besting the likes of Aria Blake and Priscilla Kelly. In December, Monroe debuted for RISE Wrestling, facing Nicole Savoy in singles action.
Heading into 2018, Monroe's work across the independent scene continued.
She would make her debut for Major League Wrestling in April, competing against Santana Garrett. Monroe went on to make additional appearances for SHIMMER and SHINE. She then entered Alternative Wrestling Show's Women's Tournament at Bart's Late Birthday Bash in June. After besting Miranda Alize in the first round and Willow Nightingale in the semifinals, she ultimately fell to Shotzi Blackheart in the finals. Monroe would also compete for the SHINE Tag Team Championship the month after.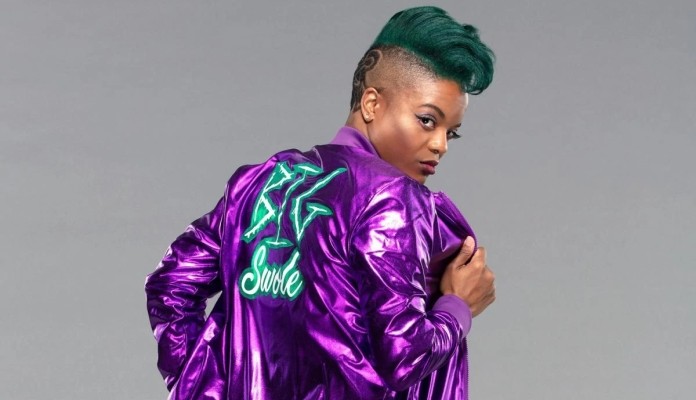 Roughly two years since her last WWE appearance, Monroe would enter the company's Mae Young Classic, her episode airing in September of 2018. With husband Cedric Alexander and daughter Adessah in the front row, she wrestled Zeuxis in a first round match. Despite her best efforts, Monroe failed to move on past the first round. This didn't deter Monroe, who continued her efforts in different independent promotions. This level of hustle would prove advantageous the following year, when she would land the biggest deal of her young career.
At SHINE 57, in March of 2018, Monroe teamed with Aja Perera to defeat Dementia D'Rose and Kiera Hogan of The Cutie Pie Club. Monroe and Perera would become known as #TeamSPAM. In addition to her tag team efforts, Monroe began to contend for the Phoenix of RISE Championship in May. Though she failed to unseat Zoe Lucas for the title in question, she Monroe remained steadfast. At August's The Summit – this was a collaborative event between RISE, SHIMMER, and Smash Wrestling – Monroe bested Rose for the Phoenix of RISE Championship, marking her first title victory. It was also around this time that Monroe began to use "Big Swole" as her in-ring name.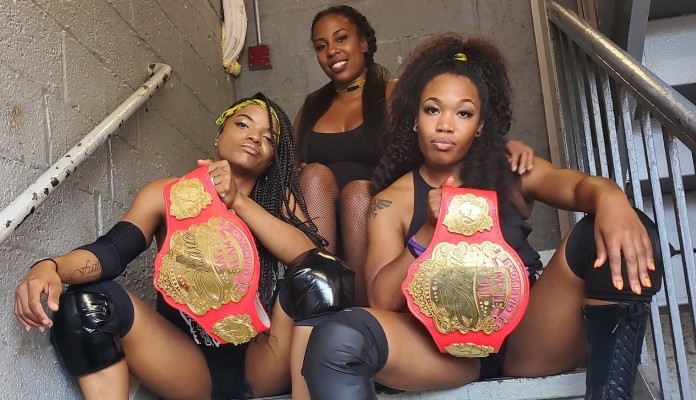 In August of 2019, Big Swole made her All Elite Wrestling debut at All Out.
She entered the Casino Battle Royale as one of the "Diamonds," being eliminated by eventual winner Nyla Rose. Much like with WWE, this wouldn't be Swole's final appearance for AEW. In the meantime, she sought championship gold elsewhere. At September's SHINE 61, Swole and Perera won the SHINE Tag Team Championship. In the fall, she returned to AEW, competing in a tag team that aired on Dark. Alongside Mercedes Martinez, Swole faced Sadie Gibbs and Allie in a losing effort. On the next AEW Dark, Swole faced Hikaru Shida. Though Swole lost once more, her performances in the company impressed. She would later confirm that she signed with AEW.
Signing with a company of AEW's scope would instill anyone with confidence. Though Big Swole harbors no shortage of confidence, her work ethic remains at a high level. In recent weeks, Swole has had strong performances. Just last month, not only did Swole make her AEW Dynamite debut, but she did so by defeating Joshi veteran Emi Sakura. The Clearwater native's big personality and swole mentality will take her to greater heights in AEW. In fact, it may not be long until we see her with championship gold under this new banner.
Previous AEW Talent Previews:
Dustin Rhodes, Part 1 Part 2 Part 3