Prior to his return to the World Wrestling Federation, Dustin Rhodes wrestled for Turnbuckle Championship Wrestling, which his father Dusty operated. In January, he defeated Scotty Riggs for the TCW Heavyweight Championship. Following an over yearlong absence from the WWF, Dustin Rhodes returned as Goldust during the 2002 Royal Rumble in January. He entered the match at number 2, being eliminated by The Undertaker following almost 13 minutes. This is Dustin Rhodes, Part 3.
From there, Goldust entered a feud with Rob Van Dam, which culminated in a loss to the former ECW World Television Champion at No Way Out in February. Goldust would soon enter the hardcore division, defeating Tough Enough winner Maven for the Hardcore Championship on an episode of SmackDown. He would go on to hold the title eight more times during his career, even competing for it at WrestleMania X-8 in March.
Later in the year, following the company's renaming to World Wrestling Entertainment, Goldust formed an unlikely alliance with former WCW World Heavyweight Champion, Booker T. Though the group started as heels, their comedic antics and segments endeared them to the fans, resulting in a collective face turn. They feuded with the New World Order before going on to compete for the World Tag Team Championship, specifically feuding with The Unamericans. At Armageddon, in December, Goldust and Booker T closed out the year by winning the title.
Dustin Rhodes, Part 3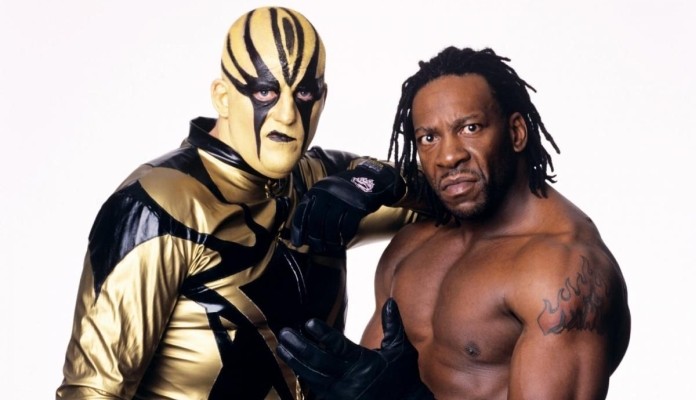 Goldust and Booker T started 2003 on a rocky note, losing the World Tag Team Championship to Lance Storm and William Regal on the first RAW of the year. After failing to reclaim the gold in February, Goldust and Booker T separated, though remained on good terms. Shortly thereafter, Goldust was attacked by Evolution members Randy Orton and Batista, being sent into a round tube. It short-circuited, electrocuting Goldust and causing him to develop a stuttering condition. This condition would lead to Goldust inadvertently swearing on live TV and getting into hot water with fellow wrestlers on TV. By the end of the year, his contract ran out, leading to his second departure from WWE.
Dustin Rhodes competed for a number of promotions in 2004, including Total Nonstop Acting Wrestling, where he competed with the likes of Chris Candido, Kid Kash, and then-NWA World Heavyweight Champion, Jeff Jarrett. "The Lone Star" Rhodes also feuded with Raven, who he defeated in a bull rope match at Destination X in March of 2005. By April, he was gone from TNA. However, Rhodes would once again don the gold paint as he returned to WWE in October of 2005, aligning himself with Jonathan Coachman, who was feuding with Batista at the time. Goldust would also compete in the 2006 Royal Rumble match, in January, where he entered at number 29 before being eliminated by RVD in about 3 minutes. He went on to form a duo with Snitsky, but "The Bizarre One" left WWE once more by June.
https://youtu.be/-AJg4tOz6Pw
Dustin Rhodes, Part 3 – Back to TNA
Rhodes spent time working in various promotions the rest of 2006 and much of 2007 before making his way back to TNA. In June of 2007, Rhodes made his return to the promotion at Victory Road. From there, he debuted a new character called "Black Reign," who he declared as his alternate personality. Though he fought in such hardcore-style matches as the Four-Way Monster's Ball and the Shop of Horrors, he'd be gone from TNA by the middle of 2008. From there, he would return to WWE in the 2009 Royal Rumble match, entering at number 17 before being eliminated by brother Cody. During the spring, he would create a partnership with Hornswoggle, feuding with the likes of Jamie Noble and The Brian Kendrick.
In June of 2009, Goldust was traded to WWE's ECW brand, where he feuded with Sheamus in the summer. He also worked with talents such as Yoshi Tatsu, Christian, and William Regal. In March of 2010, Goldust was brought to SmackDown, working with names including fellow AEW signee Chris Jericho. The following month, WWE held another draft, which saw Goldust move to RAW. He began to feud with Ted DiBiase Jr. and Maryse in the fall, targeting the former's Million Dollar Championship as a prize he coveted.
In September, Goldust joined the third season of NXT, serving as the pro to rookie Aksana. This partnership saw Aksana and Goldust marry in the ring before she turned on him. By December, Rhodes was out with a shoulder injury. He made a few more appearances for WWE, both in and out of character as Goldust, before his departure was announced in May of 2012.
Dustin Rhodes, Part 3 – Return At The Royal Rumble
Along with various independent appearances in 2013, he had a guest spot in that year's Royal Rumble match, entering at number 8. Like the Royal Rumble four years prior, he was eliminated by Cody. In the fall, Cody was fired in the storyline by Triple H following a loss to then-WWE Champion Randy Orton. To help his brother, Goldust returned to WWE, facing Orton in an attempt to reinstate Cody. Despite a valiant effort, Goldust fell to Orton. This eventually led to Dusty Rhodes intervening on his sons' behalf, furthering a feud between the Rhodes family and The Authority. This feud led to Battleground, in October, where Goldust and Cody faced Seth Rollins and Roman Reigns of The Shield. The Rhodes brothers defeated Rollins and Reigns to reclaim their jobs in WWE. Though Battleground earned mixed reviews, this tag team match received praise from fans and critics alike.
Goldust and Cody would begin teaming regularly as The Brotherhood. Roughly one week following Battleground, they successfully challenged Rollins and Reigns on RAW to win the WWE Tag Team Championship. The held the championship throughout the year, defending it against teams such as The Real Americans and The Usos. In January of 2014, during the Royal Rumble Kickoff, The Brotherhood lost the WWE Tag Team Championship to the recently returned New Age Outlaws. For months after, they attempted to win back the championship with no success. In the spring, following yet another loss, a distraught Cody told Goldust to find another partner. This led to Goldust attempting to find chemistry with other wrestlers, including Sin Cara and R-Truth, before finally revealing a familiar yet unusual partner.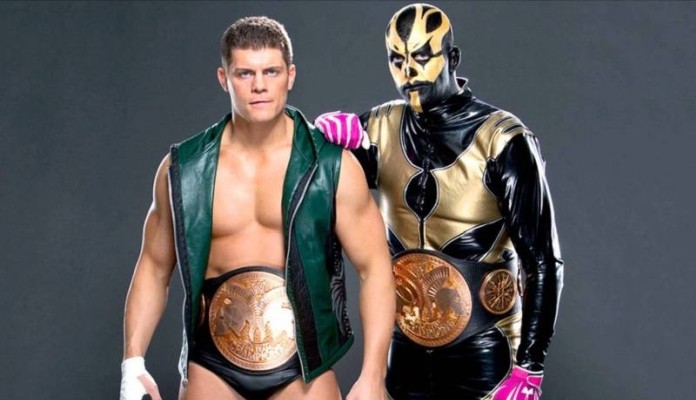 Dustin Rhodes, Part 3
In mid-June, Cody returned to WWE as Stardust, sporting a black and gold bodysuit with matching face paint, not to mention an eccentric personality. Later in the month, at Money in the Bank, The Cosmic Twins defeated RybAxel before setting their sight on the WWE Tag Team Championship, their "Cosmic Key," as they called it. At October's Hell in a Cell event, they defeated the Usos to win the title in question. Following a title loss in November, at Survivor Series, tension began to rise between Goldust and Stardust. These tensions came to a head in February of 2015, when Stardust turned on Goldust after their loss to The New Day. Goldust and Stardust entered a singles feud, which even included their father, including a match at Fastlane that saw Goldust defeat his younger brother. The following May, Goldust would leave the active competition due to a shoulder injury.
Remember the Name of..
In November, Goldust returned to in-ring competition at Survivor Series, winning the Kickoff Show 10-man elimination match alongside Neville, Titus O'Neill, and The Dudley Boyz. In 2016, Goldust formed a tag team with R-Truth known as The Golden Truth. Difficulties began to arise during the middle of the year, where they started to lose to teams such as the newly formed Breezango. After teaming for months, Goldust turned on R-Truth in May of 2017, attacking him before their match on RAW.
From there, vignettes began to air of Goldust speaking in a director's chair, hyping the return of "the Golden Age." From there, he worked with Finn Balor and John Cena and even had a stint on 205 Live in January of 2018. He would also join Mixed Match Challenge, teaming with Alicia Fox, who was eventually replaced by Mandy Rose following an injury. In July, he underwent double knee surgery. By the middle of 2019, he was gone from WWE.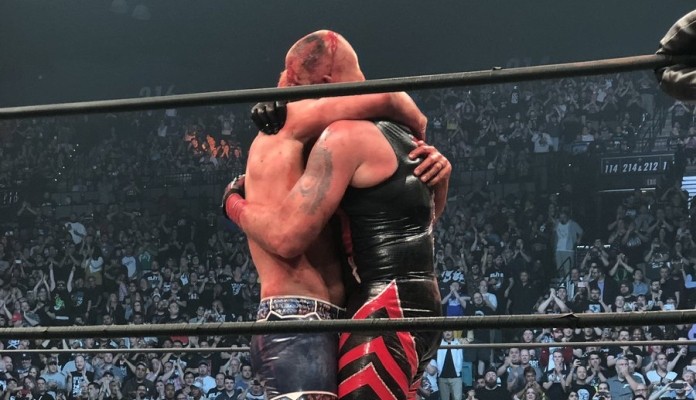 He is All-Elite
By January of 2019, the wrestling world was buzzing about the newly-unveiled All Elite Wrestling. During this time, a series of YouTube videos entitled "Road to Double or Nothing" hyped their first pay-per-view in May. Rhodes appeared on episode 13, talking about Cody before revealing that he would face his brother at the event. At Double or Nothing, in what many viewers considered the match of the night, Cody won the brutal affair. Post-match, Cody invited his brother to team with him against The Young Bucks at Fight for the Fallen in July. Thereafter, they embraced to cheers from the crowd. At July's Fight for the Fallen, the Rhodes' lost to The Young Bucks in the main event. The month after, it was revealed that Rhodes signed a deal with AEW, entailing in-ring competition and backstage work involving coaching and match producing.
Dustin Rhodes, Part 3
With a career that spans roughly three decades, across promotions both small and large, one may wonder what the legacy of Dustin Rhodes will be. Will it focus on his ability to play a range of characters and showcase different personalities? Will it be his collection of matches that complemented the styles of everyone he worked with? Perhaps it will be the knowledge shared with peers both past and present. No matter what it becomes, no one will forget the name… Dustin Rhodes.
Previous AEW Talent Previews: