In the vast history of professional wrestling, few stars can be considered "trailblazers." While there are many that have been deemed great, if not amazing, the truth is that only a select few have pushed their boundaries. The ones that challenged the norm, not to mention succeeded while doing so, are the ones that will be remembered for years to come. When it comes to the trailblazers in this industry, few stand the test of the time as well as Dustin Rhodes.
Rhodes made his professional wrestling debut in September of 1988. The son of the son of a plumber laid the groundwork for his legendary career in Championship Wrestling from Florida, debuting in a winning effort against Bob Cook. The promotion would go on to be named the Professional Wrestling Federation. The following December, Dustin Rhodes made his debut for NWA World Championship Wrestling, where he teamed with Kendall Windham, son of Blackjack Mulligan and brother to Barry Windham. They worked primarily with The Commandos and The Original Midnight Express, comprised of Randy Rose and Dennis Condrey.
Dustin Rhodes
In addition to continued WCW and PWF work in 1989, Rhodes toured Japan in March and April. He toured with All Japan Pro Wrestling during the Champion Carnival tournament. During said tournament, he worked with such legends as The Great Kabuki and Harley Race. Rhodes even scored a singles victory over Kenta Kobashi in April. In May, Rhodes returned to PWF to win the promotion's tag team championship alongside Mike Graham. Two weeks later, Rhodes won the NWA Florida Heavyweight Championship from Al Perez. Rhodes would hold the singles title until June, when he dropped it to Kendall Windham. July saw Rhodes debut for the United States Wrestling Associated, where he worked with the likes of Dutch Mantell and Jeff Jarrett. He also challenged Black Bart for the CWA Heavyweight Championship but failed to win it.
In February of 1990, Rhodes worked his second AJPW tour during the Excite Series. The following April, he wrestled a dark match for the World Wrestling Federation in a losing effort to Bart. This would lead to Rhodes making numerous WWF appearances, primarily in house shows, working with wrestlers including Paul Roma, Haku, and Buddy Rose. Rhodes had his first televised WWF match in September, defeating Paul Diamond. He went on to challenge Ted DiBiase in a ten-minute challenge the month after. In November, Rhodes teamed with his father, Dusty Rhodes, in a losing effort to Ted DiBiase and Virgil. The younger Rhodes would go on to make numerous WWF house show appearances throughout 1990.
Dustin Rhodes | WWF Debut
Rhodes made his WWF pay-per-view debut, in January of 1991, at the Royal Rumble. Once again, he teamed with his father to challenge DiBiase and Virgil, falling short against the latter duo for the second time. The following February, Rhodes made his return to WCW, using the nickname, "The Natural." During the next couple of months, he feuded with Larry Zbyszko and Terry Taylor, the latter of whom he bested at SuperBrawl in May, before teaming with Barry Windham. They were slated to challenge Zbyszko and Arn Anderson, The Enforcers, at Clash of the Champions XVII in November. Due to an injury sustained by Windham, however, Ricky Steamboat stepped in as an alternate. Together, Rhodes and Steamboat bested The Enforcers for the WCW World Tag Team Championship. Rhodes and Steamboat successfully defended the straps during the remainder of 1991.
Despite valiant efforts, in January of 1992, Rhodes and Steamboat dropped the WCW World Tag Team Championship to Anderson and Bobby Eaton. Nonetheless, Rhodes remained firmly etched in tag team competition, butting heads with the likes of Anderson, Zbyszko, and Steve Austin. In fact, Rhodes would go on to challenge Austin for the WCW World Television Championship in April. In May, at WrestleWar, Rhodes teamed with Windham, Steamboat, Nikita Koloff and Sting in WarGames against The Dangerous Alliance's Anderson, Eaton, Austin, Zbyszko, and Rick Rude.
NWA World Tag Team Championship Tournament
After over 23 minutes of action, Sting won the match for his team. In July, Rhodes and Windham competed in the NWA World Tag Team Championship Tournament, making it to the finals before being bested by Steve Williams and Terry Gordy. However, on a September episode of WCW Saturday Night, Rhodes and Windham defeated Williams and Gordy in an NWA/WCW Unified World Tag Team Championship match. After a successful title offense in October, at Halloween Havoc, they dropped the straps to Steamboat and Shane Douglas the month after on a Clash of the Champions episode. This loss led to Windham turning on Rhodes, who went on to seek singles success the following year.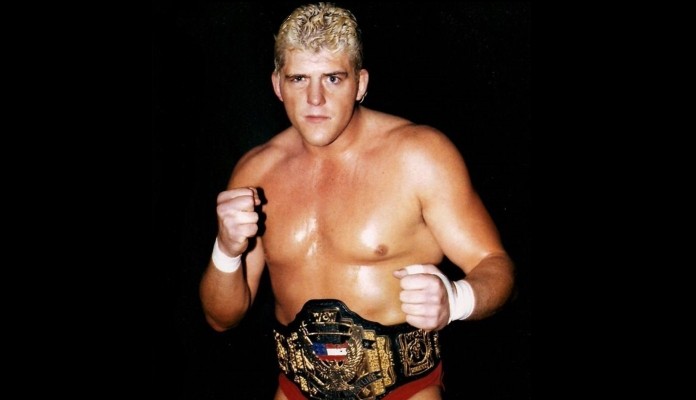 In January of 1993, Dustin Rhodes reached the finals of a WCW United States Heavyweight Championship tournament. Due to Rude previously being stripped as champion, Rhodes went onto the finals to face fellow finalist Steamboat for the vacant title. Rhodes would go on to win his first singles title in WCW, defending it against the likes of Bill Irwin and Paul Orndorff in the months that followed. In April, Rude returned, immediately setting his sights on Rhodes and the WCW United States Heavyweight Championship he believed he didn't truly lose.
WCW United States Championship Against Ravishing Rick Rude
Following a controversial title match that saw Rude win under questionable means, they faced off at Beach Blast in July. In their 30-minute iron man match, Rhodes and Rude competed for the vacant WCW United States Heavyweight Championship. The match ended in a draw at one fall apiece. The following month, they competed in a best of three series on Saturday Night. Ultimately, Rhodes won, claiming the WCW United States Heavyweight Championship for the second time.
September of 1993 saw Rhodes compete in his second WarGames match at Fall Brawl. Rhodes teamed with Sting, Davey Boy Smith, and The Shockmaster to defeat the team of Harlem Heat, Vader, and Sid Vicious within the steel cage. Rhodes' next big feud occurred when Austin targeted his WCW United States Heavyweight Championship. They went on to Starrcade, in December, to compete in a two-out-of-three falls match with the title on the line; Austin would best Rhodes two falls to zero.
Feud with Lord Steven Regal
Dustin Rhodes began 1994 by challenging WCW World Television Champion Lord Steven Regal, albeit with negative results. In March, Rhodes caught the attention of Bunkhouse Buck and Colonel Robert Parker. Soon thereafter, Anderson and Terry Funk entered the picture, targeting Rhodes. This prompted the former two-time United States Heavyweight Champion to recruit his father, Dusty, to help in this new fight. This led to the younger Rhodes' third WarGames match at Fall Brawl, which took place in September. The Rhodes family members teamed with The Nasty Boys to challenge Anderson, Funk, Buck, and Parker in WarGames. The younger Rhodes won the match for his team when he made the nefarious Parker submit. Unwilling to take this loss easily, Parker introduced The Blacktop Bully in December, the mindset being that Minnesota native would take down Rhodes once and for all.
Dustin Rhodes and The Blacktop Bully had their first singles match at SuperBrawl V, in February of 1995, with the latter picking up the victory. From there, Rhodes faced The Blacktop Bully once again, this time in a King of the Road match at March's Uncensored event. Unlike a standard match that took place in the ring, King of the Road was a match type that featured the competitors fighting in a cage around a hay-riddled flatbed truck. This match was significant in that both competitors bladed; at this time, WCW exercised a policy that forbade blading. Rhodes was soon gone from WCW and wouldn't return until 1999.
A Return to the WWF
In the meantime, Rhodes set his sights on the World Wrestling Federation, where he hadn't worked since 1991. This time, however, Dustin Rhodes would shed the moniker of "The Natural" and adopt a more provocative character adorn in gold. Next week, we will continue our look into Rhodes' wrestling career, diving into the introduction of Goldust!
Previous AEW Talent Previews: