Outer space and professional wrestling share one commonality, there is limitless potential; enter Kris Statlander. Though she may appear to be a normal woman from Long Island, New York, there's no denying her extraterrestrial presence. Nonetheless, if there's one thing that the "The Galaxy's Greatest Alien" Kris Statlander. She has proven since her in-ring debut, it's that a cosmetic mindset prevails. Without any further ado – and preventing any further astrology terms from being dropped – let's dive deep into the career of one of AEW's newest signees.
Kris Statlander's wrestling pursuits began in early 2017. She trained at the Create a Pro Wrestling Academy, based out of Hicksville, New York; fellow AEW wrestler Maxwell Jacob Friedman learned here as well. While training at, and working for, CAP, she also appeared for Victory Pro Wrestling in Centerreach. She even challenged Karen Q, a current NXT signee, for the VPW Women's Championship in April. The following June, Statlander defeated Karen Q for the VPW Women's Championship, winning her first title in her young career. Statlander would make her Combat Zone Wrestling debut in October against Maria Manic; she also worked with Stephon Pennington and Max Castle during the year. In the New Jersey-based WrestlePro, where she debuted in November, she faced Rosemary and Sienna.
Kris Statlander
Following an encounter with Faye Jackson at BritCombination Wrestling's Dangerous Intentions event, in January, Statlander participated in the VPW King of New York tournament. She competed in the first round that was ultimately won by The Grammar Cop. The same month, Statlander debuted for Limitless Wrestling, winning a six-person tag team match alongside Ashley Vox and Allie Kat. The following June, Statlander dropped the VPW Women's Championship to Sam L'Eterna. Immediately after, Statlander won back the title. It was also in May that Statlander took part in CZW's Dark City pay-per-view event. During said event, she won another six-person tag team match, this time alongside Bryce Donovan and Bobby Orlando of The Shook Crew.
In July, Statlander debuted for Queens of Combat for their Supercon tour. She defeated Madi Maxx in her first QOC match before losing to Chelsea Green the day after. The next month, Statlander wrestled a dark match for Ring of Honor, teaming with Vox and Ripley Shepard in a losing effort against Stella Grey, Jenny Rose, and Tenille Dashwood. Statlander returned to QOC in September to compete in their Heir to the Throne tournament. She defeated Laynie Luck in the first round before falling to Angel Rose in the quarterfinals.
Intergalatic Travel
Following a VPW Women's Championship loss to Masha Slamovich in September, Statlander continued for wrestle for a number of promotions, both in the New York area and beyond. In December, Statlander debuted for House of Glory, originally founded by Amazing Red. Statlander debuted for HOG strong, pun intended, by challenging for the HOG Women's Championship against Sonya Strong. She would close out the year by defeating fellow CAP alumni Friedman in a match for Beyond Wrestling. While this was a big victory for "The Alien," her career would grow to astronomic lengths in 2019.
In January of 2019, Statlander participated in the BCW Queen of the North tournament. She won a first-round three-way match against Brandi Lauren and Delmi Exo. This allowed Statlander to punch her ticket to the final four-way match, which was won by eventual BCW Women's Champion Jackson. However, Statlander's luck in tournaments would change for the better when she entered the Beyond Treasure Hunter in February. In said tournament, Statlander defeated David Starr in the first round, Jordynne Grace in the semifinals, and lastly, Chris Dickinson in the finals.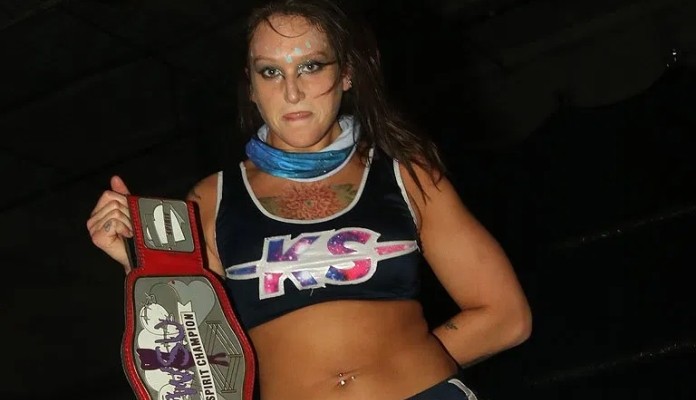 Kris Statlander | WSU Spirit Championship
Statlander followed up on the aforementioned success by defeating Grace for the WSU Spirit Championship in March. They would wrestle once more during the month in a PROGRESS Women's Championship match won by Grace. It was also in March that Statlander wrestled her first televised match for ROH, teaming with Tasha Steelz in a three-way tag team match. The following April, Statlander made her SHIMMER debut against Allysin Kay. The next day, Statlander made another debut, this time in the Lumberjack Swamp Monster Elimination Match in Game Changer Wrestling.
Those that watch World Wrestling Entertainment regularly may have recognized Kris Statlander during a one-off appearance on SmackDown. On the April 9th episode, Statlander teamed with an individual named Karissa, collectively known as "The Brooklyn Belles," in a losing effort against then-Women's Tag Team Champions The IIconics. Later in the month, Statlander completed in the King & Queen Tournament, presented by Outlaw Wrestling and New York Wrestling Connection. It was here that she teamed with Orange Cassidy, who would also go on to sign with AEW. Though they served as partners during said tournament, they would meet in singles competition for IndependentWrestling.tv in May. During this encounter, Statlander bested "The Lethargic Lothario" for the IWTV Independent Wrestling Championship; Cassidy would win it back the month after.
Continued Travel
In the months that followed, Statlander continued her exploits across a number of independent promotions. From Joey Janela in Beyond Wrestling to Sami Callihan in AAW, Statlander found herself competing against many notable names in the independent circuit. Furthermore, she collected more championship gold, including the Blitzkrieg Pro Bedlam Title in August. In October, Statlander debuted for CHIKARA, participating in the King of Trios. She formed the team of NDK alongside Thomas Santell and Nick Gage, but lost in the first round to Grace, Petey Williams, and Scott Steiner, aka Team Pump.
During November, rumors circulated that Kris Statlander had either signed with WWE or was close to inking a deal. It wasn't long after that said rumors were debunked, as Statlander's voyage involved a different destination. On episode 7 of AEW Dark, Statlander made her debut for the company, teaming with Big Swole to challenge Riho and Britt Baker. Two weeks ago, Statlander reappeared for Dark, this time teaming with Hikaru Shida against Emi Sakura and Bea Priestley. The following month, Statlander made her debut for Dynamite, pinning Shida in what many considered to be an upset. Post-match, Statlander was confronted by Awesome Kong and Brandi Rhodes, The Nightmare Collective. They extended an invitation – or issued a demand, depending on one's perspective – to Statlander. Silently, Statlander stared down Kong with no fear. It was also during December that AEW formally announced its signing of "The Galaxy's Greatest Alien."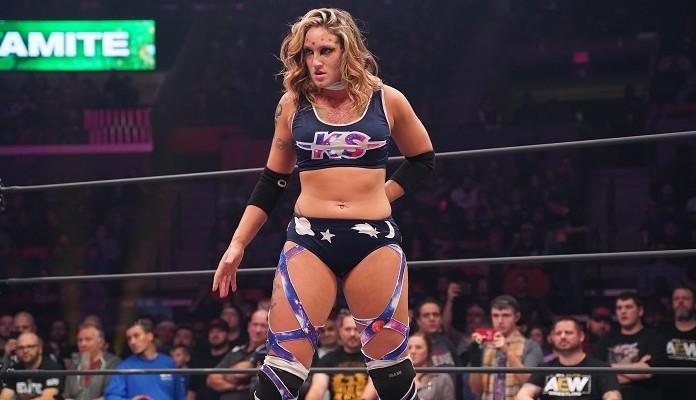 Wrestling Prodigy
Kris Statlander can best be described as a wrestling prodigy. For someone who has only been active for a few years, she has not only been able to put on tremendous matches but foster a character all her own. From her days training in Long Island, one cannot deny that Statlander has come a long way in short order. In closing, while it's no true that in space, no one can hear you scream, in wrestling, no one can ignore the voyage of Kris Statlander.
Previous AEW Talent Previews:
Dustin Rhodes, Part 1 Part 2 Part 3