When AEW held a casting call for a character known as "The Librarian" earlier this year, the promotion received countless submissions. Entries were submitted from everyone ranging from wrestling fans to independent talent. Several video submissions later, All Elite Wrestling officials came to a decision. However, it wasn't nearly as clear-cut as a three-count or a tap-out. Nonetheless, out of the submissions in question, longtime independent star Leva Bates came out the other side as #AllElite.
To say that Leva Bates has a pedigree in toughness would be an understatement. She received training during the mid-aughts at the Team 3D Academy, which allowed her to learn under future WWE Hall of Famers The Dudley Boyz. She would go on to make her official in-ring debut in 2006, wrestling for such promotions as Southeastern Championship Wrestling, based out of Florida. After wrestling in a few independent promotions in 2007, she started to see more success the year later.
In May of 2008, Leva Bates appeared for an episode of Total Nonstop Action Wrestling's Impact, where she accepted Awesome Kong's $25,000 challenge. Though Bates was valiant in challenging the TNA Women's Knockout Championship, Kong proved too dominant. The following November, however, Bates won gold for the first time by besting Lexie Fyfe and Betsy Ruth for the SCW Florida Women's Championship. That same month, Leva Bates debuted for World Xtreme Wrestling, competing in its 7th Annual Women's Elite 8 tournament. Bates scored a victory over Ruth in the first round before falling to Fyfe in the semifinals.
In 2009, Bates spent considerable time in WXW, working with the likes of Valentina and Malia Hosaka. She also debuted for another Florida-based promotion, American Combat Wrestling. Bates made her ACW debut against Ruth in March before scoring victories against such opponents as Lucky O'Shea and Brooke Carter in the months that followed. In November, Bates wrestled a dark match for SHIMMER Volume 27, teaming with Kimberly Kash in a losing effort against Sassy Stephanie and Kacey Diamond. This wouldn't be Bates' final SHIMMER appearance, however.
Following another SHIMMER dark match in April of 2010, at Volume 29, Bates made her official debut for the promotion at Volume 30. In the opening match, Bates competed against Hosaka. In May, Bates unsuccessfully challenged for the WXW Women's Championship. The following September, Bates appeared for SHIMMER's Volumes 33, 34, and 36, respectively working with Allison Danger, Melanie Cruise, and Cat Power. In March of 2011, Bates made her Women Superstars Uncensored debut at their 4th Anniversary Show, competing against Athena in the opening bout. The same month, in SHIMMER, Bates teamed with Allison Danger to form the cosplaying duo known as Regeneration X. They scored their first victory at Volume 37, besting Jamilia Craft and Mia Yim. They also worked Pretty Bitchin's Nikki Roxx and Ariel in addition to The Knight Dynasty, comprised of Saraya Knight and Britani Knight, the latter better known as WWE Superstar Paige.
In March of 2012, Regeneration X challenged for the SHIMMER Tag Team Championship at Volumes 45 and 48. In July, Bates took part in SHINE Wrestling's inaugural event, where she lost to Mercedes Martinez. The same month, Bates dropped the SCW Florida Women's Championship to Santana Garrett; Bates remains the longest-reigning SCW Florida Women's Champion at 1,351 days. Bates continued to work for SHINE, defeating Portia Perez in August and Kimberly in September before falling to Jessicka Havoc in October. In November, she formed a partnership with Kimberly to take on Taylor Made and Allysin Kay, collectively known as Made in Sin. The partnership between Kimberly and Bates wouldn't last.
Bates and Kimberly would square off in a Last Man Standing match, at SHINE 7, in February of 2013. Though Bates won, she would be attacked by Kimberly following the victory. This led to them facing off at SHINE 8 the month after, this time in a Fans Bring the Weapons I Quit match. Kimberly would win this encounter following referee stoppage. At SHINE 9, this feud would come to a conclusion in a steel cage weapons match, which Bates won. Bates would enter a tournament to crown the inaugural SHINE Champion. In July, Bates lost her first-round match to Yim. Soon thereafter, Leva Bates began a feud with Nevaeh in SHINE. In October, Bates challenged Cheerleader Melissa for the SHIMMER Championship at Volume 58, the champion retaining. In December, at SHINE 15, Bates defeated Nevaeh in a hardcore match, capping off their rivalry.
Bates went into 2014, in terms of SHINE, with tag team success in mind. In February, she teamed with Yim, forming The Lucha Sisters, to compete in the SHINE Tag Team Championship Tournament. After defeating Kimber Bombs in the first round, The S-N-S Express in the semifinals, and Made in Sin in the finals, The Lucha Sisters became the inaugural SHINE Tag Team Champions. They successfully defended the championship until June, when they dropped it to Hosaka and Brandi Wine at SHINE 20. During the fall, she made her official debut for WWE NXT, being introduced by Enzo Amore and Colin Cassady as "Blue Pants." In her first match, Blue Pants lost to Carmella, but would end up becoming a recurring character on the brand. Despite not being officially signed by WWE, she became immensely popular with NXT's viewership.
The character of Blue Pants persisted into 2015, working with the likes of Emma and Dana Brooke. In fact, in June, she challenged then-NXT Women's Champion Sasha Banks at a live event. In July, Bates entered a tournament for the vacant WSU Spirit Championship. Bates would end up winning the tournament and championship. In August, Blue Pants made a surprise appearance at NXT TakeOver: Brooklyn, supporting The Vaudevillains, Aiden English and Simon Gotch, in their NXT Tag Team Championship match against Blake and Murphy. During the match, Blue Pants thwarted Alexa Bliss' efforts to cheat, helping The Vaudevillains score the victory. Her final NXT appearance took place on a December episode, where she lost to Nia Jax.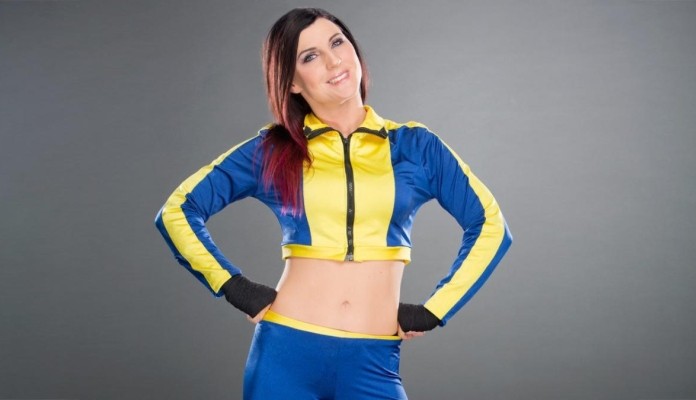 In January of 2016, Bates competed for the NWA World Women's Championship against Amber Gallows at SHINE 32. In February, she debuted for the Southside Wrestling Entertainment, based in the United Kingdom, challenging for the Queen of Southside Championship. Bates would make a one-off appearance for TNA in March, facing Jade at the Knockouts Knockdown pay-per-view. In November, at Breaking Barriers IV, Bates dropped the WSU Spirit Championship to Su Yung; Bates' reign lasted 497 days.
Bates, once again, found herself in tag team action heading into February of 2017. The Lucha Sisters, Bates and Yim, competed in Queens of Combat's tournament to determine the first QOC Tag Team Champions. Though they made it to the finals, The Lucha Sisters lost to eventual winners Laurel Van Ness and Taeler Hendrix. That same month, she was part of multiple exchanges of the WrestleCircus Sideshow Championship, which she won from Scorpio Sky before dropping to Joey Ryan. She went on to unsuccessfully challenge SHINE Champion LuFisto in May.
In September, alongside Greg Excellent, Bates participated in WSU Queen & King of the Ring tournament. They defeated Isla Dawn and Dave Crist in the first round before falling to Veda Scott and Jason Cade in the semifinals. In November, at SHIMMER Volume 97, Bates won the promotion's tag team championship alongside Delilah Doom. Together, they became known as the Totally Tubular Tag Team. In December, Bates made her Major League Wrestling debut against Garrett.
Early into 2018, Bates won championships in independent promotions Heavy on Wrestling and Atomic Wrestling Entertainment. Furthermore, the Totally Tubular Tag Team successfully defended the SHIMMER Tag Team Championship against teams including Hudson Envy and LuFisto. Their reign lasted until October, at SHIMMER Volume 107, where they dropped the championship to Mercedes Martinez and Cheerleader Melissa.
Following the announcement of All Elite Wrestling this past January, the promotion held a casting call for a character known as "The Librarian." Bates submitted her entry and was selected by AEW Executive Vice President Cody. Conflicts arise, however, as company EVPs The Young Bucks selected Peter Avalon for the role. Eventually, both Bates and Avalon were elected to portray the character, even forming a duo. As "Librarians," they would shush fans in attendance, much to their chagrin. Following a brief segment at AEW Double or Nothing in May, Bates would have her first official match with the promotion at Fyter Fest the month after. During "The Buy-In," the lady librarian lost to Allie. Bates appeared at Fight for the Fallen this past July, standing in the corner of Avalon, who lost to Sonny Kiss during "The Buy-In."
One of the features that Bates has become popular for is her ability to play different characters. As a cosplay aficionado, her dedicated character work should come as no surprise. Therefore, "The Librarian" is a perfect fit for her ever-growing wrestling resume. Whether she's dressing like a superhero, paying tribute to a wrestling legend, or portraying a seemingly everyday profession, there's no denying Bate's commitment to her craft. Expect Leva Bates to continue doing so as AEW makes its way to primetime television.
Previous AEW Talent Previews: