We begin our AEW Talent Profile series with part 1 of the one and only, Cody. All In, which took place this past September, was noteworthy for numerous reasons. Not only was it indicative of the thriving nature of independent wrestling. But it set a chain of events into motion that would shake the foundation of professional wrestling as a whole. Enter All Elite Wrestling, an independent promotion that was officially announced earlier this month. From the omission of traditional wrestling writers to discussions of equal pay to the signing of various talent, AEW had the wrestling world talking.
For this inaugural piece, we will look at one of the initial talents and executive vice presidents of AEW. Whether you know him as Dashing, The American Nightmare, or any moniker in between, the name you must remember is Cody.
Cody | Origins
Cody Rhodes – the half-brother of Dustin Runnels, aka Goldust, and son of Virgil Runnels Jr., aka Dusty Rhodes. He started in Ohio Valley Wrestling in 2006. In OVW, he worked with the likes of Paul Burchill and Shawn Spears, the latter of whom would go on to be known as Tye Dillinger. Cody's run in OVW would be brief, though, as he would be the main roster-bound.
In July of 2007, Cody made his Monday Night RAW debut, immediately embroiled in a feud with Randy Orton after The Legend Killer disrespected his father. This led to Cody challenging Orton in singles competition numerous times. While the young Rhodes came out on the losing end of these encounters, his heart and determination were evident. Cody's gutsy bravado persisted in his next major program, which saw him challenging Hardcore Holly. Not unlike his battles with Orton, Cody would be defeated in multiple singles matches. However, Cody's competitive nature resonated with Holly, which led to them becoming a tag team. This new duo would win the World Tag Team Championship the following December from Lance Cade and Trevor Murdoch, which marked Cody's first title victory in WWE.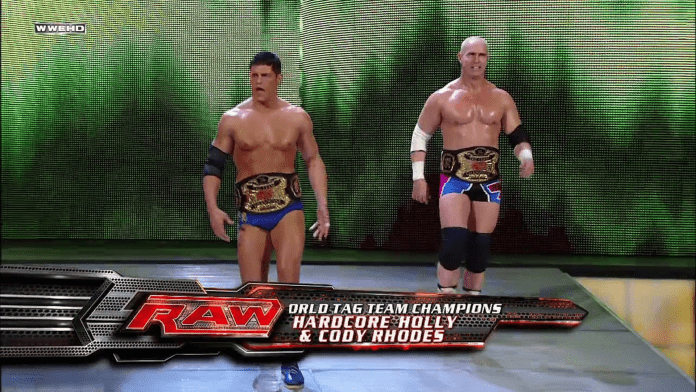 Cody and Hardcore Holly
Holly and Cody would remain a tag team throughout most of 2008, but it was at Night of Champions in June that the former would make a statement. He aligned himself with challenger Ted DiBiase, winning his second tag team championship and turning heel in the process. Later in the year, Cody and DiBiase aligned themselves with Randy Orton, establishing the Legacy's multigenerational stable.
As a member of The Legacy, Cody would help Orton win the 2009 Royal Rumble and become involved in a prominent feud with the McMahon family. The Legacy would feud with D-Generation-X thereafter. The Legacy exhibited volatility in 2010, though, as Orton became increasingly frustrated with Cody and DiBiase's failed attempts to help him achieve success. Over time, the stable dissolved. This resulted in the three Legacy members facing off in a triple threat match at WrestleMania XXVI, where Orton defeated Cody and DiBiase.
"Dashing" Cody Rhodes, which was reminiscent of such vain, self-absorbed talents of wrestling's past as "The Model" Rick Martel, was obsessed with his outward appearance, so much so that he would not only provide grooming pointers but criticize fans in attendance he deemed less than attractive. Following his draft to SmackDown in 2010, Cody would start to develop a new "dashing" personality. During this time, Cody aligned himself with Drew McIntyre. Though their partnership was short-lived, they managed to win the WWE Tag Team Championship at Night of Champions in a tag team turmoil match. For Cody, this period was less about championship highlights and more about character development, as the "Dashing" persona illustrated great range from the son of one of the most charismatic performers in wrestling history.
A Change  in Character
The following year marked another character change for Cody. In January of 2011, in a match with Rey Mysterio, Cody would have his nose broken by the luchador's knee brace. He would no longer consider himself dashing instead of focusing on his perceived outward ugliness and that of those around him. The facial imperfections of others were so grotesque to Cody that he instructed assistants to pass around paper bags, ordering fans to wear them during shows. What made his character intriguing was that he wore a clear mask; while he regarded himself as horrific, the mask in question revealed no facial abnormalities.
In other words, his "ugliness" was psychosomatic. The "Undashing" Cody Rhodes character would allow him to exhibit a more aggressive in-ring style. He even used his own mask as a foreign object. In August, Cody would defeat Intercontinental Champion, Ezekiel Jackson, winning his first singles title in the victory. His extended run with the Intercontinental Championship would lead to him revealing a new throwback model for the title, reminiscent of the 1980s and early 90s, at the Hell in a Cell pay-per-view in October. The title has since maintained this look.
Undashing

The "Undashing" One would rekindle his feud with Orton. This was due in large part to how The Legacy deteriorated a couple of years prior. This feud was noteworthy because, by the end, Orton would break Cody's clear mask. This would absolve him of his mental burden in the process. He became involved in a WrestleMania feud with The Big Show, losing the Intercontinental Championship. Cody would retain the title at Extreme Rules less than one month later. The following month, at Over the Limit, Cody lost the championship once again. This time to Christian, who made his return after being out of action for approximately two months.
Cody reentered the tag team scene in 2012, aligning himself with "The Intellectual Savior of the Masses," Damien Sandow. Together they formed Rhodes Scholars. Though the team didn't win tag team gold, their character work was entertaining. In particular, with Daniel Bryan and Kane, Team Hell No. Rhodes would sport a mustache as well, which became additional comedic fodder. The partnership ended in 2013 at the Money in the Bank pay-per-view event; Cody was fingertips away from winning the sought-after briefcase. Only for Sandow to push him off the ladder, claiming said briefcase for himself. He became a newly minted babyface, and Sandow would feud throughout most of the summer.
Cody and The Authority
On the September 2nd episode of RAW, Rhodes entered arguably his biggest program during his WWE career. During this show, Cody criticized the tyrannical Chief Operating Officer, Triple H. This resulted in the COO of the company placing Cody in a non-title match with WWE Champion Randy Orton. The stipulation being that if Cody lost, he would be fired. Despite a valiant attempt, Rhodes fell short, losing and being publicly fired by Triple H shortly thereafter. The following week, Goldust made his return to RAW, challenging Orton to have Cody reinstated. Like his younger brother before him, Goldust would fall short. It didn't take long for Dusty Rhodes to become involved in the feud in support of his sons. This led to the October pay-per-view, Battleground.
Next time, we will look into Cody's career from the fallout of Battleground to today. See you then!