Before reading further, catch up with Part 1 here of our AEW Talent Preview of Dustin Rhodes as we present part 2.
In late 1995, Goldust entered the World Wrestling Federation as the promotion's most provocative character at the time. Consider that the promotion was still in a period where cartoony characters were all the rage. When the landscape featured such names as Aldo Montoya, Duke "The Dumpster" Droese, and Dr. Isaac Yankem, Goldust was a standout. While he was still a character in the literal sense, the enigmatic, often sexual nature of Goldust provided the child-friendly WWF with an edge. To this day, Goldust remains one of the most memorable characters in any era of professional wrestling.
Goldust made his official in-ring debut at In Your House 4, in October of 1995, scoring a win over Marty Jannetty. Goldust's first major feud was with Razor Ramon, who he expressed romantic interest in. This provided a unique contrast to Ramon, who dripped with machismo. This feud culminated at the 1996 Royal Rumble event in January, where Goldust defeated Ramon to win his first WWF Intercontinental Championship. This event was also notable in that it marked the debut of Marlena, who would sit in a director's chair near ringside, supporting Goldust while wearing a fashionable gold dress and smoking a cigar. This partnership proved invaluable to Goldust's development early on.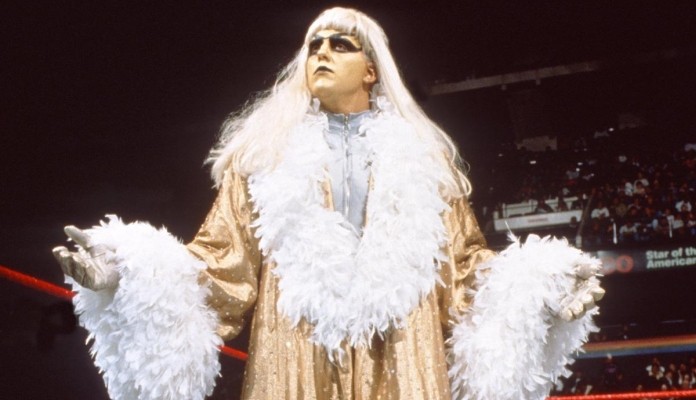 Dustin Rhodes Part 2
Goldust's next major feud was against "Rowdy" Roddy Piper. The gold-clothed enigma's mind games were on full display, as he expressed his love for Piper, even using a stage resembling Piper's Pit to speak his perverse mind. They went onto WrestleMania XII, in March, to compete in the Hollywood Backlot Brawl. This brawl spanned numerous matches in the show, concluding with Piper stripping Goldust in the middle of the ring. Nonetheless, Goldust continued to defend the Intercontinental Championship, including a victory over The Undertaker at In Your House 8 in May. The following June, at King of the Ring, Goldust dropped the title to Ahmed Johnson. He also competed against Shawn Michaels for the WWF Championship at Xperience, in August, but fell short. By December, Goldust was feuding with Hunter Hearst Helmsley, which sparked the babyface turn of the former.
The aforementioned feud continued into 1997. Goldust challenged Helmsley for the Intercontinental Championship at the Royal Rumble but fell short. From there, he participated in the King of the Ring tournament, in May, but lost in the first round to Jerry "The King" Lawler. From there, Goldust feuded with Brian Pillman, which saw them fight for the services of Marlena. Pillman defeated Goldust at Ground Zero: In Your House, in September, which meant that Pillman received Marlena's services for 30 days. This feud came to an abrupt conclusion when Pillman tragically passed away on October 5, 1997. By the fall, Goldust turned heel, facilitated by Team USA's loss at Survivor Series in November. In December, the Goldust character took an even stranger turn. Now managed by Luna Vachon, he became "The Artist Formerly Known as Goldust," which saw him mimic personalities ranging from Vader to Marilyn Manson.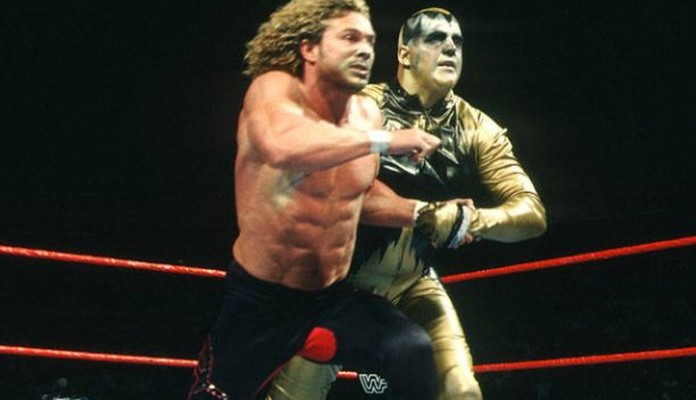 The Bizarre One
As TAFKA Goldust, "The Bizarre One" found himself involved in unique situations. In January of 1998, he challenged Owen Hart for the European Championship. The following March, Goldust, and Vachon teamed up to face Marc Mero and Sable in a losing effort at WrestleMania XIV. Around this time, he started to go by his real name, Dustin Runnels, decrying the promotion's edgy content in favor of more family-friendly alternatives. He also feuded with Val Venis, the adult film star serving as the antithesis to Runnels' more conservative ways. In the months that followed, Runnels was seen holding signs reading "he's coming back," a supposed religious reference. What this turned out to be, however, was the return of Goldust. Once more, Rhodes adopted the character he entered WWF as.
Goldust continued to work in WWF throughout the rest of the year. Not only did he feud with Val Venis and Jeff Jarrett, but he competed in the Deadly Game tournament, which took place during Survivor Series in November of 1998. In the first round of said tournament, Goldust fell to Ken Shamrock. In January of 1999, Goldust entered a feud with Al Snow, who became popular largely due to his mascot, Head. After stealing Head, Snow defeated Goldust on an episode of RAW to reclaim him.
Following an unsuccessful attempt to win the Intercontinental Championship at WrestleMania XV, in March, Goldust defeated Road Dogg the following night on RAW to win the title in question. The next month, Goldust dropped the Intercontinental Championship to The Godfather. During this same period, Goldust aligned himself with The Blue Meanie, who became the apprentice of "The Bizarre One," before being joined by Ryan Shamrock. Before this program could reach a solid conclusion, Goldust was gone from WWF by May.
https://youtu.be/PTYfB-cdCfM
Re-Entering WCW
The following November, Rhodes reentered WCW, albeit in a unique way. Following several vignettes featuring Seven, a character Rhodes was slated to play on television, he returned to TV and promptly dropped it in-ring. To distance himself from the Goldust character, as well as other outlandish wrestling personalities, he became known as "The American Nightmare" Dustin Rhodes; the nickname would go on to be used by his younger brother Cody Rhodes following his exit from World Wrestling Entertainment. Rhodes' first televised match in WCW, since his return, was a DQ loss against Meng on a December episode of Nitro. From there, Rhodes feuded with Jeff Jarrett, defeating him on Thunder via DQ. Rhodes closed out the year by facing Jarrett in a Bunkhouse Brawl, at Starrcade in December, which Jarrett won.
In 2000, Rhodes entered a feud with Terry Funk. Though they initially teamed up to face The Harris Brothers, matters between Rhodes and Tunk became contentious, which led to Uncensored in March. At the pay-per-view in question, Rhodes defeated Funk in a Bullrope I Quit match. The following month, Rhodes failed to prevent Rhodes from beating Norman Smiley for the WCW Hardcore Championship at Spring Stampede. As a result, Vince Russo fired Rhodes, marking the latter's final appearance for the company the rest of the year. Though Rhodes made a few independent appearances, specifically World League Wrestling in Missouri, he was largely gone from wrestling.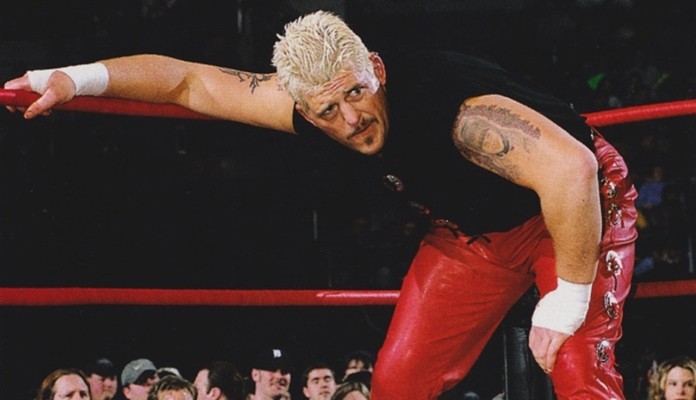 Dustin Rhodes Part 2 | A Return To Television
Following several months of being away from television, Rhodes returned to WCW in January of 2001. Much like his time in WCW years prior, Dustin teamed with father Dusty, this time against Jarrett and Ric Flair. He also found himself feuding with WCW United States Heavyweight Champion Rick Steiner, leading to a title match at SuperBrawl Revenge in February that Steiner won. In March, WCW held its final pay-per-view event, Greed. In the second to final match, the Rhodes father and son teamed up to defeat Jarrett and Flair. The same month, WCW was purchased by the WWF. Though Rhodes was signed with WCW during this time, WWF afforded not to acquire his contract.
Though Dustin Rhodes returned to the independent scene in the months that followed, including an appearance for National Wrestling Alliance Jersey in August, it wouldn't be long until he found his way back to WWF. Tune in for the final part of this Dustin Rhodes profile, where we will cover his return to WWF in 2002 all the way to the present day. This was Dustin Rhodes part 2.
Previous AEW Talent Previews: