On the surface, a character named "The Librarian" shouldn't work for anyone including Peter Avalon. To a longtime wrestling fan, such a moniker may spur images of characters during the mid-90s, when personas ranging from garbagemen to hockey goons were seemingly all the rage. All Elite Wrestling decided to test the boundaries of seemingly everyday characters when they held a casting call for "The Librarian," a character that entrants portrayed in different ways. By the end, one of the eventual winners was Peter Avalon.
Those that have followed Avalon's career will attest that he wasn't always the uptight, sweater-wearing librarian that shushed fans and wrestlers alike. Avalon made his professional wrestling debut in November of 2008 at the Empire Wrestling Federation, based out of Covina, California. In his first match, Avalon lost to Chris Kadillak. In April of 2009, Avalon won the Alternative Wrestling Show's Light Heavyweight Championship, his first singles title. He would go on to face numerous competitors, including Shane Haste and fellow AEW signee Scorpio Sky. Avalon's first feud came in the form of Human Tornado, with title implications on the line. Their feud came to a head in October, when Avalon bested Human Tornado in a falls count anywhere match. November saw Avalon making his debut for Insane Wrestling League, defeating Christina Von Eerie.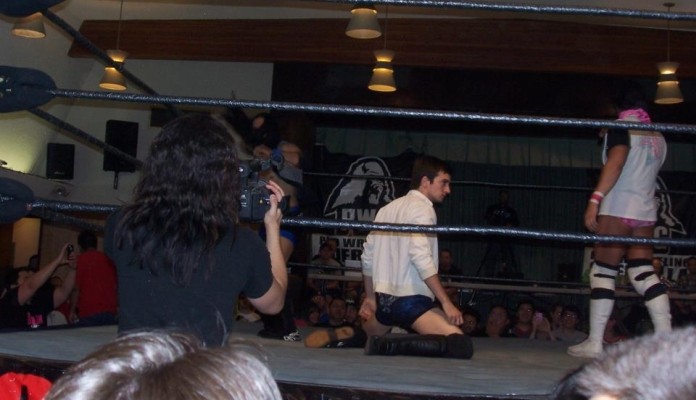 Peter Avalon –
Teaming with Mr. Biggz
In January of 2010, Avalon entered tag team competition, partnering with Mr. Biggz for Mach-1 Pro Wrestling's Tag Team Championship tournament. Avalon and Biggz made it to the semifinals, where they lost to The RockNES Monsters. The same month, Avalon saw another successful AWS Light Heavyweight Title defense against Sindarin. In June, Avalon unsuccessfully challenged Willie Mack for the M1W Heavyweight Championship. Avalon would drop the AWS Light Heavyweight Championship to Sindarin the same month. In July, Avalon debuted for Pro Wrestling Guerrilla at Seven, competing in the opening six-person tag team contest.
In August, Avalon debuted for Championship Wrestling from Hollywood, one of the promotions he would become associated with. For his debut match for the promotion, Avalon fell to Colt Cabana. From there, Avalon joined forces with Joey Kaos, Adam Pearce, and Austin Aries, forming the stable known as "The Standard." As a unit, they feuded with such talents as Cabana, Mack, and Joey Ryan.
Avalon started 2011 by competing in the M1W New Years Day Cup, defeating Brandon Parker in the first round before falling to Johnny Goodtime in the quarterfinals. The same year, The Standard would break up, with Avalon soon joining forces with Rico Dynamite and Ray Rosas. In the months that followed, Avalon, Dynamite, and Rosas feuded with Ryan Taylor, Jarek Matthews, and Famous. This feud culminated in July, at a Championship Wrestling from Hollywood event, in a hair vs. hair elimination tag team match. Avalon's team lost, resulting in him having his hair cut. This didn't deter Avalon for long, as he sought singles gold. In November, he challenged Sky for the NWA International Television Championship, but was unsuccessful.
Peter Avalon –
Feuding with Ryan Taylor
Leading up to 2012, Avalon set his sights on Taylor, the two of them competing in a number of brutal affairs. In February, this feud came to a head at another Championship Wrestling from Hollywood event, with Taylor defeating Avalon in a cage match. In May, Avalon competed in the Percy Pringle III Cup, defeating Mack in the first round. The following month, Avalon bested Rosas in the quarterfinals before losing to Taylor in the semifinals. In 2013, Avalon and Rosas formed the team known as "PPRay." They competed for several promotions, including California-based Santino Bros. Wrestling. They feuded with Los Bandidos, comprised of Tito Escondido and Rico Dynamite, throughout the year.
Together, they won the AWS Tag Team Championship in June and the CWFH Heritage Tag Team Championship in July. In October, Avalon debuted for Total Nonstop Action Wrestling at Bound For Glory under the name "Norv Fernum." As Fernum, he lost to Ethan Carter III. A little over one week later, Fernum challenged Carter to a rematch but lost once again. He made a few more TNA appearances before 2013 came to a close.
PPRay – Tag Team Champions
Despite having lost the AWS Tag Team Championship the year prior, PPRay continued to successfully defend the CWFH Heritage Tag Team Championship heading into 2014. By April, however, they were forced to relinquish the latter championship because Rosas suffered an injury. They were interrupted by The RockNES Monsters, which promoted Avalon to defend the title in a two-on-one handicap match. Outmatched, The RockNES Monsters won.
While Rosas recovered, Avalon attempted to regain the championship. September saw Avalon achieving singles success in IWL, winning the promotion's Anarchy Championship from Joey Ryan. By October, Rosas recovered, with PPRay challenging The RockNES Monsters to a two-out-of-three falls match. PPRay would go on to become two-time CWFH Heritage Tag Team Champions, two falls to one. The same month, PPRay won back the AWS Tag Team Championship from Los Bandidos at a Halloween Slaughterhouse event.
Race for the Ring Tournament
In January of 2015, PPRay competed in the AWS Tag Team Championship Race for the Ring tournament, which they won. PPRay continued to thrive in tag team wrestling, including a successful AWS Tag Team Championship defense against Reno SCUM at the promotion's 13th Anniversary Show. In April, Avalon bested six other opponents to win the IWL World Heavyweight Championship; Avalon would become the last recognized titleholder before the promotion folded in 2016.
Later in the summer, Avalon returned to IMPACT Wrestling, as Fernum, to challenge Carter for the TNA World Heavyweight Championship. Like their previous encounters, Carter won. He also competed in a number one contendership battle royal for the title in question, with Drew Galloway emerging victorious. In July, PPRay dropped the AWS Tag Team Championship to Lil Cholo and B-Boy in a three-way match. In August, Avalon added more gold to his resume by besting Johnny Yuma for the CWFH Heritage Heavyweight Championship, kickstarting an impressive reign.
Insanity at Industry Hills
The year 2016 started on a sour note, as IWL held its final event in January: Insanity at Industry Hills. Peter Avalon teamed with Eric Cross in a losing effort to Justin Ryke and Eric Watts. From there, Avalon continued to successfully defend the CWFH Heritage Heavyweight Championship against the likes of Sky and Sasha Darevko. Avalon made his debut for Combat Zone Wrestling at The Boss is Back, successfully defending said championship against Shane Strickland. 2016 also saw the formation of Championship Wrestling from Arizona, built in association with CWFH. Not only would Avalon become the promotion's real-life producer, but he remained a talent, adopting a "Producer" persona that saw him abuse his authority at every turn.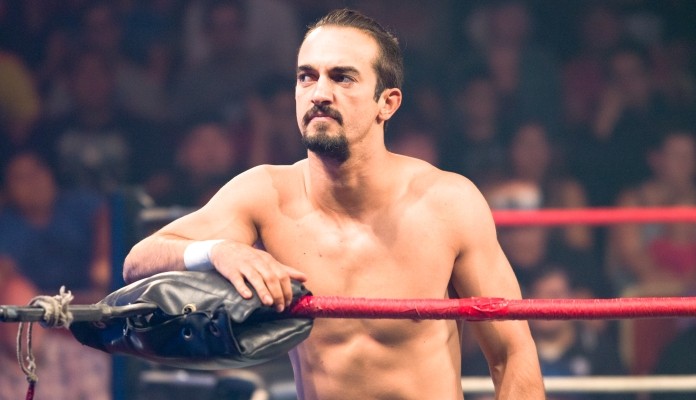 Avalon's lengthy CWFH Heritage Heavyweight Championship reign would come to an end in June of 2017. At the promotion's Red Carpet Rumble event, Peter Avalon dropped the title to Escondido. At 672 days, Avalon boasts the longest CWFH Heritage Heavyweight Championship reign. That same month, Avalon debuted for Bar Wrestling in a losing effort to Pinkie Sanchez. The next month, PPRay challenged Ryan and future AEW Executive Vice President Cody Rhodes in tag team action. In the months that followed, Avalon joined the stable known as HATE. Alongside longtime member Rosas, Avalon won the AWS Tag Team Championship for the third time.
In addition to numerous AWS Tag Team Championship defenses, Avalon's work in CZW continued in 2018. By April, he competed in the CZW Best of the Best tournament, losing in the first round. In September, Peter Avalon competed in FIST Combat's King of SoCal Tournament. As a member of Block A, Avalon defeated Sammy Guevara in the first round. In future Bar Wrestling appearances, Avalon would compete against future AEW signees, including Luchasaurus.
The Librarian
When All Elite Wrestling was introduced to the wrestling world in January of 2019, an interesting recruitment for new talent began. AEW held a casting call of sorts for a character known as "The Librarian." Ultimately, AEW EVPs The Young Bucks selected Peter Avalon following his entry. This created conflict, however, as fellow EVP Cody selected Leva Bates for the same role. It was then decided that Bates and Avalon would play "The Librarian," portraying the same gimmick in different ways. They initially butted heads, but it wasn't long until they formed a partnership, much to the annoyance of AEW fans.
Following a small appearance at Double or Nothing in May, Peter Avalon would have his first official AEW match in July. At the Fight for the Fallen "Buy-In" preshow, Avalon faced Sonny Kiss in a losing effort. At the most recent AEW event, All Out, Avalon supported Bates during the Casino Battle Royale. Though Bates lost, Avalon was part of a creative spot. He used a set of library books as platforms to avoid premature elimination.
Though an AEW signee, Avalon's work on the independent scene continues. Though PPRay lost the AWS Tag Team Championship to True Grit in March, they resumed work in different promotions. At a recent Bar Wrestling event, PPRay worked with A Boy and His Dinosaur, Jungle Boy and Luchasaurus, a unit that's becoming increasingly popular. On the opposite side of the spectrum, Avalon's work as "The Librarian" has successfully raised the ire of wrestling fans across the board. Though he may be seen as a pest due to his insistence to shush others, his experience in the ring makes him nothing short of formidable.
Previous AEW Talent Previews: