It's PROGRESS, PROGRESS; party time, excellent! Welcome everyone to the PROGRESS Prerogative; this is the column in which we take a look at every PROGRESS Wrestling Chapter in chronological order and review what happened. This week we've arrived at Chapter 16 Very Very Very Breaky Breaky Breaky Bishi Bishiiiii, and an absolute stonker of a Botchamania reference as the title. Let's not waste any time and get right to it.
PROGRESS Wrestling Chapter 16: Very Very Very Breaky Breaky Breaky Bishi Bishiiiii! Sunday, December 1st, 2014. The Electric Ballroom, Camden, UK.
FSU vs Screw Indy Wrestling – Tag Title Match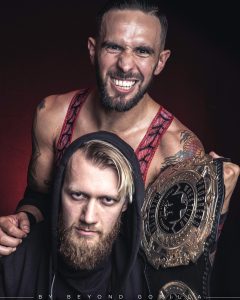 There's a bit of preamble pre-match as Mark Haskins announces that he is unable to wrestle alongside Sha Samuels due to injury. He calls out Rampage Brown to ask him to take his place, but the former PROGRESS champ says he is done with Screw Indy Wrestling. This cues Martin Stone to run in and the three heels take it in turns outing the boots to Brown. Stone also cuts a venomous promo on the crowd, using the sort of language that I can't repeat here. He closes by saying to get 'the taffs' out here.
Mark Andrews and Eddie Dennis make their way to the ring and take the fight straight to Screw Indy Wrestling. They batter Samuels and Stone around the ring before executing stereo dives to the outside. I know I keep going on about it, but FSU were so over it's genuinely hair-raising. I love them. Samuels gets the advantage over Mandrews by whipping him with his braces and choking him with his scarf. Not sure why that wasn't a disqualification as the referee saw both foreign objects, but there we are.
On the outside, Mark Haskins interjects himself at various points too, giving SIW yet more of an advantage. A mistake by the East End Butcher gives Andrews the chance to tag in the big man, and Dennis runs wild taking out Stone and Samuels. Eddie shows his deceptive strength with a running Razor's Edge buckle bomb to Sha. From there it's all academic as FSU hit Samuels with the Next Stop Driver for the win. Andrew WK's Party Hard plays – everybody goes mental – I love it!
Ali Armstrong vs Zack Gibson – Natural Progression Series
The Natural Progression Series semi-final sees Liverpool's Number One Zack Gibson face Ali Armstrong next at Very Very Very Breaky Breaky Breaky Bishi Bishiiiii. Armstrong comes out doing his jazz hands routine, which is amusing but isn't a gimmick that would get you over the long term. Gibson is his usual heat-magnet self simply by being from Liverpool. And there's a lot of Liverpool FC based interaction with the crowd on this show. The Ultras chant 'where's your Suarez?' (after Liverpool's star player left the club); Gibson responds by biting Armstrong's hand as Suarez had bitten opposing players. Zack also does his spot where he runs over to the corner and slips trying to scale the ropes. That one is a reference to Steven Gerrard and his famous slip that gifted Chelsea a vital goal.
Armstrong and Gibson have quite a bit of back and forth during the match. Gibson grounds Ali with his trademark array of wear down and submission holds. Armstrong hits lots of suplex variations, which in fairness are not far removed from being genuine botches. There's no snap or height to any of them, particularly a late in the day German. Gibson takes the win via tap out with the Shankly Gates armbar. He will face off with Flash Morgan Webster in the final… soooon.
El Ligero vs Michael Gilbert – Street Fight
El Ligero's beef with Michael Gilbert will be settled in a street fight at Chapter 16 Very Very Very Breaky Breaky Breaky Bishi Bishiiiii. And you know that both men are serious because they're wearing jeans. Ruh-roh. Ligs gets the jump on Gilbert as he makes his entrance as he smashes him in the face with a rubbish bin lid. He then hits a somersault plancha off the stage to his morose foe; this is a really hot start. A Road Closed sign and a Holly Willoughby mask are both used to devastating effect by Ligero before Gilbert takes over.
The former Mikey Whiplash does so by hip tossing Ligero into the first couple of rows of chairs. That one had to really hurt, for sure. The action goes inside the ring for the first time, and Gilberts concentrates his offense on the use of steel chairs. Well, he attempts to but Ligero takes control back almost instantly as he slams the man in black onto a big stack of chairs.
It's the Mexican Sensation's turn to make an error in judgement next. He brings drawing pins into the ring, but gets powerbombed onto them after a bit of back and forth. That only gets a two count, and somehow Ligero takes the offensive assault back over. he hangs Gilbert in the tree of woe and asks the crowd to throw their chairs into the ring. About eight or so Ultras oblige, and Ligero places them on Gilbert's face and hits a running dropkick. That only gets a two, so he brings the big gun into the ring: the plywood covered in barbed wire. Ligero smashes Gilbert into the wire with an Ace Crusher, then wraps it around his face to get the submission.
Gilbert leaves the ring to a standing ovation, and the Ultras chanting his name in support. An excellent spectacle of a match and great to see Gilbert earn the respect of the fans.
Stixx vs RJ Singh – Career vs Career
After their excellent segment at Chapter 15, friends RJ Singh and Stixx collide in a match where the loser must retire from all of wrestling. The two men begin by ignoring Jim Smallman's suggestion that they should shake one another's hand. Singh goes for a springboard crossbody, but Stixx catches him and places him down before slapping him in the face. Singh retaliates by blocking Stixx when they crisscross the ropes, and he hits him with a slap of his own.
Stixx leaps from the top rope towards RJ, who is in the crowd, but Singh moves and the big man crashes and burns. Referee Chris Roberts counts Stixx out as he clutches at his back, and the fans boo the dodgy finish. However, the Bhangra Knight grabs a mic and demands that the match be restarted; he doesn't want a lame finish like that one. Stixx crawls slowly back to the ring and walks straight into the Ethnic Submission. That isn't enough for a TapouT and the match continues.
Stixx hits three sidewalk slams in a row, but that can't get the job done either. Holy moly, these guys are battering one another! They're on the brink of exhaustion as they stare one another down in the middle of the ring. The gravity of the situation hits and the two men embrace to a booming ovation. What an unexpected and genuine moment. That gets broken up by a sneaky superkick from RJ. It's all for naught, however, as Stixx catches him with a massive Last ride style powerbomb to pin and retire him. What a match, between two of the best PROGRESS originals. Singh cuts a heartfelt promo afterward and leaves to a standing ovation.
Before the shows goes to break, FSU comes back out to do the raffle draw (waheyyyyy!), and for photo ops. The random number generator for the draw appears to malfunction as it displays all zeroes. The lights dim and all of the zeroes slowly turn into Guy Fawkes masks. The from each corner of the Ballroom men clad in black emerge also wearing Guy Fawkes masks. There must be around fifteen of them surrounding the ring, and three of them get into the ring and batter the tag champions. They put masks onto Mandrews and Dennis before leaving, point proven I guess. These are The Faceless.
Will Ospreay vs Paul Robinson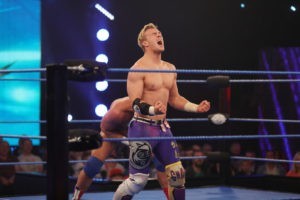 A massive grudge match kicks off the second half as the Swords of Essex explode at Very Very Very Breaky Breaky Breaky Bishi Bishiiiii. Will Ospreay and Paul Robinson both start off strong, the former with a tope that he nearly breaks his own neck performing. For all his talent, Ospreay is undeniably reckless at times; this was a scary moment. Robinson opens his account by simply booting Ospreay in the balls. It's amazing to see how much Robbo changed his repertoire following his heel turn to become a truly nasty heel.
Robinson enjoys toying with the crowd, stomping on Will in time to their pro-Ospreay chanting. He also stops a mounted punch sequence when the crowd chants an insult every time he hits one. Great, great heel work from the one true Sword of Essex. Robbo continues to dominate, ripping off the kinesiology tape that covers Will's back and grinding him down.
There's a moment of doubt for Ospreay as he heads to the top rope to finish Robinson off. He can't commit himself to the move (presumably a 640 splash), and hops back down to be attacked by Robinson. Robbo whips him into the ropes, but Will leaps through with a picture-perfect somersault DDT (Essex Destroyer). 1, 2, 3, the winner of the match is Will Ospreay via pinfall. That was a good match, but not quite as epic as I was expecting.
Noam Dar vs Marty Scurll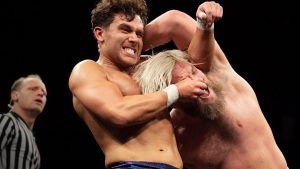 Marty Scurll is in full on Villain garb for his match against Noam Dar, but is still announced as Party Marty. I had no idea the transformation was a gradual as this, taking place over several long months. Scurll takes turns with Dar exchanging wristlocks to start the match off. They employ quite creative means of doing so, particularly Marty, as he is on the mat and threads Dar's arm under his own legs multiple times.
A very technically sound, yet unspectacular match follows as both men try to keep the other grounded. Scurll is as magnetic as always, but I just don't find Noam Dar a particularly engaging presence. I can see that he's got a certain amount of charisma, and is proficient in the ring, but he's just missing what the French call a certain… I don't know what.
Everything springs into life during the final couple of minutes of the match. Dar and Scurll jockey for position, each trying to engage their submission finisher. Dar works the leg in preparation for the Champagne Super Kneebar, and Scurll works the arm to set up the Chicken Wing. It looks as though Party Marty has it in the bag as he rains elbows down on the Scotsman as he has the Chicken Wing locked in. That isn't the case though, and Dar hangs on much to the Ultras' delight. The Darli Chop (as in Khali Chop) ends the match in favor of Noam as it turns out, and he gets a big win over Scurll. That was probably my least favorite match of the show, though it had its moments.
Rampage Brown vs Dave Mastiff vs Jimmy Havoc – PROGRESS Championship
PROGRESS Champion Jimmy Havoc defends against two of the biggest lads possible in Rampage and Dave Mastiff in the main event at Very Very Very Breaky Breaky Breaky Bishi Bishiiiii. Brown has his knee strapped up following the beatdown in the opening segment of the show but doesn't really sell it. The champ takes a bit of a pasting in the early going as his opponents take it in turns to biel him across the ring. They double hip toss him through four steel chairs on the floor, then Mastiff hits the big one.
After setting a table up on the floor, he absolutely launches Jimmy from the apron with a powerbomb through the table! Needless to say, it's an absolutely spectacular spot, but the psychology of this all wrong. I understand that PROGRESS are trying to get the championship belt (yes, the staff is gone – see the video below) away from Jimmy, but he looks like a valiant babyface in this particular situation. He's taking an absolute hammering, and it's semi uncomfortable to watch.
https://www.youtube.com/watch?v=n60UVffHw8E
That aside, for the time being, it's then the two big lads' who begin to knock lumps out of one another. Lot's of 'oosh!' chants from the crowd as Rampage tries to shoulder tackle big Dave. In fact, it's Brown who its the deck first, but he kips up (!) and gets stunning height on a leapfrog moments later. One dropkick from Rampage and he has felled The Bastard. Great sequence from both guys there. They go back and forth for a few minutes before Jimmy re-enters the fray, for more of a battering.
Almost instantly, Rampage drills him through a table with a nasty looking Razor's Edge for a two count. Mastiff had broken that up, and he smashes Rampage with a German suplex and his cannonball finisher. Havoc prevents a pint attempt by decking big Dave with the belt. He then locks in a kneebar on Rampage to win via stoppage!
Before the show closes, Will Ospreay comes out gurning in that strange way that he used to do. He announces that he will cash in his Thunderbastard contract for the PROGRESS title at Chapter 17 in January. I like the way they always tee things up for the next show; great stuff. Hope you enjoyed the Prerogative this week, and we'll see you next time for Ospreay – Havoc.
The PROGRESS Prerogative – Chapter One: The Beginning
The PROGRESS Prerogative – Chapter Two: The March of Progress
The PROGRESS Prerogative – Chapter Three: Fifty Shades of Pain
The PROGRESS Prerogative – Chapter Four: The Ballad of El Ligero
The PROGRESS Prerogative – Chapter Five: For Those About to Fight, We Salute You
The PROGRESS Prerogative – Chapter Six: We [ Heart ] Violence
The PROGRESS Prerogative – Chapter Seven: Every Saint Has A Past, Every Sinner Has A Future
The PROGRESS Prerogative – Chapter Eight – The Big Boys Guide To Strong Style