If you haven't been watching AEW Dark on Tuesday nights, then you've been missing the Will Hobbs train. Figuratively the Will Hobbs train is made of fans who've noticed his immense potential. In a literal sense, the Hobbs train is a description of the combination of his speed and power. Many had their first glimpse of Hobbs when he debuted at All Out. The man of Will Power had an impressive showing in the Casino Battle Royal. So much that he was offered a fulltime contract with AEW. What started as a jobber on AEW Dark has now turned into a true powerhouse. A force to be reckoned with, and a future star no doubt. Will Hobbs is this week's Talent Preview.
Finding the Inspiration
Will was born in East Palo Alto California where he was raised by his grandparents. They happened to be fervid wrestling fans. Their passion rubbed onto Hobbs and from a young age he knew what he wanted to do with his life. Will and his grandparents attended WCW SuperBrawl 8 at the Cow Palace. Hobbs had a brief encounter with Booker T that night which was the driving force in him committing his life to this industry.
In 2009 Will started his journey where he trained at All Pro Wrestling's Boot Camp. He was trained by Donovan Morgan, Michael Modest, and Frank Murdoch who saw immediate potential in Hobbs. He debuted later that year in a battle royal that would decide the number one contender for the APW Worldwide Internet Championship. Hobbs did not overcome the odds in his debut match it was an impressive start to his long career.
Early Career
Under the name of Will Rood, Hobbs would continue to work in All-Pro and all around the California indies. Hobbs was making a splash in promotions like California's Pro Championship Wrestling, Gold Rush Pro, Sacramento Wrestling Federation, and Supreme Pro. Just three years into his wrestling career he was starting to get noticed. He captured his first championship at All-Pro by defeating Rik Luxury at APW's 2012 "Gym Wars". The APW Worldwide Internet Championship was finally his, and he would continue his feud with Luxury throughout 2012. He would lose the belt just 21 days later but would reclaim his gold later in the year. The second run as champion was much more fruitful as he would hold the gold for 163 days.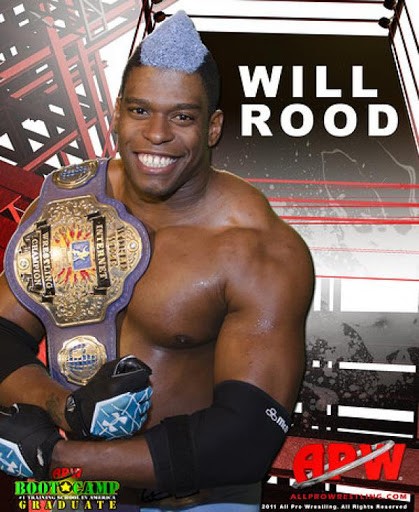 Hobbs would soon add another championship during his reign, but this time in PCW. He would align himself with Mitch Valentine and the pair would go by "The Dream Team". They captured the PCW Tag Team Championships at PCW's "Nowhere 2 Run" 2012 show against The Chico Hammerz. Hobbs and Valentine would hold the tag straps for a whopping 336 days. The Dream Team would eventually lose the championships to Will's biggest rival Rik Luxury and his partner MPT. The year of 2012 was certainly the most impressive year of Hobbs' short career. However, his career started to plateau, and the big man was losing faith in his future.
Rood to Hobbs
In 2016, Will had a discussion with his mentor Big Ryck. The former Ezekiel Jackson suggested the name change from Rood to Hobbs. The name Hobbs was inspired by Dwayne Johnson's character in the Fast and Furious franchise. The badass that wouldn't take crap from anyone was the new direction for the Palo Alto native. A rebrand was exactly what Will needed to regain faith in his abilities to achieve more success in this industry. Hobbs was born, and the accolades continued from there.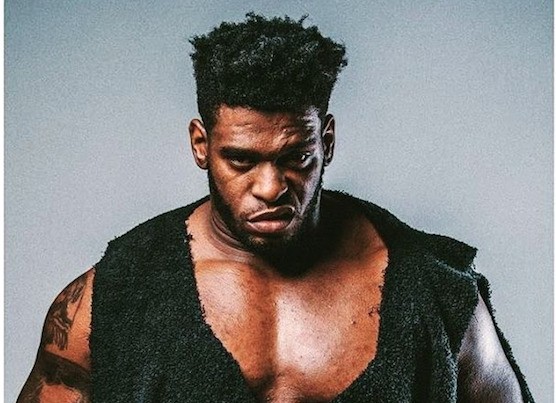 Will's formed a new tag team with Marcus Lewis and the two would be known as Lion Power. They claimed their first championships at APW's "11:11" 2016 PPV against Reno SCUM. The team of Lewis and Hobbs would break the APW record for most tag team title reigns with three. They would achieve this record perhaps where it all started for Hobbs. In an emotional victory, they would win in the prestigious Cow Palace where Hobbs had attended as a fan many years ago.
Lion Power would disband later in 2018 which led to Hobbs focusing on his singles career. Hobbs got a fantastic opportunity working in San Francisco's West Coast Pro. It was here that he picked up huge wins against Alexander Hammerstone, Trey Miguel, AJ Gray and Chris Dickinson. Hobbs also got amazing experience in wrestling against big men like Jeff Cobb and Brian Cage. Will would finally get the opportunity that many wrestlers strive for. He was an extra on SmackDown, wrestled a dark match against Baron Corbin, and even got a tryout at the Performance Center. Unfortunately, nothing came from these opportunities, but it may have been best for Will in the long run.
AEW Dark
Due to the impact of the Coronavirus pandemic, many AEW talents were unable to travel and wrestle for the company. This has opened the door for many independent talents hoping for an opportunity to prove themselves. The same was true for Will who got his first opportunity to wrestle on AEW Dark against Orange Cassidy. The match only lasted 13 seconds and saw Hobbs go down from one of Cassidy's punches. However, the chance that was given to Hobbs wouldn't be taken for granted. Hobbs would be brought back numerous times on AEW Dark. He would continue his role of putting talent over while still showing his amazing abilities.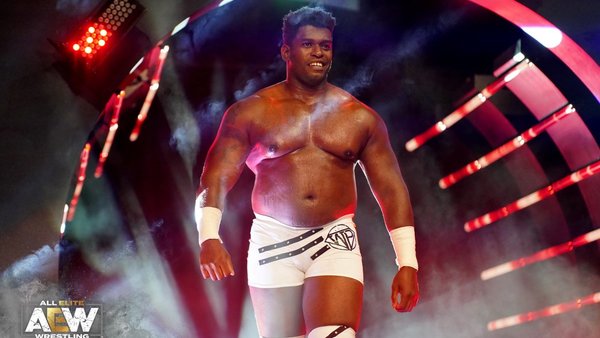 Hobbs would lose his first seven matches on AEW Dark. Putting over talents like Ricky Starks, Scorpio Sky, and Shawn Spears. Tony Khan was impressed by the abilities of Hobbs to get talents over. Khan was so impressed that he booked Hobbs in his first Dynamite match against Darby Allin. In a quick match, Will did his job to prove that Allin could defeat a bigger opponent in preparation for Brian Cage. Will would continue to impress the executives of AEW. He would get the opportunity to be heavily featured in the Casino Battle Royal at All Out. Although Will did not win at All Out, he achieved something to hang his hat on. He was the iron man of the match lasting 16 minutes and 8 seconds. He lasted more than 3 minutes longer than the second-longest competitor Brian Cage.
Will Hobbs is All Elite
After his attention-grabbing performance at All Out, Hobbs would continue to be featured on AEW Dark. However, things would start to change for The Embodiment of Will Power. After losing all his matches in an AEW ring, Hobbs would pick up his first win in a dominant performance. Poor Sean Legacy fell victim to the strength of Hobbs, and Jessy Sorensen was next on the train tracks. In quick fashion, Hobbs took care of both challengers. First planting one of the most beautiful spine busters you'll ever see, and then finishing them off with his Oklahoma Stampede. The Oklahoma Stampede shows Hobbs' brute strength as he runs his opponent into the turnbuckle, and then finishing them off with a running powerslam.
It was announced on September 16th that Will had signed an official AEW Contract. After 11 years in this business, all the uncertainty was cleared up. The hard work had paid off, and Will can now proudly say that he has made it. The good news kept piling on that day as Will was announced as the partner of Jon Moxley alongside Darby Allin. The team of three will face off against Brian Cage, Ricky Starks, and Lance Archer. Hobbs is seemingly about to get the push of a lifetime and it couldn't go to a more deserving person. Will is All Elite, and we as fans are lucky to see what Will Power can really do.