"It's just that feeling of how quick life can just change," said AEW wrestler Darby Allin. "It's that feeling of how everything can get turned upside down." When he was a child, Allin lost his uncle in a tragic accident. From that moment, he became an outsider, untrusting of the world around him.
His sense of relentlessness brought him into the world of professional wrestling. Though far from the biggest dog in the fight, Allin has proven that he will continue to move forward, regardless of the obstacles in his path. After overcoming everything in his path, Allin found himself in All Elite Wrestling.
Darby Allin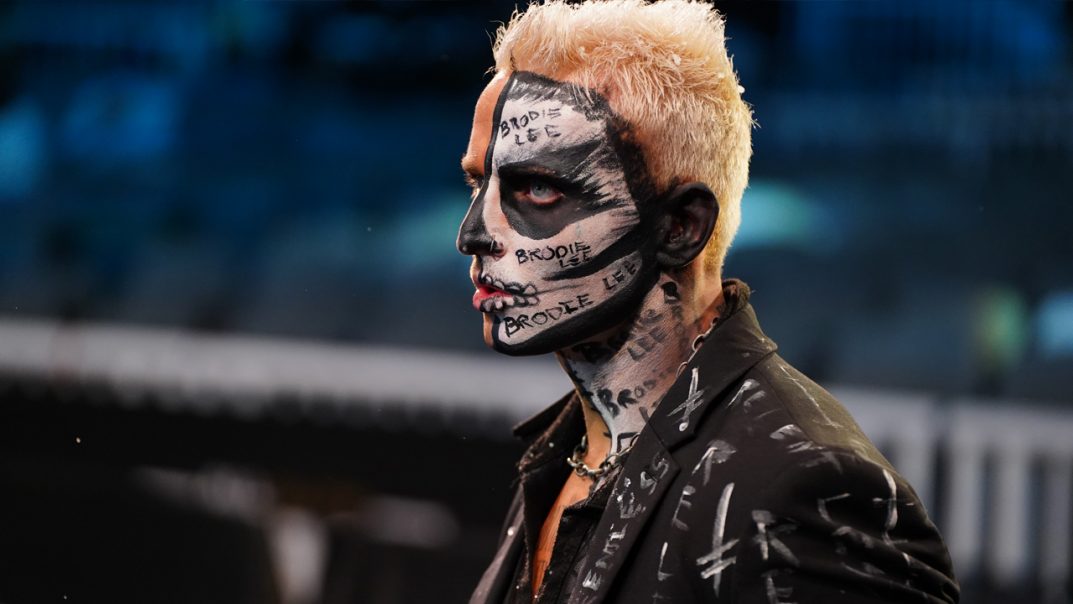 This week's AEW talent preview focuses on the half-face painted wrestler that recently went the distance with AEW Executive Vice President Cody at Fyter Fest. Let's take a deep dive into the career of "The Daredevil" himself, Darby Allin.
Prior to becoming a professional wrestler, Darby Allin was a semi-pro skateboarder, appearing for TV shows affiliated with MTV and Tony Hawk. Eventually, the Washington native focused more on professional wrestling. In February of 2015, he made his debut for NWA Blue Collar Wrestling, based out of Portland Oregon, under the name Darby Graves.
In the said debut, he lost to King Khash. By April, Graves debuted for the Big West Wrestling, based out of British Columbia, Canada, unsuccessfully challenging BWW Television Champion Mike Shreddz. Before the year was out, not only did he pick up two victories over Khash, but Graves would undergo a ring name change, working as Darby Allin from thereon out.
In April of 2016, Allin made his World Wrestling Network debut at EVOLVE 59, losing to Ethan Page. Throughout the next several months, Allin wrestled numerous other wrestlers at EVOLVE events, including current WWE 205 Live Superstars Tony Nese and Drew Gulak.
In September, Allin picked up his first EVOLVE victory against Nese. In October, Allin debuted for Atlanta Wrestling Entertainment, defeating Iceberg in the third to final match of The First Battle of New Atlanta. By December, Allin closed out the year with another AWE victory, this time against Curt Stallion.
Nothing's Over Till You're Underground
Allin made his debut for Ronin Pro Wrestling, based out of Florida, in January of 2017. Allin defeated Paul Briggs in the opening bout. Darby continued to work for EVOLVE, taking on the likes of Chris Dickinson and Austin Theory. At EVOLVE 81, in March, he defeated Page in an Anything Goes match.
The following month, at EVOLVE 82, Page defeated Allin in a Last Man Standing match. In June, Allin competed for DEFY Wrestling in title and non-title matches alike.
In September, Allin competed in the Style Battle #7 tournament. He defeated Kai Katana in the first round, Matt Palmer in the semifinals, and lastly, AR Fox in the finals to win the entire thing. Allin would appear for a variety of independent promotions.
In December, Allin competed in MLW's second event since the promotion's resurrection, Never Say Never. Allin teamed with fellow AEW wrestler Jimmy Havoc to defeat Shane Strickland and John Hennigan.
Following another MLW victory against Sammy Guevara, in January of 2018, Allin set his sights for the EVOLVE Championship. Allin challenged titleholder Zack Sabre Jr. at EVOLVE 98 but was unsuccessful. The following night, Allin faced Brody King in a ten-minute draw at EVOLVE 99.
The following month, Allin competed for the Los Angeles-based Suburban Fight Pro's debut event, defeating Jeff Cobb in the opener. In March, Allin debuted for Northeast Wrestling, defeating JT Dunn at March Mayhem.
In July, Allin unsuccessfully challenged Theory for the Full Impact Pro World Heavyweight Championship. By August, as Allin competed for the WWN Championship, it was announced that he would face former NXT Superstar Velveteen Dream at EVOLVE 113 in September; Dream would go on to win. Allin made his Pro Wrestling Guerrilla debut in September, competing in the Battle of Los Angeles tournament. As was the case with years prior, Allin continued to wrestle across various independents during the remainder of 2018.
2019 would prove to be a landmark year for Allin. In April, he competed for the final time in EVOLVE after three years of service, losing to Anthony Henry at EVOLVE 125. Roughly a week after, it was announced that Allin signed with All Elite Wrestling.
The news broke at the end of episode 11 of "Road to Double or Nothing," where the skateboarding Allin set fire to a trail of lighter fluid spelling out the acronym, "AEW." It was later announced that Allin would face AEW Executive Vice President Cody at Fyter Fest, AEW's second-ever event, in June. Prior to Fyter Fest, Allin won singles gold for the first time, defeating Dunn for the NEW Heavyweight Championship.
Allin's AEW debut came at Fyter Fest, which took place this past June, against Cody. As the underdog, Allin found himself on the defensive for most of the match. The bout also provided a platform for the Washington native to exhibit his high-risk style, including a Coffin Drop that resulted in him landing back first on the ring apron.
The match had no clear winner, as Allin and Cody ended up wrestling in the promotion's first draw. Afterward, Shawn Spears raced down the ramp before greeting Cody with a controversial chair shot to the head. While it could be argued that this moment took away from the match itself, it cannot be denied that Allin earned the attention of those that were previously unfamiliar with his work.
Following the aforementioned time limit draw, Allin was announced for Fight for the Fallen, which will take place in August. At Fight for the Fallen, Allin will team with Havoc and Joey Janela to take on Maxwell Jacob Friedman, Guevara, and Spears in six-man tag team action. From there, the sky is limit for the wrestler once known as "The Invisible Man."
"The ultimate goal at AEW is to be accepted for me," Allin declared. "And that's all I ever wanted my whole life… Is just to be accepted for me." Coming out of AEW, it's apparent that Allin has the acceptance of many new fans. Moreover, he developed a strong following across the independent scene.
He has been wowing and thrilling viewers with his high-risk, relentless style of wrestling. What "The Daredevil" lacks in size and power, he is able to make up for in sheer drive and fearlessness. It will be this mindset that not only makes Darby Allin one of the most popular stars in AEW but among the most successful.
Previous AEW Talent Previews: