Bullet Club has become one of the most known stables within professional wrestling. You can watch any major promotion and see a Bullet Club t-shirt being worn in the crowd, proving how popular this all-heel faction truly is within the wrestling community. Bullet Club was started in 2013 within the New Japan Pro Wrestling promotion, since then the club has had five different leaders, leading up to a brand-new leader in 2020 after New Japan Cup 2020 Final.
The history of Bullet Club and the different leaders who have held the reigns of this now historic faction. Fergal 'Prince' DeVitt was the founding member and leader of the group. From the faction's beginnings, as the first-ever Bullet Club leader, this is the story of the rise of the prince within Bullet Club. This is the History of Bullet Club Part 1.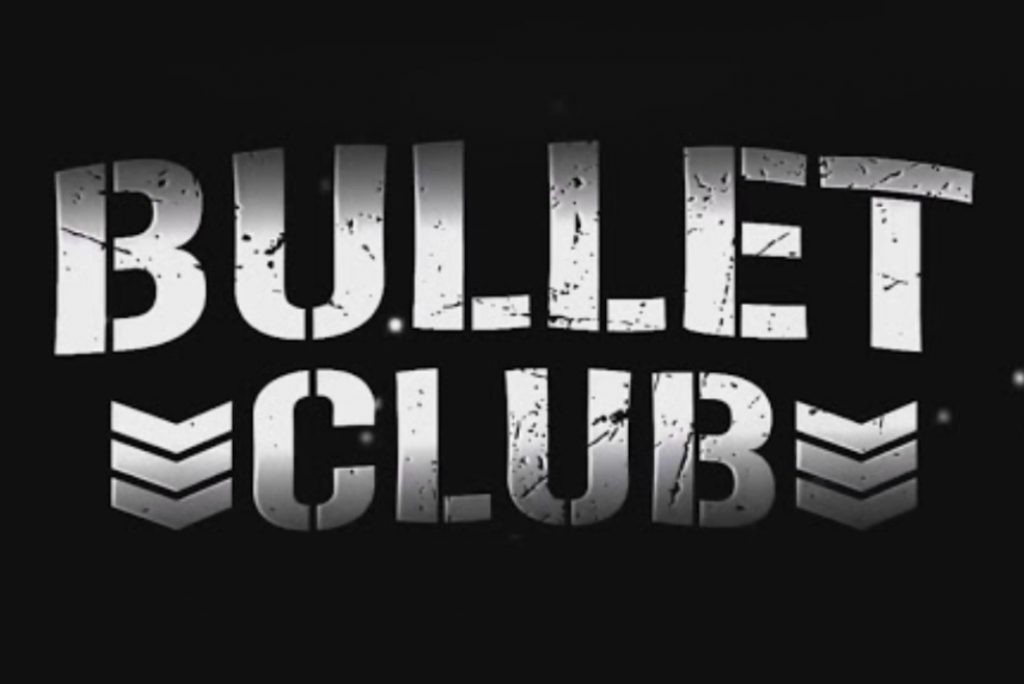 It All Started With An Attack On Hiroshi Tanahashi
To get a clear picture of the events that started Bullet Club, we have to go back a few months before the 'official' start date. NJPW wrestler Prince Devitt was in the middle of an intense battle against Hiroshi Tanahashi, the current IWGP Heavyweight Champion.
On March 3rd, 2013, this feud reached a new high as Prince Devitt faced Hiroshi Tanahashi for the IWGP Heavyweight Championship. While Devitt lost the match his attitude after losing set the groundwork for the beginning of Bullet Club. On the 7th of April, Devitt faced Ryusuke Taguchi at NJPW's Invasion PPV.
Devitt attacked Taguchi, Alex Shelley, and Kushida using the help of then-named King Fale. Prince Devitt quickly took to the microphone and announced King Fale as his new bouncer, changing Fale's name to The Underboss Bad Luck Fale.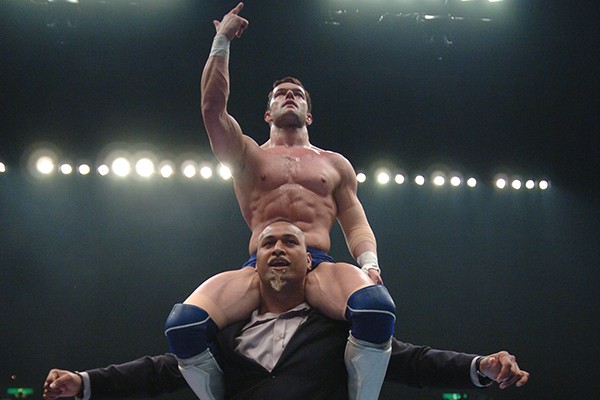 After the attack at
Invasion,
it was the first time Devitt had referred to himself as the Real Rock N' Rolla, declaring "no more Apollo 55. No more Mr nice guy. You're looking at the Real Rock N' Rolla, Prince Devitt." Less than a month later at
Wrestling Dontaku
Devitt and Bad Luck Fale teamed up for the first time defeating Taguchi and Captain New Japan.
Their night wasn't over though as they then attacked Hiroshi Tanahashi, Bullet Club found two new members that night as Karl Anderson and Tama Tonga both joined the group in their attack on Tanahashi. It was at Dontaku on the 3rd of May 2013 we first heard the words Bullet Club as in their post-match interview, they declared they had formed an all-gaijin stable named Bullet Club.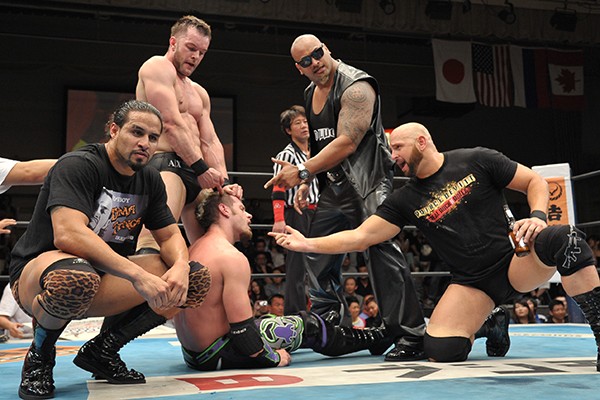 The History Of Bullet Club Part 1
The Creation of Prince Devitt
The New Japan fans were shocked at the ruthless attack on their former IWGP Heavyweight Champion, this led many to ask who was this Prince Devitt? Fergal Devitt or Prince Devitt was born in Bray, Ireland, he had his wrestling debut in 2000 when he was only 18 years old. Devitt continued his wrestling career in the UK until 2005 when he was given the opportunity to move to California to be apart of the New Japan Inoki Dojo.
Devitt spoke about his experiences at the Dojo during an interview with Chris Jericho on his podcast Talk Is Jericho; "I was a full young boy. I would be woken up at 7:30, we'd have to clean the toilets, go out clean the ring, sweep the streets, hose it down because of all the cat pee on the streets outside. We'd prepare the food, wash the sempais, which are the senior wrestlers. You just basically run all the errands for the older wrestlers."
Just a year after joining the Dojo in 2006, Devitt made his New Japan Pro Wrestling debut wrestling under his real name, Fergal Devitt. Though this didn't last long as the New Japan announcers struggled to pronounce his name, the plan was to change his name to King Devitt. but Devitt argued that he wasn't old or experienced enough to be a King yet, so Prince Devitt was born.
Prince Devitt was sold as a fan favorite as part of New Japan, but this was changed when the creation of Bullet Club started rolling. Devitt discussed this on Talk Is Jericho, "they decided for me to switch to a heel, which I was really excited about because I hadn't worked heel out there."
The History Of Bullet Club Part 1 – We Have Members, We Have A Name, But What's Next?
Bullet Club had their first match as a unit on the 22nd of May as they competed against Captain New Japan, Hiroshi Tanahashi, Manabu Nakanishi, and Ryusuke Taguchi, a match Bullet Club won. After this win, Prince Devitt entered the Best of Super Juniors Tournament.
During this tournament, Bullet Club focused on cementing their position within New Japan as heels and within the wrestling history books. They did this as Bullet Club helped Devitt cheat in close to every match within the tournament.
While their antics were considered normal within the United States and European wrestling scene, it was not taken as well within Japan, and this was due to the Japanese fans never being exposed to 'heel antics.' Devitt explained, "we were the only people who were really working proper heel. I think they kinda felt disrespected, that I'd really turned my back on the Japanese culture and my upbringing in the Dojo."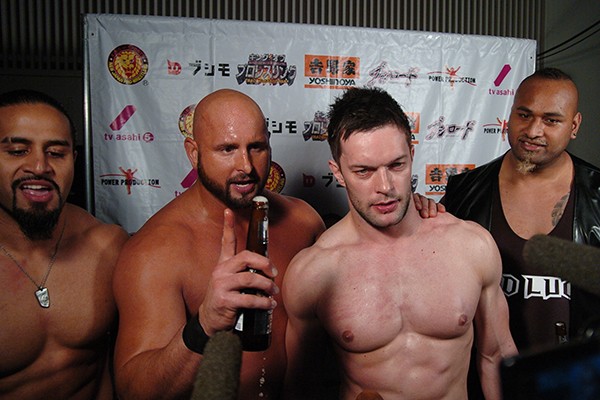 Prince Devitt made it to the semi-finals of the
Best of Super Juniors Tournament,
meeting Kenny Omega within the squared circle. After beating Omega, Devitt continued on to the finals against Alex Shelley. Prince Devitt won the tournament by beating Alex Shelley using the help of Bullet Club, who focused on causing as much trouble as possible for Shelley.
The Japanese fans were outraged at Bullet Club's tactics. New Japan had to set up a hotline for fans to ring in, as so many were outraged at Devitt cheating to win the important tournament. Bad Luck Fale discussed the fans' reaction when speaking to NJPW, "the Japanese fans take it all very seriously. I think it did feel dangerous, but that's when we knew we had something."
Devitt quickly announced that he would be challenging Hiroshi Tanahashi. The announcements kept coming as the next day, Devitt announced he wanted to hold both the IWGP Heavyweight Championship and the IWGP Junior Heavyweight Championship simultaneously.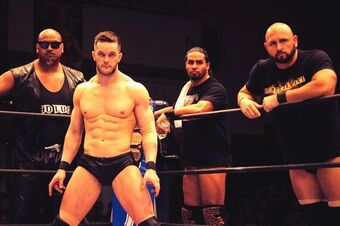 The Hunt For The Title Belts
Devitt successfully defended his IWGP Junior Heavyweight Championship against Chaos member Gedo. He was given an IWGP Heavyweight Championship title shot against Kazuchika Okada.
They faced each other on the 20th of July 2013, and even to Bullet Club's best efforts, Devitt still lost. Devitt's next hunt for a title belt happened as he joined the 2013 G1 Climax alongside with Karl Anderson, but both failed to advance to the finals.
After being hit with another big lost, Bullet Club decided it was time to expand their ranks; on October 25th, the Young Bucks were added as members. The Bucks debuted at the 2013 Super Jr Tag Team Tournament, a tournament they won when beating the Forever Hooligans.
The Young Bucks continued their domination of the New Japan tag team division, as they beat Suzuki-Gun and won the IWGP Junior Heavyweight Tag Team Championship belts.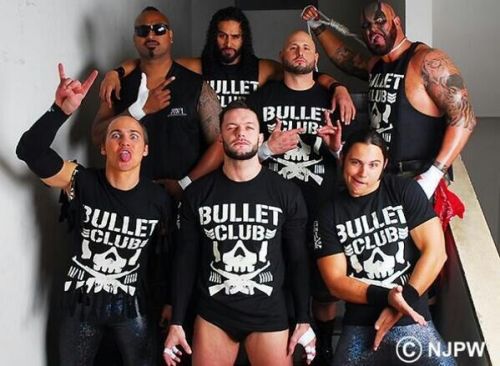 Prince Devitt tried to have another successful run as he entered the
2013 World Tag League
with Bad Luck Fale as a tag partner. The Bullet Club leader didn't have a successful run alongside Fale as they were eliminated with three wins and three losses.
The team of Karl Anderson and brand-new Bullet Club member Doc Gallows also entered the tournament, their reign ended far better than Devitt and Fale as they won the tournament beating Hiroyoshi Tenzan and Satoshi Kojima.
Anderson and Gallows went on to face K.E.S at Wrestle Kingdom 8 on January the 4th, 2014, they defeated K.E.S and won the IWGP Tag Team Championship belts. During the same PPV, Prince Devitt's 14-month reign as IWGP Junior Heavyweight Champion ended when he was beaten by Kota Ibushi.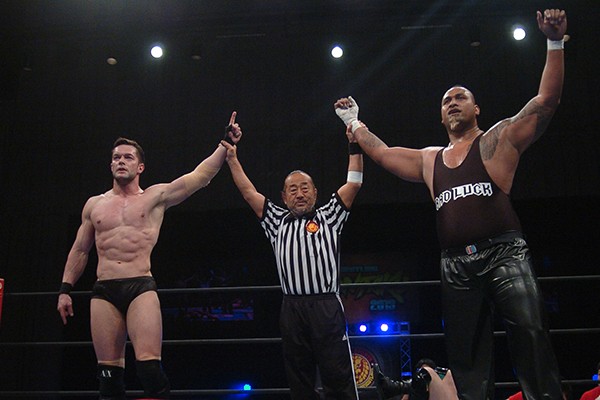 Prince Devitt's defeat at
Wrestle Kingdom 8
had unfortunately secured his fate within Bullet Club. At
Invasion Attack 2014,
an argument between Prince Devitt and the Young Bucks broke out as Devitt refused their 'help' during his match against Taguchi.
The Young Bucks attacked Devitt, but Devitt fought back against the Bucks, which ended Devitt's relationship with Bullet Club. The next day it was announced Prince Devitt had resigned from NJPW and left Bullet Club without an official leader. This was part 1 of the history of the Bullet Club.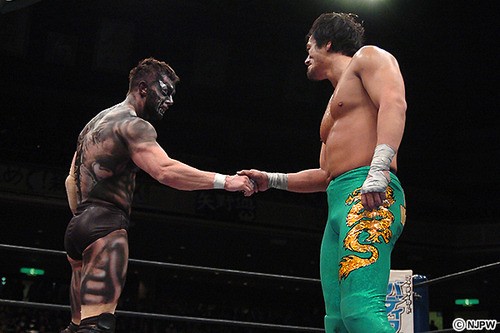 All images and videos courtesy of New Japan Pro Wrestling and Bullet Club