Maki Itoh and Miyu Yamashita. In 2021, Tokyo Joshi Pro Wrestling asked the question: What is love? Some say it's when two people have enough in common that they enjoy spending time together and form a partnership. By that definition, Maki Itoh and Miyu Yamashita sound like they were made for each other.
Born in Fukuoka in 1995. Yamashita grew up with dreams of being an idol, incorporating a dance routine into her early wrestling persona. Itoh, on the other hand, became a teen idol as one of many members in the girl group LINQ. Yamashita made her in-ring debut in 2013 for new promotion TJPW in a DDT dark match. Itoh entered the world of pro-wrestling as part of an idol lumberjack match in a featured role on that same show.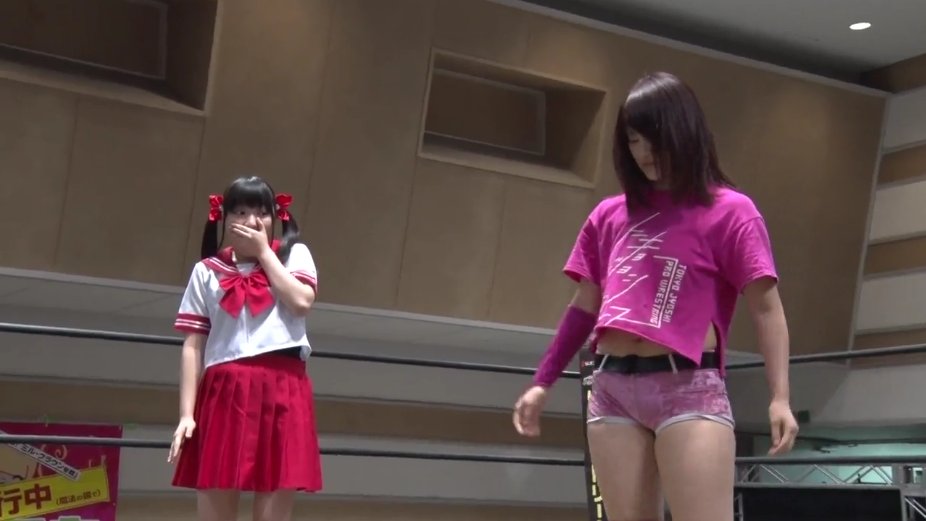 Maki Itoh and Miyu Yamashita – Episode 1: Meet Cute
Their lives continued on separate but parallel paths. Miyu Yamashita developed fast, excelling as a wrestler and winning the 1st Princess of Princess championship on January 4th, 2016. Meanwhile, Maki Itoh continued her life as an entertainer, making a handful of appearances for DDT now and again. Idols are always looking to increase their popularity online and on television, so at the end of 2016 she made her in-ring debut against none other than Yamashita. Although exuding confidence and charisma before the match, Itoh was brutalized by the Pink Striker.
The two would cross paths as coworkers over the years, with Yamashita always defeating Itoh in singles matches. Over 2018-2019, Yamashita was dominant in her 2nd reign as Princess of Princess champion, setting records for days and defenses. By the end of 2020, Itoh had garnered a strong online following for her vulgar personality, a stint as the midcard International champion, and the reputation that she was more style over substance between the ropes.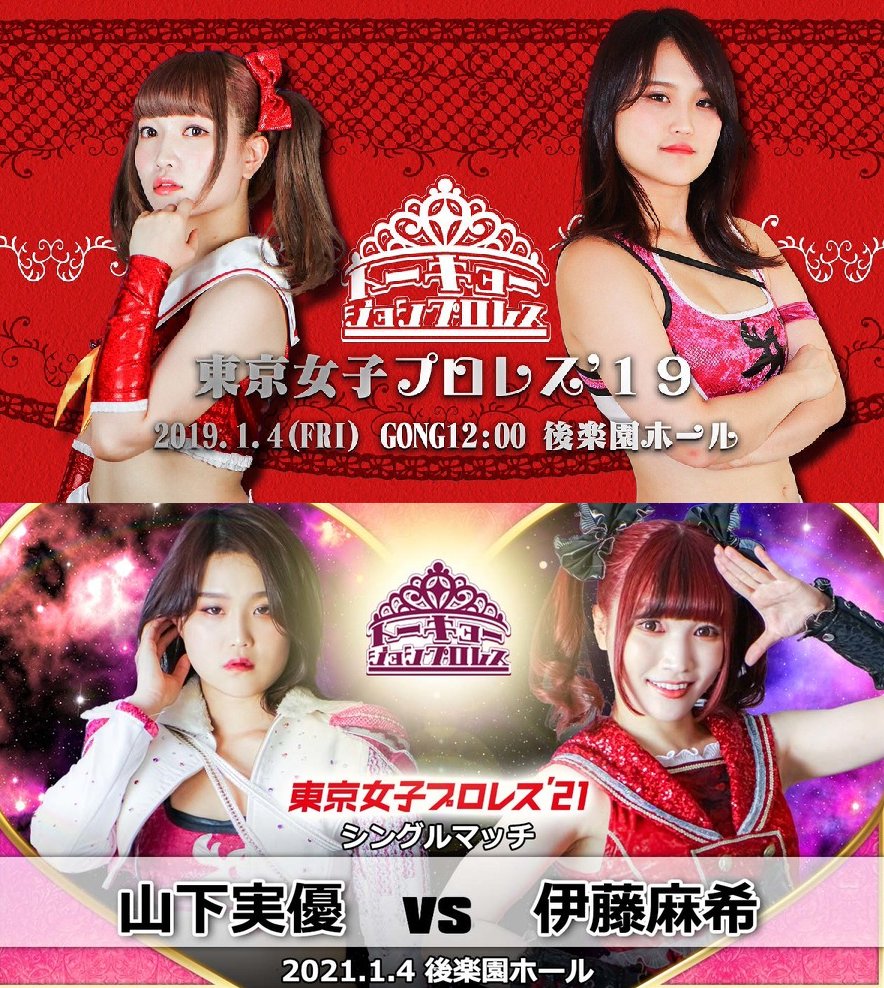 The Ace offered a handshake at the beginning, but Itoh slapped her in the face. Once the bell rang, Yamashita attacked with kicks and knee strikes. Itoh held her own, but it wasn't enough. In the closing sequence, the battered Itoh refused to stay down and used the towering figure of Yamashita to climb back to her feet.
Looking at her eye to eye, Itoh gave her the middle finger. Yamashita replied with her finishing move, the Skull Kick. With her opponent waiting in the corner, Itoh was unable to answer the 10 count and lost by knockout. At the sound of the bell, Yamashita collapsed for a moment while Itoh cried out in frustration. The Ace stood up to celebrate and offered a fist bump to her prone opponent. Itoh reciprocated in a rare show of respect.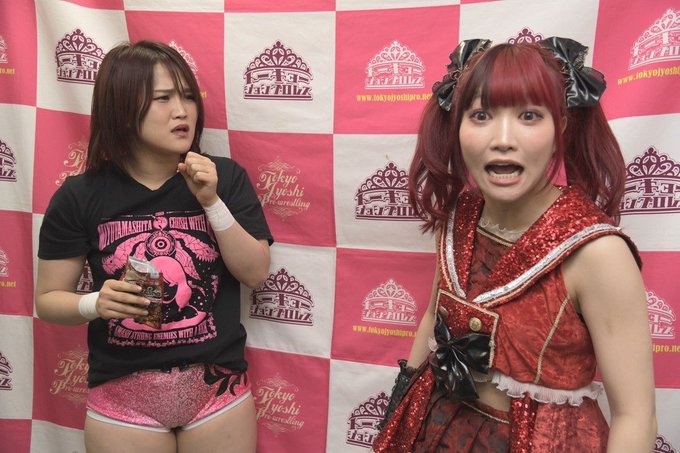 Soon after, Maki Itoh made another challenge to prove herself: calling out the perennial thorn in TJPW's side, Neo Biishiki-gun. She would need a partner to face the aristocratic Sakisama and her goblin maid Mei Saint-Michel. Backstage, Itoh found Yamashita eating gummies and ambushed her with a Yes-or-Yes question to form a tag team. Their first match together had them victorious, but an attack from Neo Biishiki-gun left them laying on the mat.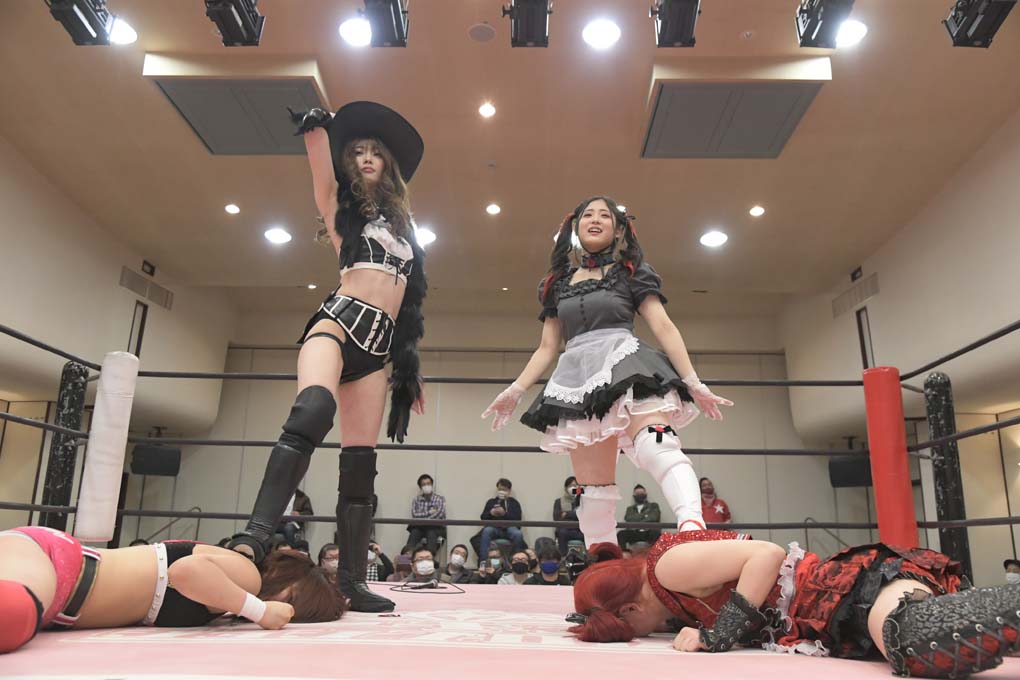 They were an odd couple to say the least. Miyu Yamashita, a scientist of striking, uses her trained kicks with precision. She's an ice-cold killer in the ring, but a bit of a goofball outside it. Maki Itoh is a cactus interacting with others. She is known for her gimmicky antics between the bells, but off-duty has spoken candidly about her hard life: being fired as an idol, struggling to make money, and trying plastic surgery to improve her look.
Her hard-headed nature of being a novelty wrestler trying to prove that she belongs is what made her head so hard and made her headbutt her best offense and defense.
Their push and pull relationship was put to the test at the February Korakuen show. Neo Biishiki-gun dominated the match through their cheating ways, par for the course. Yamashita and Itoh had yet to perfect their double team chemistry. They yelled at each other and nearly came to blows, but this was enough to fire them up and deliver the win when Itoh pinned the undefeated Saint-Michel.
Miyu hugged Maki immediately, a career breakthrough considering that the Ace had never beaten Sakisama in a singles match. Yamashita got on the mic, astounded at their victory, and told Itoh that she is amazing. Itoh stared slack-jawed for a moment, before saying "I know." Yamashita offered to partner again for the upcoming tag tournament. Itoh agreed.
As the Futari wa Princess Max Heart Tournament began soon after, Maki and Miyu received a bye to the 2nd round where they faced Daydream. Their momentum continued with Itoh getting a statement submission win over the Princess of Princess champion, Rika Tatsumi. Backstage, they dubbed themselves 121000000 (One to Million.) Yamashita had wanted Pain Grin Pow, but Itoh left her text on read and consulted with her friend and fellow wrestler Yuki Kamifuku. Itoh explained that together as one their power level grows to one million.
The tournament finished in early March. Early on the show, 121000000 won their semifinal and left the ring holding hands. And in the main event, Neo Biishiki-gun awaited their rematch for the finals. This time, Yamashita and Itoh took control in beating up Mei. They repeated their comeback of Maki headbutting Miyu to hype her up. However, Sakisama had Yamashita's number for a reason. She turned the tide, neutralized Itoh on the outside, and pinned the Ace to win the tournament.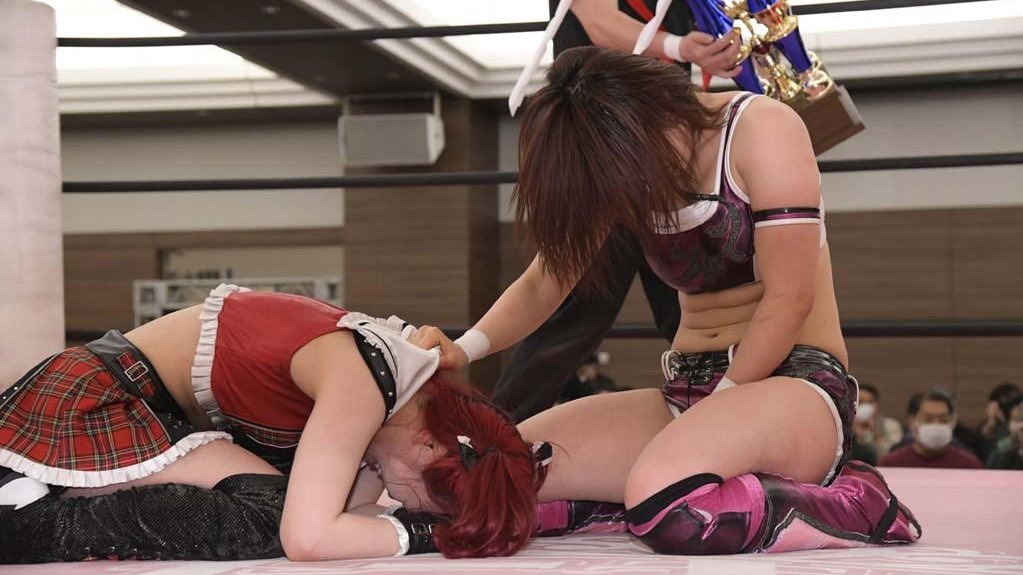 In their exit interview, each apologized to the other for the loss. And while they reaffirmed their commitment to becoming better, Maki confused Miyu by saying she was leaving but that she would return. Itoh had always had issues with making friends and handling losses. She climbed higher and fell harder. Wasting no time, she hopped on a plane and within 24 hours was wrestling in another country.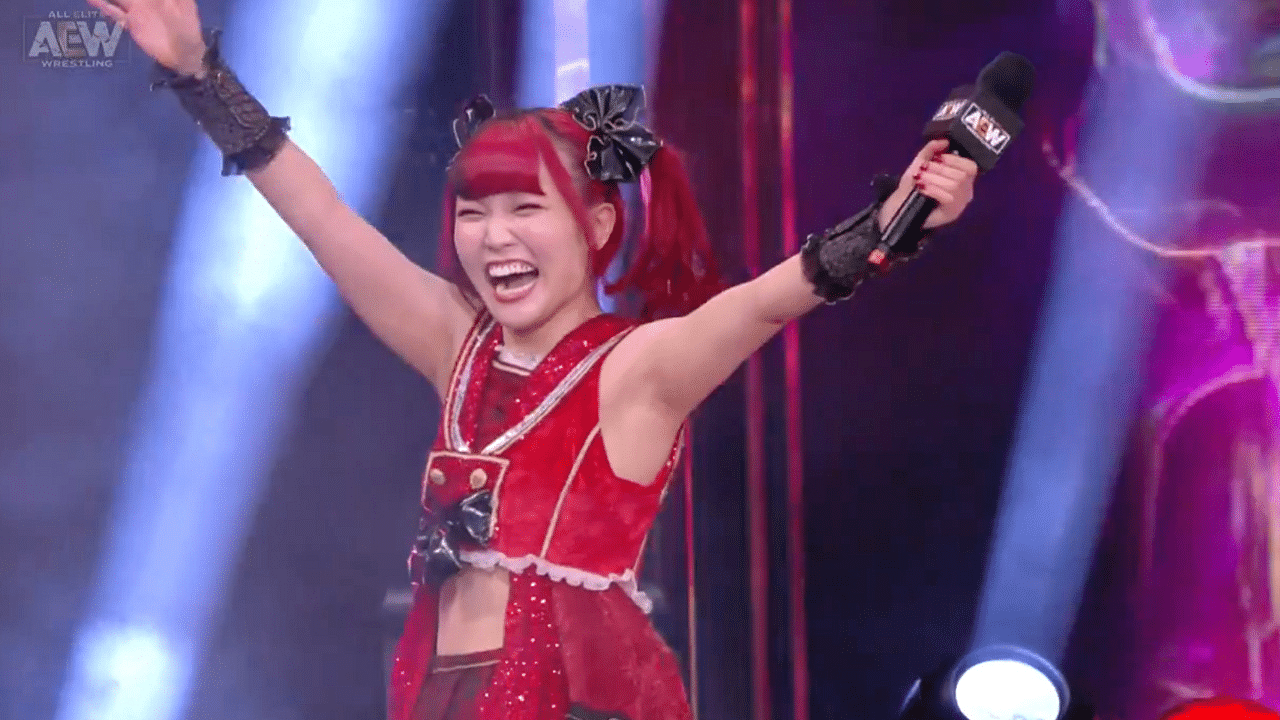 Maki Itoh and Miyu Yamashita – Episode 2: Foolish Love
Maki Itoh debuting on AEW Dynamite was a dream come true for her. Her cult status had grown international. All the buzz had reached back to Japan and to the ears of Rika Tatsumi. Itoh's victory over the Princess of Princess champion had earned her the right to challenge for the title. However, Tatsumi was not impressed with Itoh's celebrity and thought she had lost her edge.
The hunger that made her throw up the middle finger and demand respect had turned the lone wolf soft. A week before their April Korakuen show, Tatsumi choked out Itoh with the Dragon Sleeper. Maki Itoh put up a good fight in their championship bout, refusing to submit, but was pinned after a barrage of finishers.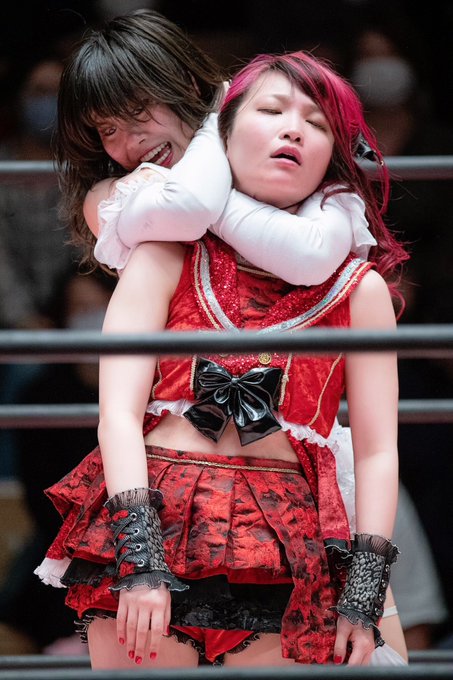 Rika Tatsumi, in the middle of her own growth arc, wanted to show respect to Itoh and received a middle finger to the face. As 121000000 headed to the back, Tatsumi called Yamashita into the ring. She wanted to face stronger competition to be a stronger champion. Miyu accepted with a slap to the face. Rika returned two of her own. At Yes Wonderland in May, Miyu Yamashita won her third Princess of Princess Championship. And in an empty arena, Maki Itoh was in her corner cheering like her biggest fan.
Starting this new phase came with new obstacles. For 121000000, a renewed sense of power and success led them to challenge for the tag team titles, now held by Neo Biishiki-gun due to their tournament victory. Itoh envisioned them holding all the championships, setting her sights on reclaiming the International Princess title.
For Yamashita, her 1st defense would be one of her biggest. She was set to defend against her oldest rival, Yuka Sakazaki, at the CyberFight Festival in a triple main event card alongside legends like Jun Akiyama, Keiji Muto, and Naomichi Marufuji. For Itoh, her match at the Festival would have her facing her past, present, and future. Across the ring in a 6-person tag was Yuki Arai, a shiny, new idol on the roster, Hikari Noa, the current International champion, and Mizuki, her first friend, and former tag team partner.
With both getting victories at the CyberFight Festival, 121000000 reignited the passion they had when they first got together. Itoh got mad because at the end of the supershow, Akiyama brought out Yoshihiko, DDT's living doll, while Yamashita didn't bring out her partner. Itoh missed a chance to be on the cover of a wrestling magazine. Miyu would often be guilted into telling Maki how much she loved her, at times screaming those magic words.
The rubber match with Neo Biishiki-gun saw 121000000 make a good challenge but ultimately fall short when Sakisama choked out Yamashita for the referee stoppage. They made a great push toward the end, but Itoh failed to contain Mei Saint-Michel. The ensuing Princess of Princess title match was a war between two of TJPW's best. Yamashita and Sakisama went kick for kick, with their seconds at ringside.
And just when it looked like the villainous mistress was going to choke her out again with the triangle, the Pink Striker powered out and defeated her with the Crash Rabbit Heat running knee strike. Gaining her first singles win over Sakisama in their six-year rivalry, Miyu brought Maki into the ring and thanked her for being by her side.
And then the ex showed up. For a company with a small roster that mixes and matches all the time, Maki Itoh and Mizuki had been kept apart for quite a while. Their history went back to 2017 when both women joined TJPW around the same time. As a clumsy novice, Itoh formed the Itoh Respect Army and conscripted Mizuki as the first and only member. Being the new girl, Mizuki was happy to do it. They had tag matches, sang songs, and even shot a music video together.
It always seemed like Itoh was jealous of Mizuki's early success, which boiled over when Mizuki started having success teaming with Yuka Sakazaki. To add insult to injury, they looked to be having so much fun without her. The duo split up in 2019 and the drama is best experienced in depth via Youtuber JoShizzle's video essay on Maki Itoh. It was this heartbreak that contributed to Itoh's hesitancy to fall in love again with Yamashita.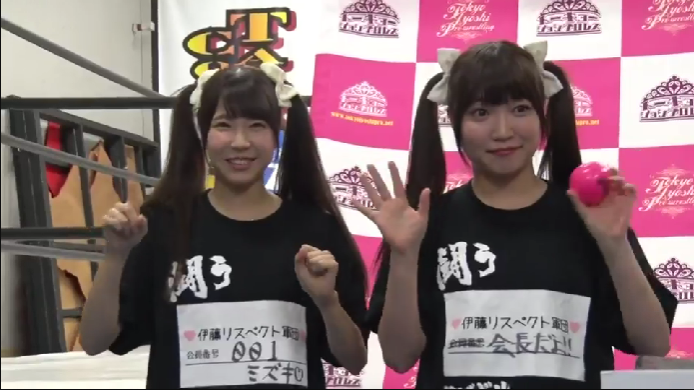 In July's Tokyo Princess Cup, both Miyu and Maki picked up two solid wins to advance in the tournament. Unfortunately, Itoh reached the semifinals with a fractured cheekbone. Yamashita's own bad luck stretched back to the beginning, as the Ace has always been eliminated from the seven previous tournaments. And as fate would have it, the bracket led her straight to Mizuki.
Having won the two previous Tokyo Princess Cups, the Popping Sugar Rabbit gave it her all and pinned Yamashita. Mizuki brought her back in the ring afterwards, exclaiming that she had slain the monster and thanking her for the match. With the luck of the draw, the former members of Itoh Respect Army would be colliding once more.
At the beginning of the year, Maki Itoh changed her moniker from Fired Idol to New Era Charisma. But for the semifinal match, Itoh debuted a new costume with added gold trim in her gear to invoke the colors she wore as a rookie. Her evolution continued to sharpen her comedic antics and need to be called the Cutest in the World, into a more serious and dedicated pro wrestler.
The former friends had an impassioned fight. Itoh wasn't afraid to brawl outside or take big risks. Mizuki felt no remorse in taking advantage of Itoh's broken face.
Maki Itoh locked in her submission, but Mizuki reached the ropes, crawling toward her corner woman Yuka Sakazaki. Itoh knew this story too well. One more time, they held each other's hand and exchanged desperate strikes. Mizuki hit her finisher. A bridging suplex. But the back gave out. Itoh fought back. She put her back in the submission. And she finally won.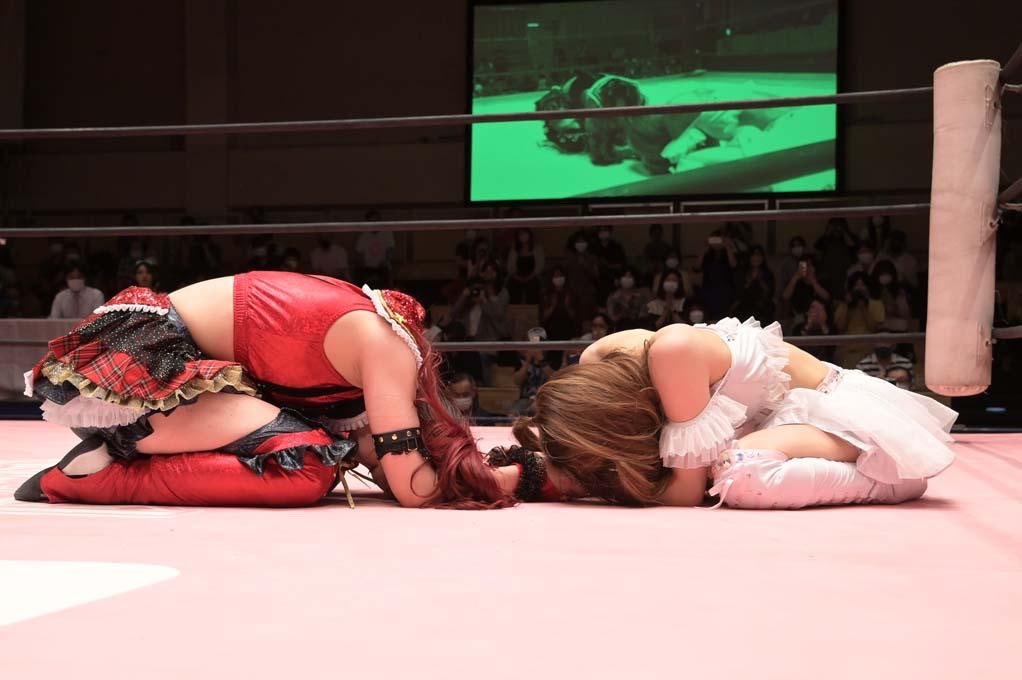 The former tag team partners shared a handshake and bowed to each other. As Mizuki was helped to the back by Yuka, Maki Itoh called out her name. But the words wouldn't come. Through tears, Mizuki cried out for Itoh to win this tournament. Through a strained voice, Maki thanked her for making her strong. Collecting herself, Itoh says that she never believed in happy endings. But having gone from the former idol who no one thought could wrestle to Tokyo Princess Cup finalist, she had every reason to believe she could win.
It could have been so easy to go one way. The loveable loser gets the rub in losing. After all, her opponent was Shoko Nakajima. A past trophy holder making her fourth finals appearance. She played the perfect game and dominated the match. What chance was there for the so-called all talk, bad wrestler? If it's one in a million, then here comes Maki Itoh giving the odds the middle finger and proving that happy endings do exist.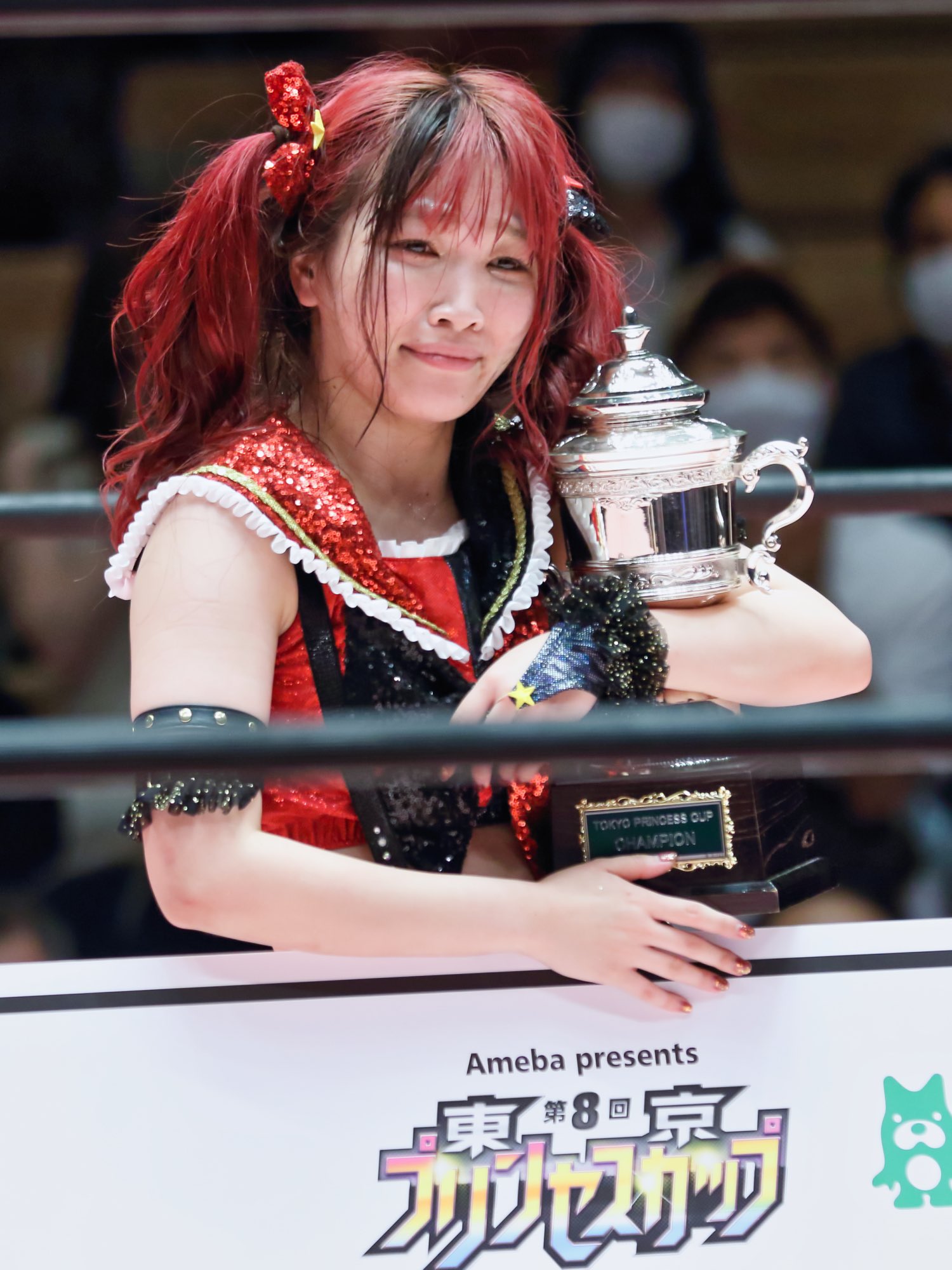 Maki Itoh and Miyu Yamashita – Episode 3: One in a Million
With the Tokyo Princess Cup in hand, Maki Itoh called Miyu Yamashita into the ring. She said she never liked her before, but their meeting on January 4th changed her life. Yamashita said she hasn't just been cheering her on because they were friends, but that she wanted to see Itoh as a winner. The Princess of Princess champion laid out the challenge for a title match. October 9. Ota Ward Gymnasium. Wrestle Princess II.
Itoh celebrated her career-high victory by teaming with Atsushi Onita in an Electric Current Explosion Deathmatch outside on a sweet summer day. She then teamed with her best friend Yuki Kamifuku, singing a Cruel Angel's Thesis on their way to victory. But the honeymoon period couldn't last the dying days of summer. 121000000 always had their sights on the tag titles. And in a match against a makeshift team, Yuki Aino hit her finish and pinned Yamashita.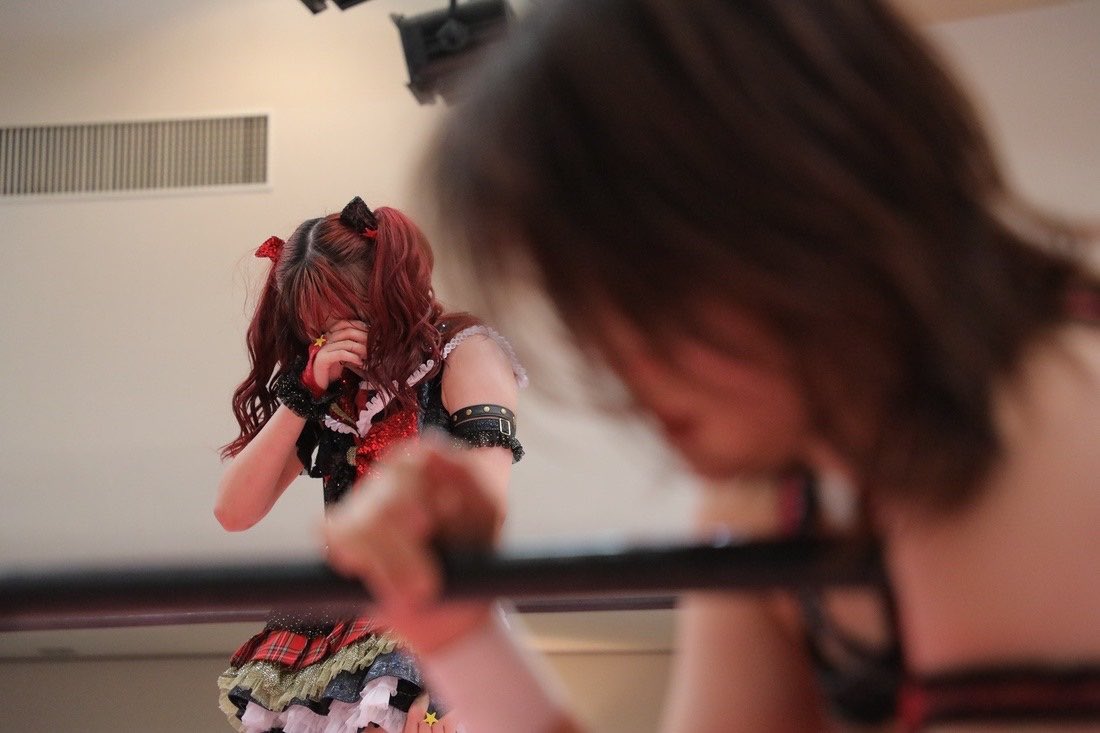 Maki was devastated. Screaming. Crying. She couldn't believe that Miyu had lost before their rematch. Backstage, she explained that their trust and their relationship had been fractured. These wrestlers give their all in the ring. They are vulnerable with each other, fighting, sweating, breaking each other down, and getting stronger. This moment of weakness from her partner felt like a betrayal.
Yamashita couldn't even argue. She was so caught up in Itoh's tournament run that she had lost focus on winning. But she vowed to make things right.
Yamashita avenged her loss the next week and beat Aino in a singles match. She called Itoh to the ring and apologized, promising to be at full strength for October 9. The two went their separate ways, fighting on opposite sides of a 3 vs 3 match. Itoh had Yamashita in her submission when the 20-minute time limit ran out.
For the first time in their careers, they seemed to be on an even playing field. 278 days after their January 4 match, they would rewind their last waltz at Wrestle Princess II.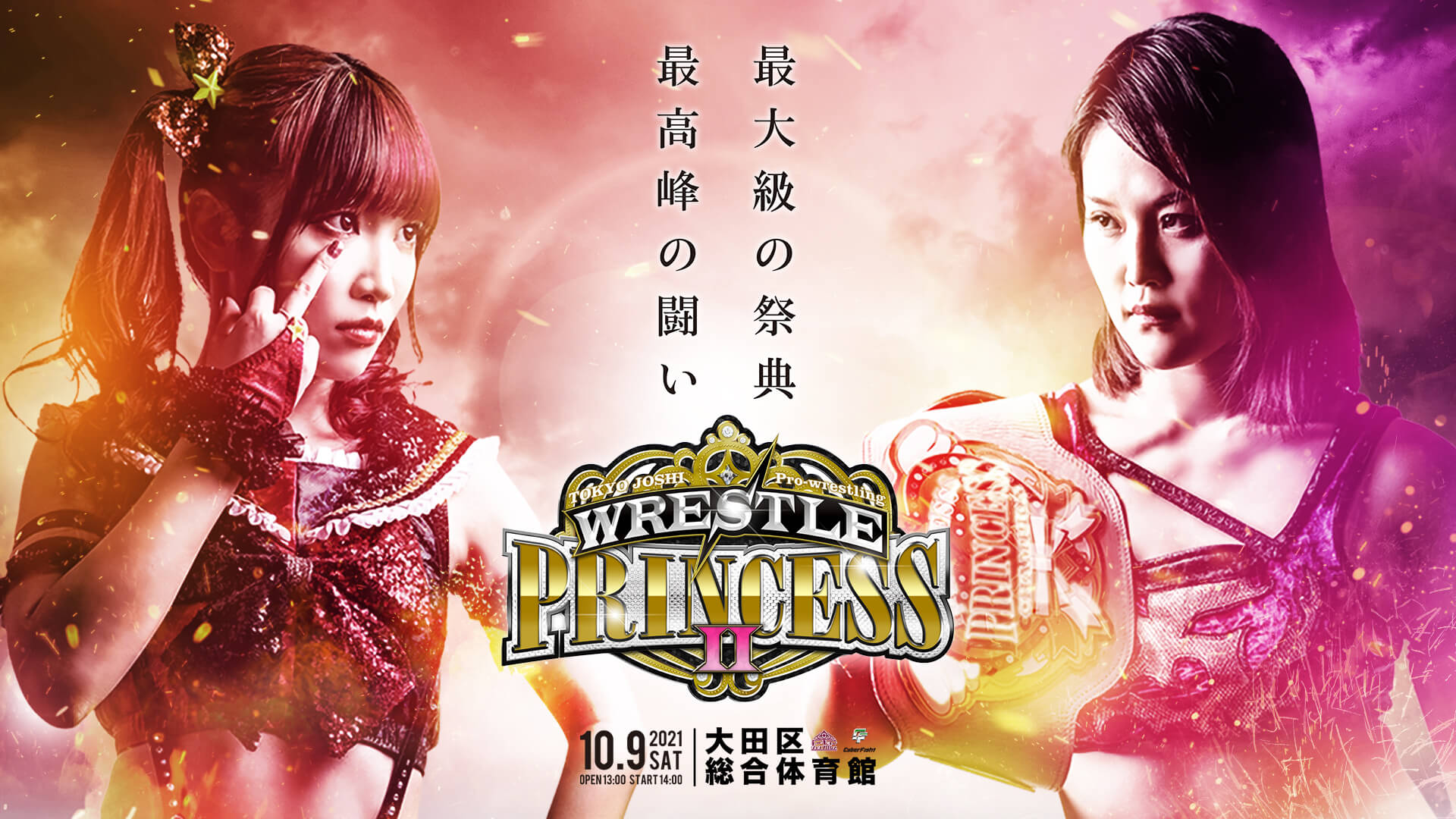 Maki Itoh entered Ota-Ku Gymnasium with the bombastic fanfare of singing her own theme song. Miyu Yamashita wore her usual entrance jacket, and tailor-made shorts to show off the championship she has held for most of its existence. Move over Princess of Princess, here comes the Queen. The match started with a staredown and a handshake. They chain wrestled, brawled outside, and went move for move in the ring.
Miyu threw the first haymaker with an Avalanche Attitude Adjustment. Itoh kicked out. They exchanged kicks and headbutts before Maki was knocked down with a high kick to the head. The referee started counting, but she beat the shot clock at 9.
Itoh reversed her opponent's offense and targeted the back, hoping that her submission would work again. Yamashita reversed with a headbutt, but the damage was done. Both competitors were exhausted laying in the center of the ring. Struggling to their feet, their eyes met once more. Itoh gave her the middle finger. Yamashita gave her a fist bump. They held each other's hand and threw hard forearm shots, more and more vicious before Miyu hit the Skull Kick and sent her victim crashing to the mat.
And then the terror set in. Maki Itoh wailed up at the lights, and not just her typical war cry. She knew what was coming next. She realized that for every moment they spent together and she got stronger, Miyu got stronger too. The Ace doesn't lose, Maki does. Just when she was knocking on the door to her happy ending. Her perfect world faded away. Nevertheless, she rose and faced her cruel fate. Itoh ducked one last kick but was hit with the Crash Rabbit Heat and pinned.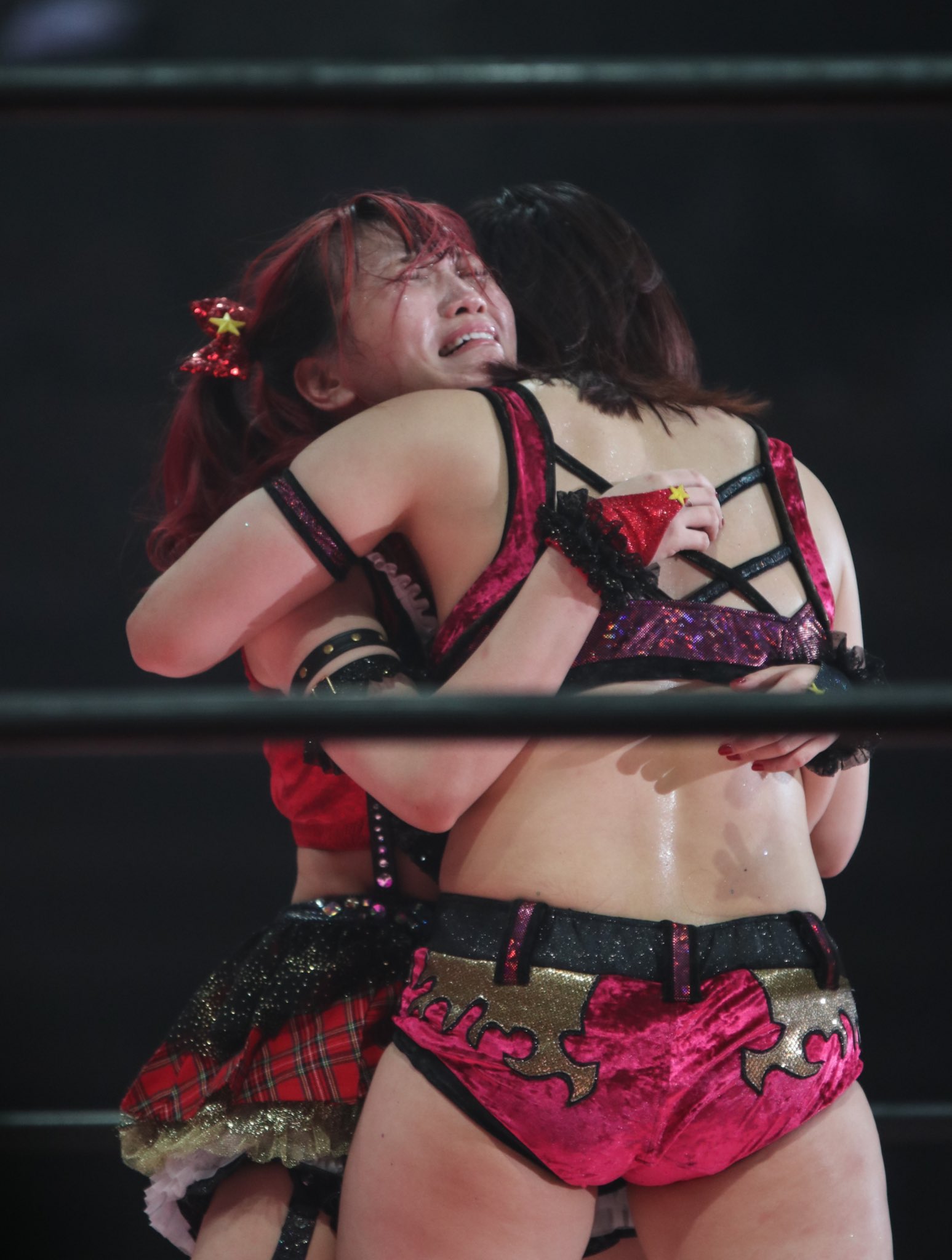 After the match, Miyu Yamashita offered her hand and Maki Itoh took it, pulling her up to her feet. They collapsed into each other for a tearful embrace. Maki gave her the finger, Miyu gave her the fist bump, and they smiled. 121000000. As one their power is a million.
The epilogue to this saga is but a new chapter in their lives. As of this writing, Miyu Yamashita and Maki Itoh continue their hunt for tag team gold, as well as success for their singles careers. They continue to lead Tokyo Joshi Pro Wrestling into a period of growth for bigger shows and larger venues. They are even going international, making appearances for AEW and various other indies.
Each is a once-in-a-lifetime wrestler, and somehow they became each other's greatest partner and greatest rival. Prepare for the fireworks. The next episode in pro-wrestling's greatest love/hate story is going to feel special.
Maki Itoh and Miyu Yamashita arguing a week after their Wrestle Princess II match. #tjpw subtitled pic.twitter.com/sfvx82As4a

— Alex (@AncientMinority) May 26, 2022