For many fans of Joshi wrestling, the top company that everyone speaks about is Stardom and Miyu Yamashita. They are known for their intense, Strong Style of wrestling. Yet, one Joshi company that is sometimes overlooked is none other than Tokyo Joshi Pro Wrestling (TJPW). While Stardom might be compared to the likes of New Japan and NOAH, TJPW is more similar to its brother company DDT (Dramatic Dream Team) Pro Wrestling.
They are companies of comedy and light-hearted wrestling with amazingly technical and spectacular bouts. One wrestler that has always been at the heart of the company and, for many, deserves more respect is 3-time former Princess of Princess Champion Miyu Yamashita. Here's a look at one of the biggest stars in TJPW and her rise to the top of the company.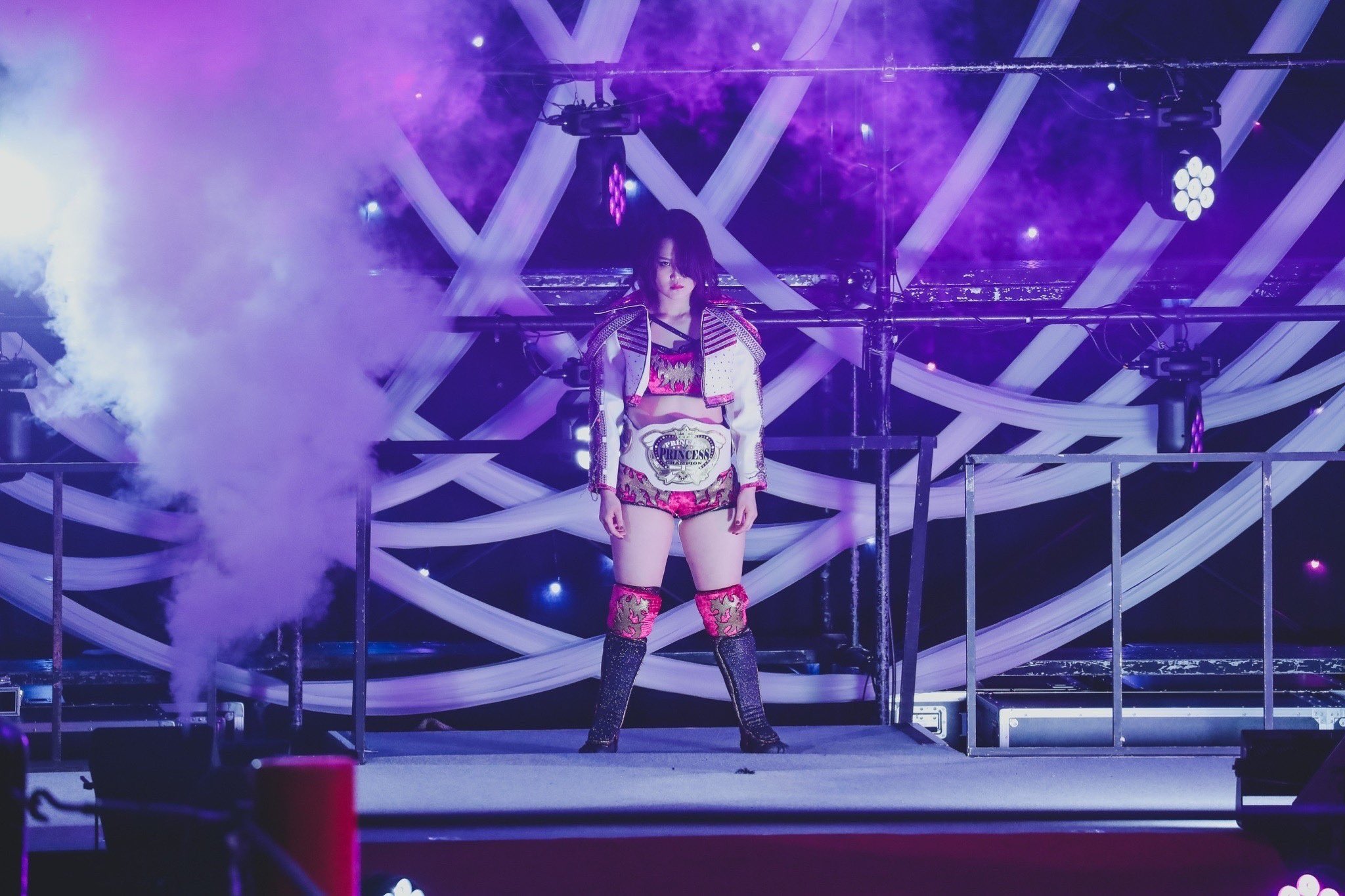 A Journey Combining Martial Arts And Idol Dreams
When Miyu was younger, she already seemed destined for success with her dedication to succeeding in the things she loved. She train in Kyokushin and mixed martial arts from a young age and had hopes of becoming an idol. Throughout her childhood, she took part in many auditions for idol groups. Due to the tough nature of the industry, she seemed to struggle to find her place in the cutthroat world of being an idol.
Yet, fate would give Miyu a way to combine all of her talents. Japanese wrestler Kyohei Mikami (known as Mikami) was an active wrestler for DDT and approached Miyu. He asked if she wanted to join the newest sister promotion of Dramatic Dream Team. After accepting his offer, at the age of 17, Miyu joined Shoko Nakajima, Kanna, and Chikage Kiba to become the first trainees for the promotion.
Alongside its wrestling, TJPW is known for combining sport with singing and performing. TJPW cemented its reputation for having idol performances throughout. It seemed like the perfect place for Miyu to combine her skills for martial arts and desire to perform.
Miyu – A Wonder Into The Unknown
In the early years, TJPW was still a relatively small promotion. Due to its concept, most of the shows were run alongside music events and performances by idols. Yet, for many fans of the promotion in the early days, they knew Miyu was already set to be one of TJPW's biggest stars. She take to wrestling like a duck to water and she was one of the few early members of the roster with some experience in sports.
When TJPW started to gain enough popularity to hold its own full shows, she quickly gained a reputation for being one of the best. With her background in karate that influenced her offence, strong kicks, and pink ring gear, she was dubbed the "Pink Striker." It is a name she uses to this day.
Miyu's Push To The Top Started Spreading Globally
On January 4, 2016, TJPW held their biggest show date, and it was the moment the company's faith in Miyu was cemented. The wrestler beat long-time rival Shoko Nakajima and became the first-ever Princess of Princess Champion. She had some stand-out matches throughout her first reign and even held the title for nearly eight months.
Even after losing the title, it was clear why Miyu was being pushed to the top. She had some excellent matches with the likes of veteran Meiko Satomura. Alongside this, she had matches with wrestlers from across the world, including the likes of Veda Scott and Priscilla Kelly.
She even had the opportunity to travel to America and compete in promotions like WWN and SHINE wrestling. It was here that international fans became aware of what the "Pink Striker" was capable of.
In particular, at the WWN Mercury Rising 2019 show, Miyu defeated Allysin Kay in a title versus title match to hold both the Princess of Princess Champion (during her second historical reign). 2019 also saw Miyu in a multi-man tag match against worldwide star Kenny Omega and Riho at DDT's Ultimate Party. Omega couldn't stop praising the wrestler and brought more eyes to the young wrestler whose talent was known in Japan but less so in America.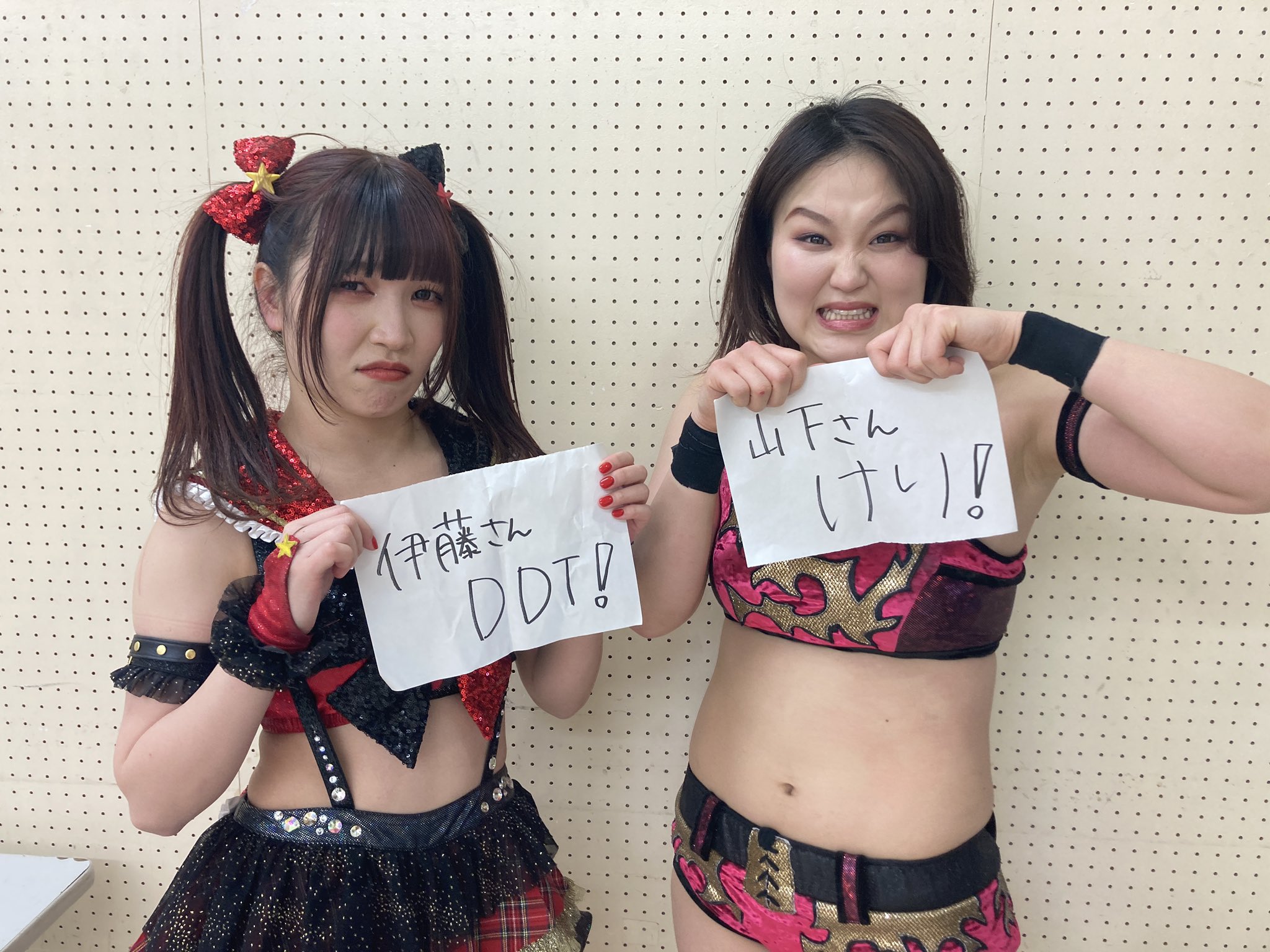 Miyu & Maki – A Rivalry During The Pandemic Created An Unexpected Friendship
In particular, during her recent reign, one of the best feuds she had was with the "World's Cutest Wrestler" Maki Itoh. The duo always had a "rivalry," including all the times Itoh unsuccessfully challenged for the title. In every singles match the pair had during their time, they brought the best and worst out of each other.
After another stand-out match at their January 4th show where Miyu beat Itoh, the two came to feel mutual respect for each other. With so much between them, they rightly decided that now they were no longing feuding. It was time to put their chemistry to some use and become a tag team. They were dubbed "121000000 (One To Million)" and quickly became a fan favourite.
However, it would never be the end of the rivalry between the two, despite their newfound friendship. At Wrestle Princess II, the duo put on yet another MOTY candidate at Otaku General Gymnasium. They proved that sometimes your best friends can be your hardest opponents. The pair continued to cement their status at the top of the company as both singles wrestlers and a tag team.
特別ルール にがて😞#tjpw pic.twitter.com/6dp22G5vbh

— 山下実優 Miyu Yamashita (@miyu_tjp) March 6, 2022
All Good Things Come To An End… For Now
On March 19, 2022, Miyu might have lost her title in a phenomenal match to Shoko Nakajima. It doesn't take away from how much the wrestler has done for TJPW. As two of the first TJPW wrestlers, Miyu and Shoko brought history in a full circle. They cemented why the roster should not be underestimated.
Since making her wrestling debut, Miyu has showcased why she is one of the best wrestlers in the world. With her unique style and personality, she pulls out MOTY candidates. Yet, she but can make viewers smile with more light-hearted and comedic matches. At only the age of 26, she is only at the start of her career and has many more title reigns and successful matches ahead of her.
It was the best moment pic.twitter.com/dXUOy9H6IN

— 山下実優 Miyu Yamashita (@miyu_tjp) March 20, 2022