The open window of Tokyo Joshi Pro Wrestling returns. After last year's inaugural show that fostered international partnership unlike any other, Summer Sun Princess is back with another wide array of special guests. Three top titles from three countries are on the line amidst a mosaic of different styles, faces, and backgrounds.
In the new era of the promotion, the four tentpole events are January 4th, Grand Princess in the Spring, Summer Sun Princess, and Wrestle Princess in the Fall. Here Mizuki meets her age-old rival, Maki Itoh, for the Princess of Princess championship, reigniting one of the best stories in company history.
Many fans worldwide might already confuse Maki Itoh as being the top champion in TJPW. The stakes of the main event are big enough to indicate who, between their two brightest stars, is the true number 1 under the sun.
TJPW Summer Sun Princess 2023:
Suzume and Arisu Endo vs Juria Nagano and Moka Miyamoto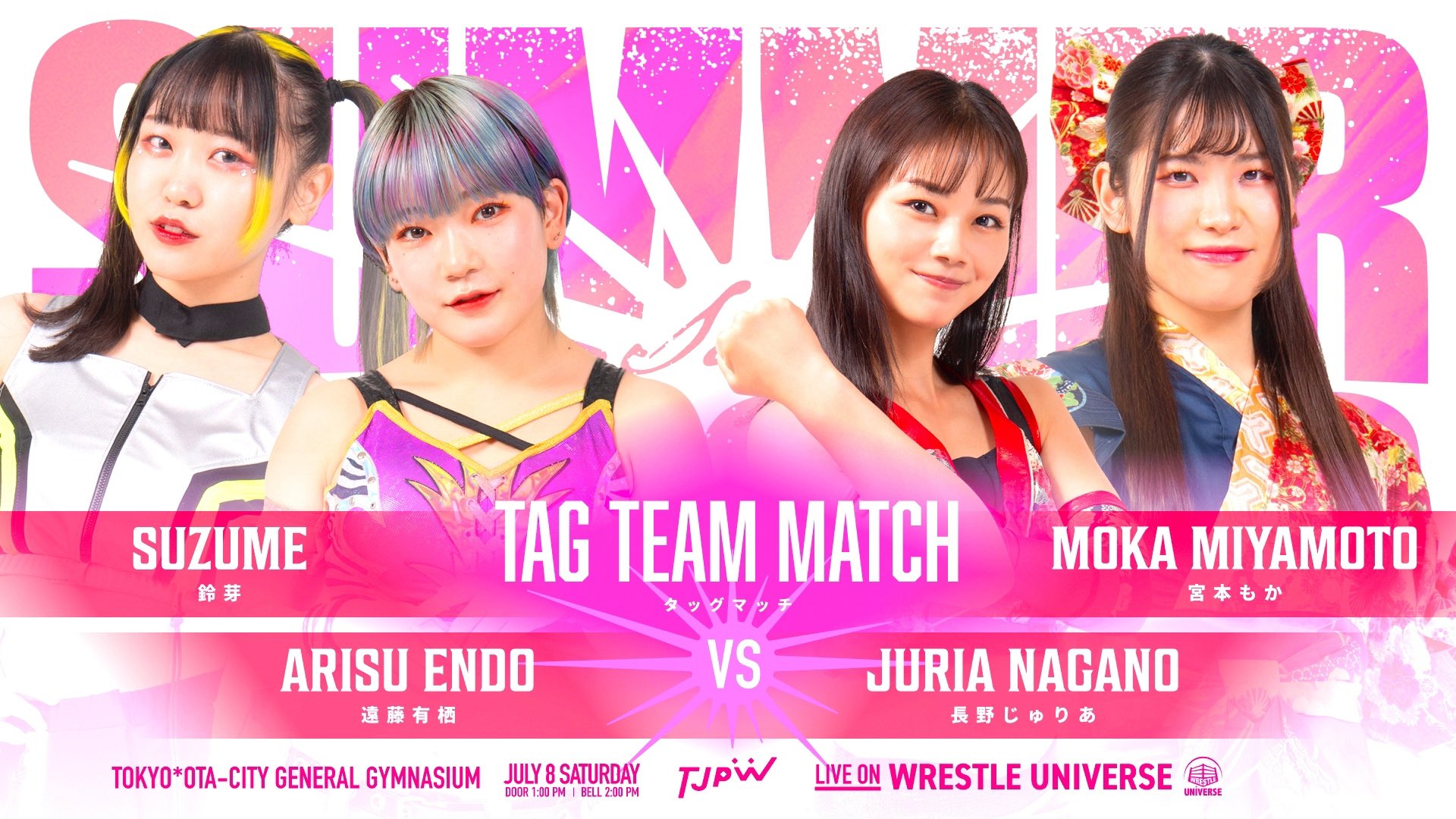 Once one of the most exciting rookies of last year, Juria Nagano made her return from injury having missed the past 5 months. Coinciding with her absence has been the rise of the three other upstarts in the match Suzume, Arisu Endo, and Moka Miyamoto. All are vying for their first piece of gold, even trying for at least a title shot. And they worked like it wasn't just any opening match to warm up the crowd.
Juria didn't look like she missed a beat in terms of speed and movement. Both karate girls worked over the members of Daisy Monkey, at one point locking in double submissions that looked close to the end.
As of late, Moka had been winning with her hold and Arisu had failed to capitalize with hers, but Endo managed to get the recliner on Juria and tap her out. With the tag team titles vacant at the moment, both teams put in the effort to be champions.
TJPW Summer Sun Princess 2023:
Mahiro Kiryu, Haruna Neko, Himawari, Shino Suzuki vs Kaya Toribami, Toga, Runa Okubo, and Haru Kazashiro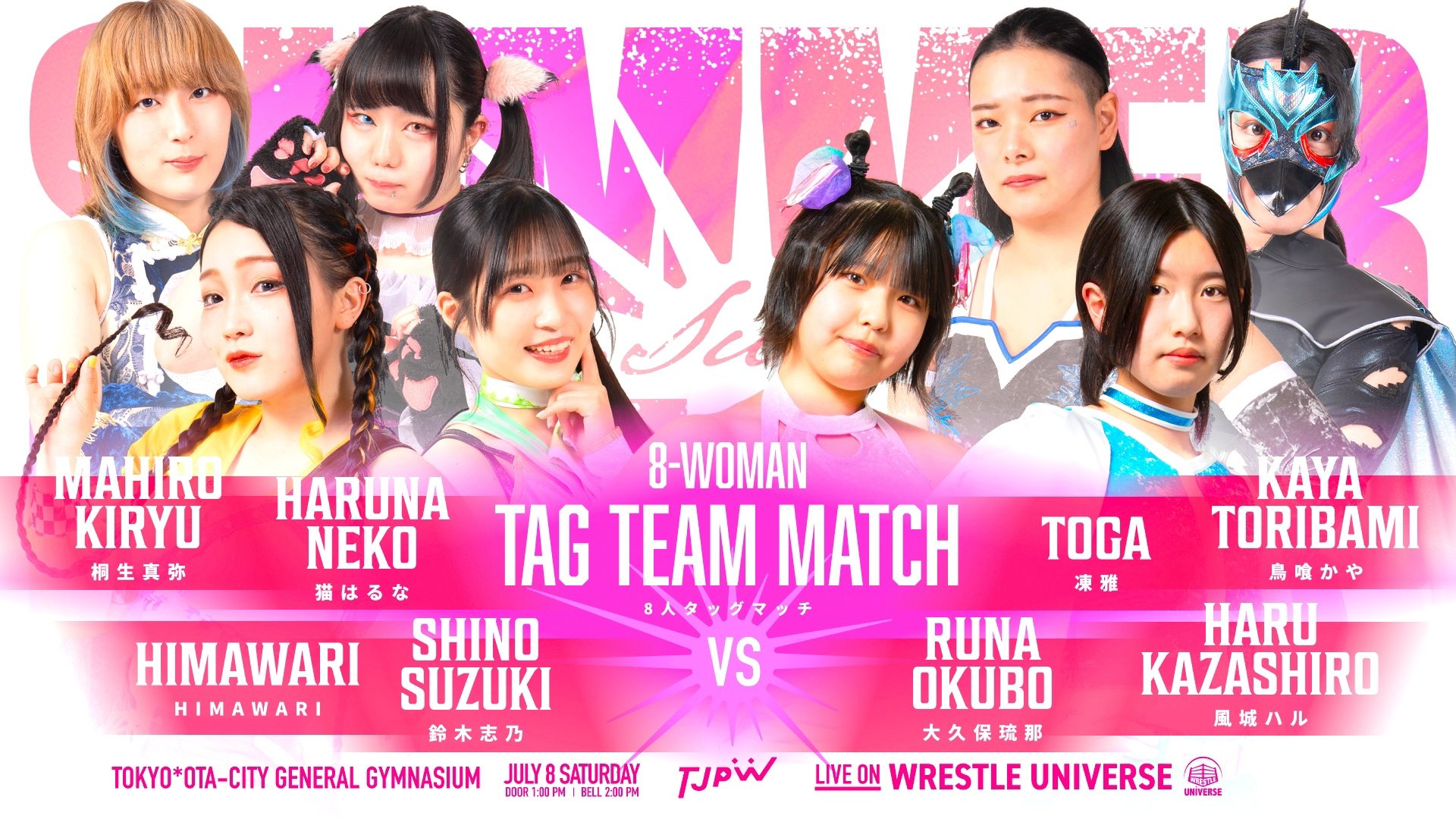 In a near-repeat of a match from Grand Princess, the bulk of the rookie class were mixed with their lower card senpais to see how much they've progressed in the ensuing three months. Each wrestler did their schtick, but the match rose to a level above simply getting everyone on the card. 
Haru Kazashiro especially had a bit of a coming-out party. The 15-year-old has gained a comfort for such a short career so far. She's confident in her dropkick and goes to it often. However, Himawari is the one who is the frontrunner of the 2023 rookie class. She's got impeccable timing and ring awareness, bringing her team the victory with a submission over Haru when all looked lost.
TJPW Summer Sun Princess 2023:
Ryo Mizunami and Nao Kakuta vs ASUKA and Yuki Kamifuku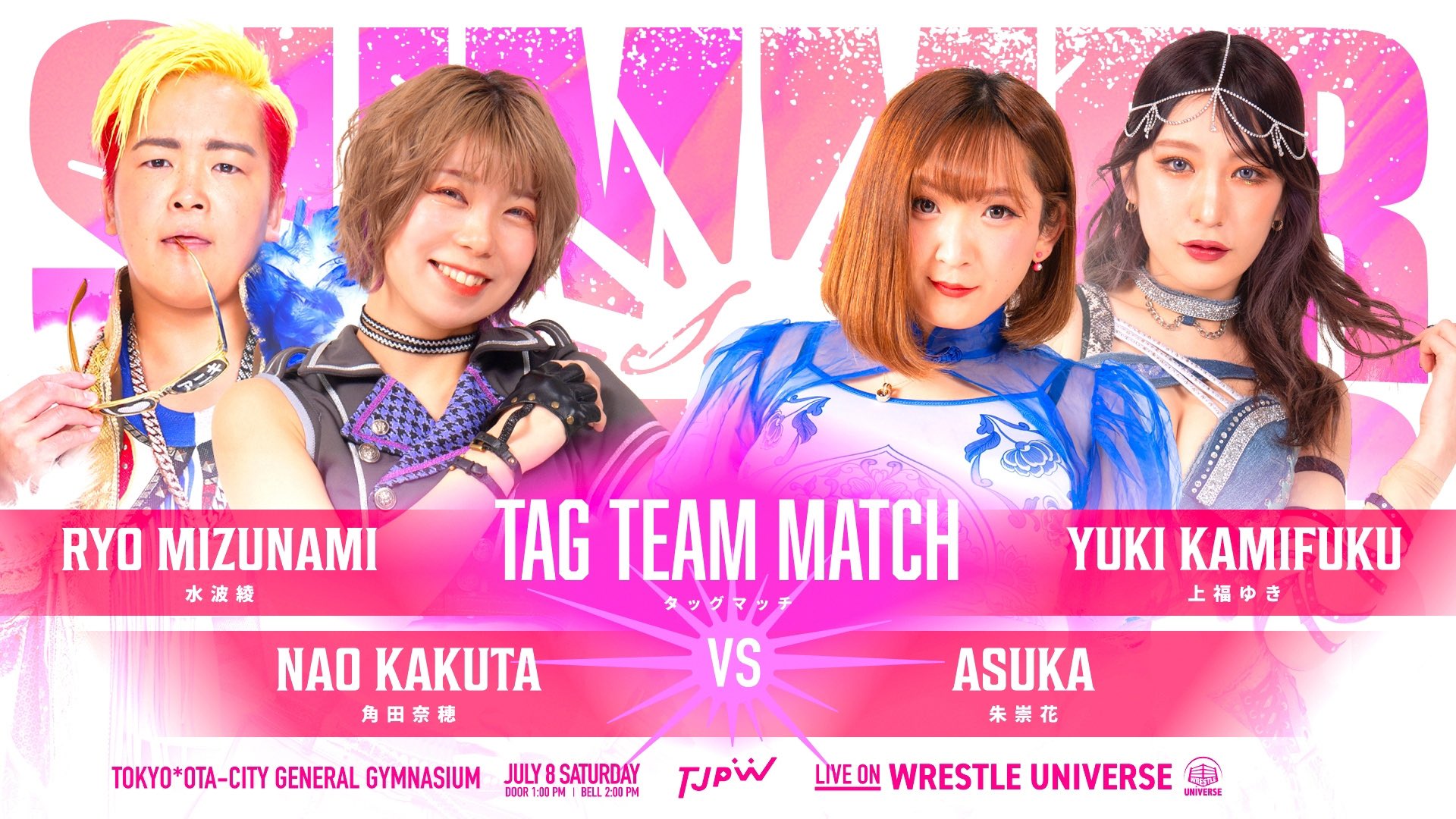 Two Japanese freelancers joined the party, teaming with those who were missing their normal tag partner for the day. Ryo Mizunami has had a handful of spots with TJPW over the past year, bringing a special brand of powerhouse charisma. She paired with Free Wifi's Nao Kakuta. Across from them was the acrobatic ASUKA (Veny) reuniting with her friend Kamiyu to bring back the sometimes team of Venyu.
With dancing and music in both entrances, the party began in a hurry with a moonsault by Veny from the post to the floor. From there, Ryo struck fear in her opponents with loud chops and a devasting lariat. Veny continued to wow the crowd with her agility. But it was Kamiyu and Kakuta who took the bulk of the second half, reigniting their old respectful rivalry. Kakuta got the pinfall over Kamiyu for a fun match.
TJPW Summer Sun Princess 2023:
Vertvixen vs Hikari Noa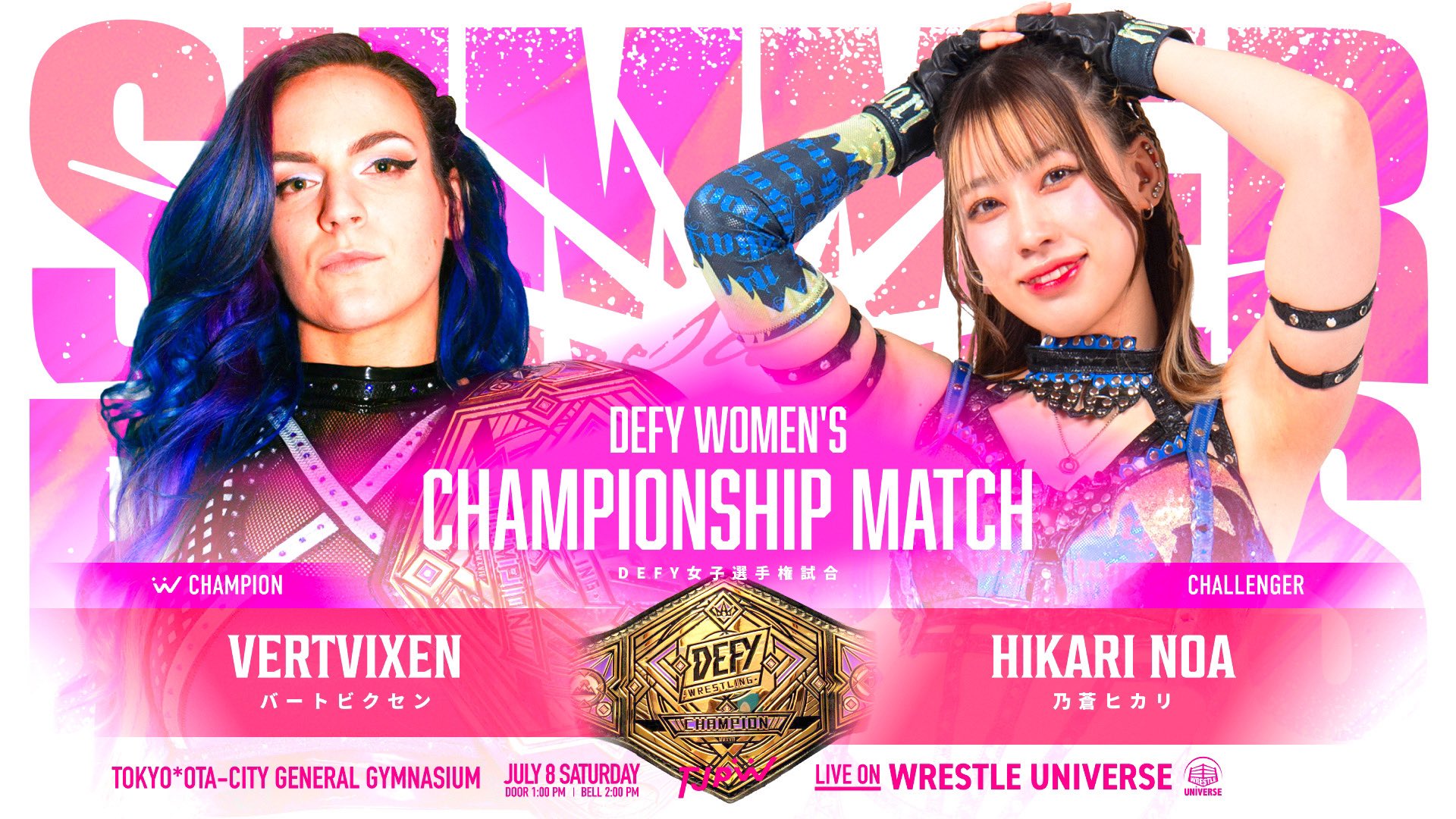 In the first title bout of the show, Vertvixen returned to TJPW for the first time since April and put the DEFY Women's championship up for grabs against the deathmatch idol Hikari Noa. The champion entered having won the Seattle-based belt in October, even defending it against the likes of Miyu Yamashita.
Vertvixen used her size and power advantage to dominate the match early on. She also verbally reminded Hikari of the times they teamed together on her previous tour. Like her recent outing against Sawyer Wreck and much of her career, Hikari is used to taking punishment.
She ate a snap suplex off the top rope just to hit her Blizzard suplex for a near fall. Vertvixen retained her belt with a Vertical Drop Brainbuster, but the fighting spirit of Hikari Noa would not be broken.
TJPW Summer Sun Princess 2023:
Aja Kong and Raku vs. Shoko Nakajima and Hyper Misao vs. Pom Harajuku and Max the Impaler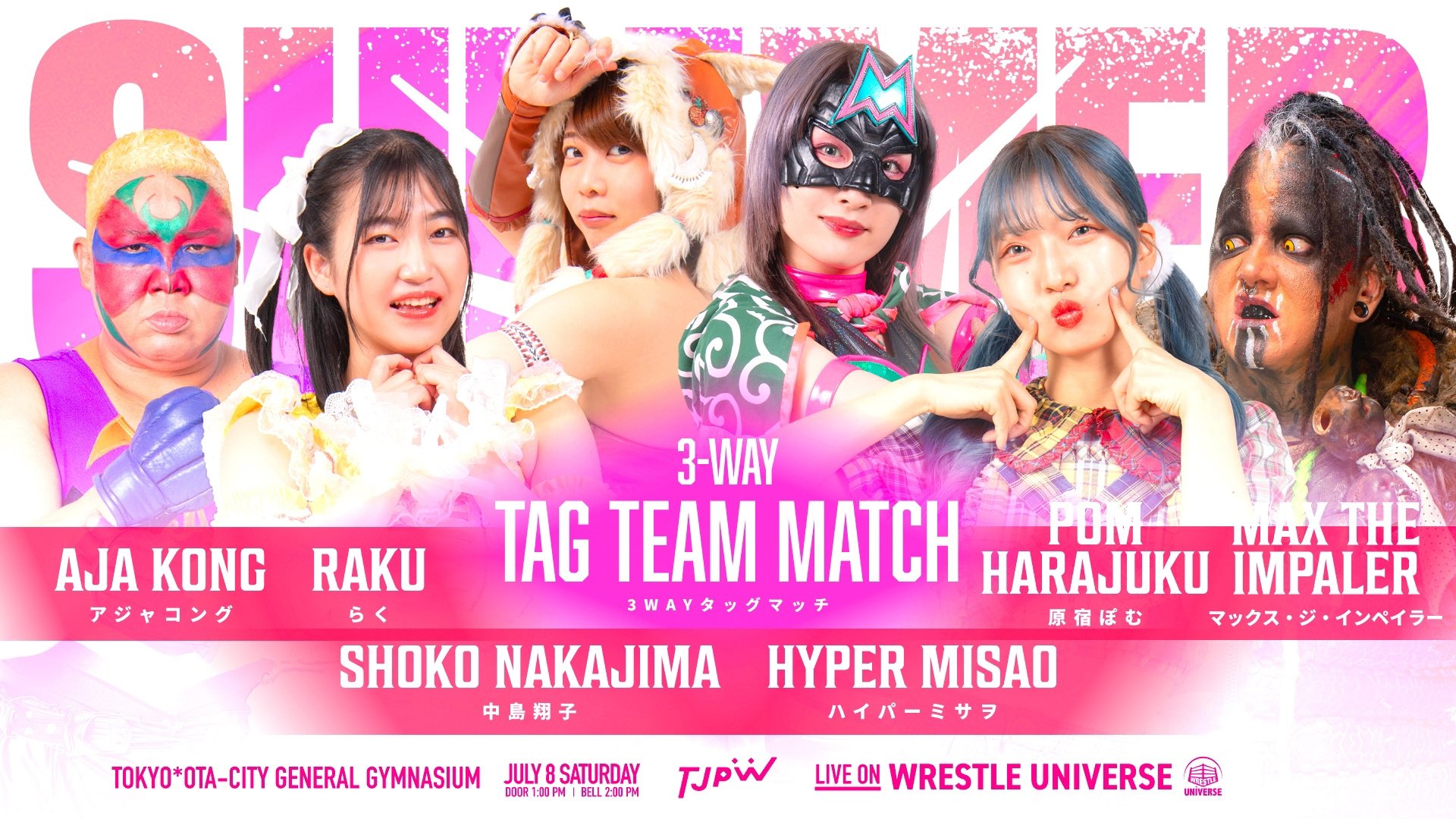 In what can only be described as a monster movie come to life, three kaiju found partners and faced off in a threeway battle royal. The legendary Aja Kong teamed with the only person she likes, the mythical goddess of the sleeping song Raku.
The 1.47-meter Kaiju Shoko Nakajima brought her usual collaborator in crime, the mad scientist Hyper Misao. And the Nonbinary Nightmare Max the Impaler reunited with her prey turned partner, the wailing final girl Pom Harajuku.
Held under tornado tag rules, this match was mayhem. Aja and Max renewed their beef from last year. Raku hit Pom in the head with a trash can. Misao hit multiple people with her bike. And at the end of a wild and crazy ride, Shoko put Pom away with the diving senton. Kyoraku Kyomei remains an upper-tier tag team in the division.  And the decision for the vacant tag titles remains.
TJPW Summer Sun Princess 2023:
Nyla Rose vs Miu Watanabe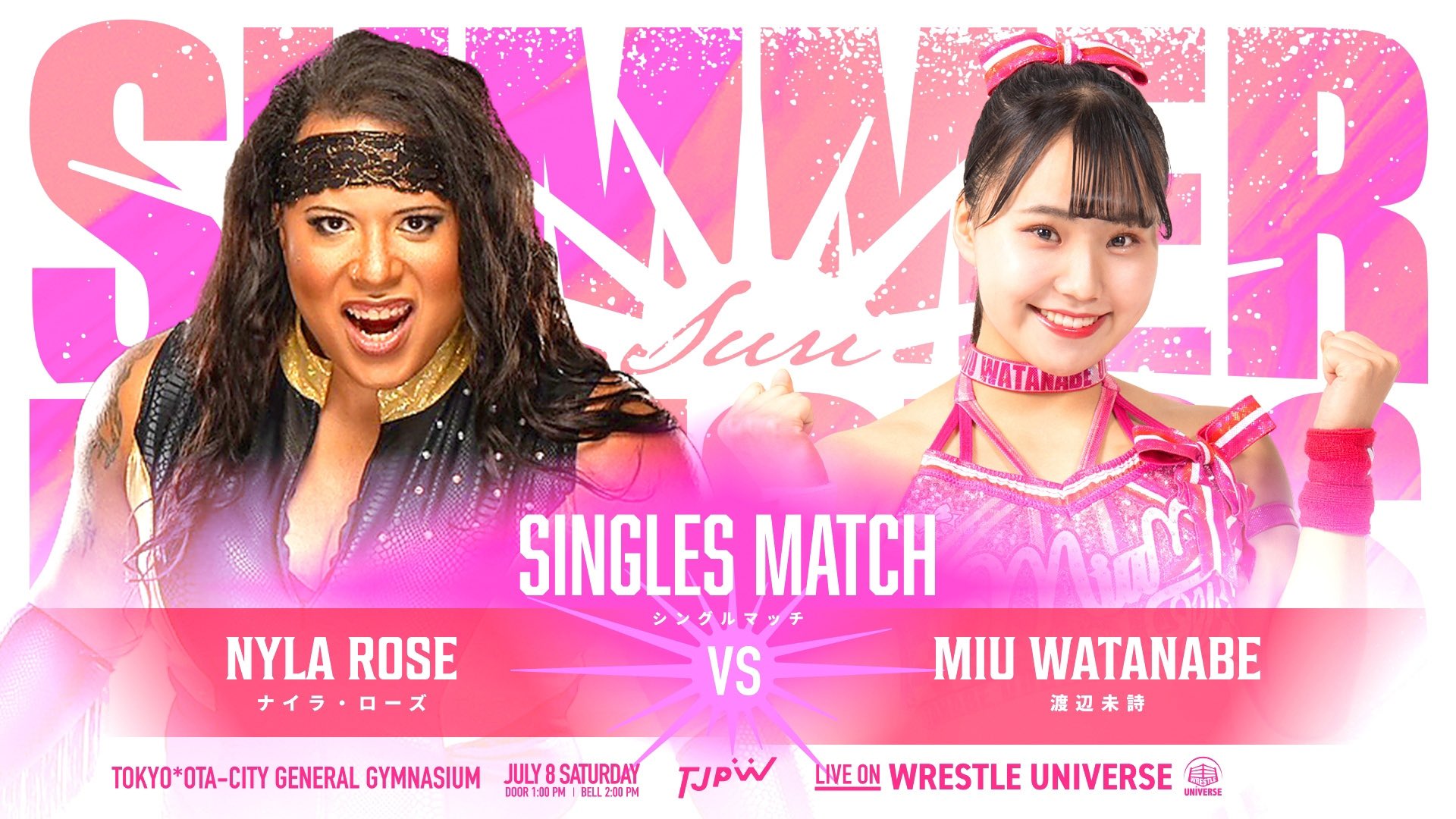 While it had been Yuka Sakazaki scheduled to face Nyla Rose in a battle straight out of AEW Fight Forever, Yuka's sudden injury announcement last month changed a lot of plans. But if anyone on the roster could match either of them for strength, without a doubt, it's Miu Watanabe.
In the wide variety that was Summer Sun Princess, this match pitted strength against strength. Miu put all her might into just hitting a shoulder tackle, a power slam, anything to get Nyla off her feet. When she went for the giant swing, the audience believes she can do it because she believes she can do it.
But Nyla was too much. With all the power she expended simply trying to lift her opponent for a finishing stroke, Nyla put Miu away with the Beast Bomb in a short match, relative to the 10+ minute bouts on the show thus far.
TJPW Summer Sun Princess 2023:
Miyu Yamashita vs Sawyer Wreck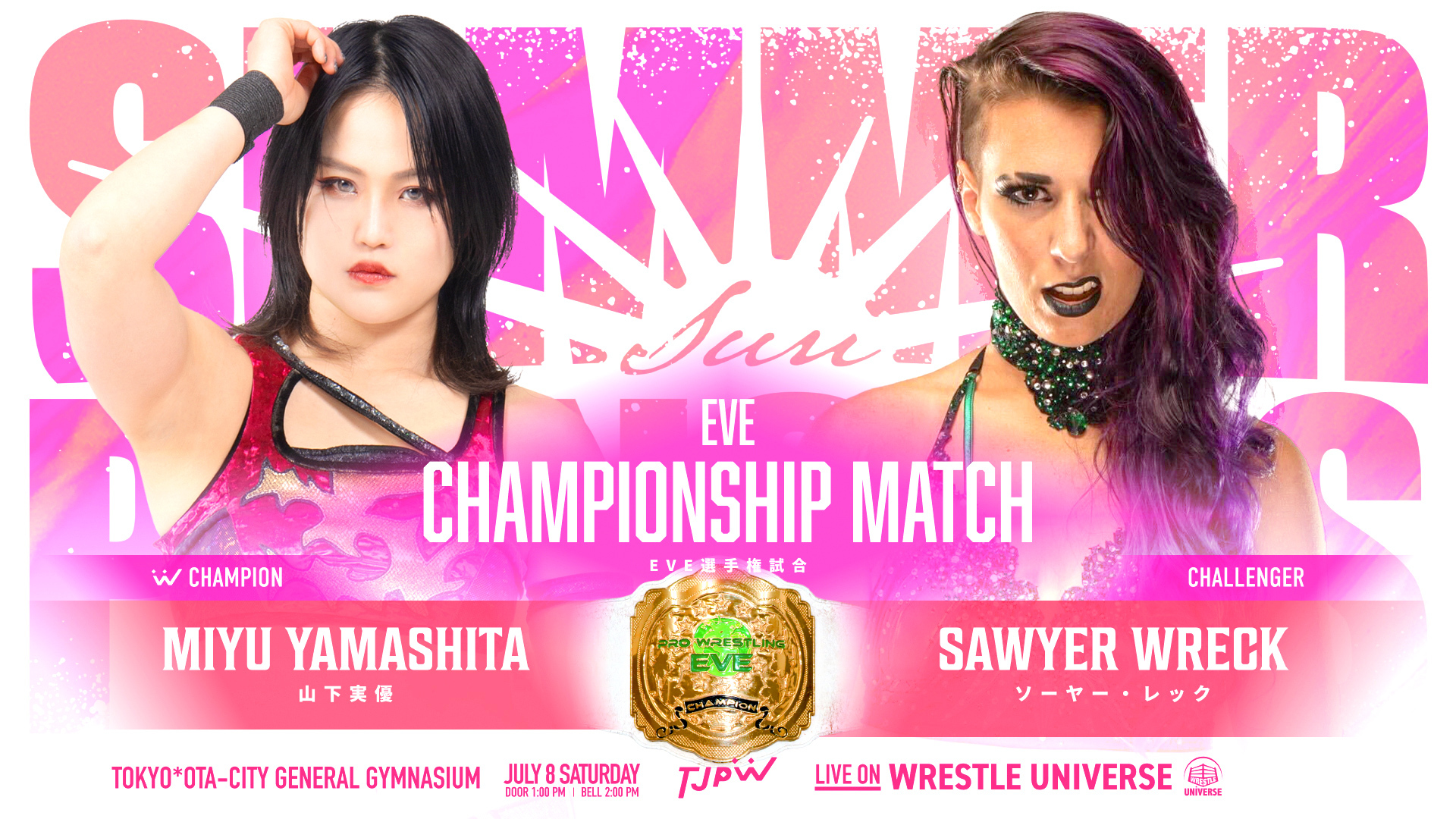 The return from intermission saw reigning champion of Britain's Pro Wrestling Eve Miyu Yamashita put her title on the line against the 6'2 Sawyer Wreck. Miyu only returned from a 3-month excursion outside of Japan two weeks, and she still found time to fly to London a few days ago for a title defense. Meanwhile, the American deathmatch wrestler made a huge impression when she debuted for TJPW back in April.
The size difference put the early portion in Sawyer's favor. Under the Spirit of Eve rules, wrestlers are given a long leash when it comes to count outs or disqualifications. Sawyer, hoping to become the champion of a company she's never worked for, hit Miyu with a number of chair shots and beat her all around the ring, up to the stage, and back.
The Pink Striker relied on her signature kicks to fight from behind. She had to get a bit inventive, engaging in the typical chair sword fight sequence, except Miyu was using her feet to meet every swing of the chair. Even with damaged legs, Miyu managed to chop Sawyer down to size and hit the Skull Kick to pin the giant and retain her title.
TJPW Summer Sun Princess 2023:
Sakisama and Mei Saint-Michel vs Wakana Uehara and Yuki Arai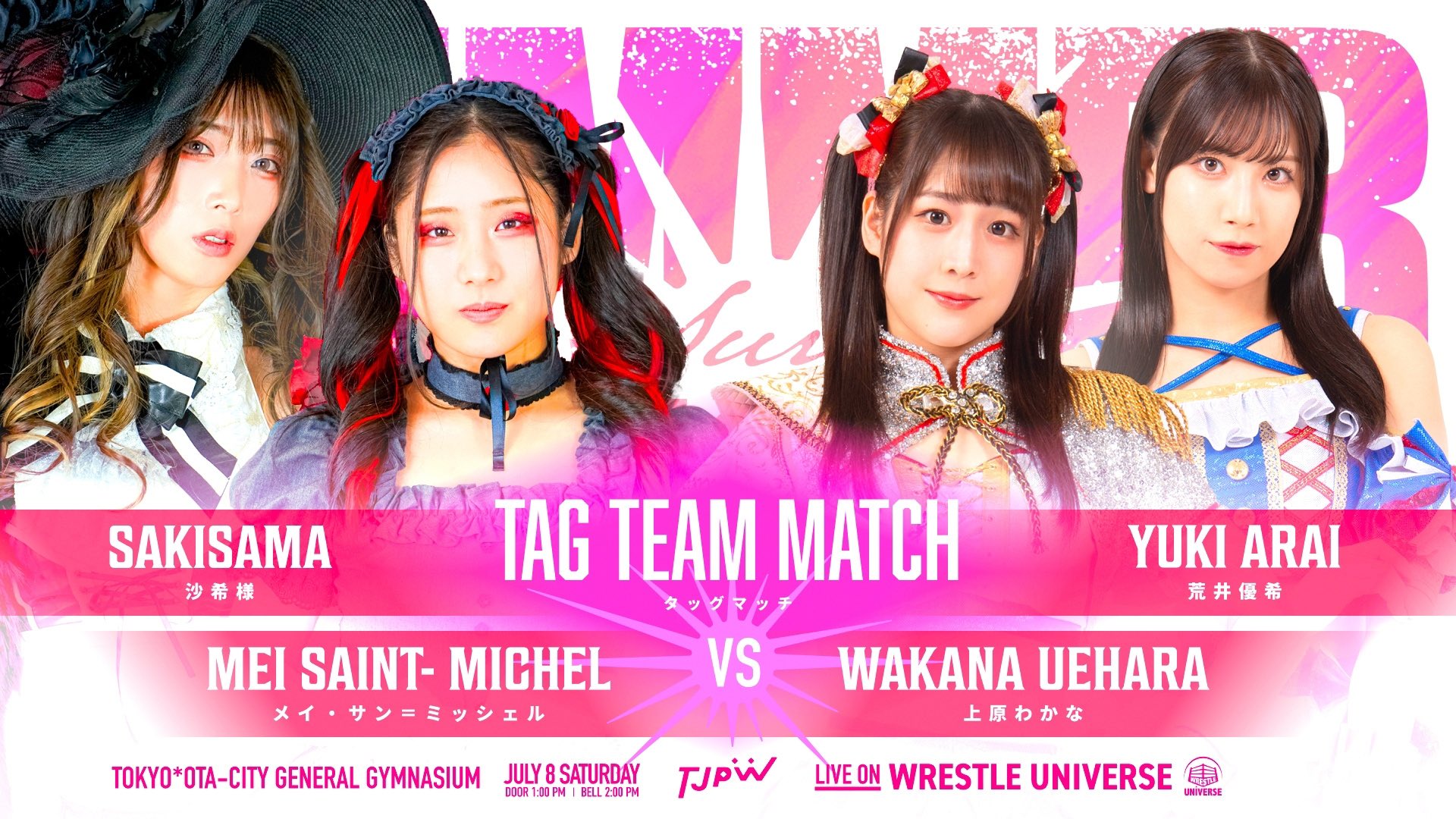 With Saki Akai's announcement of retirement at the end of the year, Neo Biishiki-gun's longevity was coincidentally put into question. Still, Sakisama and Mei Saint-Michel were gracious enough to fly in from France to give TJPW one last look at their beauty.
Yuki Arai had once been taken under the wing of Saki Akai as a rookie, and now she takes Wakana Uehara, a shiny new rookie herself, as her partner. For Arai, facing Sakisama is like facing a ghost of her former mentor.
The psychology of the match had Arai isolated on the apron before building up to her big encounter with Sakisama. There was many hijinks with roses and the serving platter, including a bizarre little dance from Mei alone in the ring.
Wakana and Arai gave it a good fight, but the experience of Neo Biishiki-gun was too powerful. Last year's Summer Sun Princess had Arai and Akai winning the tag titles as Reiwa AA Cannon. Now, Arai was held down and forced to watch as Sakisama pinned her partner right in front of her.
TJPW Summer Sun Princess 2023:
Rika Tatsumi vs Yuki Aino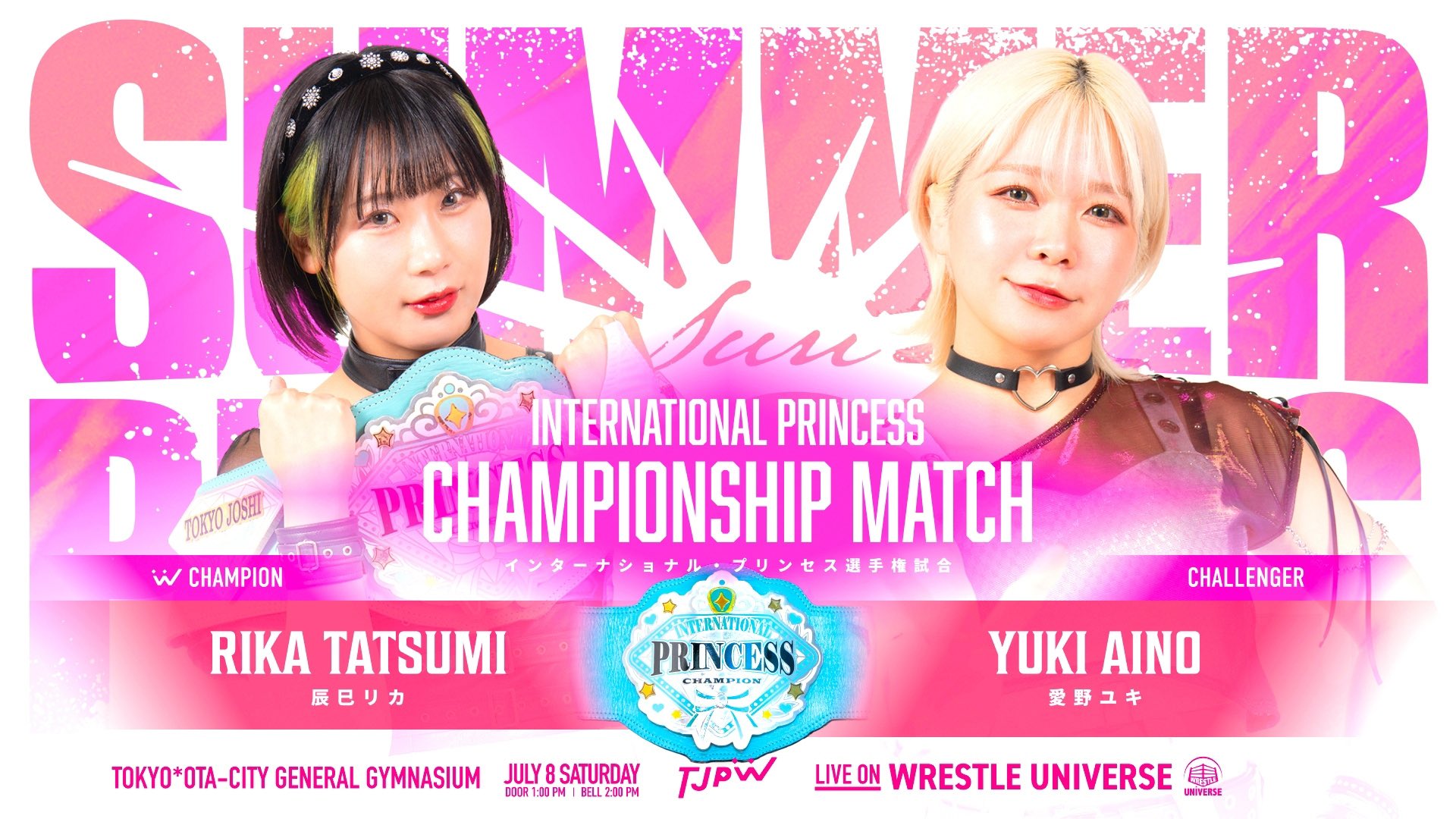 Since she won the belt in March, Rika Tatsumi has had a string of great matches for the International Princess title against wrestlers looking for their big breakout. Yuki Aino fits the mold to a tee, having spent the last year adapting to a career without her tag team partner and older sister. 
Last year, Rika main-evented Summer Sun Princess in a big title match which was a top 10 bout of the year for TJPW. She brought the same energy, the same vicious style of targeting her opponent's knees and outright strangling her.
Aino's resilience through submission is what won her the number 1 contender spot, and it saw her through the Figure Four leglock as well. But after a number of Rika's signature closers, the champion retained in an exciting 15-minute semifinal. 
TJPW Summer Sun Princess 2023:
Mizuki vs. Maki Itoh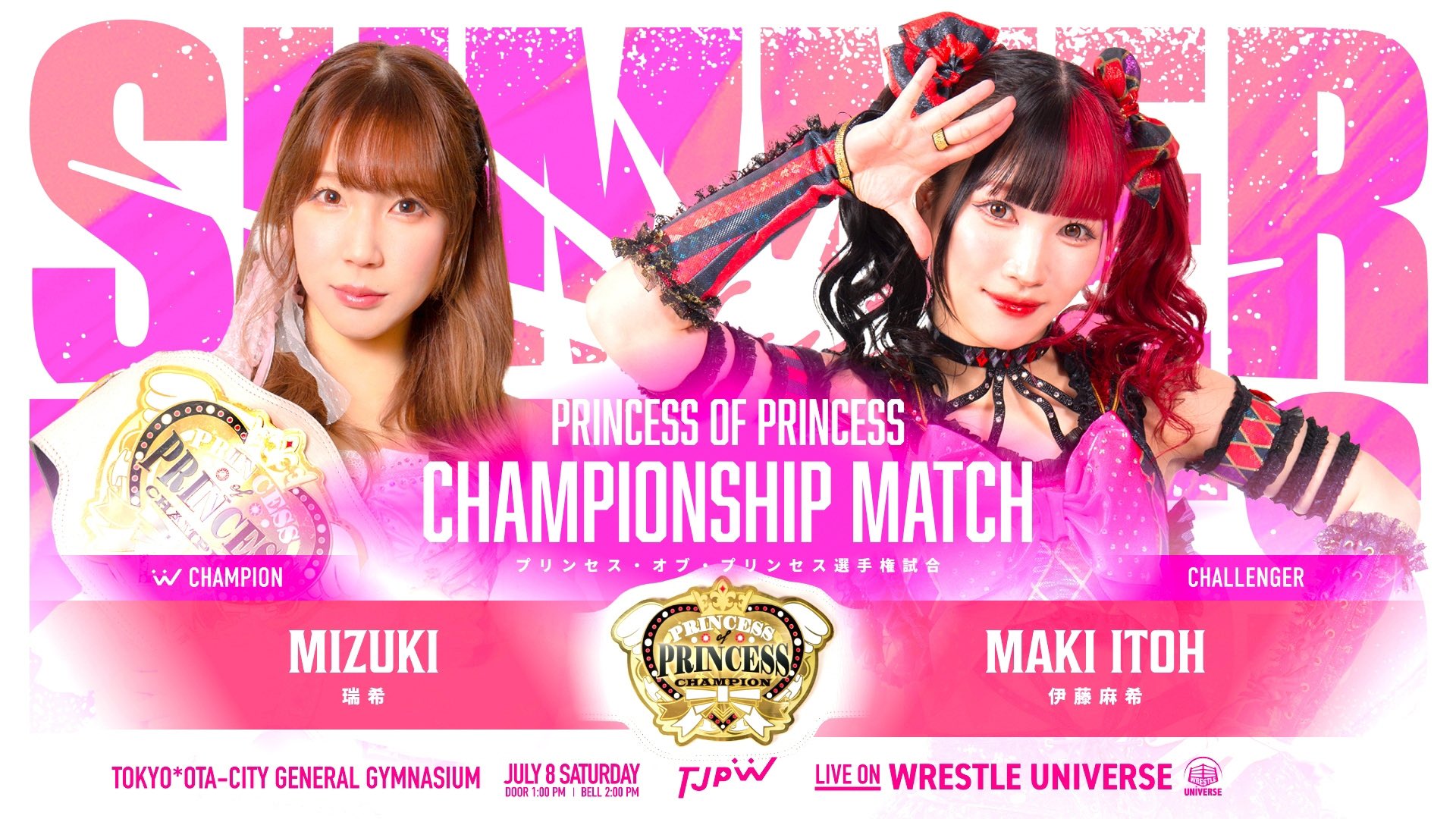 In 2017, these two formed the Itoh Respect Army: singing and dancing like the best of friends. Since then, they've had a bitter breakup and many hard-hitting bouts to settle their differences. In January, Mizuki beat Maki to earn the title shot, which crowned her Princess of Princess champion in March. As Maki's aura continues to grow all over the world, the question of who really is the face of TJPW's new era remains in suspense. 
Once the bell rung, a long stare-down ensued, followed by a long lockup. The competitors appeared equal. Not only in the time of control but in the punishment they inflicted upon each other. Maki hit a DDT on the outside, and Mizuki hit a suplex on the outside. Maki hit a DDT off the top turnbuckle, and Mizuki hit a suplex off the top turnbuckle. They exchanged forearms, submissions, and emotional glances.
At one point, they fell outside the ring, exhausted. They crawled around to find the other, with their partners Yuka and Miyu in their corners. Maki and Mizuki locked eyes for a moment and brawled, but with the looming count out rising, they grabbed each other's hand and rushed inside the ring.
Maki came so close to winning it all, in the same manner she won their 2021 MOTYC. But Mizuki's first reign is only getting started, as she put away her former friend with the Cutie Special in a spellbinding 25 minute match.
TJPW Summer Sun Princess 2023
Aftermath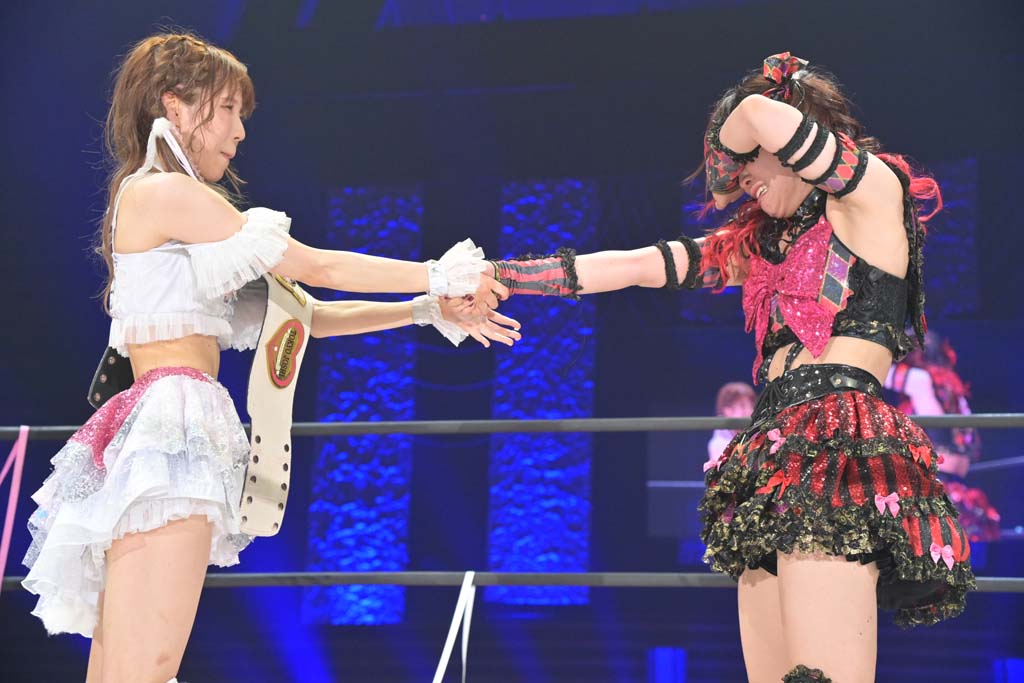 After a traumatic therapy session through wrestling, Mizuki and Maki decided to use their words to say how they really feel. Mizuki cherished the history they had together and was happy to call Itoh her rival.
Maki recalled how upset she was when Mizuki outpaced and left her behind in the past, but if that's the path that led them to main event Ota Ward Gymnasium, then all she can do is respect Mizuki. They shook hands and cried together, making the biggest breakthrough in mending their relationship since they broke up.
TJPW Summer Sun Princess was a great buffet of different flavors. There was the hot opener of four rising talents determined to put in the work. There was the wacky three-way tag, weapon spots, and psychology of all kinds.
The main event is more than likely going to end up on a top 10 list at the end of the year for its incredible storytelling. With the Tokyo Princess Cup coming up to determine a new challenger, that person has the daunting task of challenging Mizuki to be the top star in Tokyo Joshi Pro Wrestling.