After Grand Princess in March and Summer Sun Princess in July, Tokyo Joshi Pro Wrestling concludes the trilogy of their best and biggest shows of the year with TJPW Wrestle Princess III. While it's difficult to define which event is another promotion's Wrestlemania, in part because TJPW has done well to spread the wealth throughout 2022, the Wrestle Princess name has been great two years running.
History is happening and the magic number is 3. Title matches, guest stars, and a UK invasion are just some of the special attractions for the 9 match card. From Tokyo Dome City Hall on October 9, with English commentary provided by the informative and hilarious duo of Chris Brookes and Baliyan Akki, TJPW's biggest year ever winds to a close with Wrestle Princess III, live on Wrestle Universe.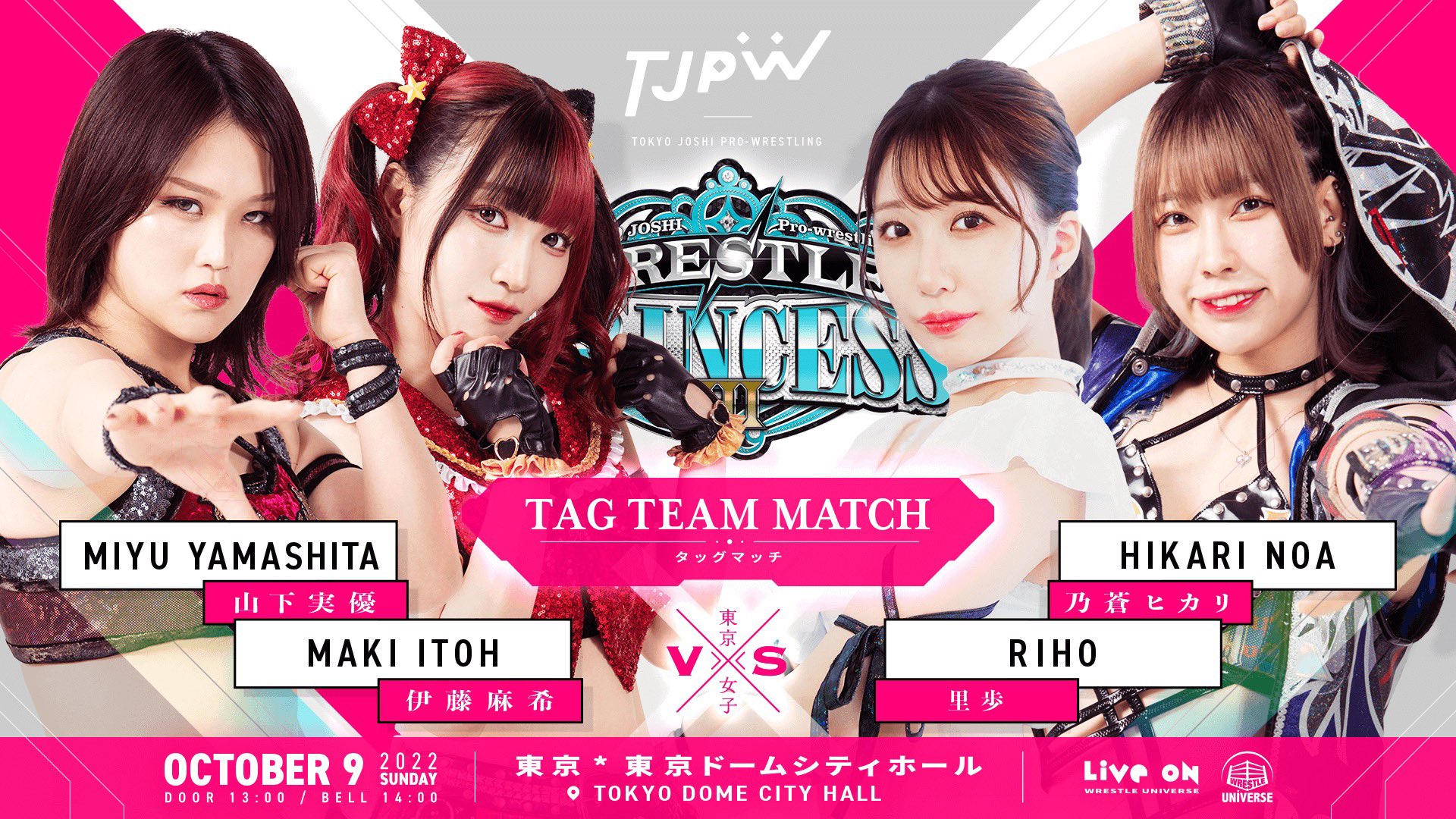 TJPW Wrestle Princess III :
Miyu Yamashita and Maki Itoh vs. Riho and Hikari Noa
Riho has become something of a legend as of late. Which is to say she arrives, has great matches, and disappears for another few months. She did it with Jamie Hayter and Britt Baker, she did it in the Owen Hart Tournament, and here she is again to bless TJPW with her mythical presence. As Dave Meltzer has said, she gets over everywhere she goes.
Her tag partner, Hikari Noa, has had a rough 2022 herself. She lost the International title on January 4, got squashed by Hikaru Shida in March at Grand Princess, and was embarrassed by Yuka Sakazaki in this summer's Tokyo Princess Cup. Perhaps her recent participation in AEW's Tokyo Game Show matches and partnering with the 25-year-old, 16-year veteran can help Noa unlock her potential.
Miyu Yamashita and Maki Itoh, teaming as 121000000 always in search of their first doubles gold, have spent the last year growing into company flag bearers, appearing in AEW and indies across America, Canada, and Spain. Yamashita lost her record-setting 3rd Princess of Princess championship, rebounded by pinning AEW Women's champion Thunder Rosa, and made a strong run to the semifinals of the TPC.
Itoh is coming off of losing the International title and spending her time singing to Matt Cardona at GCW, taking herself out of the tournament altogether. While Noa has been their punching bag for a while, Riho proves to be a wildcard for One to Million. Itoh lost to Riho in the main event of the first AEW Dark Elevation taping and Yamashita last lost to Riho in 2019 in a mixed tag match.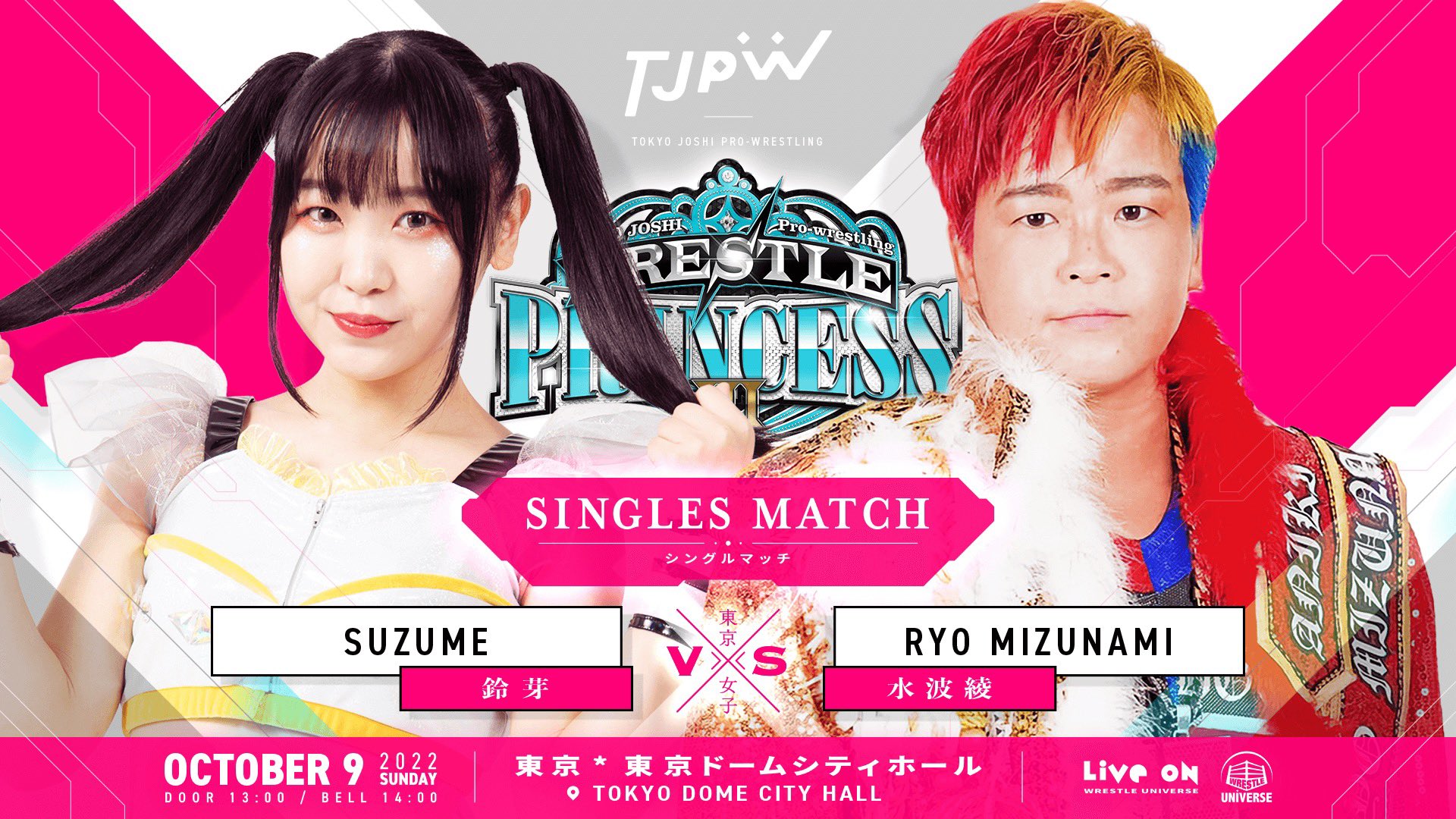 TJPW Wrestle Princess III :
Suzume vs Ryo Mizunami
Following a surprising run to the semis of the TPC tournament, the buzz around Suzume is only getting louder. The writing is on the wall. Suzume recently lost a competitive contender's match for an International title shot, going against her fellow inevitable star Miu Watanabe.
And it was at Summer Sun Princess where Watanabe lost to freelancer Ryo Mizunami in an excellent match. Watanabe went on to have career-defining performances on her way to the TPC finals. The math makes sense. Win or lose, Suzume is guaranteed for some highspeed, high-flying action and destined to be a breakout star.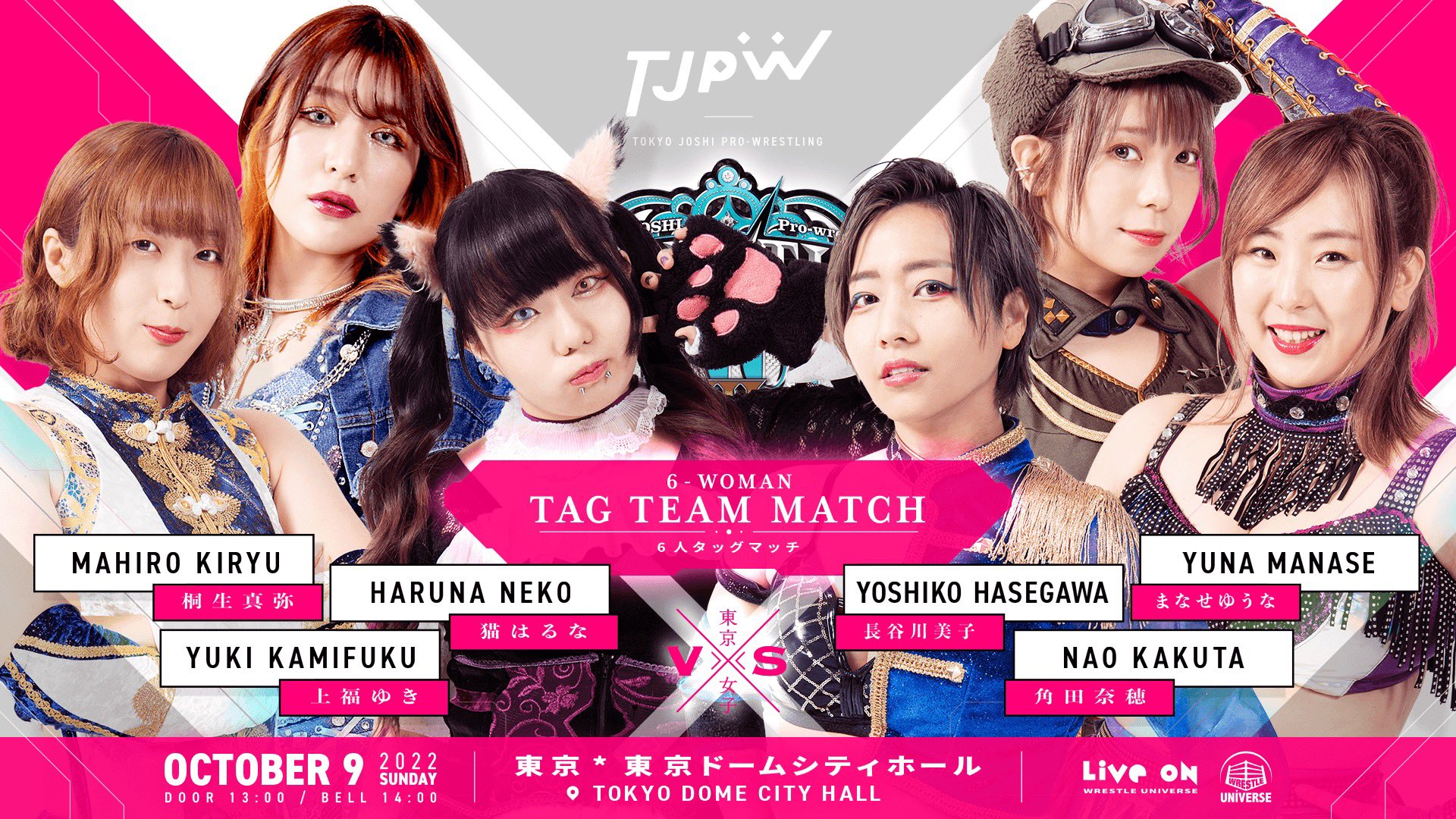 TJPW Wrestle Princess III :
Yuki Kamifuku, Mahiro Kiryu, Haruna Neko vs Yuna Manaze, Nao Kakuta, Yoshiko Hasegawa
In trios action, the bonds of the past will be tested. Nao Kakuta reunites with Yoshiko Hasegawa after both being part of AWG, an independent Joshi promotion, some years ago. Hasegawa re-debuted in August after taking over a year off to deal with a neck injury. She joined Ganbare Pro, a Cyberfight affiliate, and works with ace Yuna Manase, herself a TJPW alum.
Kamiyu and Kiryu are an improving team, two alumni of Toyo University, and just made a strong challenge for the tag titles in September. Haruna Neko is a cat.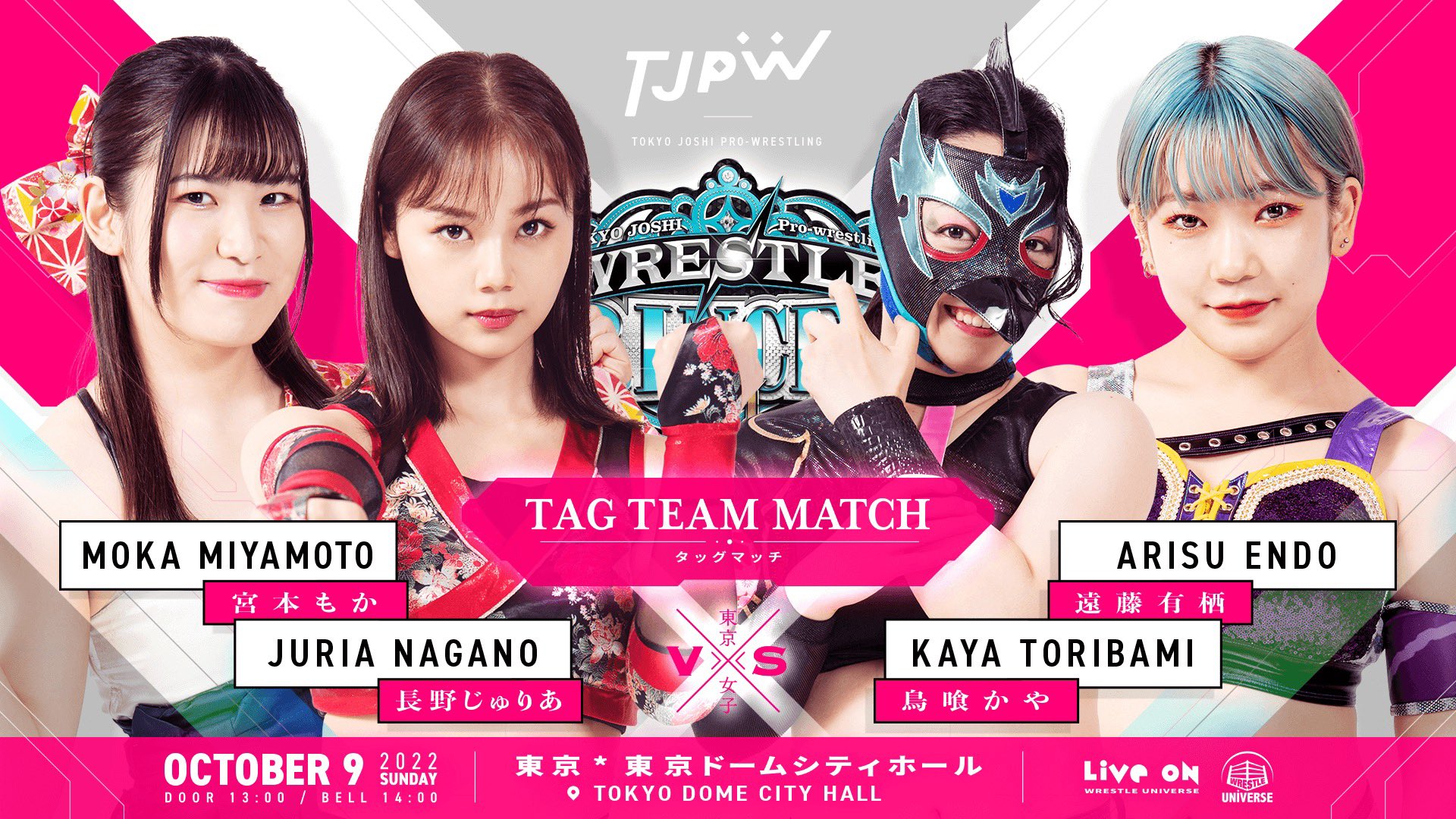 TJPW Wrestle Princess III :
Moka Miyamoto and Juria Nagano vs. Arisu Endo and Kaya Toribami
It's a battle between karate girls and animal girls as four of the newest members on the roster face off. Moka Miyamoto finds herself as the veteran in the ring, despite having only just over two years in the business. Miyamoto has had a solid year, changing her costume and getting a few wins to her name, but the drawback is how fast her classmates are progressing.
She teams with Juria Nagano, the latest debutante on the scene. While Moka displays a slow and measured form of martial arts, Juria has wowed the audience with lightning-fast striking in her scattered appearances.
Arisu Endo is the kind of rising star saying catch me if you can to Miyamoto, her rival in their 1998 girls generation. She's athletic, exciting, and innovative in the ring but can't quite put it all together, leading to some frustrating losses. She has yet to gain a singles win, even losing to her own junior, Kaya Toribami. Kaya is a bird. A scared, confused baby bird.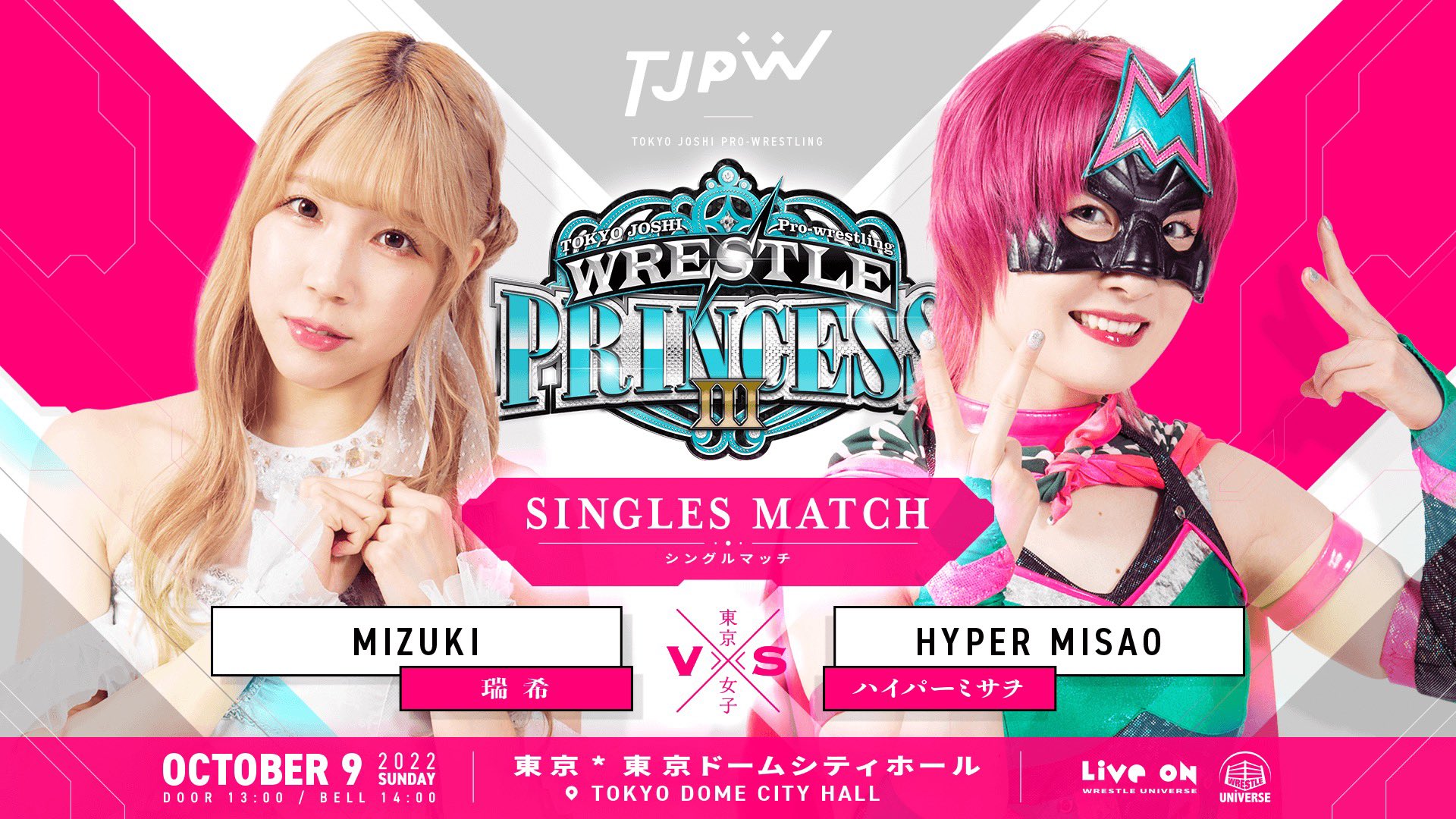 TJPW Wrestle Princess III :
Mizuki Vs Hyper Misao
This is probably the most intriguing match on the card. Misao has had a good year, where she had a great spring season, ending with a close loss challenging for the Princess of Princess championship in May. She may be a bit of a goof, but hanging with the likes of Shoko Nakajima puts her in that penultimate tier of TJPW.
Mizuki is someone who fans believe is overdue to join the rarified air among the four pillars as Princess of Princess champion. Some say she should have won it on January 4, but there are worse problems to have than a rabid fanbase for a popular wrestler. So when she dropped the tag titles over the summer, people thought this could be the moment.
However, instead of possibly winning the TPC for a 3rd time, she was sidelined with a fever before her tournament match with Nakajima. Now comes the opportunity for Mizuki to correct the timeline and what better way than to defeat Shoko's tag partner, Hyper Misao. She's caved in some heads in the lead up and she's ready for more.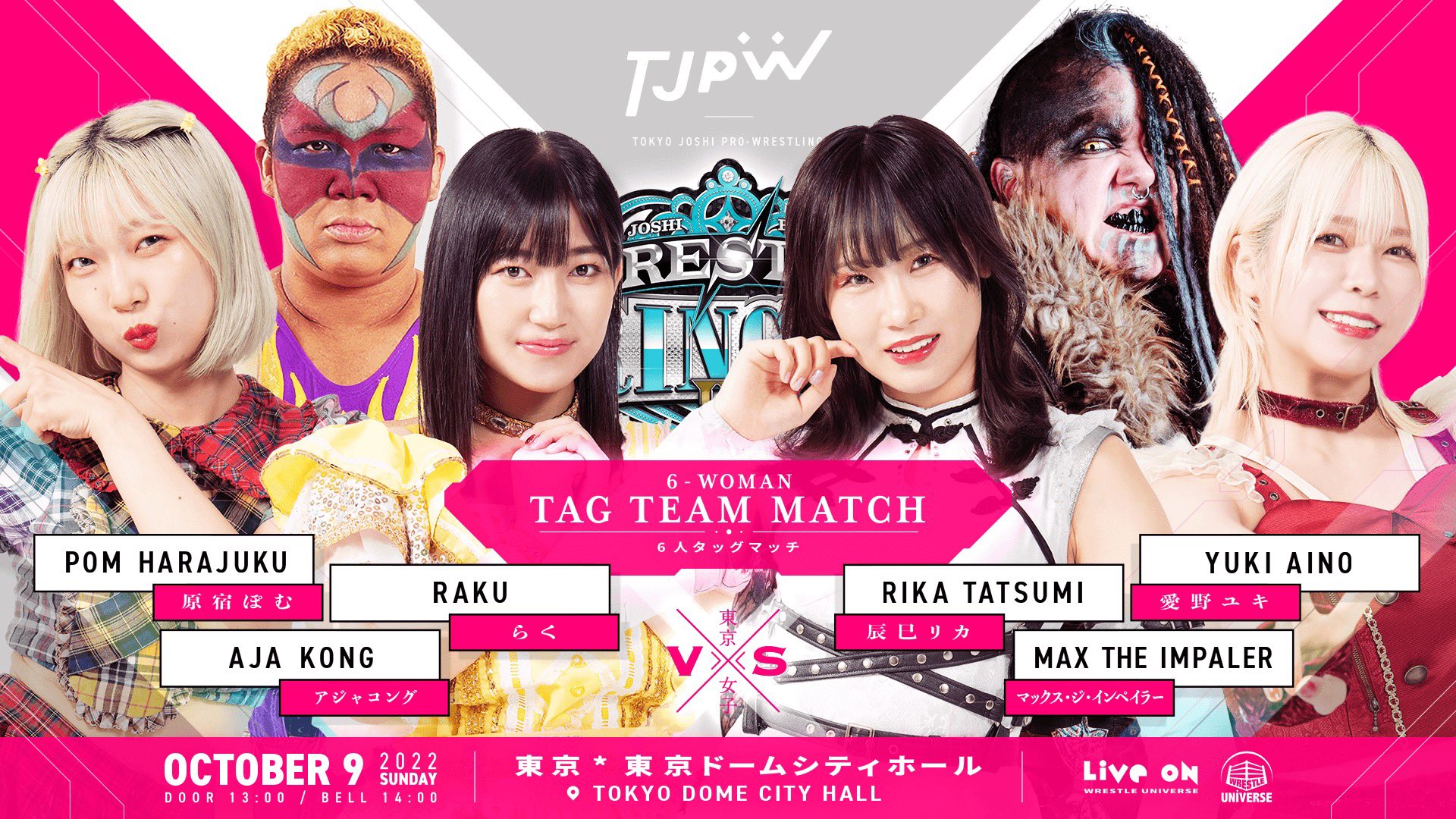 TJPW Wrestle Princess III :
Aja Kong, Raku, and Pom vs Rika Tatsumi, Yuki Aino, and Max the Impaler
Max the Impaler made a destructive first impression when they came to Japan in August and shattered Pom Harajuku into 15 pieces. The Non-Binary Nightmare has garnered a Bruiser Brody-like aura, delighting the audience through terror and strength: taking articles of costuming like trophies. They team with Yuki Aino, somewhat of an ally from their last team-up, and Rika Tatsumi, TJPW's own vicious monster who dared to face Max the Impaler.
Defending Tokyo from the gruesome Godzilla's path of destruction is the one and only Aja Kong. The joshi legend teams with the only person she seems to like on the roster, Raku, and the poor girl she once flattened like a pancake, Pom Harajuku.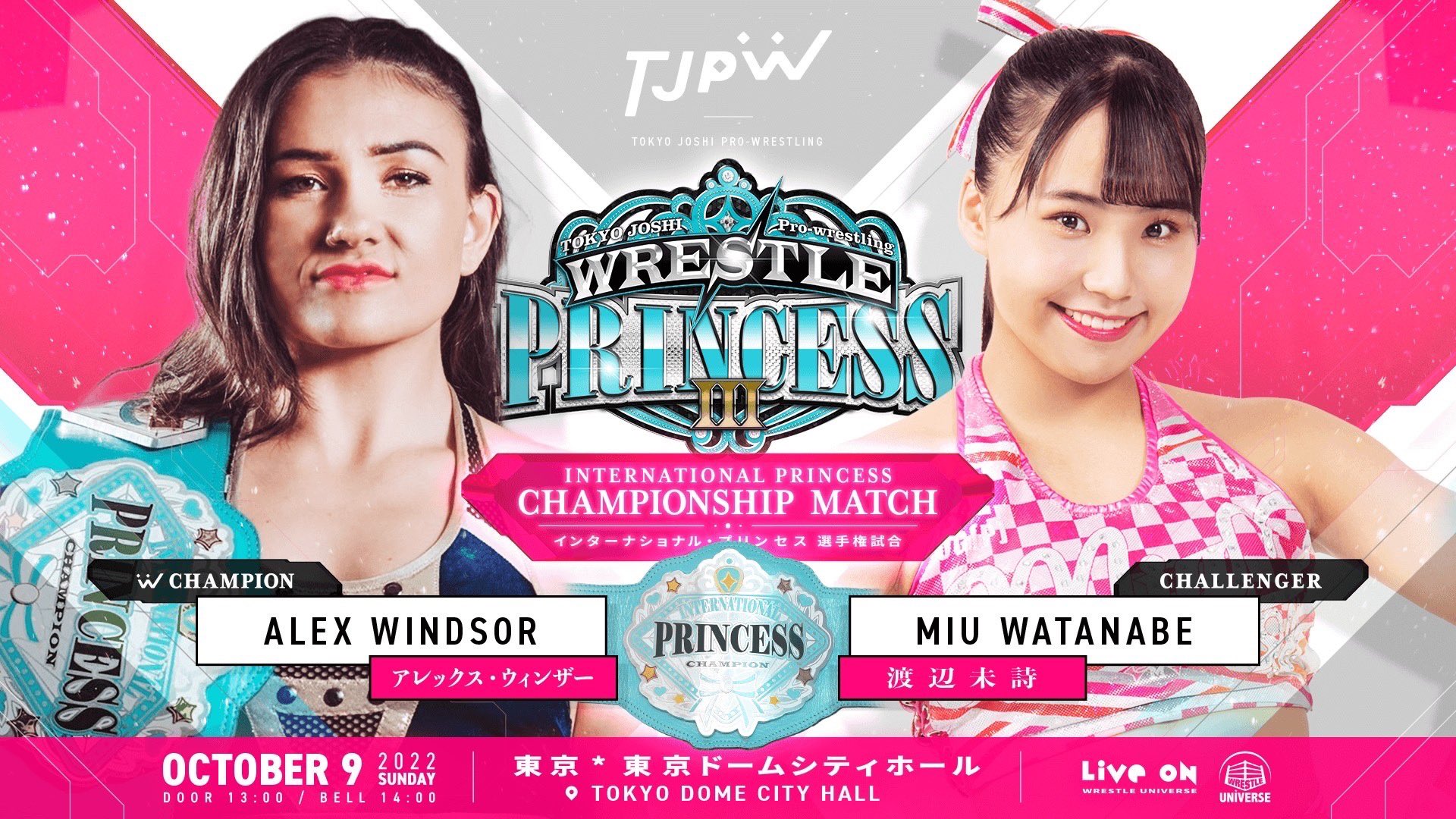 TJPW Wrestle Princess III :
Miu Watanabe vs. Alex Windsor
At Summer Sun Princess, Alex Windsor won the International Princess championship from Maki Itoh in a hard-hitting performance. The stalwart of women's British wrestling was sidelined throughout August with a knee injury and embassy issues meant that Hikari Noa had to come to her to get a shot at the title.
She successfully defended her title and even appeared on the NJPW show in England. Now that she is returning to Japan, she has the unfortunate luck of running into the breakout star of 2022.
Miu Watanabe had 3 match of the year candidates in the TPC and instantly joined the "She's Next" tier alongside Maki Itoh and Mizuki. She's got energetic charisma, unmatched strength, and the coolest moves in the game. Alex Windsor could be a tough out as the two are going to just slam each other into oblivion.
But under the stipulation of the International title, Miu Watanabe going against all sorts of talent from different nationalities, especially the Willow Nightingale match that visa issues took away, would be a dream come true.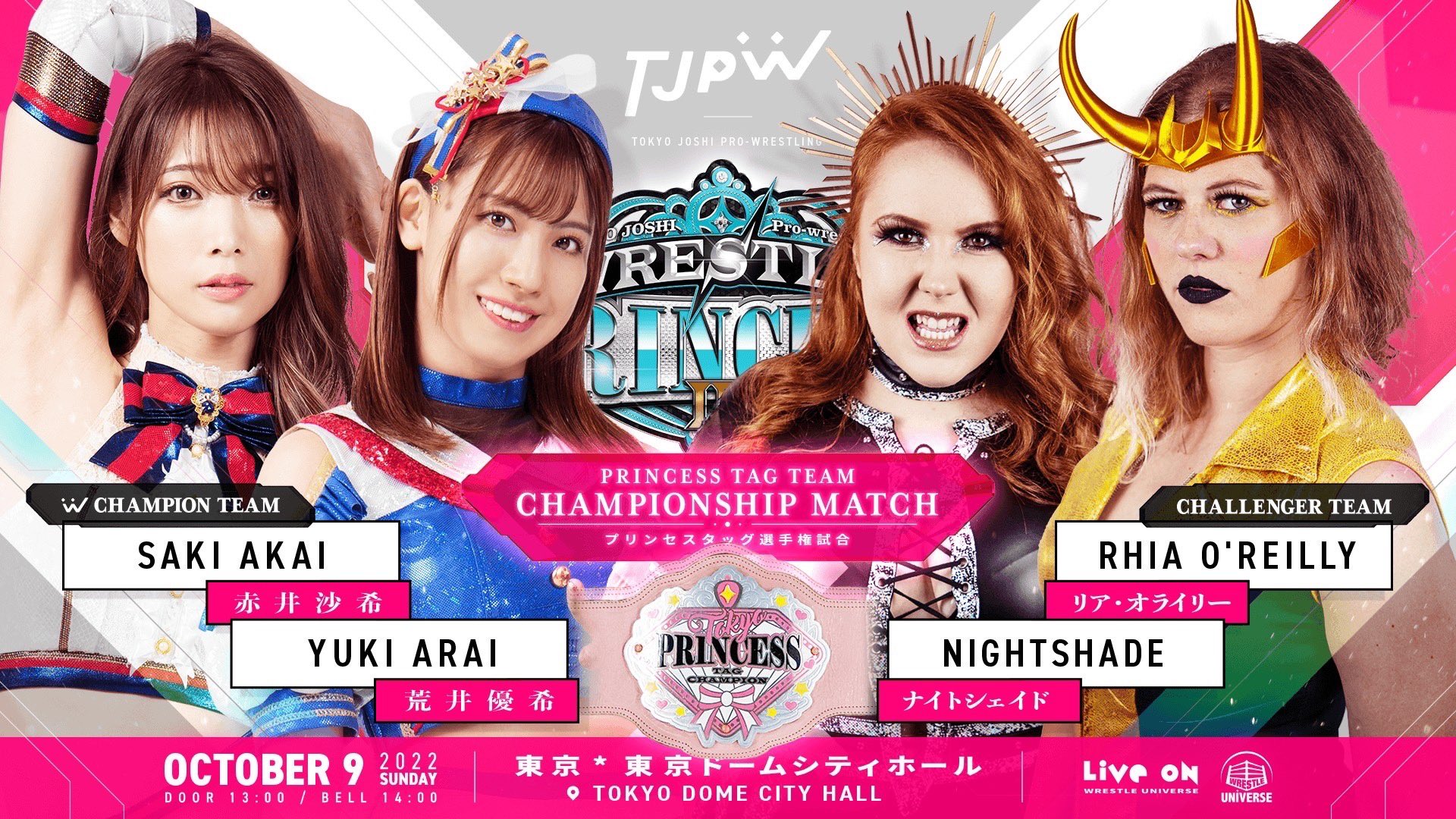 TJPW Wrestle Princess III :
Rhia O'Reilly and Nightshade vs. Yuki Arai and Saki Akai
The British invasion continues as the Uprising challenge Reiwa AA Cannon for the Princess tag titles. TJPW has forged a good relationship with Pro Wrestling Eve, sending talent back and forth with the British-based promotion. While it isn't impossible for Rhia O'Reilly and Nightshade to win the titles, it seems unlikely.
Yuki Arai is the golden child. She sells a ton of merch, draws eyes to the product, and might even make someone's list for Most Improved in her second year. While their tag name is only an amusing reference to Antonio Inoki and Giant Baba's BI Cannon, Yuki Arai still has a long road ahead of her in her career, ideally with her lanky mentor Saki Akai by her side.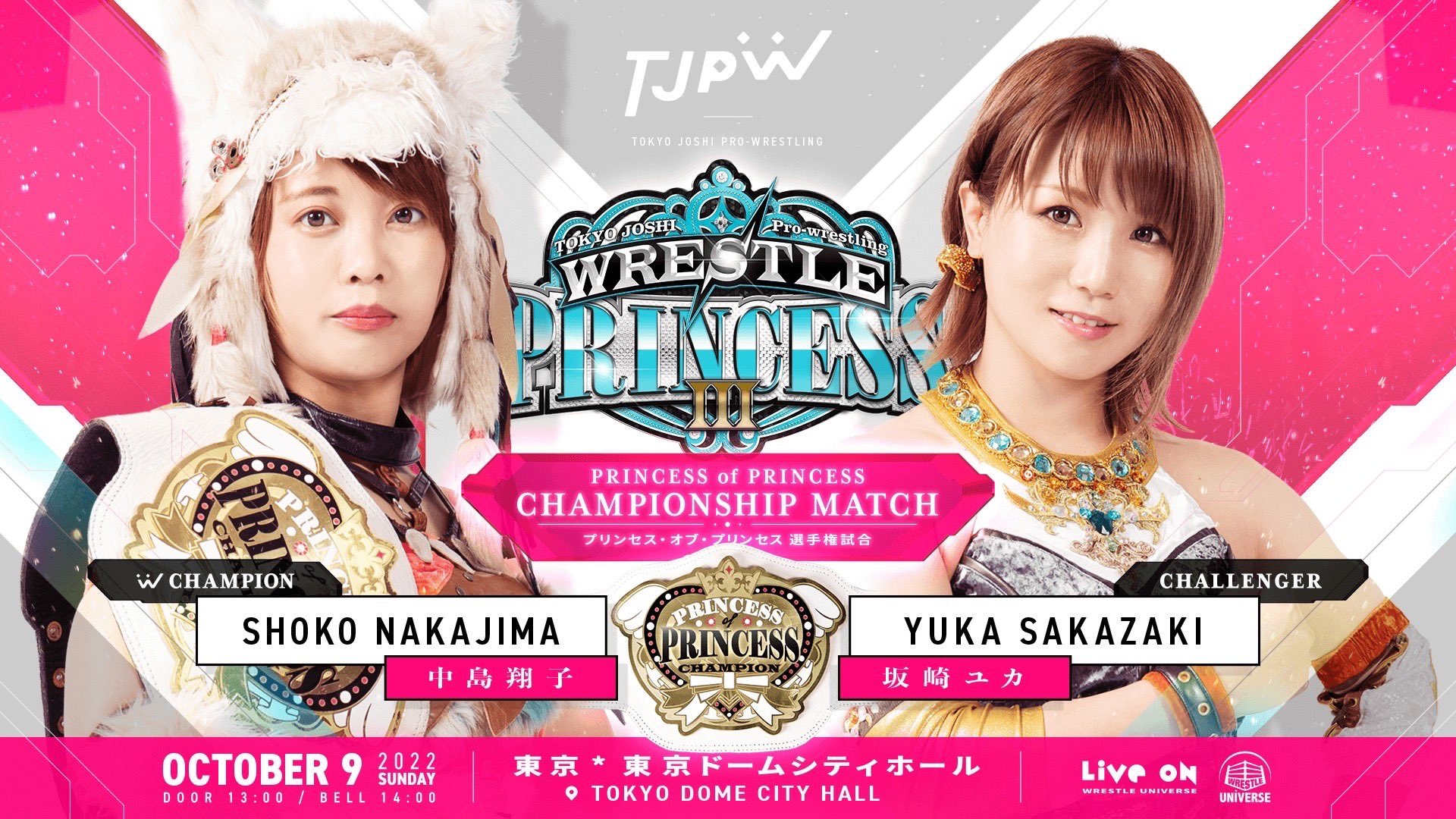 TJPW Wrestle Princess III :
Yuka Sakazaki vs Shoko Nakajima
Yuka Sakazaki challenging Shoko Nakajima for the Princess of Princess championship is going to be great. They've had chemistry since their early days coming up together in TJPW. Counters. Dodges. Mirror spots. They know each other so well, especially considering that they just had this same match in June.
There is the speculation that Mizuki was supposed to win the Tokyo Princess Cup and get this shot because they've kind of already told the story of Nakajima conquering her Four Pillars compatriots. But given how the bracket looked, the role fell to Sakazaki when Mizuki got sick.
The main event bears a heavy expectation to live up to, given that the Wrestle Princess I and II main events have been match of the year candidates. Their recent match at CyberFight Festival was on a crowded card and could be said to have served more of an advertisement purpose.
With enough time and focus, this match should be even better. Yuka stands to tie the record for 3 PoP title reigns. Shoko putting down Yuka for the second time in 4 months would be a strong dunk on Mizuki's tag partner.
In the early TJPW years, Shoko Nakajima was slated as the number 2 ranked behind the Ace. Once Yuka Sakazaki earned her long second reign with the belt, she seemed to usurp the Big Kaiju. Now it seems like Shoko is back with the silver crown alongside her white belt.
Because as they both race behind Miyu Yamashita, jockeying for 2nd and 3rd place might sound insignificant, but to them it is everything. Yuka and Shoko are rivals, racing with each other, and bringing out their best to compete.
Preview the Future
Next year will be Tokyo Joshi Pro Wrestling's 10th year. Wrestle Princess III feels like the last big event of the year, a time to celebrate all that has happened and anticipate all that will. Could this be the last hurrah for the Four Pillars, when Miyu Yamashita, Shoko Nakajima, Yuka Sakazaki, and Rika Tatsumi evolve into elder ambassadors?
Will Mizuki, Miu Watanabe, Maki Itoh, and Suzume take that next step? Will Max the Impaler finally eradicate Pom Harajuku? Find out on October 9th on Wrestle Universe.