On May 8th, Yuka Sakazaki announced that she would be graduating from Tokyo Joshi Pro Wrestling at the end of 2023, coinciding with the 10th anniversary of her in-ring debut. After a decade of giving it her all and helping raise this company from birth, she's more than earned an easier schedule overseas.
Days before she and Mizuki were set for a major defense of the tag titles against a divisional rival at TJPW Stick Out, Yuka was ruled as medically unable to compete for the foreseeable future due to neck injury.
TJPW's 10th anniversary year was already tumultuous in itself. Miyu Yamashita has been on excursion for months. Maki Itoh has been taking more and more bookings in America as well. With the main event changing and the card being rearranged, the new era now has even more heavy lifting to do with a young generation. And stepping up to bat, in the biggest moment of her career so far, is the future star Arisu Endo.
TJPW Stick Out:
Hikari Noa and Nao Kakuta vs Runa Okubo and Toga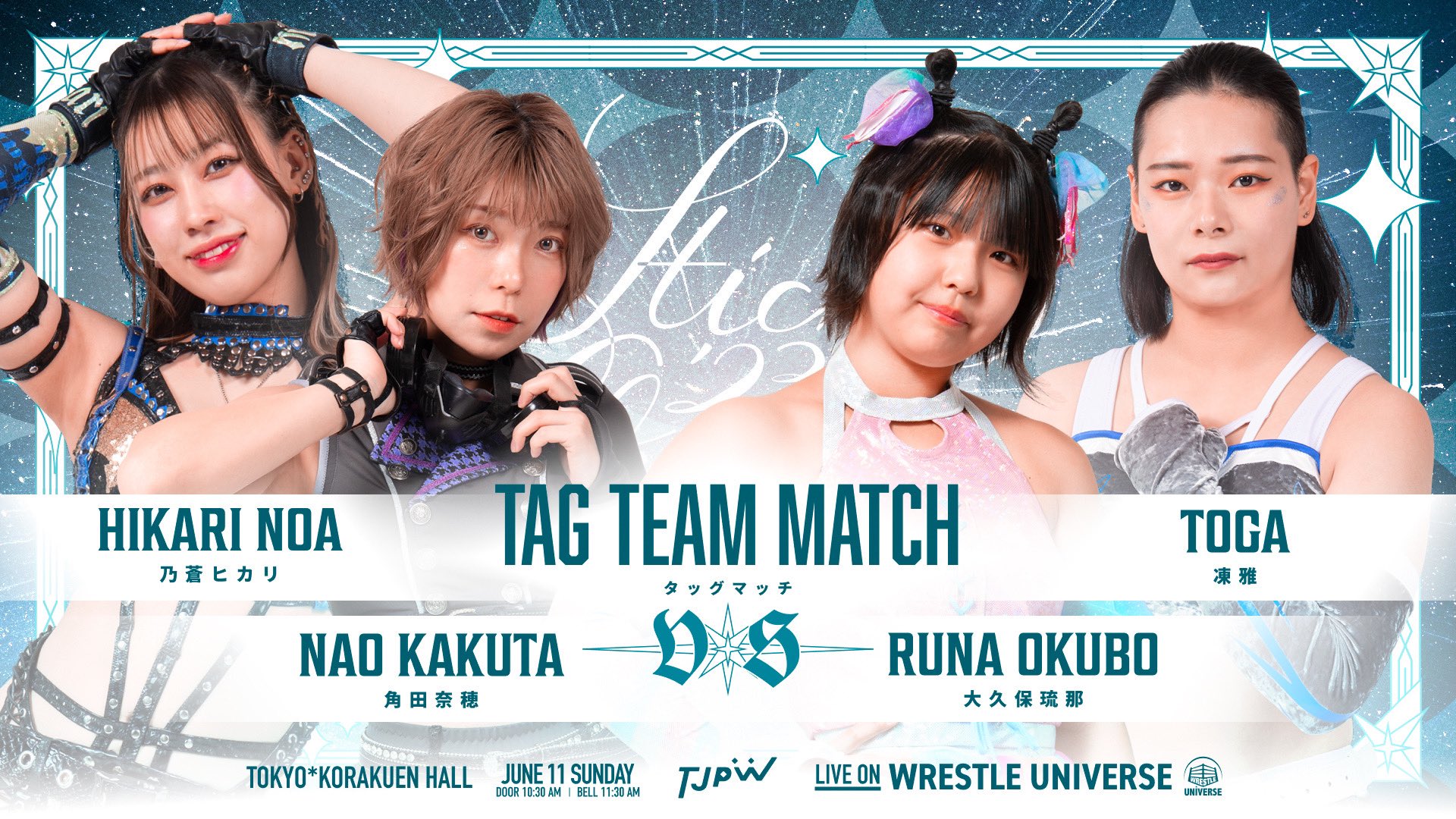 In the opener of TJPW Stick Out, the established tag team of Free Wi-fi (Hikari Noa and Nao Kakuta) took on a combo of two rookies in Toga and Runa Okubo. The devious duo gave 14 year old Runa a lesson in hair pulling and sneaky tactics. Meanwhile, Toga went toe to toe with newly minted deathmatch wrestler Hikari, with the novice landing some killer forearms and elbows.
Toga's elbow smash is certainly becoming a thing, even more so than just fans or English commentary having a laugh. And the most valuable quality for a rookie is to have that one thing. Free Wi-Fi scored the win in quick fashion with Hikari pinning Toga, making a solid claim for the vacant tag team titles.
TJPW Stick Out:
Pom Harajuku vs Himawari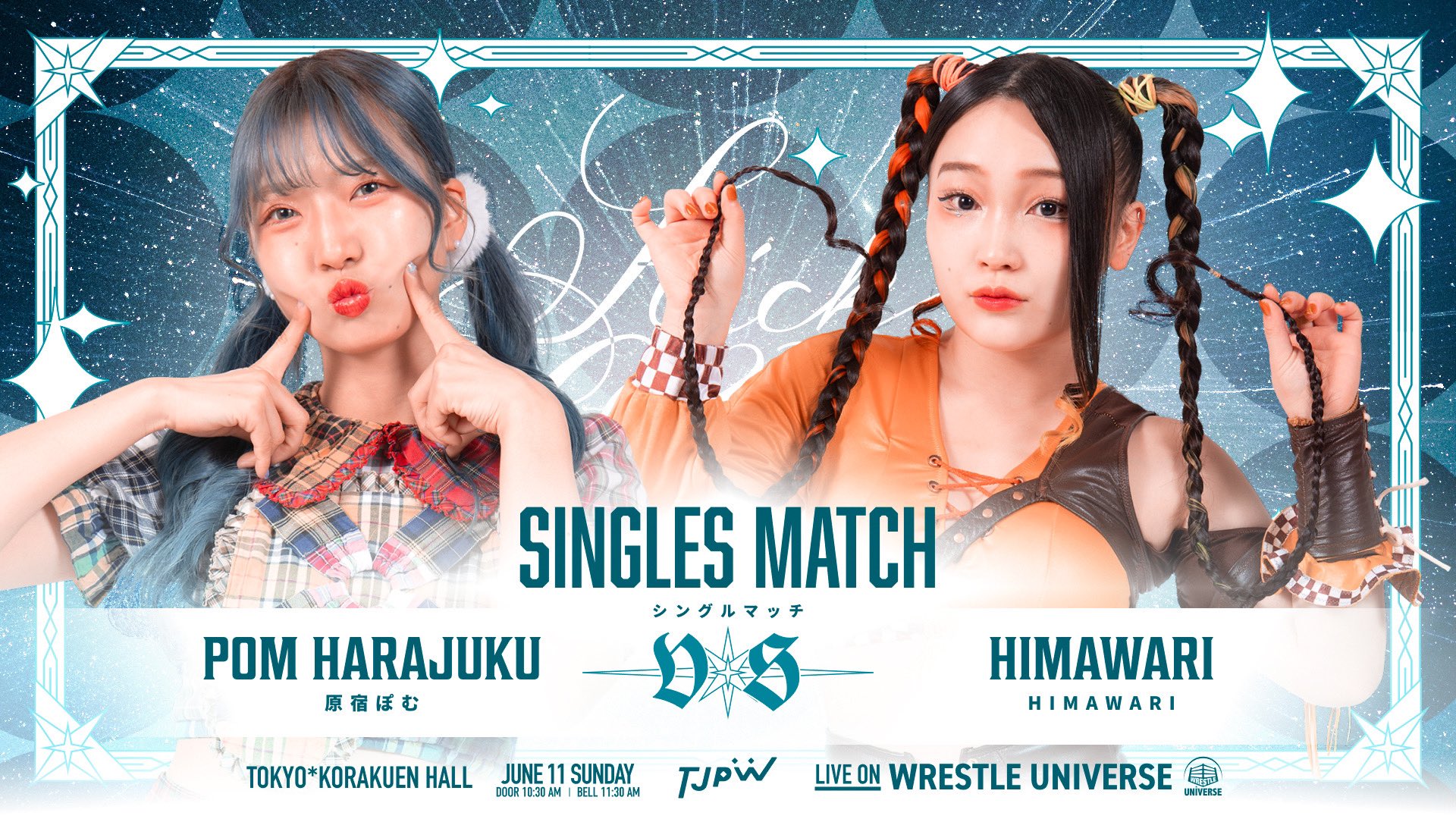 Since her debut at Ittenyon, Himawari's unique qualities have continued to stand out in her rookie class. She's had a number of singles matches and been in high profile spots, seemingly on the fast track beyond normal tag team learning. She's got a nose for comedy and knows exactly what's weird about her brand of pro wrestling.
Pairing up with the equally odd Pom Harajuku made for some comedic chemistry. There was hijinks with Himawari's distinctive hair, dropdowns on the outside, and messing with the substitute referee for the day. Himawari was capable of showing aggression, but Pom's four years of experience helps deliver her the win.
TJPW Stick Out:
Yuki Kamifuku, Kaya Toribami, Wakana Uehara vs Yuki Arai, Raku, Shino Suzuki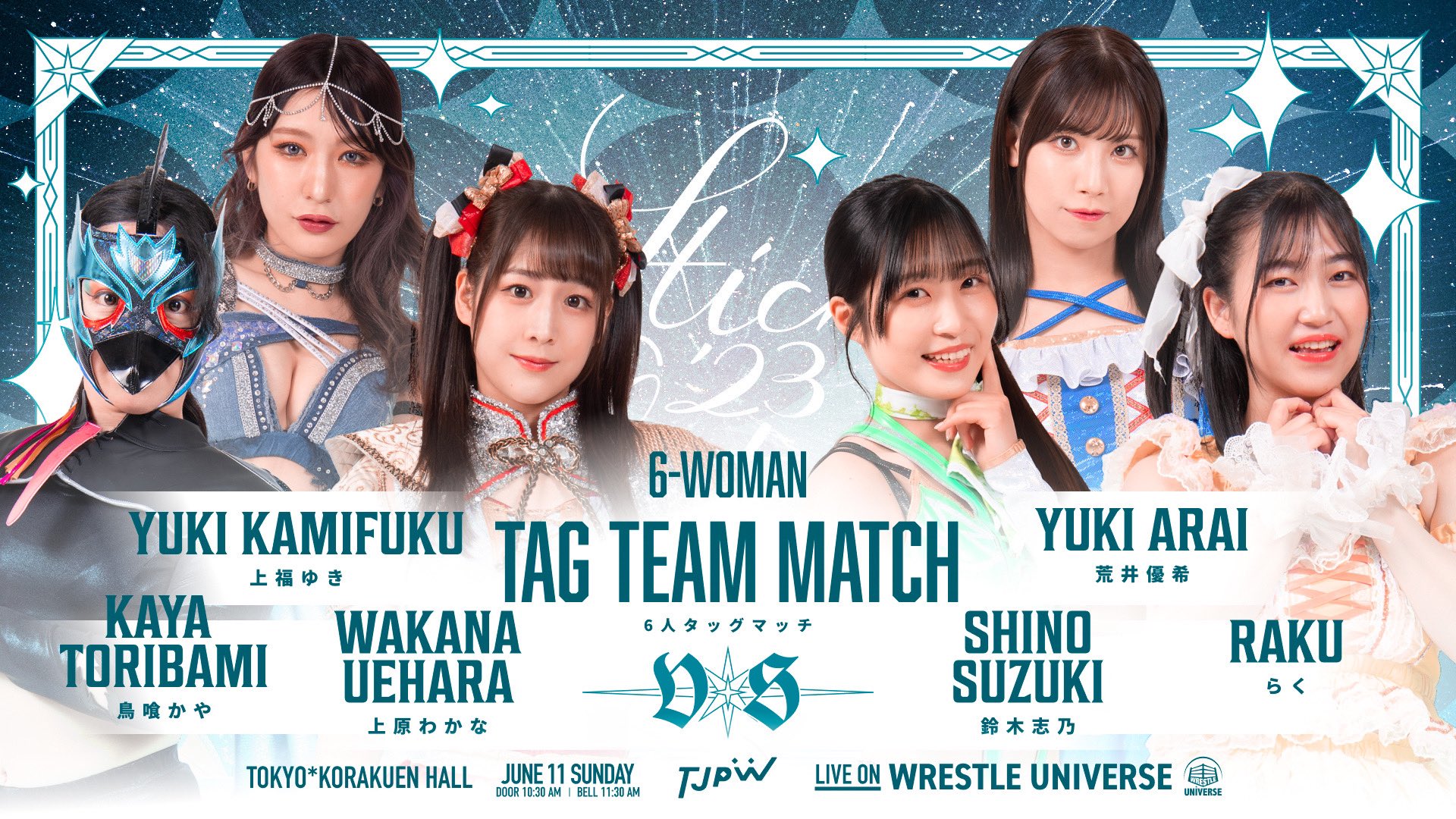 The all idol team of Yuki Arai, Shino Suzuki, and Raku displayed a camaraderie from the start, even exchanging wristbands before they came out. The opposing team countered with their athleticism, as Kaya Toribami, Wakana Uehara, and Kamiyu employed a variety of flips and kicks.
The youth movement on both sides shined bright. Girls like Wakana, Arai, and Shino are popular with the fans if merchandise and cheers are any indication, but the amount of streamers Kaya got upon introduction shows that her hard work is paying off.
Arai and Kamiyu looked like they had a good time kicking each other in the face. Being the cool veteran of 6 years, Kamiyu had the less experienced girls under control. But they gave it back as good as they got. The trios dynamics of people flying in and out of the ring made for a fun sprint as Kamiyu scored the win over Shino.
TJPW Stick Out:
Hyper Misao vs Mahiro Kiryu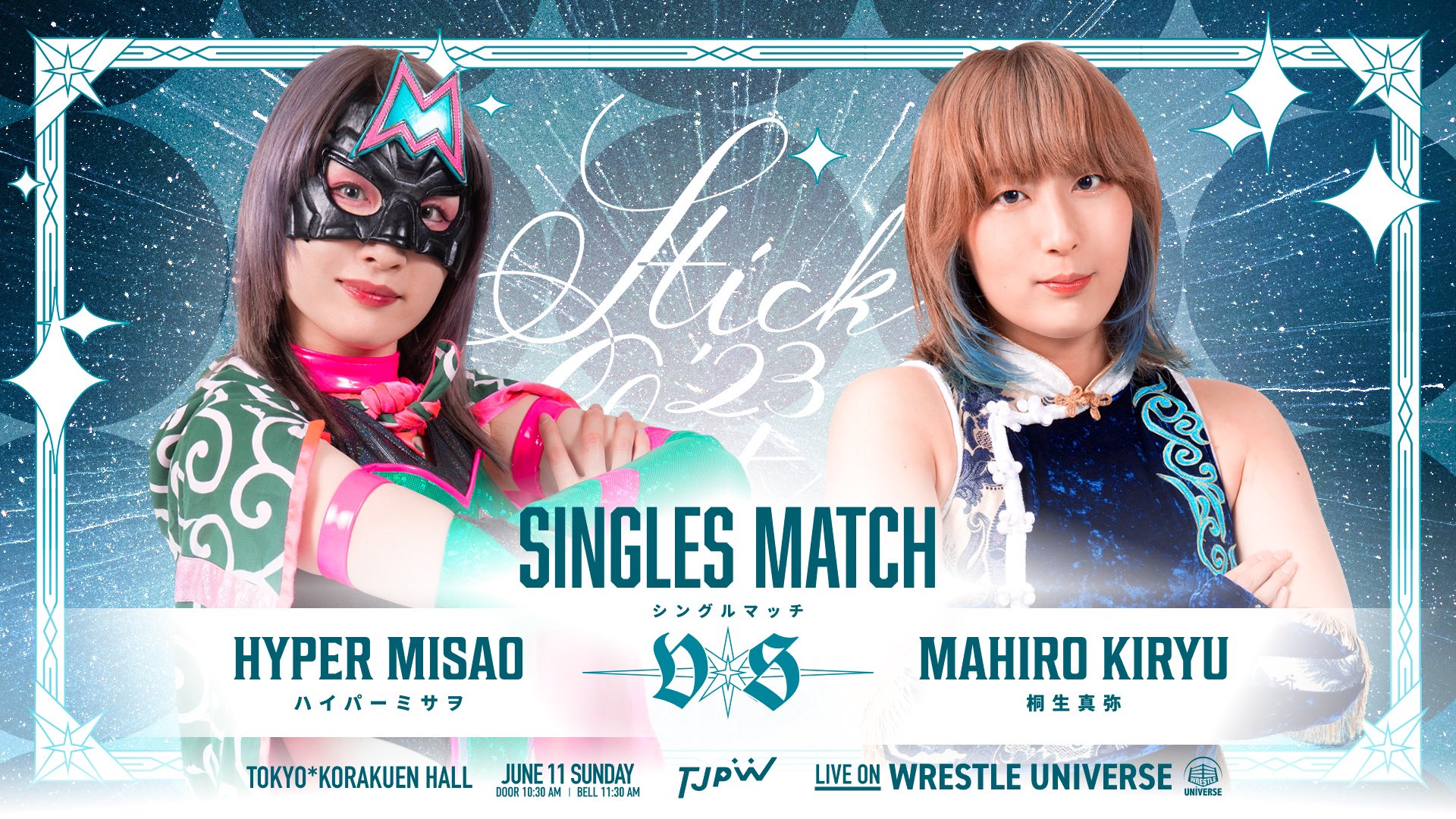 It was two weeks ago when Mahiro Kiryu went on a bizarre adventure through the multiverse at a show produced by Hyper Misao (the must be seen to be believed "Hype!"). In her opening speech, Misao expressed her jealousy that Kiryu seemed to steal the spotlight in the lead role. In a rare case for the often bullied woman, Kiryu stood up for herself and pushed back against the mad genius.
So it goes in the world of moviemaking, Misao tried her best to choke, deafen, or otherwise maim her muse: including a crazy spot nearly spiking Kiryu's head on the apron from an Eye of the Hurricane to the outside. Kiryu fought hard, seemingly for her life at times, but the ultimate apologizer ultimately lost to Hyper Misao. 
TJPW Stick Out:
Shoko Nakajima and Moka Miyamoyo vs Suzume and Haru Kazashiro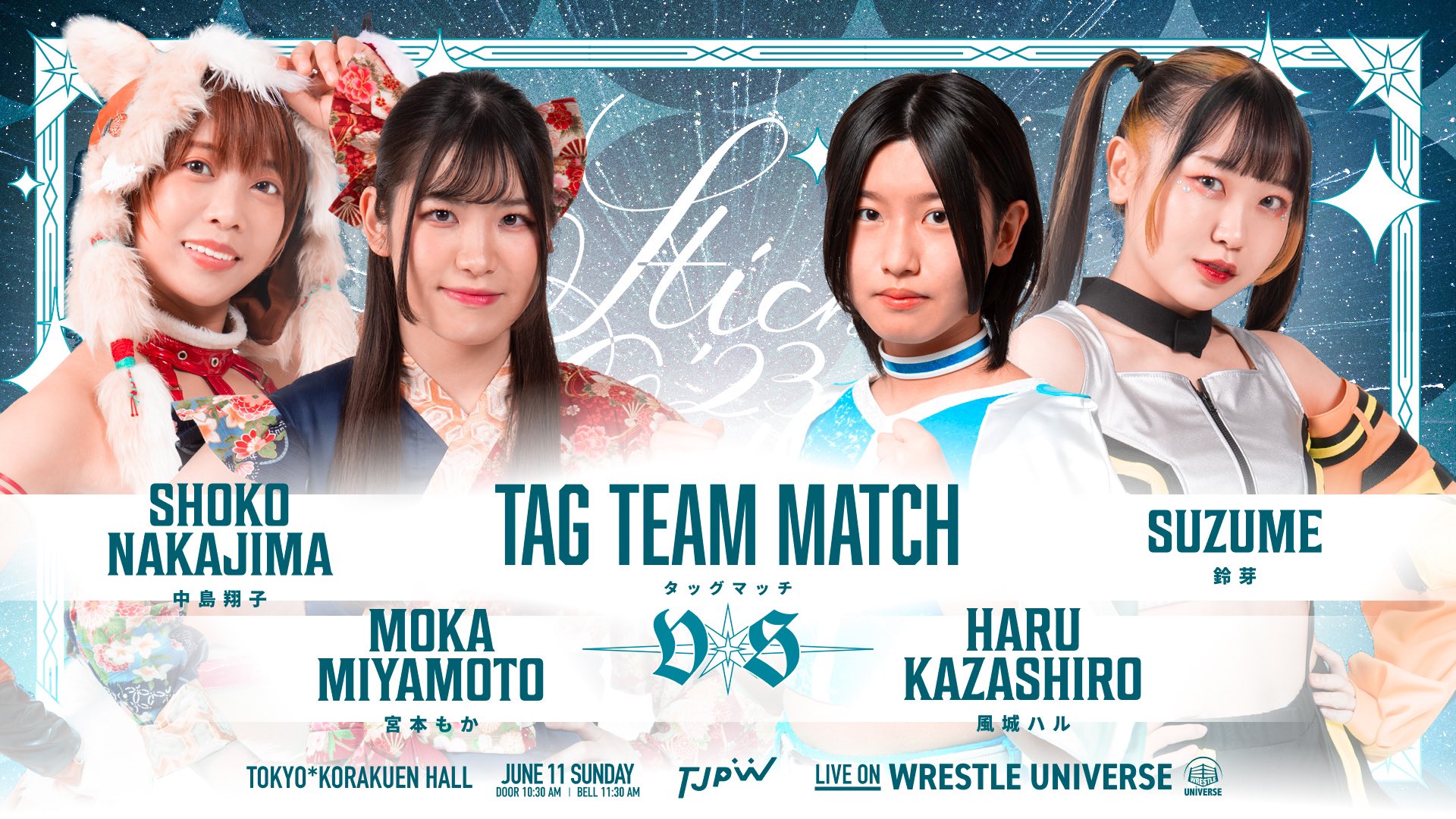 The next match saw a clash of generations: with the cornerstone original Shoko Nakajima teaming with the midlevel Moka Miyamoto against midlevel Suzume and rookie/15 year old/Maki Itoh superfan Haru Kazashiro. Suzume and Shoko had some of the quickest, most crisp back-and-forth wrestling that is always a joy to watch. Haru, on the other hand, was on the wrong end of a rookie beatdown from her elders.
Suzume has had a stark rise in her flight path over the past year or so. Last summer, she hit a stone wall against Yuka and kicked off this era. Last month, Rika gave her a lesson in viciousness and gave her the L. Now Shoko gave her a lesson in workrate. Nakajima is so smooth in the ring, but she's also had her mishaps in diving outside the ring.
So when Suzume had trouble hitting a plancha, but persisted nonetheless, the bumbling bee showed signs of greatness if she keeps learning from the best. But in Moka's continuing efforts to not be outpaced by her contemparies, she locked in a brutal submission on Haru and tapped her out for the victory.
TJPW Stick Out:
Mizuki vs Rika Tatsumi and Miu Watanabe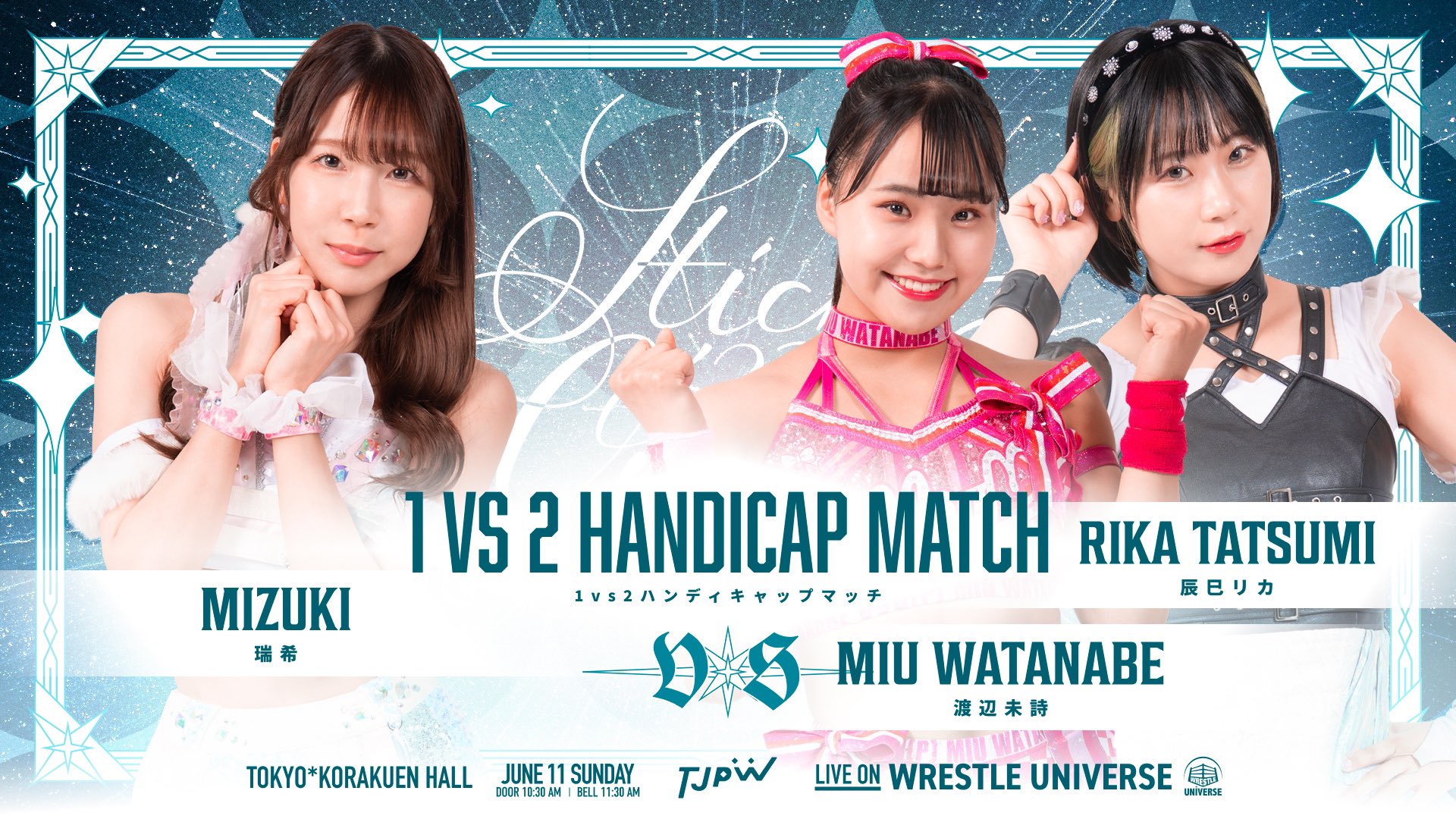 With Yuka's injury causing the Magical Sugar Rabbits to vacate the tag team titles at the start of the show, Mizuki stood alone as Princess of Princess champion against Daydream (Miu Watanabe and Rika Tatsumi). With her partner in her corner and her opponents in disarray, the Popping Sugar Rabbit took on the rare challenge of fighting one against two.
The hijinks of Rika briefly turning against Miu and Yuka's support from the outside gave Mizuki some reprieve early on, but Daydream is still an experienced tag team and former champions in the own right. Miu's strength and Rika's submissions put her in a world of hurt. Last month, Mizuki fought and defeated a 6'2 giant and this month she brought the same babyface fire that brought her to the dance.
The battle was exciting and dramatic, but in the end she couldn't do it alone and was pinned by the International champion Rika Tatsumi. Daydream likely have a strong claim for the vacant tag titles. It was hard for even a double champion to beat two people. Mizuki could barely make it to the back with Yuka's help, making TJPW Stick Out a huge bump in the road toward their endgame.
TJPW Stick Out:
Yuki Aino vs Arisu Endo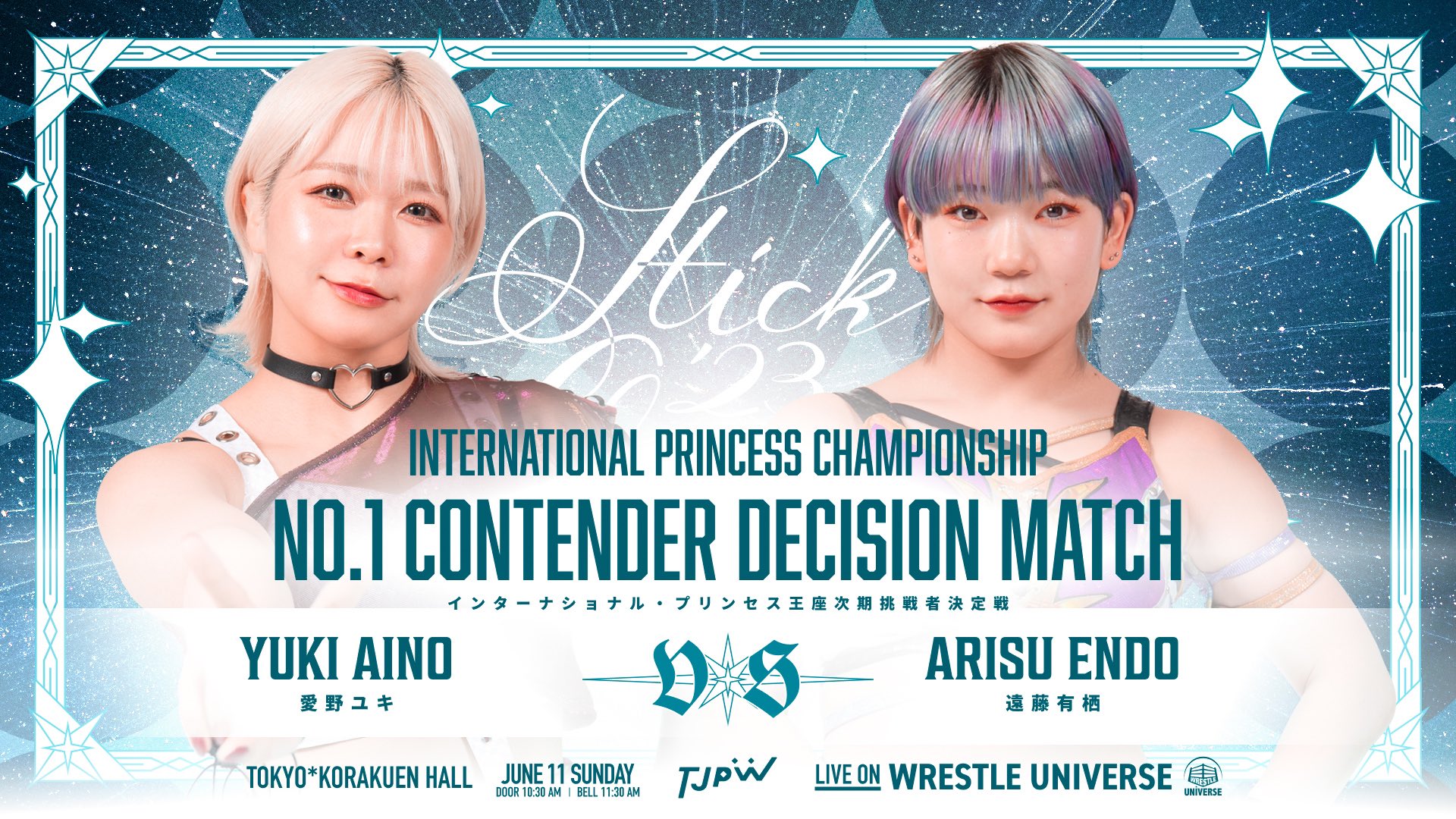 The main event was a surprise promotion when the card changed. Yuki Aino faced Arisu Endo to crown a number 1 contender for the International title. Aino has about five years to her name, and main evented Korakuen Hall previously, challenging for the PoP title last year. Meanwhile, Endo has only half that experience under her belt and was making her singles debut in a Korakuen main event.
Aino put the boots to Endo early, being a power-based wrestler compared to Endo's speedy style. When agility tilted the table one way, strength pulled the bout in the other direction. They were on equal footing for a while, until Aino turned up the heat. With the rapidly changing landscape of TJPW, Aino may have thought at first that the top spot was hers for the taking. 
But the young upstart went supernova. Endo threw caution to the wind in leaping off the apron. She flew off the middle rope for a devastating superplex. And she had the victory in her hands, punishing Aino in the Camel Clutch. Referee Daisuke Kiso was moments away from calling for the bell. But it wasn't time. Aino survived. She hit her finish. And she won.
TJPW Stick Out:
Aftermath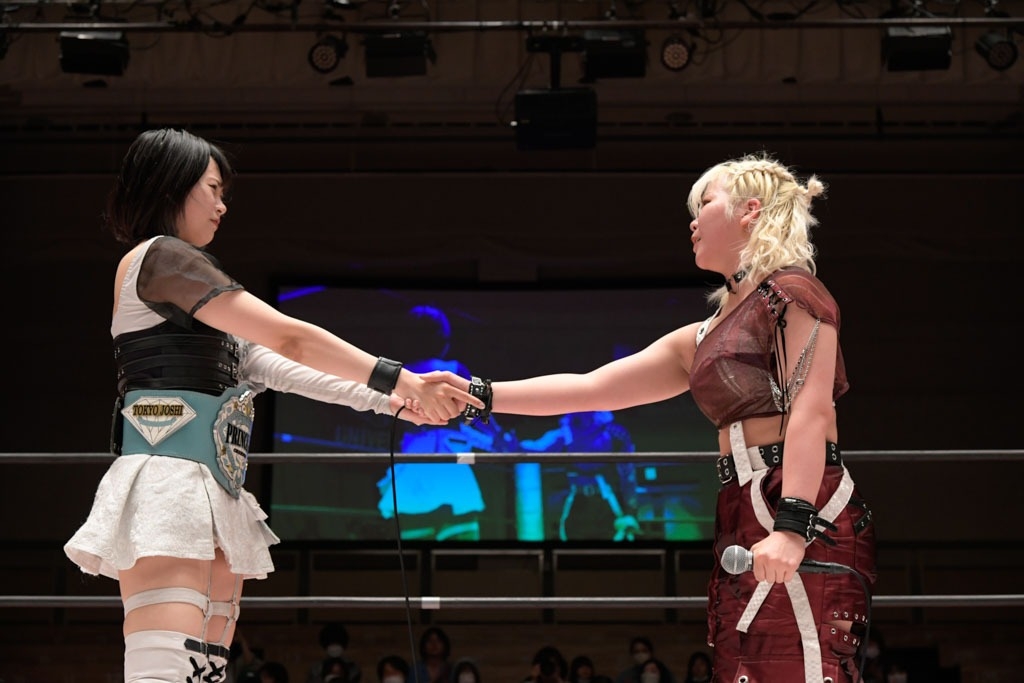 Yuki Aino challenging Rika Tatsumi for the International Princess title at July's Summer Sun Princess should be a hard hitting match between two underrated talents. Aino is seen as a solid hand floating in the midcard, but she can excel at a tough and gritty style. Rika is sometimes seen as the runt of the litter when it comes to the Four Pillars, but she doesn't miss when bringing her psychotic style to big championship matches.
TJPW Stick Out could've been just a B-show, with a last minute change depleting the roster even further. But every match gave at least a little something of value, even more so than just getting people on the card. The main event is something going out of your way to see, both as an entertaining match and a chance to see Arisu Endo grow into one of the best young wrestlers in the joshi world.