Last year, Grand Princess '22 was the biggest event Tokyo Joshi Pro Wrestling had ever held on its own in the company's short history. On the show, they honored their past, put on a spectacular presentation, and hosted a number of match-of-the-year contenders. It was their largest crowd to date for their Ryogoku Sumo Hall debut. For their next biggest show ever, they have raised the bar even higher.
This year, TJPW Grand Princess 23 marks its 10th anniversary at the crossroads of future and fate. Grand Princess '23 emanates from Ariake Coliseum, on the ancestral grounds of NOAH, where a women's promotion hasn't been in 2 decades and only five times ever in history. The four pillars have been on top since the beginning and the next generation has been clawing their way up to heaven for years. This is the hill they are ready to die on.
The Tokyo Joshi princesses are about to embark on not only their first American show during Wrestlemania weekend but onto the next chapter of their careers. In front of 30,000+ in the Tokyo Dome for Keiji Muto's retirement show, it was Miyu Yamashita, Yuka Sakazaki, Shoko Nakajima, and Rika Tatsumi vs Mizuki, Maki Itoh, Miu Watanabe, and Yuki Arai. In the headlining bouts between one era and the next, who will take the crown?
TJPW Grand Princess 23:
Suzume vs Arisu Endo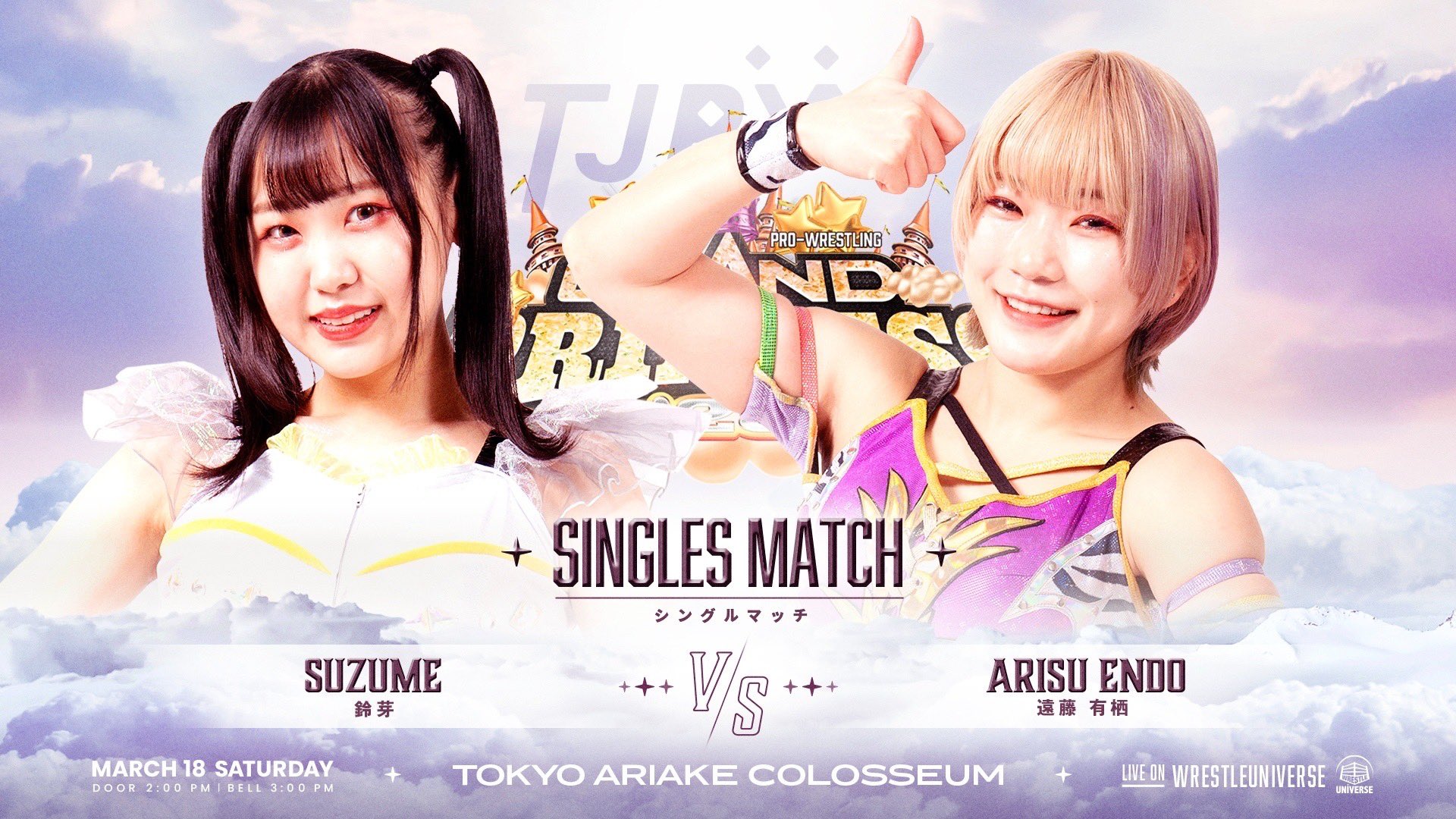 Both as their tag team Daisy Monkey and as individuals, Arisu Endo and Suzume are two of the must-watch rising stars in TJPW. Through fast-paced action and innovative offense, each had a stellar year in 2022. Suzume put in great performances, the highlight of which was making the semifinals of last summer's Tokyo Princess Cup.
Endo had breakthrough showcases against Mizuki and Mei Suruga, and as of late, she broke her two-year losing streak, entering this opening contest on her very first winning streak.
Partnership is often the best scouting report. They went back and forth, running the ropes and grappling at a balanced level. Dodging and countering each other's moves. Endo brought the ferocity, understanding that graduating from the best of her rookie class to being the newest mid-carder requires some work to maintain her momentum.
But like last year's result at Grand Princess, Suzume was victorious with the Ring a Bell cutter. They cried and shook hands. The Bee is buzzing into the future, but Endo is right behind her.
TJPW Grand Princess 23:
Team Mahiro Kiryu vs Team Kaya Toribami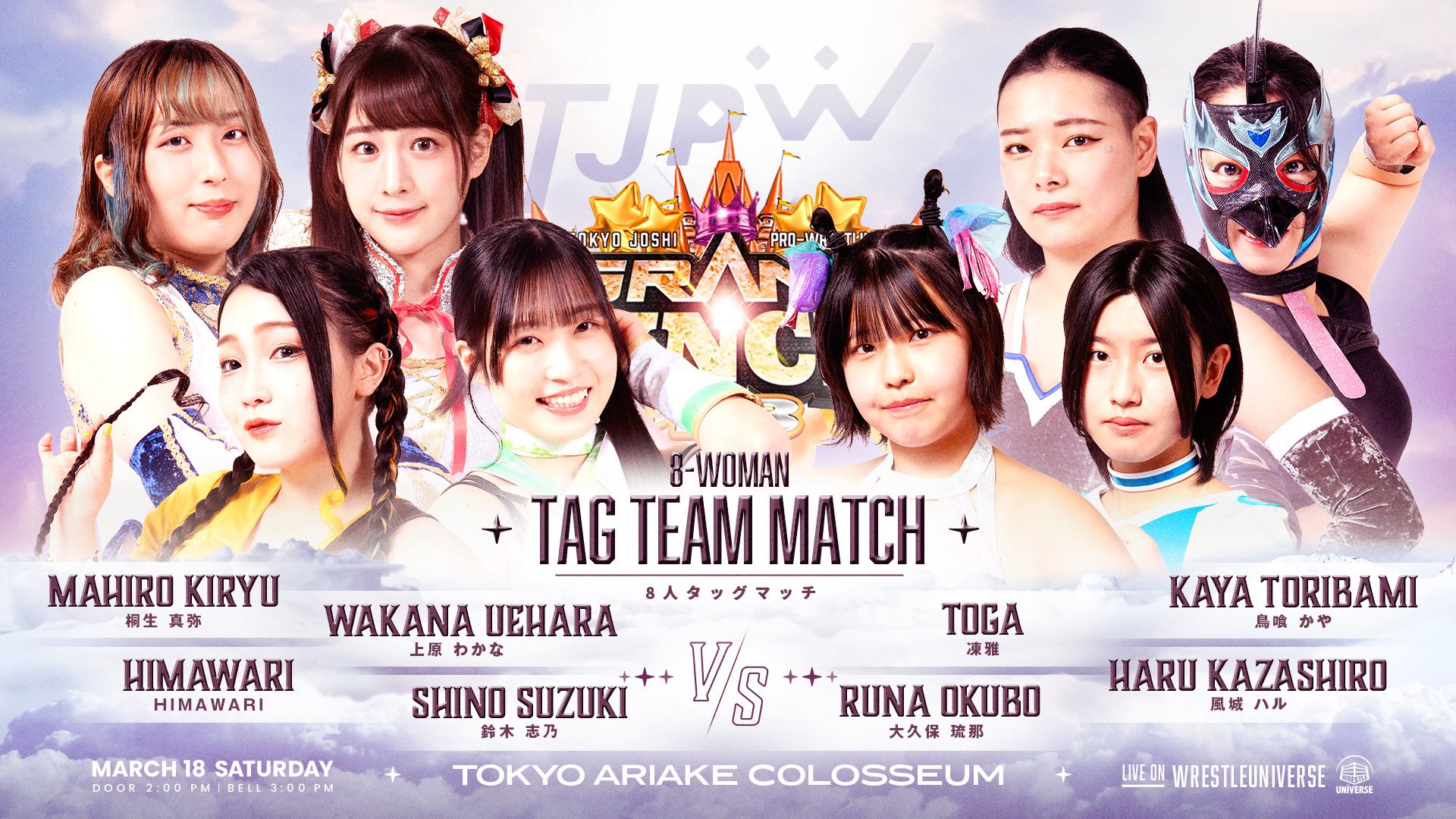 The youth movement continued with a shocking amount of rookies in this second match. Normally, Mahiro Kiryu is a junior member of the roster, but here she is the captain of her own squad. Wakana Uehara, Himawari, and Shino Suzuki have all made their debuts in 2023, with Shino having only one match before this.
Across the ring, Kaya Toribami captains her team as an experienced second-year wrestler who can attest to the TJPW training system. Her crewmates are Toga, who also has one match under her belt, and the debuting Runa Okubo and Haru Kazashiro, both of whom are junior high school students.
The rookies all received a warm welcome, being bathed in streamers. The teenagers did well enough to debut in front of 1500+ fans. They got through the basics at about half speed. Shino and Wakana have garnered a decent popularity following.
But Toga and Himawari seem to have distinguished themselves among their peers, with Toga looking cool like a grizzled veteran and Himawari developing a unique moveset. Kaya has come a long way since her own debut, and Mahiro got a rare pinfall victory with a rolling spinebuster.
TJPW Grand Princess 23:
Hikari Noa, Nao Kakuta, Ram Kaichow vs Raku, Pom Harajuku, Yuki Aino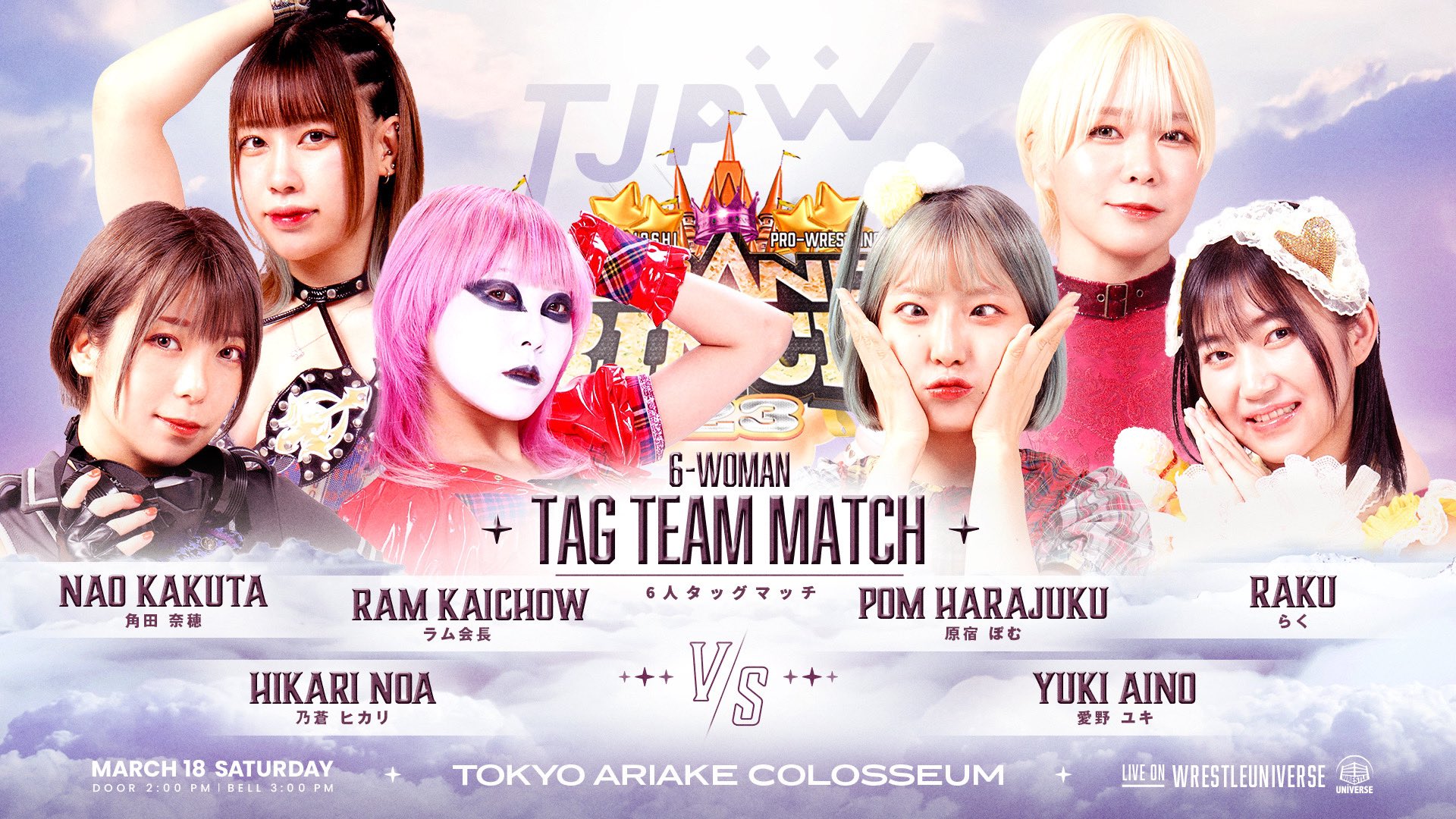 The tag unit of Free Wifi, Hikari Noa and Nao Kakuta, team with freelancer Ram Kaichow to take on the unofficial love triangle of TJPW: Yuki Aino, Raku, and Pom Harajuku. As is the case for most members on the roster, a complicated web of relationships connects them all. Noa and Kakuta are good friends with a shared love of mischief, but Ram is the husband of Raku. Meanwhile, Aino is a Raku fan but Pom is an Aino stan.
As expected, the lore ran deep when Ram wanted to reconnect with Raku but received the cold shoulder for cheating on her with other promotions. Ram refused to harm her wife, even drawing the ire of her devious tag partners, who aren't above slapping each other in the head from time to time.
Everyone looked good and did their schtick, with Free Wifi picking up the win over Pom after revealing a new combo move, a double-team Argentine facebuster called 5G. It was a solid win for Free Wifi and a big upgrade from when they separately lost their matches at last year's Grand Princess.
TJPW Grand Princess 23:
Ryo Mizunami vs Moka Miyamoto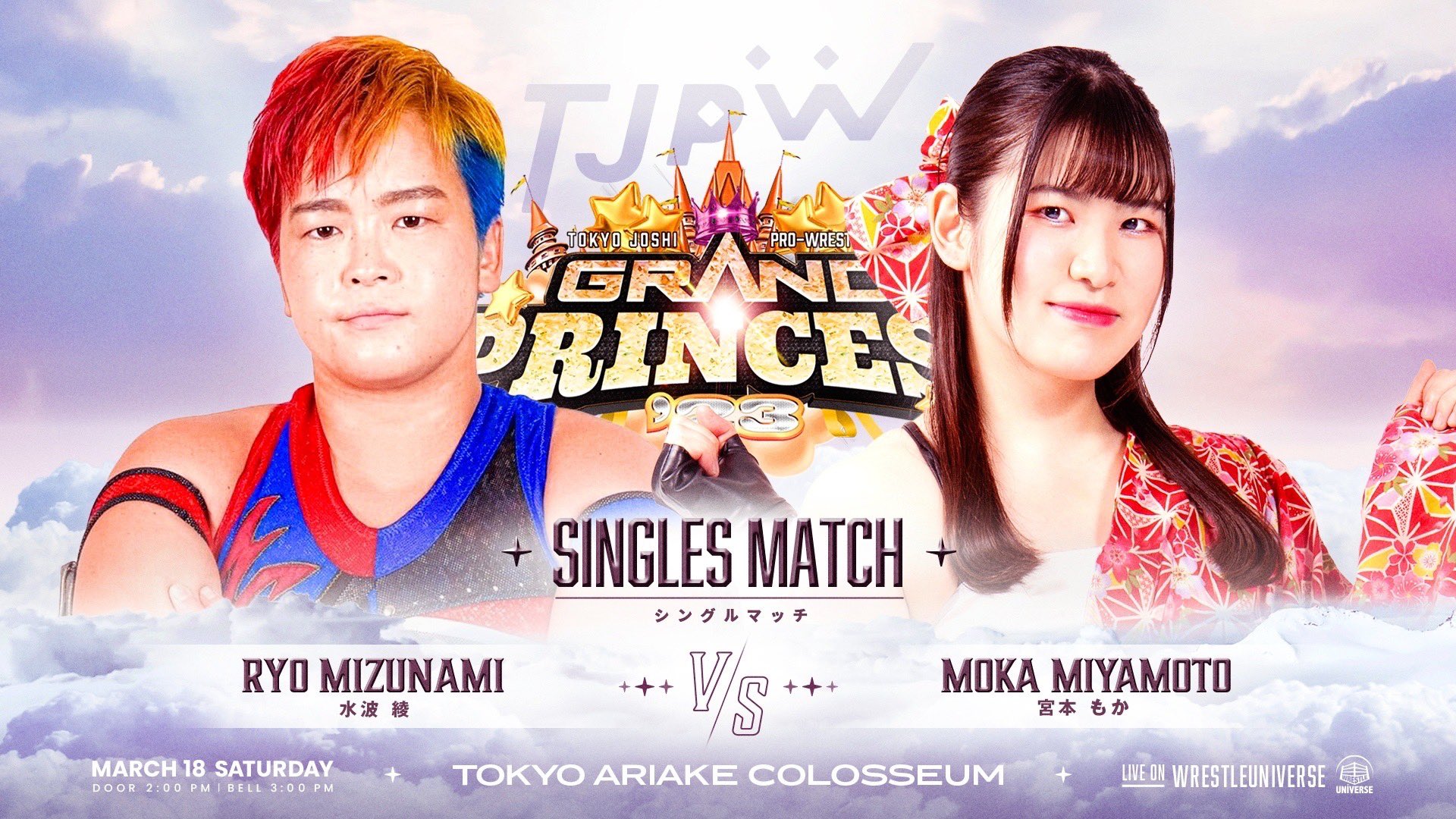 Last year, freelancer Ryo Mizunami debuted with TJPW and the only two matches she had were incredible for elevating her younger opponents. Moka Miyamoto hoped to be the third in the trilogy, following in the footsteps of Miu Watanabe and Suzume. Miyamoto is in her era where she's no longer a potential prospect and is expected to make that big leap alongside her classmates, the 1998 generation of Arisu Endo, Suzume, and Yuki Arai.
Ryo is always perfect as the tough veteran, putting Moka in holds and chopping the soul out of her chest. Moka showed a lot of grit and determination, even when it was her hair getting in her eyes. She didn't quite rise to the occasion of Miu and Suzume getting Ryo on the ropes, but those two have gone on insane runs after a loss to Aniki so the future is looking up for the Traditional Karate Girl.
TJPW Grand Princess 23:
Shoko Nakajima and Hyper Misao vs Haruna Neko and Andreza Giant Panda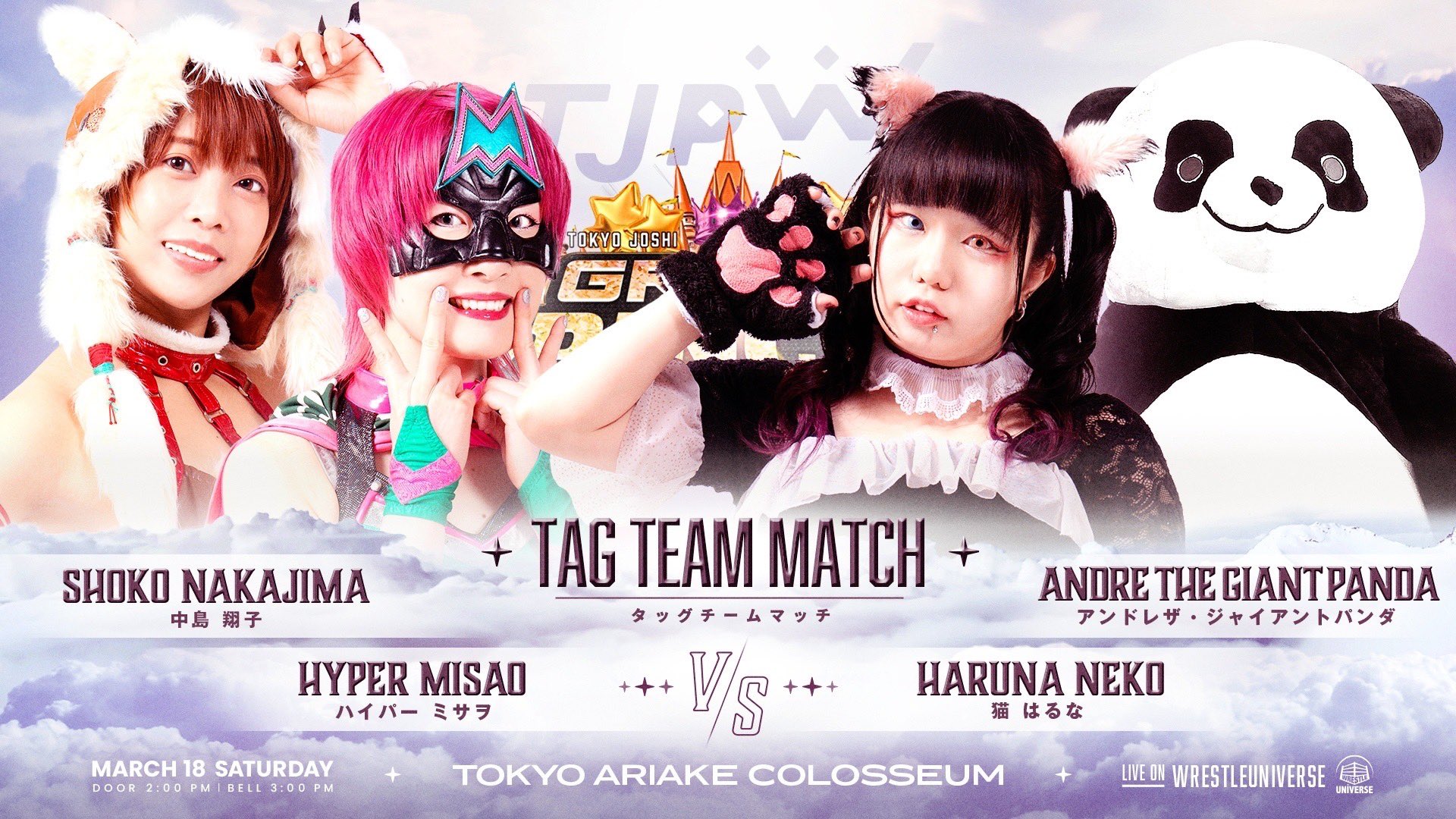 A 1.47-meter Kaiju and a diabolical superhero take on a tiny cat girl and an enormous inflatable panda. If you've heard that before, you may need to see a doctor. Shoko Nakajima and Hyper Misao made it to the finals of the recent Max Heart Tournament to crown #1 contenders for the tag team titles. As their runner-up prize, they get to face Haruna Neko and a lost wonder of the world, Andreza Giant Panda.
Hilarious hijinks were all around as Kyoraku Kyomei employed an anti-panda laser, a bicycle, and a lightsaber to stop the beast. Meanwhile, all Andreza could do was wave, get stuck on the ropes, and throw massive 10-foot headbutts. They eventually took out the monster on the outside, and Shoko put Neko away with the Northern Lights Suplex. Kyoraku Kyomei continue their winning ways at Grand Princess.
TJPW Grand Princess 23:
Sakisama and Mei Saint-Michel vs Yuki Kamifuku and Billie Starkz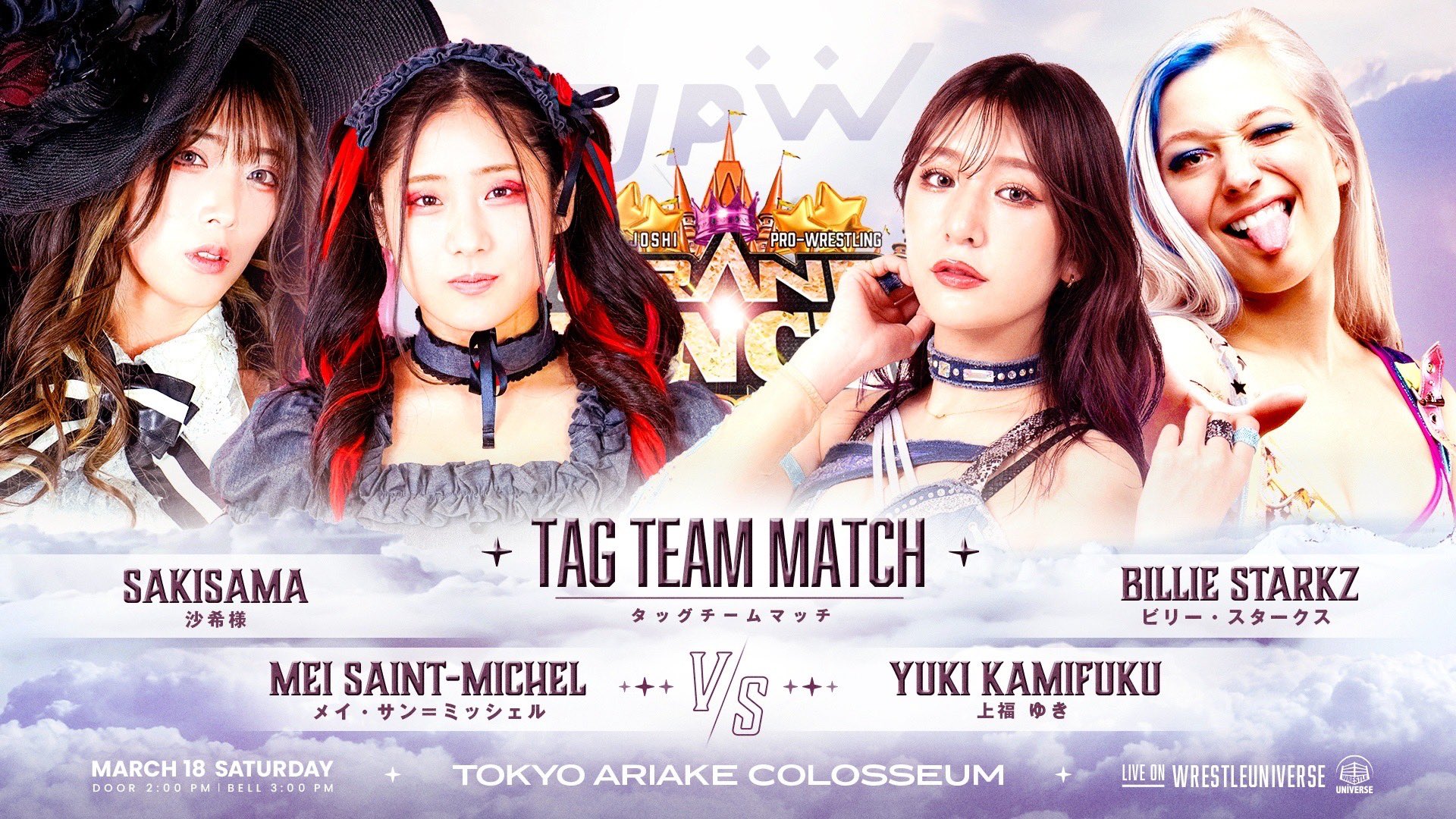 After one year away from TJPW since last year's Grand Princess and their amazing entrance, Neo Biishiki-gun have made their return from France. The tall and aristocratic Sakisama. The small and menacing Mei Saint-Michel.
But before they can spread their French aesthetic over Tokyo, they must face Japan's Casual Beauty, Yuki "Kamiyu" Kamifuku, and American independent star Billie Starkz, also making her return.
NBG did a lot of their cheeky chicanery, from the rose petals to the serving tray to double teams. Billie and Mei went toe to toe in the battle of prodigies. Kamiyu and Sakisama went toe to toe in the battle of tall women with long legs kicking each other in the face.
Billie looked like she nearly cracked her skull doing a Swanton from the post to the floor, so at least she has a Joshi's dedication for risking life and limb for the sport. NBG winning over Kamiyu with a quick pin sets them up nicely in returning to the tag division to reclaim gold.
TJPW Grand Princess 23:
Aja Kong vs Yuki Arai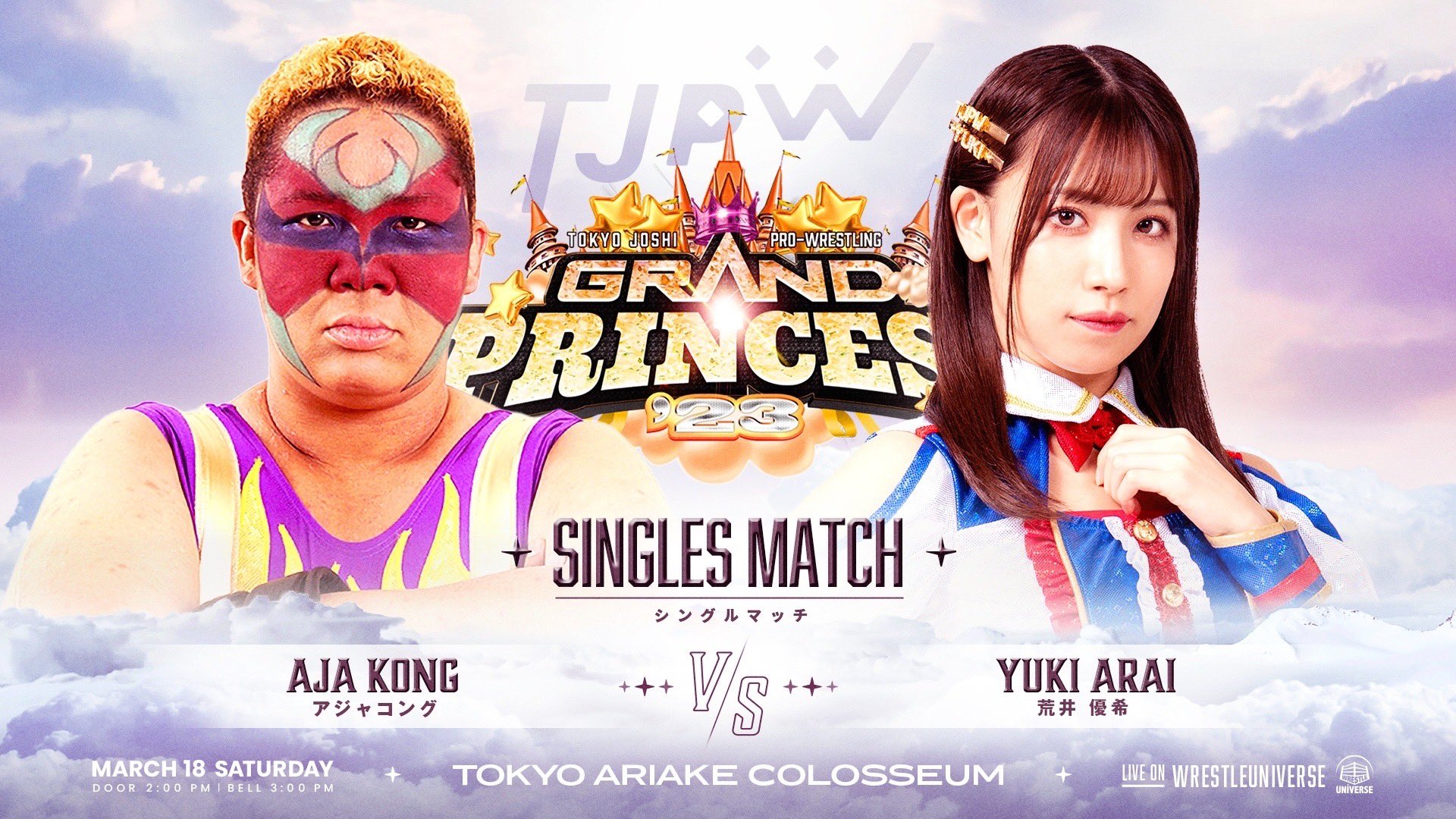 Yuki Arai is an idol-turned-wrestler who wants to prove that she's really about this life. Her moment to shine came in October 2021, shortly after she debuted, when she went toe to toe with the legendary Kong during a tag match. At Grand Princess '22, Arai lost her chance at the IP title against Maki Itoh. And on January 4th of this year, she was destroyed by the Wasteland War Party and lost the tag titles. Aja Kong needs no introduction.
At the start, Kong barely even registered Arai was trying to strike her. But Arai kept pushing forward, beyond every devasting move Kong inflicted upon. Even when her Finally axe kick appeared ineffective, she hit it again and again and again until it worked. She would not go unrecognized.
Kong had to get a rope break on a pinfall; she had to beat the count out at 19, she had to use her trashcan, much to the chagrin of referee Matsui. Arai gave it her all, shocking the world when she kicked out at 1 after a brutal lariat, but Kong put her away in the end. What started as a joke became a war and left Kong inviting Arai to do this again some time. Respect had been earned.
TJPW Grand Princess 23:
Miu Watanabe vs Rika Tatsumi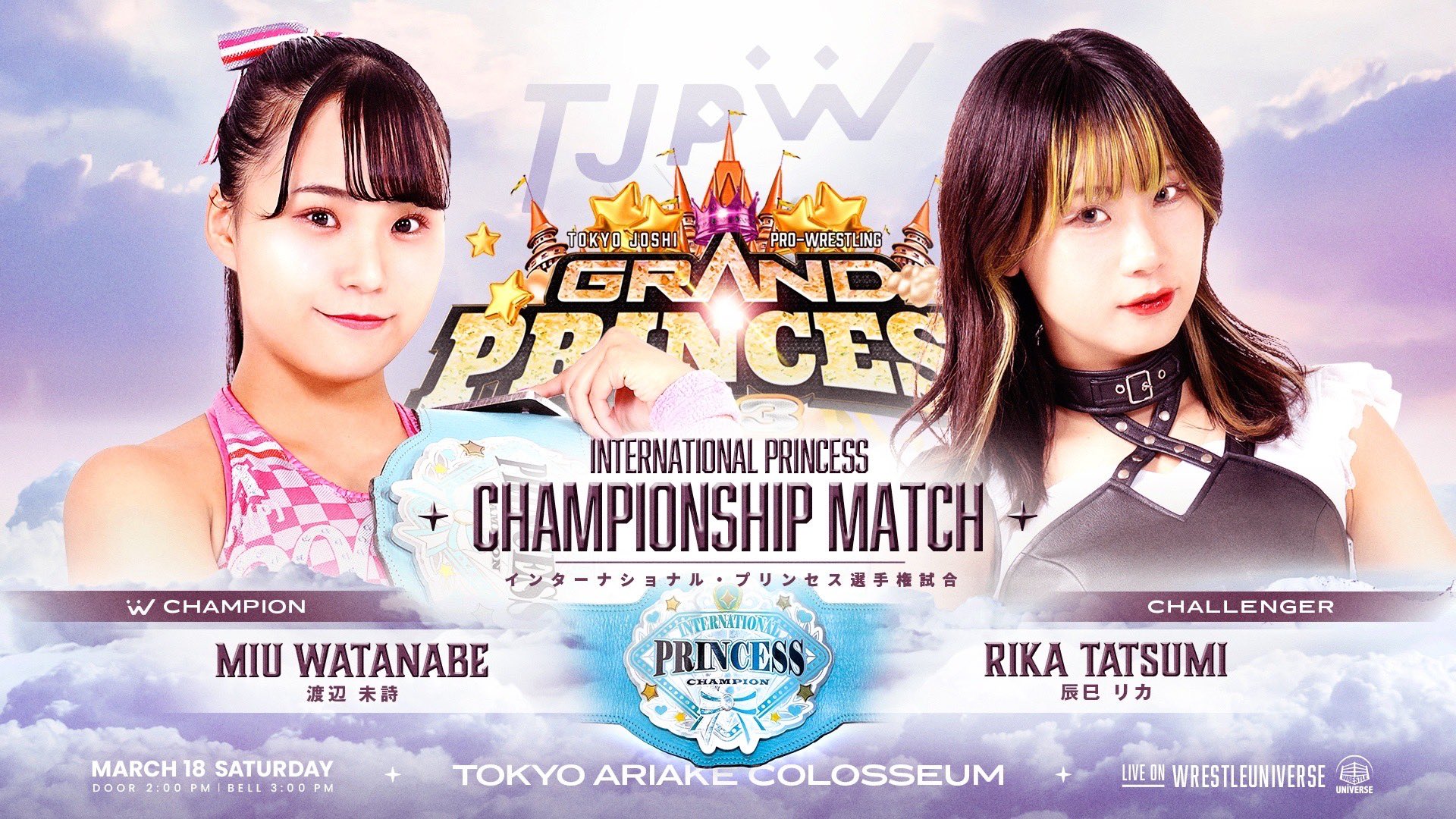 Last Grand Princess, they lost a MOTYC tag team match. This year, Daydream explodes as Rika Tatsumi challenges her tag team partner Miu Watanabe for the International Princess championship. Tatsumi is one of the four cornerstones of TJPW, a veteran trying to be the first wrestler to complete a Grand Slam of titles by winning the blue belt.
Watanabe is riding high on a career-defining few months, with the Summer of Pink seeing her defeat two other cornerstones in Shoko Nakajima and Miyu Yamashita.
Miu is great at the big flashy moves that go viral on Twitter, but she's also talented at the minor details. Rika worked over her knee, and she felt every ounce of that pain. Miu always does a deep squat after her shoulder tackles, but she couldn't do it the same with the damage to her legs.
Her face is always a work of art, especially when she gets her crazy eyes. Miu knows the future is at stake here and tried to overcome her mentor by adding a dragon sleeper giant swing to her repertoire.
Lest anyone think Rika Tatsumi is the runt of the litter when it comes to the Four Cornerstones, she proves her worth every time she steps into the ring for a big match. This was the clear candidate to steal the show and will likely make some top 10 lists at the end of the year.
When the White Dragon shows her vicious side, she truly can be a psychopath. After an incredible finishing sequence of locking on the Dragon Sleeper, Rika won the International Princess title, becoming TJPW's first Grand Slam champion. 
TJPW Grand Princess 23:
Max the Impaler and Heidi Howitzer vs Maki Itoh and Miyu Yamashita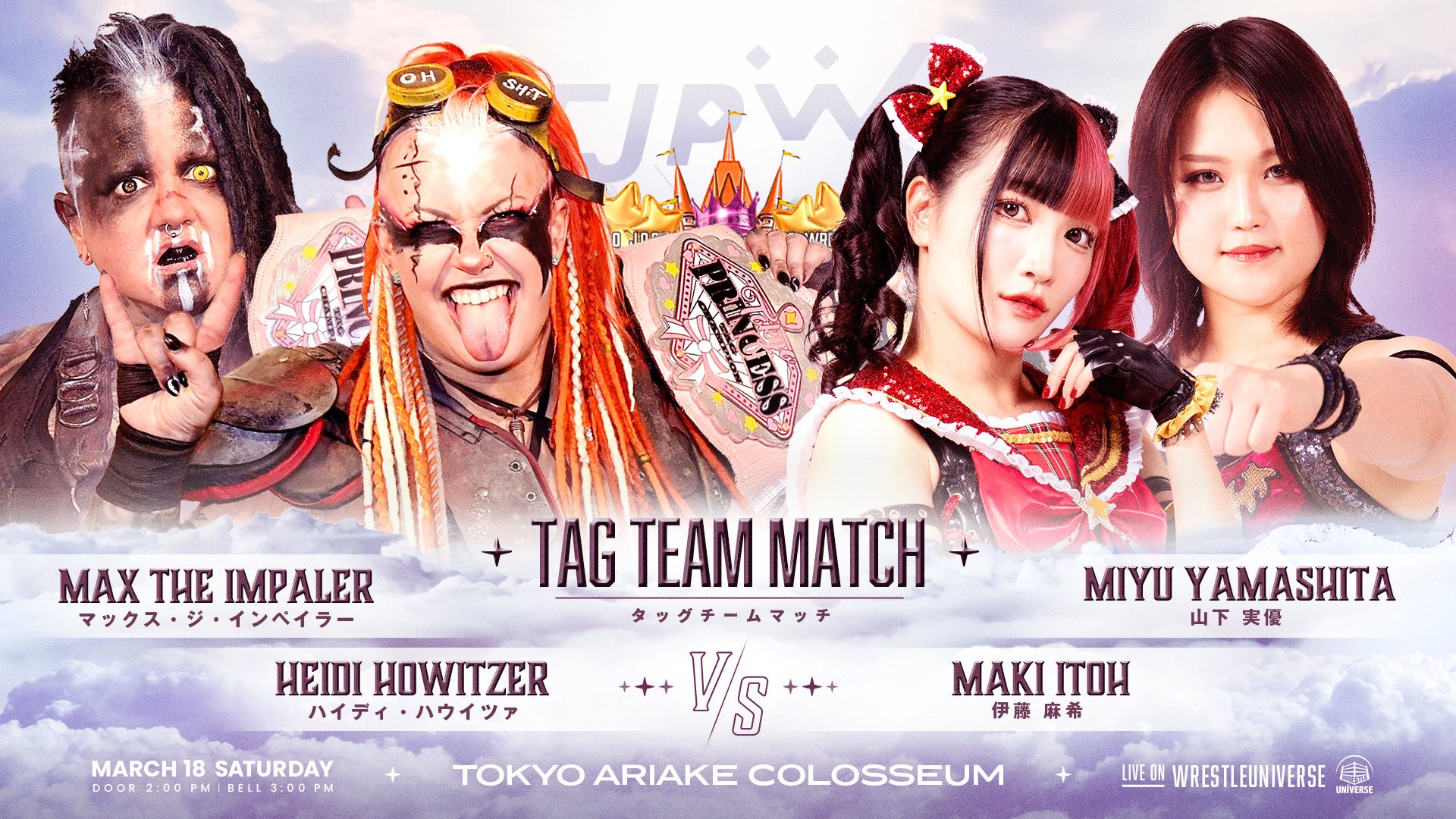 Since becoming a team in 2021, Maki Itoh and Miyu Yamashita have wanted to win the Princess Tag Team Championship and consummate their relationship. After winning the Max Heart Tournament, they get their third opportunity.
The Wasteland War Party of Heidi Howitzer and Max the Impaler won the tag titles in dominating fashion on January 4th. Since then, they've left a path of destruction defending the pink belts across America.
121000000 started the action before the bell, attacking the taller and stronger gaijin opponents. The champions used their advantages to dominate the match. But when all seemed lost, the underdogs had the power of love on their side. They screamed and hyped each other up, leading to Maki Itoh scoring the pinfall and winning the tag titles. Now there are two more wrestlers hunting for the elusive Grand Slam. 
TJPW Grand Princess 23:
Yuka Sakazaki vs Mizuki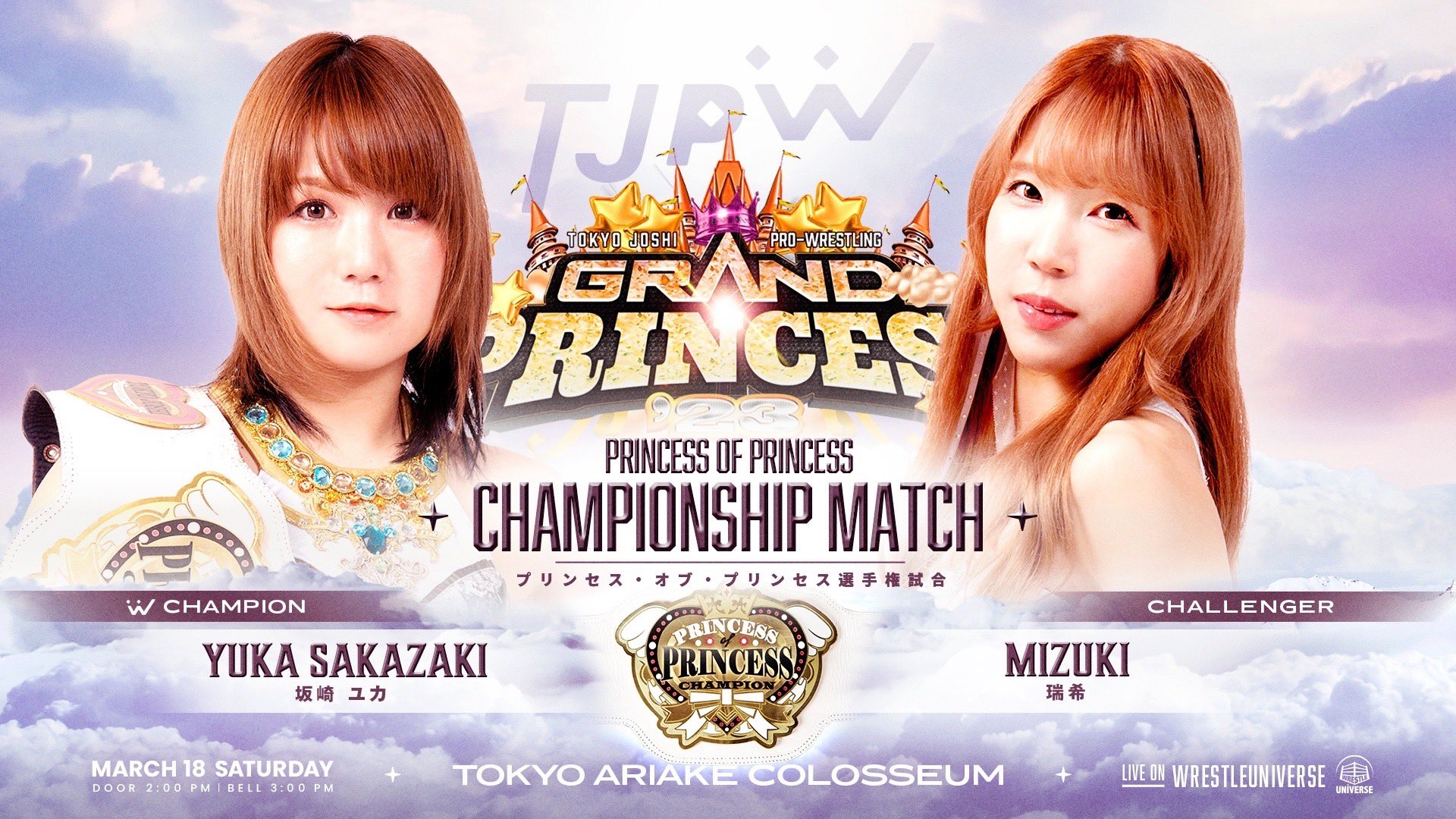 At last year's Grand Princess, the Magical Sugar Rabbits made their entrance hand-in-hand on a magic carpet ride. They've been closer than friends for years. They're inseparable. But Mizuki has still worked hard to reach for the top, winning the Tokyo Princess Cup twice and falling just short of winning the Princess of Princess championship in 2020 against Yuka. 
This was something strange, a main event filled with melancholy. Both competitors came to the ring close to tears. The whole preamble to this match has been that they don't want to fight each other. At the beginning, Yuka refused to hurt Mizuki.
She didn't even want to lock up. She thought she could win by countout without slamming her on the floor. Nevertheless, Mizuki insisted they wrestle. Yuka thought maybe if she hit her with one lariat as hard as she could, they could be done with this and go back to how they were.
But Mizuki would not be denied the chance at her dream. She fought like hell: diving from the post to the floor with a double stomp, hitting the double stomp to the back of Yuka's head. The champion acquiesced, activating into murder mode and trying to beat her best friend into submission. After nearly 20 minutes of battle, the desire for the title resurrected the Popping Sugar Rabbit as she popped up from the pain to fight. She hit the Whirling Candy. She hit the Cutie Special. And Mizuki won the Princess of Princess championship. 
TJPW Grand Princess 23:
The Future is Now
A new era has started for Tokyo Joshi Pro Wrestling. After years of frustration and heartbreak, Mizuki has reached the top of the mountain. And up there in the clouds is a whole new world. Miyu Yamashita will be living in America for the next few months, although she will defend her tag titles when called upon. Yuka Sakazaki appears to have turned her eyes stateside if her challenging for the ROH Women's title is any indication.
Mizuki has plenty of ready challengers such as Shoko Nakajima, Miu Watanabe, and Maki Itoh. Rika Tatsumi is a phenomenal benchmark for midcarders like Suzume, Yuki Arai, and Moka Miyamoto. 121000000 could be facing Free Wifi, Daisy Monkey, or Neo Biishiki-gun. And maybe a supernova is ready to burst out of this rookie class.
After a vicious, comedic, and emotional Grand Princess '23, the future for TJPW has never been brighter.