The wrestling conspiracy theorists can continue their coverage on that topic.  It is, however, impossible to talk about WCCW without mentioning them, seeing as though their father, Fritz Von Erich, ran the promotion and booked his boys in the main event every week. Viewing WCCW in this sort of time bubble also helped me remember and appreciate the simplicity of professional wrestling's storytelling back in the 80's-straight-up good guys versus bad guys. Here we discover the evolution of tough, Terry 'Bam Bam' Gordy.
______________

The Fabulous Freebirds were comprised of Michael P.S. Hayes, Buddy Roberts, and Terry "Bam Bam" Gordy. Ideologically, wrestling fans could have been appalled at The Freebirds with their rebel flag flying high on their way to the ring. For fans who understand the art of antagonizing, the rebel flag was a great tool. The Freebirds complimented each other so well as a unit.

Hayes was undoubtedly the frontman for the group and dominated much of the group promo time, but he always delivered on the mic, whether it be live in the ring or in their interview segments with Bill Mercer. But Hayes's greatness didn't stop there because as a heel, his job was to draw heat, and boy could he do it! Every single little thing he did drew a reaction. With his long blond hair flailing about as he'd whip his head around and gyrate his pelvis, Michael Hayes was a virtual heat magnet before the bell rang to start the match. He played his role in the trio to perfection.

As for Buddy Roberts, he could be considered the group's comic relief, and honestly, there were episodes where fans might have barely known he was there. It wouldn't be fair to discount or diminish Robert's role in The Fabulous Freebirds; it's just that when standing next to performers like Hayes and Gordy, he didn't do as much to stand out and make fans invest in his work. Also, to his credit, by the time he joined the Freebirds down in Dallas, Buddy Roberts had already had a decorated twenty-plus year career inside the squared circle.

On the other hand, Terry "Bam Bam" Gordy gained a new fan with his in-ring work. Admittedly, I was only slightly familiar with Gordy before binging on WCCW, but it wasn't long before I was fast-forwarding through episodes just to get to his matches. At 6'5' and near 300 pounds, he was a big, tough, and rugged brawler that moved with the grace and footwork of a light heavyweight.

He could work matches with any wrestler on the roster and make them look like a million bucks. Another thing that stood out to me about Gordy's work was that he took every bump the exact same way. He took them in a way that suggested he'd spent hundreds of hours taking flat back bumps in a musty old gym on high school wrestling mats! He made the bumps look good, he made the Von Erich boys look good, and it all looked so effortless. In fact, Gordy began wrestling professionally as a teenager, having dropped out of high school to pursue wrestling full time. 

It's worth noting that during the classic Freebirds versus the Von Erichs feud, he was only 21 years old. He had the face of a grizzled veteran. Even by then, he'd already worked in several territories, including Jerry Jarrett and Jerry "The King" Lawler's Memphis territory, before landing in Dallas to work for Fritz Von Erich in World Class Championship Wrestling.

Another thing fans loved about "Bam Bam" besides his nickname was his look. He had a commanding presence and a look that he was a professional wrestler if you didn't already know; you'd guess it in less than three tries! He also had the look of a man you didn't want to tangle within a bar. The guy in this clip obviously didn't get the memo.
Being the heat magnets that The Fabulous Freebirds were, it's amazing that some of the fans at the Sportatorium didn't leave the arena with broken noses for pushing or hitting on them when they were coming to ringside.

With his tough, brawling style, Terry Gordy threw haymakers from deep within his back pocket, it seemed. In 1982 it made him a star in Japan, working for All Japan Pro Wrestling.
It wasn't until within the last five to seven years that I could say I understood what Japanese 'strong style' or 'working stiff' really meant. While digging through the YouTube library for any of Gordy's footage from Japan, I came upon a match between he and Stan "The Lariat" Hansen. It was an all-out brawl from the opening bell as they both came out swinging, slapping, punching, and kicking away. There were a few holds between the chops, but through the first twelve minutes of the match, there was only one Irish whip into the rope spot.

The storytelling was excellent as well. Halfway through the 22-minute affair, Gordy knocked "The Lariat" to the mat with the back elbow to the head. "Bam Bam" took a hard fall as well and landed on his right elbow, and immediately begin to favor it. He let it go limp and would only deliver headbutts or lefthanded punches. I couldn't tell if he was legit hurt or not for a minute, but Hansen targeted the arm and elbow with vicious kicks and punches. He worked Gordy's elbow over on the outside of the floor as well, pulling it through the guardrail.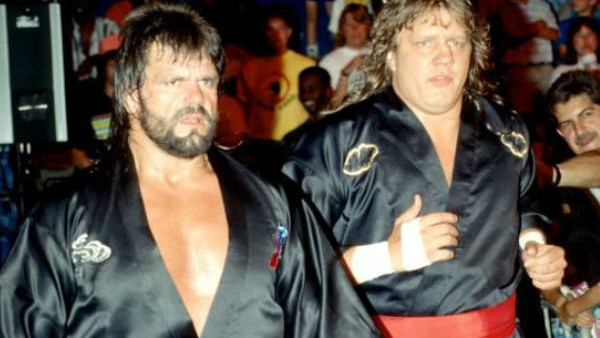 The match went on, and "Dr. Death" Steve Williams made an appearance at ringside to wrap Gordy's elbow with athletic tape. The duo had formed a tag team called The Miracle Violence Connection while working in Japan. They went on to become five-time AJPW Tag Team Champions. "Dr. Death" made his presence felt twice more during the match when he threw a wrestler's elbow pad into the ring for "Bam Bam" to retrieve. And finally, he figured into the match's finish, which I had to watch twice before it clicked for me.

Hansen irish-whipped Gordy into the rope and was setting up to deliver 'The Lariat' when Williams tripped Gordy as he was rebounding from the rope, causing him to fall on his face. The trip took away Hansen's chance to deliver his patented clothesline, and he reached over the top rope to jaw at "Dr. Death." With his back turned, Gordy secured the elbow pad on his injured right elbow and nailed Hansen with his own lariat, and covered him for the pin.

Upon first watch, "why would Dr. Death trip up Gordy?" But after watching it again, we could see the role his interference played in helping Gordy secure the victory. He was also the first one in the ring to congratulate him when it was over.

This match helped put 'strong style' into another perspective; when we think about all the wrestlers who were notorious for working stiff like Big Van Vader, The Steiners, and The Road Warriors, just to name a few, it makes sense why they spent so much time working in Japan. That style of wrestling was huge over in Japan, and those superstars I named earlier were performers who, as "Stone Cold" Steve Austin would say, 'layed their stuff in snug.' Gordy and Hansen really beat the hell out of one another for twenty minutes, it was violent, and the crowd loved every minute of it.

Terry Gordy's work in Japan made him a well-respected legend in the squared circle, and after his death in 2001, they paid tribute to him.
Ric Flair is one of the greatest wrestlers of all time, and even after watching him perform for forty years, fans still take great delight in his corner turnbuckle flip spot. Though he was slightly bigger than Flair, Gordy would perform that same spot and delight the fans in the Sportatorium. While he didn't perform the same flip-over and land outside acrobatics as Flair, it was no less impressive seeing this big three hundred pounder maneuver that way.

Ironically, it was a search for Flair matches outside of the National Wrestling Alliance (NWA) or WWE that led to discovering Terry Gordy's greatness. The two tangled over Flair's NWA World Heavyweight Championship a few times at The Sportatorium and in a taped interview with Bill Mercer, fans could really tell that The Nature Boy had a lot of respect for Terry. He always called him 'the best wrestler of The Freebirds' and really put him over as a serious threat to be World Champion one day.
In one of their encounters, Ric Flair defended the championship against the biggest Freebird. The champion popped the cameras and the crowd with a hot pink robe and his trademark long hair. Billy Jack Haynes came to the ring with Sunshine and told the two that he deserved to face the winner of the match for the title. Working as a babyface, Gordy gave Billy Jack his hand while Flair waved him off and made a play for Sunshine. She let Nature Boy kiss her on the lips but slapped him silly when he asked her how it was.
The crowd got a good kick out of it, and the match took off with "Bam Bam" laying in those trademark heavy rights. He followed it up with an overhead press toss and a corner turnbuckle whip that promptly turned into the Flair turnbuckle spot. Gordy applied a sleeper in the middle of the ring, but Flair was able to reach up and rake his eyes and break the hold for some slight relief.
The match continued, and it was kind of ironic hearing the World Class fans chanting "We Want The Spike" and 'Go! Terry! Go!' After a bodyslam put the champ down in the middle of the ring, Bam Bam went for his signature Mongolian Spike, but Flair rolled out of the way and regained the advantage. In another reversal of signatures, Flair tried to hit his knee drop to a prone Terry Gordy only to have him move out of the way and apply the Figure Four Leglock to the champion.
Flair reached the ropes to break the hold, but Bam Bam continued the punishment with a vertical suplex and another overhead press toss. He followed that up with the Mongolian Spike, but again the champ reached the rope. The end of the match sequence unfolded when the champion reversed an attempted Irish whip into the corner and followed Gordy in to grab him with a belly-to-back suplex. Bam put both feet on the top rope but ended up falling backward into the suplex anyway. They were very close to the ropes, and referee Bronco Lubbich inspected both sets of shoulders before counting; they'd landed in the ring in such a way that it looked like Terry had Flair pinned. Flair saw that and lifted his shoulder and put his leg on the bottom rope.

The referee counted three, and Terry 'Bam Bam' Gordy jumped up and raised his hand like he'd just pinned the champion; the crowd was going crazy; it looked as if there was a new Heavyweight Champion. Lubbich turned the crowds cheers to jeers when he walked over and put the ten pounds of gold on the chest of the prone champion after indicating to Gordy that Flair got his shoulder up.

Something interesting about the finish was that even though he delivered what ended up being the move that earned him the win, Ric Flair continued to lay on the mat clutching his belt and looking, as only he could like he'd just taken a beating and just barely managed to escape with this world championship intact. That could be considered as a nod to Terry Gordy's legitimacy. It also likely elevated Gordy's stature with the fans of World Class by showing them that their beloved Kerry Von Erich, the 'uncrowned world heavyweight champion wasn't the only superstar in World Class that could become NWA World Champion.

The babyface work of Gordy is worth mentioning again because before viewing it, who would the Sportatorium faithful would pull for in this contest? They were squarely behind Gordy, which was a surprise because being the person who ignited the Freebirds/Von Erich rivalry by slamming Kerry's head in a cage door, I thought there was no way they'd ever cheer for him. 

As a single's competitor, Gordy never captured the NWA World Heavyweight Championship. Still, he did hold several titles from other promotions around the world, including the Universal Wrestling Federation (UWF) Heavyweight Championship, which he defended against his Miracle Violence Connection partner Dr. Death on numerous occasions.
Wrestling fans love believability, and Terry Bam Bam Gordy had it. He had so much of it he turned a World Class Championship Wrestling binge-watching into a search for all the Terry Gordy matches on the internet. We also love great promo work, and even though his in-ring work was top par, his promos weren't special. They were nothing to write home about in terms of eloquence or style. Honestly, he didn't really have to be an effective promo, especially with Michael Hayes riding shotgun. That was another testament to the greatness of The Freebirds' complementary system of tag team wrestling. Each individual brought something different and necessary to the table that contributed to their success.
My inner wrestling nerd simply couldn't stop turning flips seeking out Terry Gordy matches because of how awesome it was to be able to go backwards thirty years and discover a new favorite wrestler.

Terry Bam Bam Gordy passed away at the young age of 40 years old, but wrestling fans everywhere are grateful he left such a magnificent body of work for us to discover. He also left his imprint on the next generation of professional wrestling superstars. Terry Gordy is the father of Ray Gordy Jr., who with Luke Gallows formed the tag team Jesse and Festus in the WWE from 2005-2010. His daughter Miranda Gordy also follows in her famous father's footsteps, having received a WWE tryout earlier this year.
_______
Before The WWE Network moved to the Peacock, I fell down a rabbit hole of eighties wrestling and consumed as much as I could – which included lots of Terry 'Bam Bam' Gordy footage.