On April 5th, 1992, Macho Man Randy Savage defeated the Nature Boy Ric Flair and won the WWF Championship in front of a packed crowd at WrestleMania VIII. Ironically, Savage lost a retirement match to the Ultimate Warrior exactly a year prior at WrestleMania VII. Macho Man, then known as the Macho King, was leaving the squared circle. Everyone thought Savage was done with in-ring competition, including Randy himself.
At SummerSlam 91, he married Miss Elizabeth at Madison Square Garden. The couple were enjoying married life until Jake The Snake Roberts struck.

___________________
He terrorized Savage and his new wife. Roberts even went so far as to lure Savage into the ring so Jake's cobra could take a bite out of Savage. Macho Man wanted revenge, but there was nothing he could do. A petition was started to reinstate The Macho Man. In December 1991, Savage was reinstated. He made Jake Roberts'slife a living hell.
Randy Savage defeats Ric Flair To Win the WWF Championship
Macho Man vs. Ric Flair
The Dirtiest Player in the Game
In the meantime, Ric Flair won the WWF Championship at the 1992 Royal Rumble. Hulk Hogan was supposed to be Flair's next opponent at WrestleMania. But due to a rivalry with Sid Justice, Hogan was preoccupied. Instead, Macho Man was chosen as Ric Flair's number one contender. Ric Flair knew he could not match Savage's intensity; none could. However, the Nature Boy knew he could mess with his mind.
In the March issue of WWF Magazine, Ric Flair published photos of himself with a woman savage knew very well, Miss Elizabeth. Even before they were married, Savage was very protective of the first lady of wrestling.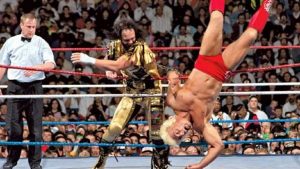 Ric Flair claimed that before Miss was Savage's, she was his. Mr. Perfect, the champions executive consultant, would further egg on Savage as a "witness" "to Elizabeth's affair." The two kept referring to Elizabeth as damaged goods. As predicted, Macho Man went off the deep end and wanted Flair's blood. Before WrestleMania, Savage gave Ric Flair a promo saying, "To be the man; you have to beat the man.
At WrestleMania VII, I'm going to be the man to beat the man Ohhhhh Yeah." It was revealed later that the photos were doctored, and it was actually Savage and Elizabeth, not Flair and Elizabeth.
Macho Man Wins the WWF Championship at WrestleMania VIII
Macho Man vs. Ric Flair

A Savage Victory 
On April 5th, 1992, Randy Savage finally got his opportunity to avenge his wife's reputation and win back the WWF Championship. As Pomp and Circumstance blared throughout the arena, Macho Man went after Ric Flair like a man possessed. Finally, the Nature Boy was able to slow the challenger down with a chop block to the knee. Savage had well-known knee issues in the past, and Flair capitalized on that.
This was the perfect setup for the figure four. No matter what Flair did to Savage's knee, Macho Man would not be denied. He caught Flair in a neck breaker and turned the tide. He clotheslined Flair over the top rope to the arena floor and hit him with an axehandle. Savage split FFlair'sforehead open.
FFlair'sbleach blonde hair was turning crimson red. Mr. Perfect could tell the title was in danger. Flair'sexecutive consultant went after Savage. Perfect threw brass knuckles to the champion as the referee tried to separate them. The referee saw the knucks and tried to take them from Flair. While the referee was distracted, Mr. Perfect hit SSavage'sknee with a steel chair. 
This prompted Elizabeth to rush to the ring. When Flair noticed Randy SSavage'swife, he began to taunt her. He locked savage in the figure four, but Macho Man wouldn't submit. Limping on one leg, Savage courageously fought back.
A Figure four on Savage as Miss Elizabeth looks On
Finally, Flair caught Savage's leg again, setting up for another figure four when he turned to taunt Elizabeth. Flair took his eyes off the Macho Man for a split second and was rolled up for a pin. Macho Man Randy Savage won his second WWF Championship. The Madness was back. Flair went over to harass Elizabeth more; he got slapped for his troubles.
Seeing this, Randy Savage forgot all about winning the WWF Championship and attacked Ric Flair. WF officials had to separate the two. The rivalry was far from over, but Macho Man went home with the WWF Championship.
Randy Savage & Ric Flair –
A Rivalry for the Ages 
Directly after this match, The new WWF Champion Macho Man Randy Savage was being interviewed by Gene Okerlund. It was at this moment Savage cut arguably his greatest promo. The emotion he displayed that night was off the charts.
"I just took a piece of you huh Ric Flair yeah, next time I want the whole Nature Boy. You can have all of me next time Ric Flair oh yeah."
He then gave the belt to Elizabeth and said take it and go; this is for you. Macho Man Randy Savage and Ric Flair continued their rivalry, trading the WWF Championship back and forth throughout 1992. Ric Flair ended up defeating the Macho Man for the title with help from Razor Ramon. However, Ric Flair lost the WWF championship a few months later to Bret Hitman Hart. 
At Survivor Series 1992 Randy Savage convinced Mr. Perfect that Flair was holding him back and Perfect joined Savage'sside. Flair also lost a loser leaves the WWF match on Raw to his former Executive Consultant Mr. Perfect. 
Flair and Savage's paths crossed several times in World Championship Wrestling as well. Macho Man Randy Savage and Ric Flair's rivalry bought out emotion in wrestling fans. Flair was so good at being the "dirtiest player in the game." Macho Man was the best at getting fans to pull for him to overcome the odds. This feud is often imitated but never duplicated. It was the night Macho Madness reigned supreme.