A part of every battle is psychological. If you can get into your opponent's head, they become much easier to defeat. That is why fighters often try to cut an intimidating presence before the fight begins. La Parka was based on the one enemy that we all eventually succumb to. He struck fear into his opponents, but he captured the hearts of his fans.
Contrary to pop culture myth, Halloween was created by the Catholic church in Europe. One of their core beliefs is that while death and evil may still exist within this life, they have both been ultimately defeated. Originating in the fourth century, Hallowmas is the three-day period surrounding the Feast of All Saints.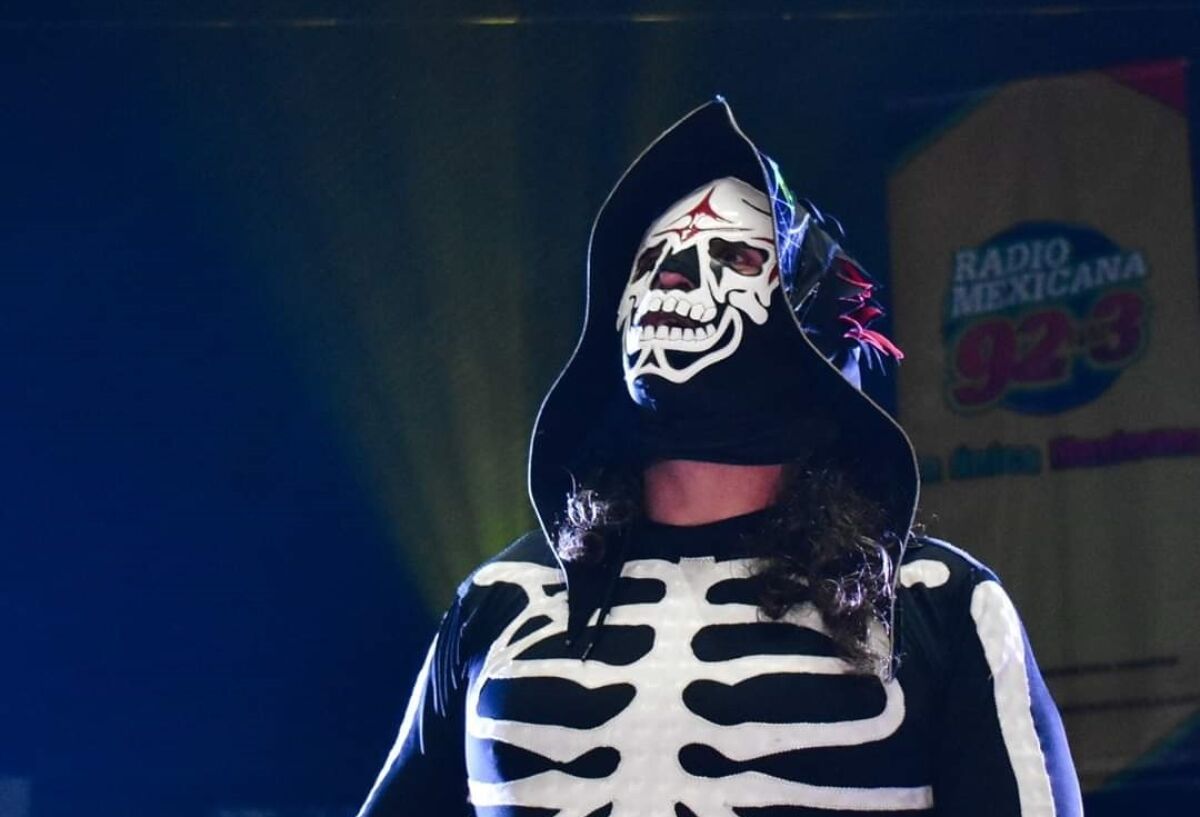 La Parka – The Nine Circles of Hell
It commemorates those who have been martyred for their faith. One of the enduring practices is the act of 'guising'. Celebrators would dress up as demons and evil spirits, as well as depictions of death, in order to mock the defeated enemies.
It is the same logic as when the villains in a war movie are depicted as being inhumane or buffoonish.
There are variations to the tradition in each country that it is observed. Most who participate in Halloween activities have little-to-no interest in the religious aspects. It is an excuse to have fun for one night. Traditions such as dressing up as monsters is purely for entertainment.
In Mexico, their version of Halloween is 'Día de los Muertos' ("Day of the Dead"). It incorporates elements of pre-existing indigenous festivities. In contradiction of the name, it is a light-hearted celebration of those who have passed away and moved into the afterlife.
Participants also dress in costumes, but the depictions tend to be more family-friendly. Death would often be represented as a skeleton, as it is in many cultures.
Asistencia Asesoría y Administración (AAA) was founded by Antonio Peña in 1992. He would also create numerous original characters. Among the first was a persona based on the Grim Reaper. He or she is a physical manifestation of death from the folklore of many different countries.
The Spanish Grim Reaper
It is often depicted as a skeleton, typically wearing a robe. Peña's creation would be named "La Parka", an intentional misspelling of the Grim Reaper's name in Spanish. He wore a full-size, black-and-white skeleton costume that appeared to have a hood. The design was based on common Día de los Muertos artistry.
The character was given to Adolfo Tapia Ibarra first. While Tapia is talented, the first decade of his career was plagued with characters that failed to get over with fans.
At 6' 1'', he towered over most Mexican wrestlers. This helped La Parka appear more intimidating when he was in full costume. Or so Peña thought.
La Parka was an instant hit with fans. They loved his appearance and the fact that he could move like a traditional luchador despite his size. Peña decided to run with it and booked La Parka as a téchnico (babyface).
He easily won crowd support with his natural charisma. Parka's habit of dancing was Tapia's idea. This was a comedic interpretation of the "Danse Macabre", an allegory for everyone who inevitably encounters death.
In 1996, Parka was one of several AAA stars who competed in Extreme Championship Wrestling (ECW) as part of a cross-promotional arrangement. Most of the luchadors were then poached by World Championship Wrestling (WCW) for their new Cruiserweight division.
Peña allowed Tapia to continue using the La Parka character as it served as good publicity for AAA. Parka was mainly a heel despite fans appreciating his physical comedy. He was involved with an angle where he "injured" an opponent by pulverizing them with a steel chair after a match. The chair would become Parka's signature trademark. The "Chairman of WCW" mainly used the chair as an entrance prop.
Latino World Order
La Parka was mainly in Sonny Oono's stable of foreign heels, teaming with either Psicosis or Silver King. He was also in the short-lived 'Latino World Order' stable, led by Eddie Guerrero. He was used as a prop in two major storylines. He seemingly scored an upset victory over Randy Savage before Diamond Dallas Page unmasked himself to show it was really him.
He was also Buff Bagwell's opponent in the infamous match where Bagwell threw a (scripted) tantrum over being booked to lose. Parka was one of the last luchadors to leave WCW.
His final storyline saw him as an enforcer for Vic Venom (Vince Russo). Venom would crack his knuckles to indicate an office visitor had displeased them, and Parka would strike them with a chair.
While Tapia was in WCW, Peña created a variation of the character called 'La Parka, Jr.' As the name suggests, he was presented as the son of the original La Parka.
The only connection Jesús Huerta Escoboza had to Tapia was that he also spent the first ten years of his career on characters that had flopped.
Huerta was the same height and behaved similarly to Tapia's interpretation of the character. While Tapia was a popular heel in WCW, Jr. was a téchnico in AAA. Tapia's success on US television boosted Huerta's appeal in Mexico.
After Tapia left WCW, Peña allowed him to keep using the La Parka character, provided he only used it in the United States. The deal was broken when Tapia signed with rival Mexican promotion Consejo Mundial de Lucha Libre (CMLL). Peña sought legal action and prevented Tapia using the character or the costume.
To solidify the point, he shortened Huerta's ring name to La Parka. The latter was also pushed at a higher level within AAA than he had before.
Knowing that he would not be as successful without the character that made him famous, Tapia created his own version. He wore similar costumes but influenced by his own designs.
The first mask strongly resembled Darth Maul from the Star Wars franchise. Tapia's invention was named "L.A. Park".
La Autentica Park – The Real Reaper
It was pronounced the same as "La Parka", and stood for "La Autentica Park" (or "The Real Reaper"). ParK alternated between working for CMLL and traveling the independent circuit.
In January 2010, ParK confirmed a rumor that Black Spirit was his real-life son. He had encouraged Spirit to be trained by someone else and forge his own path into the industry. ParK felt this had been key to his own experience. His son was only in his second year as a pro when ParK made the confession.
He added that Spirit would be competing as "El Hijo de ParK" ("The son of L.A. Park") from now on. Hijo would wear a similar costume to his father but with different coloring. For example, while his father favored white, red, and silver, Hijo favored gold.
Many of his storylines would involve either teaming or feuding with other second-generation luchadors. Specifically, those that had "junior" names and whose fathers had feuded with his own.
ParK is from a large wrestling family. The extended Ibarra clan are known collectively as "La Familia Real". His bother competed as El Hijo de Cien Cara, even though neither of them are related to the original Cien Cara. Their uncles are Super Parka, Johnny Ibarra, and Desalmado. Super Parka originally competed as Volador.
He changed to the new character after his nephew rose to fame. Super Parka was an original idea with a unique costume design. He owned it, and did not infringe on Peña's ownership of the original Parka character.
Super Parka's son competes as Volador, Jr., and his grandson (not through Volador, Jr.) is simply known as Flyer.
There is one other official member of La Familia Real. LA Park, Jr. was introduced as a second son who wanted to follow in his father's footsteps. He had competed as Exudus and Ùltimo Sandox before donning the skeleton costume.
It is not known if ParK, Jr. is genuinely related to the Ibarra family, or if he pays to use the ParK character.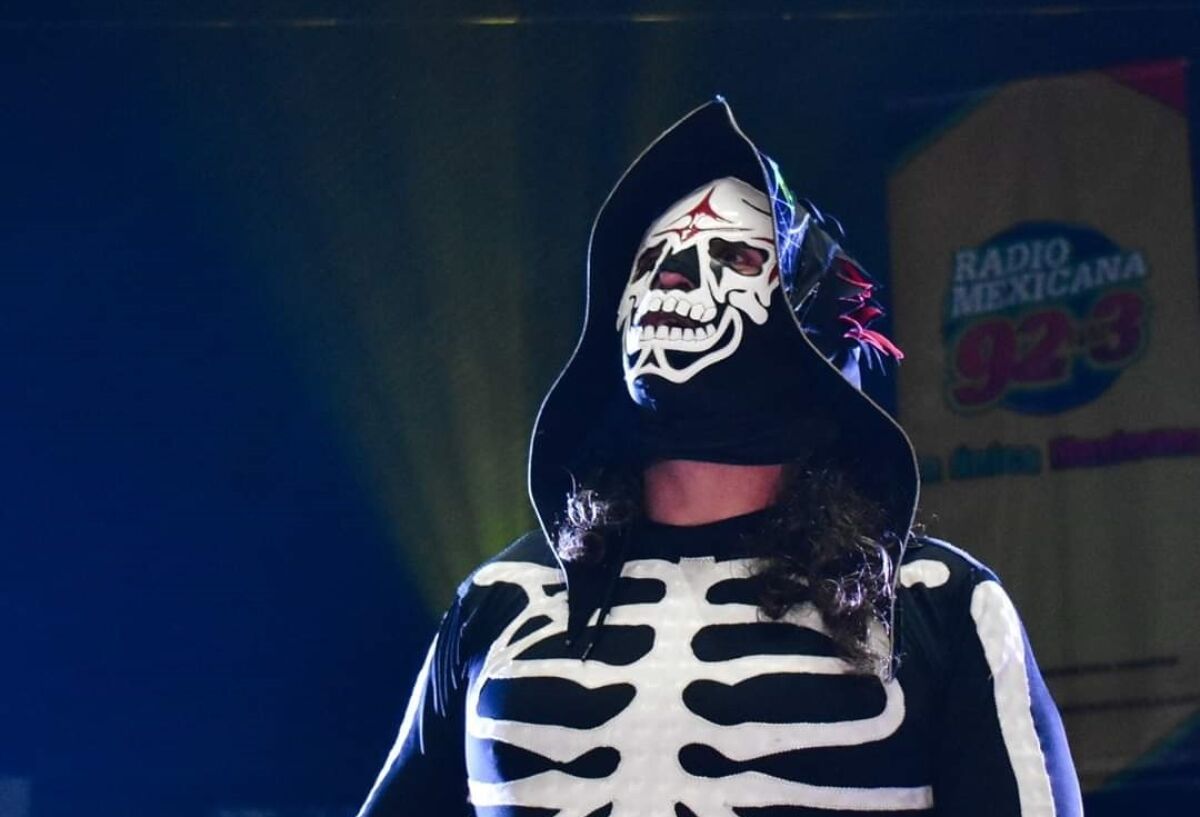 L.A. ParK
ParK (Tapia) returned to AAA in 2010. He spent his time as a rudo (heel) to differentiate himself from the téchnico Parka (Huerta). ParK would have an extensive rivalry with Parka, claiming the younger star to be an "imposter."
ParK even won a match where he regained the rights to the "La Parka" character, but it would be overruled. He teamed with his sons and uncle repeatedly over the years and occasionally with his rival Parka.
One of AAA's unique gimmicks is the mini-estrella division. These are wrestlers who are under 5' that often compete using the characters of established AAA stars. There have been three men who portrayed 'La Parkita' over the years. The first one was portrayed by Alberto Perez Jimenez. He was trained by own twin brother Espectrito.
Alberto has also portrayed Espectrito, and Espectrito II. He also substituted for the original Octagoncito while he was sidelined with an injury. Alberto's other characters have included Mini Fresbee, Mini Nova, and Voladorcito.
The second La Parkita did not have dwarfism like most other mini-estrellas do. He was naturally small and was allowed to compete on the main roster as well as the smaller division. He only used the La Parkita character for a short time before becoming the permanent replacement for Octagoncito.
La Parkita
Little is known about the most recent La Parkita. He is informally dubbed "La Parkita III" by fans. He is a student of Espectrito. A constant with all seven incarnations of La Parka was that everybody encounters death eventually. Sadly, this is true for them too.
The Perez Jimenez twins were found dead in a hotel room on June 29, 2009. The brothers had been approached by two prostitutes after a show. The women were invited back to their room. One of them would spike the wrestler's drinks, causing them to pass out. The women then robbed them and left the building.
The combination of drugs and alcohol proved to be fatal for the diminutive men. Their deaths made headlines across the world. One of the suspects was arrested a month later, and the other was traced three weeks later through phone-call records. Both women were convicted of murder on July 12, 2010. They were sentenced to 47 years in prison.
Parka (Huerta) had his final match on October 21, 2019. He performed a dive through the ropes to the outside. He missed his opponent and collided with the steel crowd barrier before landing face-down on the concrete floor. He was immediately paralyzed but did regain feeling in his extremities.
He was immediately paralyzed but did regain feeling in his extremities. Surgery was performed on his neck and cervical fractures to relieve pressure on his body. AAA had to make a press release contradicting a false report that Huerta had died.
They would have to release another one on January 11, 2020, confirming he had died for real. He died of lung and kidney failure, both being directly connected to the injuries he suffered in his fall.
La Park – The Legacy
Huerta had unknowingly planted the seeds to continuing his own legacy. Three months earlier, he introduced the world to Karis La Momia, Jr. He announced that his son was training to become a wrestler and would be competing as the second generation of his previous character.
After Huerta's death, Peña granted the son permission to become the third incarnation of La Parka. We all must dance with death in our own time. The legacy of La Parka is not that we should fear that encounter. We should celebrate the life we have now.
Our names and memories shall live on through the family and those we have brought joy to. Then when we do have to go out, we should go out dancing.