Unsung Heroes will cover people and personalities whose work doesn't always get talked about as much as it could, such as Jazz. In a history rich in stars, the supporting actors don't always get their just desserts. This series will strive to shine a light on those who fall into that category. Our next person of focus is an active competitor of nearly 22 years and former two-time WWF/E Women's Champion, Jazz.
______________
Over the course of the last decade, there is no question that women's wrestling has achieved much greater prominence. No longer the proverbial 'bathroom break' matches, these bouts have become a must-see competition. Regardless of where it sits on the card, women's wrestling has grown by leaps and bounds. But one woman who always brought  credibility to the distaff division, a woman who has walked quietly but carried a big stick throughout her career, is Jazz.
Athletics were always an integral part of her life, from her younger days playing basketball up to  today when she and her husband operate their own gym. After leaving college early, it was wrestling to which Jazz turned. For inspiration about becoming a women's wrestler, she looked to former Women's champion Jacqueline Moore (Miss Jackie). And serendipitously, after training for nearly a year, it was against Moore that she made her wrestling debut.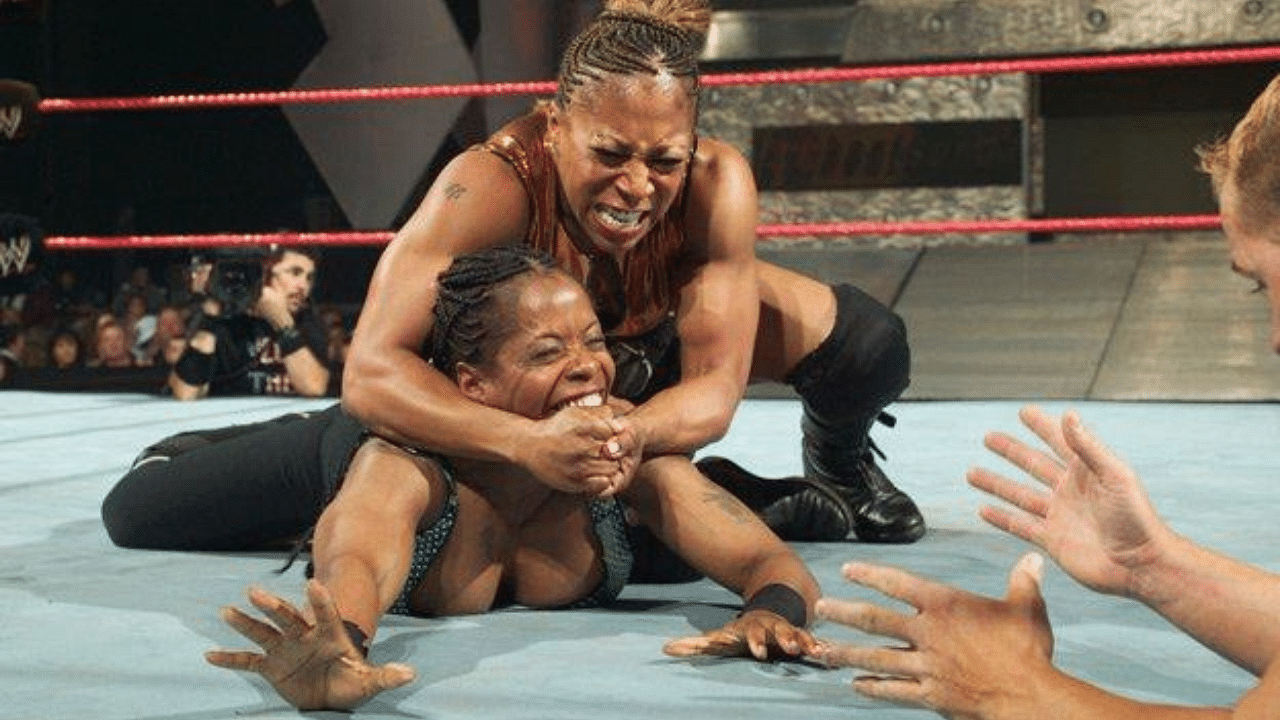 Opportunity would emerge in Paul Heyman's Extreme Championship Wrestling (ECW) promotion. As a member of the Impact Players alongside Lance Storm, Justin Credible, and Jason Knight, Jazz would turn heads as a tough-as-nails female that would do as much if not more damage to the opposition as her male counterparts. However, after just a few appearances with ECW (under the name Jazzmine), she would leave the company at the turn of the century before they would ultimately close their doors for good.
Jazz
Ohio Valley Wrestling
In 2001, the WWF sent her to OVW (Ohio Valley Wrestling) to train and further develop. Her name would be shortened, and Jazz was born from the ashes of Jazzmine. At the 2001 Survivor Series, Jazz would make her debut as part of the women's championship six-pack challenge match. Her skillset and talent was undeniable. In 2002, her determination, skills, and work ethic led to a program with Trish Stratus, the Women's Champion at the time. In the build to that, Jazz would face her one-time inspiration Jackie to become the top contender for the title.
For Jazz, it was a case of if at first, you don't succeed, try, try again. Despite coming up short against Stratus at the 2002 Royal Rumble, Jazz would not long after capture the women's championship. She would then retain it at WrestleMania X8 against former champions Stratus and Lita. Jazz held the distinction of being the last WWF Women's champion and the first WWE Women's Champion. But then, she suffered a torn ACL, and her momentum was halted.
Jazz
Her Return To Action
She would eventually make her way back to the ring in January 2003 and became an integral part of a feud between Victoria and Trish Stratus. This would culminate in a triple-threat match for the WWE Women's Championship at WrestleMania XIX. Despite her best efforts, Jazz failed to regain the championship. However, this lead to her acquiring the managerial services of Teddy Long. With Long by her side, Jazz would recapture the women's championship at Backlash 2003. She later lost the title in a Battle Royal, to Gail Kim. Unfortunately, during that match she was once again injured. And after her return, fans didn't see her on-screen very often.
Despite having an on-screen role as a manager, WWE's creative department failed to develop any ideas for her character. Soon, she was released, but after a brief time touring the independent circuit, she returned. This time around, she was a part of the revived ECW brand. However, that time was short-lived as well, and by 2007 she was once again released from her WWE contract.
Jazz knew her value and, in fact, was quite open about how she felt she was treated during her time with the promotion.
My situation with them is I was upset because the whole time I was there, they never gave me an action figure. The people of color were treated a little differently. They didn't market me. I made myself. They gave me the platform to go out there but I got over on my own. There was no action figure, never on a poster, that's the shit I was upset about. But, it's all good. I still thank them for the opportunity because without them, I probably wouldn't be sitting here now, I don't hate them. I just want to be treated fairly.
Her comments about the lack of fairness for women of color speaks volumes about how better representation is needed in the company.
I believe they're being portrayed well. But treated fairly? I don't think so, you know what I mean?" "I just don't think they're given a fair chance. Naomi, I believe she deserves to be treated better.

Sasha's, right now at least she's kind of being taken care of in a sense. But there's a few more. Bianca, I think she can kick everybody's ass on the main roster. Will she ever have the opportunity? Will they ever give her that opportunity? I don't know."
She may have been out of sight for the television audience, but Jazz was far from being out of action. Over the next nine years, Jazz competed for promotions such as Women Superstars Uncensored, Shine, & CHIKARA. Each of these promotions gave her new experiences and new opportunities. She stood across the ring from rising stars such as Mercedes Martinez, Sara Del Ray (NXT Trainer Sara Amato), Solo Darling & Candice LeRae. As you can see, Jazz has faced the most notable names in women's wrestling, including the famed matriarch of the Knight Family, Sweet Saraya Knight.
The National Wrestling Alliance is steeped in tradition, and more recently it has been providing a platform for today's stars. During the span of three years with the promotion, Jazz has captured the NWA Women's Championship. After capturing the title, she defended it against emerging stars such as AEW's Penelope Ford and The Bunny (Allie), along with former IMPACT Wrestling Knockouts Champion Jordynne Grace. She held that title for a remarkable 948 days! Her reign ended when she could not defend the title due to medical reasons, but it is listed as the third-longest reign in the history of the women's championship.
Jazz
Wrestling's Unsung Female Fighting Phenom Hero
But for all she's achieved in the past, more recently fans have had the opportunity to become more aware of her. As part of AEW's Casino Battle Royal, Jazz was once again on a national stage. And her return to television screens didn't end there; this past Fall, Jazz made a surprising debut, teaming with former opponent Jordynne Grace as part of the IMPACT Knockouts Tag Team Championship tournament. Though the team was not successful, it was clear Jazz has not missed a beat. She continued to show how athletic, agile, and strong she still is.
Her strength, ability, and desire to provide opportunities to youth, via her and Rodney's gym, says a great deal about her inside the ring and outside. She is a strong influence for men, women, and children. Jazz has always aspired for equality, and everyone that has come after her must look to her and aspire to be as good as her. There is a reason she is the female fighting phenom. It isn't just a catchphrase or saying. She demonstrates she has every bit as much strength inside as out.