PROGRESS Wrestling Chapter 45: Galvanize. 19th March, 2017. The O2 Ritz, Manchester, UK.
Well hello there and welcome back to the PROGRESS Prerogative, the weekly that looks back at each PROGRESS Chapter in turn. This time around it's an absolutely stacked card in Manchester, featuring every title bar the Atlas division strap being defended, the first NPS4 semi-final, the continued implosion of The Origin and much more besides. No need to stand on ceremony; let's dive straight in. This is Galvanize.
Galvanize
South Pacific Power Trip vs British Strong Style (c) – Tag Team Title Match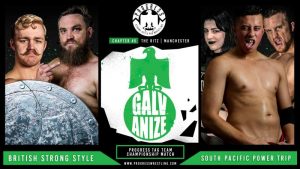 TK Cooper and Travis Banks open the showing vying for tag titles that Trent Seven and Tyler Bate think very little of. Seven throws the shields back through the entrance curtain before he and Bate make their way down the aisle, a sign of their lack of respect for the company much to Ultras' disapproval. The Power Trip, on the other hand, are very much crowd favorites now, a remarkable turnaround from just over a year ago when Banks debuted to chants of 'who are ya, who are ya'.
He's an absolute dynamo in this contest, bringing strong style flair to his sequences against Seven as they slap each other silly. That leaves Cooper and Bate the slightly more flashy sequences, the highlight of which sees TK hit a corkscrew moonsault from the top rope to the floor. A fantastic quadruple down sequence leads neatly into the final straight as Trent drops Trav with a piledriver from the second rope which leads the Kiwi directly into Tyler driver 97 for the pin. SPPT lost absolutely nothing in defeat here, looking highly impressive throughout, and BSS scored an impressive, and clean, win.
Before the former Moustache Mountain can celebrate a hard-earned victory, however, Jimmy Havoc hits the ring. He batters the tag team champions with his red steel chair, presumably trying to eliminate them from appearing during the main event. Wonderful connective booking there.
Galvanize
El Ligero vs Zack Gibson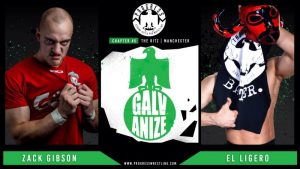 Zack Gibson enters his match against El Ligero disgusted with his former teammates antics. It seems Ligs has been on the town celebrating St. Patrick's Day and he enters the match wearing a massively oversized Irish emoji head instead of his usual horned mask. The Mexican Sensation stumbles around the ring, off his gourd apparently, yet still manages to wrestle/evade Gibson's attempts to stop him in his tracks. The fun comes to a halt when Liverpool's number 1 rips off the oversized mask only to reveal… El Generico?
Ligero has taken the horns off of the lucha mask that he was wearing underneath the emoji head and has a very familiar black and red design printed upon it. That soon gets swapped out for a color-mismatched Ligero mask and the match is on. It isn't long then before Nathan Cruz sticks his nose into proceedings, and he causes the distraction that allows Gibson to hit helter-skelter for the pinfall. The feud rumbles on it would seem.
Galvanize
Jack Sexsmith vs James Drake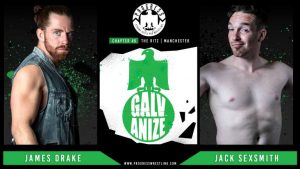 James Drake continues his march through the lower ranks of PROGRESS as he faces Jack Sexsmith next. Mr. Mayhem isn't pulling any punches here as he takes the fight to Sexsmith as soon as the opening bell rings. Sexsmith returns fire with a beautiful superkick and somersault plancha to the floor, but that's about all he gets in. Drake is clearly a guy that PROGRESS see a lot in, and obviously we now know what a success he has made of his career. After battering the Pansexual Phenomenon outside and inside the ring, Drake finishes him off with a great impaler DDT. A short, sharp match with great work by both men.
Galvanize
Mark Andrews vs Will Ospreay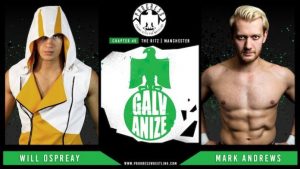 Will Ospreay's first match in PROGRESS since turning heel comes opposite Mark Andrews, with each man having a win apiece against others in Chapters gone by. Ospreay's new gear matches Swords of Essex partner Paul Robinson consisting of jeans and black gloves with a bad attitude to match. Unlike the show's previous match, this one is ultra-competitive with both men pulling out all the stops to keep the other down. They begin with a bang, taking it in turns to hits dives to the outside culminating in Ospreay nearly spiking himself headfirst into the floor.
Their duties outside the ring fulfilled, Ospreay and Mandrews settle into a pattern of hitting big moves back and forth. Mandrews hits a double foot stomp; Ospreay hits a jumping press slam. Mandrews hits a poison 'rana; Ospreay hits a piledriver. Interesting to note that, outside of those initial dives to the outside, Will has abandoned his usual high flying offense in favor of a power-based attack. Fat lot of good that does him though as Mandrews scores a surprising victory after hitting a vertaebreaker.
Reeking Havoc!
Following the victory celebrations, Jimmy Havoc hits the ring once again with his red steel chair in hand. He gives his nemesis a bally good thrashing with said furniture and hits him with an acid rainmaker for good measure. There's that wonderful connective booking once again.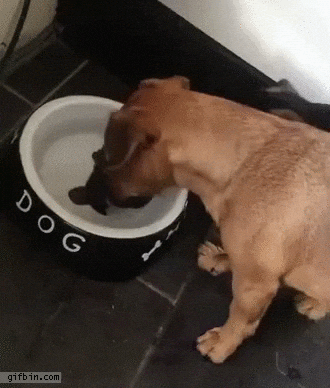 Galvanize
Ringkampf vs The Hunter Brothers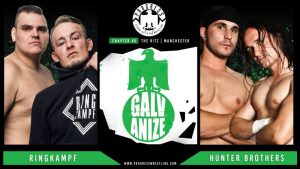 The first match back after the break is an absolute belter as Ringkampf and The Hunter Brothers tear the house down. The first half of the match is a bit of a slow burn as the teams feel each other out with some classic grappling on the mat and exchanging some seriously stiff strikes. It's Jim and Lee Hunter who kicks things up a notch as they take to the skies and begin to gain the advantage. Walter returns fire with an array of suplexes culminating in a nasty looking German that sees Jim land right on his head.
Axel Dieter Jr, as the more agile member of his team, runs rings around Lee – tiring him out as much as possible to make him easy pickings for the big man. It's a sound strategy that eventually pays off with a win for the wXw champions. They use a powerbomb/uppercut from the top rope combination to close out a supreme tag team encounter.
Galvanize
Flash Morgan Webster vs Nathan Cruz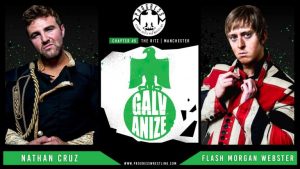 Sound though the contest between Nathan Cruz and Flash Morgan Webster is, it can't be noted that it really doesn't feel as though anything is at stake in the match. The majority of the matches on this card don't have storyline issues leading into them yet are able to conjure a feeling that the victor has everything to gain. That doesn't feel the case here, and I really can't place my finger on why. Flash and Cruz both out in a hell of a shift, but it just didn't quite connect for my money. Webster scores a tapout victory with the strangler chokehold. The Origin leader gets his heat back after the decision with a prolonged beatdown on the Welshman. Perhaps the inevitable rematch will feel a bit more vital.
Galvanize
Nixon Newell vs Jinny – Natural Progression Series Semi-Final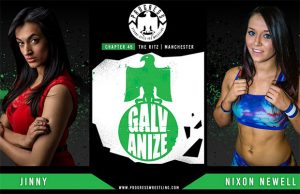 NPS4 is just a few steps from crowning PROGRESS's first women's champion, and this thought no doubt fuels Jinny's pre-bell attack on Nixon Newell. The fashionista dominates in the early going, bullying her opponent in and around the ring and trying to score a quick win. Newell is no pushover though and she returns fire in kind, bowling Jinny out into the crowd and laying into her with a flurry of fists. The girl with the shiniest wizard almost seals the deal with an attempt at a destroyer not long after, but to no avail.
Jinny returns fire with an acid rainmaker for a near fall, before Newell goes for the jugular and puts the boots to the Primark Princess. Her downfall occurs as she heads to the top rope: Jinny counters with her draping x-factor for a desperately near fall. A quick follow up with a nasty destroyer of her own and Jinny scores a squeaky clean win and advances to the tournament final. Fantastic work from both wrestlers here, and (an NXT bound) Newell receives a well-earned standing ovation as she leaves for the last time.
Galvanize
Jimmy Havoc vs Pete Dunne (c) – PROGRESS Title Death Match
https://www.youtube.com/watch?v=LZdzIT4_80s
Pete Dunne is not messing around in his title defense against Jimmy Havoc. No sooner has Jimmy entered through the curtain than Pete is dashing through to attack him from behind. The two brawl on the stage, Pete shooting Jimmy into the fans' chairs sending them scattering and the match is on! It should be noted that although the opening bell has rung the wrestlers do not enter the ring for quite some time. This is the first time I can recall pinfall attempts happening outside of the ring in PROGRESS, and this gives the match a real sense of vibrancy.
The main weapons of choice for the first stretch are steel chairs and both guys lay the shots in. They brawl all the way over to one of the many bars, and Pete slams Jimmy's head onto the serving area. The Bruiserweight then grabs a fan's hand to assist him in stretching Havoc's fingers apart. Lovely stuff.
When they finally enter the ring it lasts less than a minute before Dunne launches Havoc back out and drills him with a double foot stomp. There's a swagger about the champion here that shows a man approaching the peak of his powers as a heel. It's a beautiful thing to see. After back body dropping Jimmy through a couple of chairs onto the floor, he struts around the ring slapping and kicking fans hands out of the way as they flip him off. Into the ring proper now and it's time for a bit of barbed wire to be introduced.
Death Match Madness!
Havoc's knee is the target as Pete wraps the wire around it before stomping on it. He doubles up on the weapons as he grabs a staple gun and unloads up and down on Jimmy's torso. Havoc isn't down for long though, reversing an Irish whip into a chair and he has several tricks up his own sleeve. A brief sojourn back over to the bar sees Jimmy return with an 8×10 photo and a bottle of some sort of alcohol. He drags the photo down the webbing of Pete's hand and pours the booze over the wounds to cries of horror from the Ultras.
After wrapping barbed wire around their fists and trading blows, Dunne is back in charge of the action and introduces a table and drawing pins to the ring. It backfires though as Havoc hits a destroyer onto the pins for a near fall. That signals the arrival of Will Ospreay back into the arena, intent on revenge for his assault earlier in the night. It doesn't go well for Will though and he is swiftly ejected from the ring via a Jimmy Havoc Pele kick. Havoc pounces and hits a superplex onto the table which doesn't break.
After a moment of recovery, Pete plants Jimmy through the table with a huge powerbomb for a desperately close fall. Ospreay tries to interject in the match once again but tastes a forearm from Jimmy. What Will did manage to do was introduce a barbed wire baseball bat to the ring, however. Dunne belts Havoc in the stomach then back with the bat and finishes the challenger off with the bitter end. An absolutely tremendous match. Post-match, Ospreay re-enters the ring to beat down Havoc. Before leaving he requests a microphone and simply says "this has to end."
Astounding!
An absolute beauty of a show from PROGRESS this time around with several fantastic matches, the culmination of feuds, the ramping up of feuds – strong stuff all around. We will return next week with Chapter 46 to delve into the fallout from the show. Hopefully you'll be back with us, so until then be good to one another.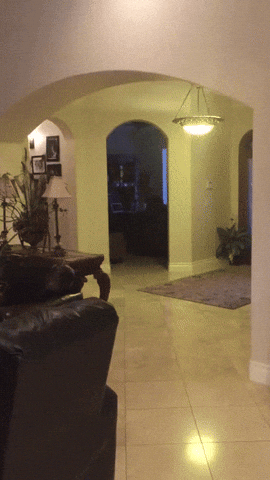 Each episode can be watched on the PROGRESS on Demand service. PROGRESS Wrestling is also available on Powerslam TV.