Chairman Ram Kaicho – Wrestling's Child of Darkness. Humans may be at the top of the food chain, but we are not invulnerable. There are many creatures that could kill us in an instant if we dropped our guard. Nobody is afraid a cub when it is young. But the smartest men know to make themselves scarce when they see a full-grown lion, a tiger or bear. We have all had a laugh at Chairman Ram when she was little. Now she is full-grown, she should not be taken so lightly.
There has been no shortage of wrestling promotions who promised to push the proverbial envelope. This was the be-all and end-all for Wrestling of Darkness 666 (also known as "Triple Six"). Their owner and founder is known as Onryo. He claims to be the living ghost of a past wrestler who died upon winning a cursed championship.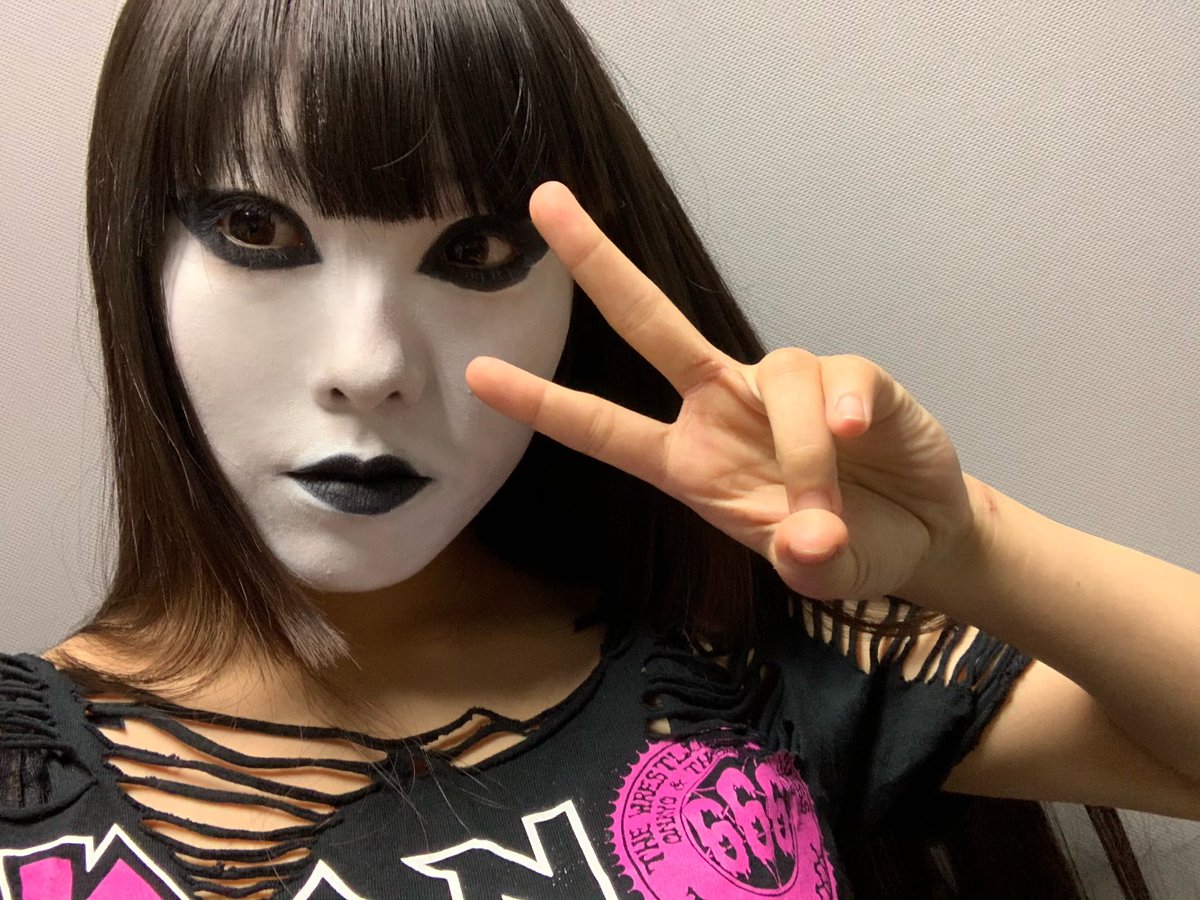 Chairman Ram Kaicho – Wrestling's Child of Darkness
His co-founder and first onscreen "Stupid President" was The Crazy SKB. The latter has been a pillar of Japan's hardcore punk music scene. He made no secret of his love for death match wrestling. With these two at the helm, Triple Six was destined to be unconventional.
Triple Six held their first show on December 13, 2003. Knowing the questionable lengths, they were about to go to for entertainment, they banned fans from bringing their own recording devices. Matches often involved fireworks, glass, and even corrosive substances. Their graphic content got them banned from two arenas.
They also made a permanent enemy out of Pro Wrestling Noah when SKB forced his way into their office. In February 2006, one new character caught international attention without going to such extremes.
The event was titled '666 1st Fan Appreciation Day: Welcome to 666'. One of the matches on the card was a six-person tag match. It featured the debut of Chairman Ram. She was still an elementary student and was immediately one of Japan's youngest wrestlers. Even fans who were not familiar with Triple Six understood it right away.
Wrestling's Child of Darkness
The child in the heavy face paint practically launched her opponent into the sky with a powerful chokeslam. She then crossed his hands upon his chest and stuck out her tongue as the referee counted the pin.
Ram was not just mimicking the Undertaker. She was billed as his daughter. They alleged that Ram was demon-possessed. This gave her superhuman strength. Her favorite go-to was a chokeslam that oftentimes hoisted opponents over her own head before being knocked unconscious with the drop. Ram appeared to be at a disadvantage against every male opponent. But she went undefeated for over a year.
The character did not translate so well on the English-speaking side of the Pacific. Critics understood the joke, but they did not understand that "Undertaker Girl" was meant to be a joke. Her character depended on her adult-male opponents overselling her attacks. There were concerns it made the industry look bad, and she was being put at great physical risk.
However, these same critics were unaware of what Triple Six was. They did not know that the shows were filled with outlandish characters based on the macabre and comedy. Chairman Ram was a cliché that fit in perfectly. She was not meant to be taken seriously. Japanese fans of hardcore wrestling liked Ram. With the attention she was getting, the company made a point of featuring her at every show they could.
Chairman Ram competed in a tag team with Naoshi Sano. He would do most of the work before tagging in his diminutive partner. Then she would pulverize both enemies with chokeslams and other moves that relied on her (kayfabe) arm strength. Ram later became an attraction at Triple Six's offshoot Ice Ribbon.
Even though this was a Joshi puroresu (women's wrestling promotion), she competed exclusively in mixed tag matches with Onryo as her partner. They repeated the same routine they used in Triple Six.
On October 29, Rami won her first career title. She won the DDT Iron Man Heavy Metal Weight championship from Ankoku Shaman Morinosu. The title was a parody of the WWE's former Hardcore Championship. Both titles were defended under the "24/7" rule. It meant that anyone could challenge for the title at any time and in any place provided a referee was present to count the pin.
DDT Iron Man Heavy Metal Weight Champion
This was an intentionally irrelevant title. Among past "champions" are a dog, a cat, a monkey, an entire crowd, two beer cans, a ladder, a bus, and the championship belt itself. Ram immediately surrendered the title to remain faithful to Triple Six. Being twelve years old, she is recognised as one of the youngest champions to compete in Japan.
Chairman Ram retired from wrestling when she turned thirteen. She had only suffered one loss during that time. She lost a match at VKF Pro Wrestling event. She had also been eliminated in a battle royal, which did not count towards her undefeated streak as she was not pinned or submitted.
Ram had only competed in one singles match, where she beat GOEMON by herself. She made a one-off appearance for Ice Ribbon in 2009. One of her opponents was future All Elite Wrestling star Riho, who had also begun her career as a child. Just like her character, her career refused to remain dead. After ten years away, Triple Six suddenly announced she was returning.
The story goes that Triple Six became concerned for their future. SKB stepped away from wrestling due to health concerns. Meanwhile, company president Kana had signed a contract with the WWE and was now exclusive to them as Asuka. Having lost two of their biggest draws, they persuaded the demon child to make her unexpected return to wrestling. Unlike with her first run, Ram intended to take her career seriously this time.
The demon-possessed child was now a full-grown demon woman. Going by the name Ram Kaicho, she continues to wear heavy white face paint. She has lost her super strength and near-invincibility. However, she has developed a much broader arsenal of moves to use against her adversaries.
Chairman Ram Kaicho – Darkness Becomes Her
Like before, she mainly competes in tag matches and splits her time between Triple Six and Ice Ribbon. She went on a long losing streak until she found her footing. When she does win, it is often with her new finisher. The Rainmaker lariat reminds opponents of her past.
She may be tiny, but this clothesline out of nowhere is still powerful enough to knock opponents into circles. Even though her wins were much harder to come by, she still manages to remain one of the biggest attractions in both companies.
During 2020, Ram had established herself as someone who should be taken on the outer fringes of Japanese wrestling. She won the Triangle Ribbon Championship twice, both times in triple-threat matches. The industry had slowed to a crawl that year. As it began to reopen, Ram would make her way to companies she had never competed in before. She often took an ally from Triple Six as part of a de facto invasion.
One of Ram's most important wins had no prize on the line. Kyoko Kimura held a show in honor of her daughter Hana. The younger Kimura had made international headlines after taking her own life a year earlier. The 22-year-old's death was attributed to harassment from online trolls. Ram was one of the performers on the card and won a 28-person All-Star Battle Royal.
Ram's career started off as a joke about the undead. Now her career is more alive than ever, and she is determined to have the last laugh.