Cedric Alexander has committed himself to growth in a career that has spanned nearly ten years. One of the keys to his success has been his versatility. Best described as having an all-around style, he has faced some of the best in the world, big and small. From his first match as part of the CWF Mid-Atlantic Tag Team Title Battle Royal until today, Alexander continues to learn along the way.
For five years, Alexander called Ring of Honor his home, though as most performers there, he occasionally competed for other promotions. He initially competed for the promotion as early as 2010, when he performed in dark matches. His first match was against Necro Butcher, a losing effort. But as time went on, an alliance with an established veteran would prove to be advantageous.
As part of the C & C Wrestle Factory with Caprice Coleman, Alexander gained attention. The duo's first prominent tag team bout was a gauntlet match. The match was to determine a future Ring of Honor title match, and despite coming out unsuccessful, it proved to be precisely what they needed to help shape their future together. That loss was followed by another and another singles loss for Alexander. But it wasn't the losses that defined Alexander and Coleman, but how incredible their efforts were in tag team action against the likes of SCUM and the World's Greatest Tag Team.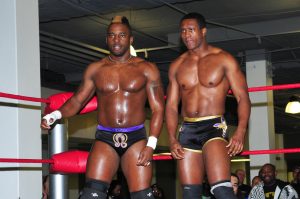 So when I was told about it, I was excited because I already knew he was a great athlete and had a whole lot of potential. For me, it was an honor to work with him because it was a chance to give the advice that I wished someone gave me when I was his age.
– Caprice Coleman on initially teaming with Cedric Alexander-
From losses, while challenging for the Ring of Honor Tag Team Champions against reDRagon to defeating TaDarius Thomas and ACH (Adrenaline Rush) at Border Wars 2013, Coleman and Alexander were seen and heard. They also faced emerging stars Matt and Nick Jackson, the Young Bucks, during this time. Coleman and Alexander's time together would eventually end, though the duo had only scratched the surface of what they could do as a tag team. Coleman had wished they had more time together, and in our 2015 discussion, he shared that Alexander's star was so bright it couldn't be dimmed.
I felt the split was early, but I understood why they did it. Cedric was really hot on the indies at the time and still is. My schedule doesn't allow me to do as much as other people on the indies. So, he was really hot, and the word was getting out, so they wanted to push him in singles.

I knew I would get a singles push as well, but I didn't have the time outside wrestling that others have that are single. I also feel that we could have gone farther, and I still think that in the future, anything is possible. But now, I feel that with Cedric coming into his own in the singles ranks, he is learning more than what I could have taught him.
-Coleman on the C & C Wrestle Factory split and Cedric Alexander's future-
Alexander's singles run in Ring of Honor would come about slowly. He would face the likes of Andrew Everett, Kevin Steen (Owens), and Roderick Strong. He had opportunities to capture the ROH World Championship but would come up unsuccessful. While titles are nice, the opportunities early in his career that Ring of Honor offered were important. From competing on pay per view events to facing veteran stars like Christopher Daniels were great experiences early on. However, true growth would come with character reinvention and evolution.
At the 2015 Global Wars event, Alexander used a wrench to defeat then-undefeated star Moose. The following month Alexander's heel turn was complete. During the Best in the World 2015 pay per view, he struck Moose once again and then aligned with manager Veda Scott, which furthered his new character. Much like Alexander's time alongside Coleman, his heel run with Ring of Honor only scratched the surface of what he could do. In May 2016, Alexander and Ring of Honor parted ways. What would be next for this extraordinary talent?
One of the most essential contributions Cedric Alexander has made to wrestling is using his voice to help achieve equality in the ring. Several years ago, he pointed out that he found some aspects of The New Day to be offensive. He shared his displeasure because wrestling deserved more, and in pointing out its harsh nature, he could contribute to improvement. 
When they first started this thing, it was like two or three weeks that they did it where Xavier would come out and be like a Malcolm X type of thing. He was preaching Black power without saying Black power, which I think is fantastic because you don't offend anyone. But when you've got three black guys singing and dancing, stereotypes get fed too much, and I hate it.
-Alexander on his hatred and the stereotype the New day's gimmick suggests.
An opportunity presented itself for Alexander a month after departing Ring of Honor as he competed in the WWE's Cruiserweight Classic. He underwent a massive body change from how he was to what fans saw upon his entry into the tournament. Throughout the tournament, Alexander put on incredible performance after incredible performance. However, it wasn't until he faced Kota Ibushi that the world took notice and called on him to be a part of WWE moving forward. After his defeat, the fans in attendance chanted, 'Please Sign Cedric.' And the rest, as they say, is history. 
Over the course of four years with the promotion, Alexander has held the Cruiserweight Championship, 24/7 Championship, and is currently a co-holder of the Raw Tag Team Championship. His wins and losses in the ring aren't indicative of who he is and what he can do. Since joining WWE, Cedric Alexander has mostly been a face but is now a heel, and in that role, he's being given an opportunity to demonstrate his depth as a performer.
Cedric Alexander
The Age of Alexander is NOW
The months leading up to his turn also reflected WWE's greater awareness of his skillset and capabilities. He is a smart, strong, creative, Black male that is being put at the forefront of today's WWE. Alexander isn't just a positive role model for fans but one for his daughter, along with his wife Aerial Monroe, also known as Big Swole in AEW.
Everything Alexander has achieved prior to this point has just scratched the surface of what he can do. At the present time, he is 31 years of age, with his prime years still ahead of him. Up to this point, fans have been aware that he is capable of putting on entertaining matches. However, they will see that this advocate for equality and justice will finally have a platform to showcase his skills. Cedric Alexander is proving to be more than good between meaningful alliances and the chance of having significant title runs. He is proving to be absolutely fantastic. These achievements build upon everything Alexander achieved before the E.