ROH's Caprice Coleman recently took some time out of his busy schedule to his career. Coleman's career has seen him compete with the WWE, after starting out with OMEGA. His growth as a performer in the ring has been remarkable.
In the interview, Caprice Coleman shares his thoughts about the chemistry between himself and Cedric Alexander, and how life played a major part in reducing his time in the ring and delayed some of his growth. He also opens up about religion and its role in wrestling, his history with the business and who was integral in his wrestling development.
Caprice Coleman also discusses his initial tag team with Cedric Alexander and their eventual split, who he would like to feud with, and has a message for up and coming young wrestlers. He discusses his early training and development, and his thoughts on the type of competition that he would prefer to take part in.
Ring of Honor fans will be pleased to see how Caprice Coleman is open and forthcoming about his evolution as a wrestler, and interested to find out how he initially prepared to become a wrestler. At 38 years of age, Caprice Coleman's ability in the ring rivals that of wrestlers in their twenties.
Coleman attributes his development to his ability to maintain a healthy lifestyle and train vigorously in order to keep up with today's competition. Coleman remains an inspiration that fans can communicate through various social media outlets, such as Twitter where he can be reached @CapriceColeman.
ROH's Caprice Coleman discuss your early training under the Hardys and your time with OMEGA. What did you find in the experience?
A lot of confidence. I really enjoyed my experience with them. They are actually the ones who brought me into wrestling. It was they who taught me all I knew; I really didn't understand who I was training with until later because in my head I just wanted to wrestle. I just wanted to train to wrestle. I didn't really realize that I was with one of the most elite groups in the business. So that was a big plus for me, and if I had to do it all over again I would. I would have just done some things differently as far as risks that I have taken, I would have taken them a lot earlier.
It was reported that you competed for the WWE earlier in your career. Describe the experience and tell us what you feel could have been done to better support your growth there?
I've competed with WWE a number of times in my career, opportunities that I had when I was younger. When I started training in wrestling, I already had a full-time job and I was already going to school, so those were my priorities. With Jeff (Hardy) and Shannon (Moore) and all the rest of the guys, their only priority was wrestling. So a lot of decisions that they made went straight to wrestling. I didn't do that because I had bills to pay; if I had it to do all over again I might have moved back in with my parents and gone all out with wrestling. But I wasn't brought up that way.
At the beginning of wrestling, I was looking at it as something cool to do, and maybe I make it to the WWE one day, but I didn't put everything into it like I should have when I was single. It just caught up with me. All the other guys did was wrestling, they didn't have the responsibility. They had side jobs and all, but they would still live with their parents so they didn't have any true responsibilities as I did. So looking back, my priorities were in the wrong place at the time, but in actuality, they were in the right place.
Up and coming wrestlers, I would say to take the risks while you are young to make it pay off for you because the older you get the more responsibilities you get, and it's hard to just go all out in pro wrestling, and that's what you need to make it in this sport.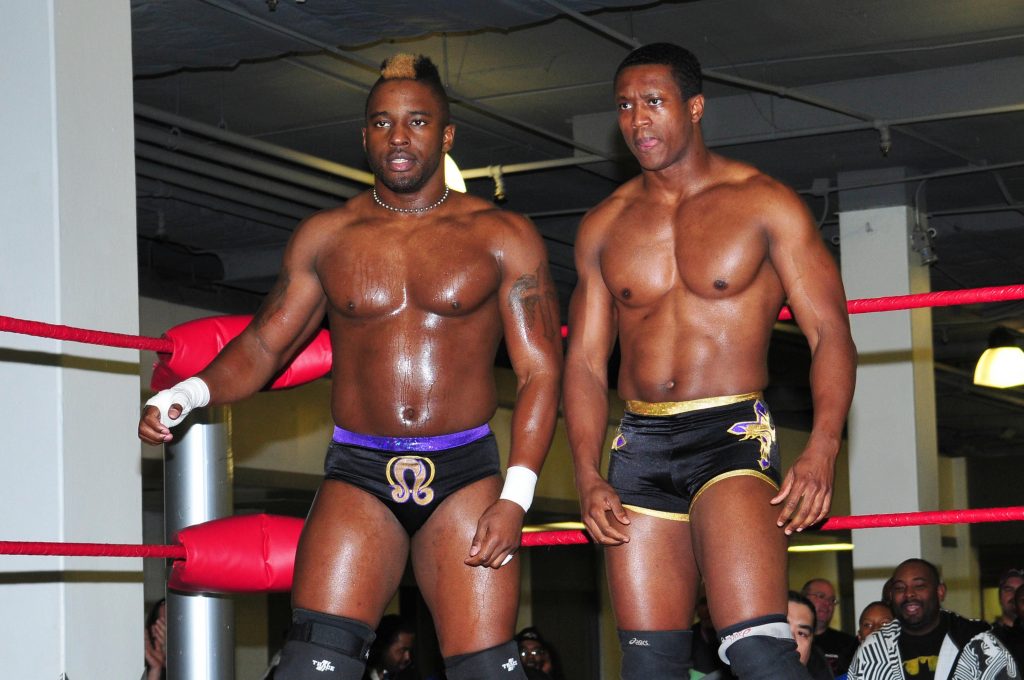 As one half of the C & C Wrestle Factory, Caprice Coleman and Cedric Alexander shared a fair amount of success. How did the concept for the team come about?
I had just moved back into the country. I had been overseas for a bit, three years in fact, and I had nowhere to wrestle, but I thought I was going to sign with WWE. I didn't like spending money, but I had to pay my way through college and all that, and it just caught up with me. I had lost my job and I was just paying my rent with my credit cards, and then I got a job and tried to pay it off. I always thought when I got a job that I would be making good money, but it wasn't so. I was paying the minimum balances and I needed to pay the bills, so I moved overseas just to pay off the bills. And, I was able to pay them off.
I always liked wrestling, but I couldn't always wrestle there. Within the last year I was there I wrestled in Kuwait and I stayed in shape, and once I got that first match over with I was in love all over again. I was ready to come back, and when I came back I went to NWA with Bill Barons to see if I was as good, if not better than when I left, and I guess I was, so Ring of Honor saw that I was back in the country and they called me up.
Everyone knew I was back and would compare me to when I left.
WWE and TNA, my talks with them, it was like starting all over again, but with Ring of Honor they knew who I was, they just wanted to know if I could keep up a full-time schedule. With WWE, when I got back it was the first time I realized that my age played a big part in the possibility of me being on the full-time roster there, and with TNA. With Ring of Honor, they didn't care about my age, they just wanted to know that I could compete at the level that they needed me to. With WWE it was more about age.
When I went back to Ring of Honor, they talked to me about the idea they had for me and Cedric. I had known Cedric from my time in NWA and we were doing seminars together. We would sit together and he was very young at the time, I think he was 18. We hung out together, where I was kind of like his mentor, but not really like his mentor. We would say "Don't stand too close to me because they might make us a tag team." It was kind of like that. He would bounce stuff off of me and he was really young, and there weren't a lot of black people in wrestling so that is kind of like how it was with me and him. We were very familiar with one another.
When Ring of Honor told us about it we both kind of busted out laughing.
We knew that it was going to happen eventually because that's just the way things go in the sport. So when I was told about it I was excited because I already knew he was a great athlete and had a whole lot of potential. For me, it was an honor to work with him because it was a chance to give the advice that I wished someone gave me when I was his age.
The name really wasn't our idea. The first time we tagged was in a tag tournament. A smart mark named us that on the internet and then it just caught on. We were actually trying to figure out a name for our tag team and we couldn't think of anything that Ring of Honor would agree on, and then it was just "hey, it isn't broken don't fix it." The time we had taken coming up with a name, matches were going on and they would always say "C and C" so we were just kind of stuck with that (laughs).
Where did the idea come from to split up the team? Did you feel there was more that you and Cedric could have done together?
ROH's Caprice Coleman: Absolutely, both ways. I felt the split was early, but I understood why they did it. Cedric was really hot on the indies at the time and still is. My schedule doesn't allow me to do as much as other people on the indies. So, he was really hot, and the word was getting out, so they wanted to push him in singles.
I knew I would get a singles push as well, but I didn't have the time outside wrestling that others have that are single. I also feel that we could have gone farther, and I still think that in the future anything is possible. But now I feel that with Cedric coming into his own in the singles ranks, he is learning more than what I could have taught him.
I'm learning a lot more as well. When I came back to the country, wrestling had changed a lot, so it took me time to adjust to the new standards of wrestling. I believe we have both been able to adjust, and if we get back together it's fine, and if not it's fine too. Either way, we are both going to be fine.
As both a single & tag team wrestler, you've achieved success. Do you have a preference for one or the other? If so, why? If not, why not?
ROH's Caprice Coleman: I prefer singles because I'm a very creative person, but I like tagging as well. But I believe everyone would like to be a singles wrestler. It's like the Briscoes. I believe that when I'm tagging with someone, we know we are going to be tagging. However, we still have a singles career as well. But if I had a choice it would be like singles.
At times wrestling is circular, as with life. Both Caprice Coleman and OMEGA alumni Steve Corino are now together in ROH. How do you find you've developed during your time with Steve, then & now?
ROH's Caprice Coleman: When I first knew Steve Corino he was wrestling and he was doing great things in wrestling. When we first met he wasn't signed initially to ECW, wrestling is pretty much all he knew. We always knew he was a wrestling historian as well. When we first came to Ring of Honor, it was two people that know each other. However, he was going more towards commentary there. We had a couple of opportunities to work together there. We bounce things off of each other right now. Now it's more of the same, except he is doing more commentary. However, I think he may be getting back into the ring pretty soon, I'm not sure. But he is definitely one of the best ring commentators out there and is gifted in that area.
Wrestling has a tendency to utilize religion as a means to convey good & bad. Have you ever found that it has a tendency to cross the line? 
ROH's Caprice Coleman: I think they cross the line all the time. This is what I think I'm going through at the moment. I feel that wrestling as a whole has taken liberties with Christianity to make jokes as much as possible. They try to make it seem hypocritical, and they make it a joke. However, if they do something Satanic or non-Christian, it's a huge success. For example instances like The Undertaker, the Wyatt family, things like that. It's the very opposite glorification. It is at a point where there is no such thing as good anymore. Good is frowned upon and bad is glorified.
The same thing with my character, the Christian character, there were limits to what I could do. Now as you can see, I am steering away from Caprice Coleman "The Preacher," because I don't want to get stuck in a position where they don't know what to do and I don't want to be imitating a preacher. Whereas if I go towards Caprice Coleman, I can be more versatile, be good or bad.
I think a big part of it is that it comes across as distasteful, how they portray Christianity.
I want to be a man that upheld integrity in and out of the ring. I've done that for the most part. There are always limits as far as how far that (Preacher) character can go. I've come to a realization that that part of me has run its course.
I need to step into another area where I can be more versatile while protecting what I believe in. To make a change for wrestling, as a man of integrity and an entertainer. The ability to do this without having to put religion on the line all the time. I think even if I don't put religion on the line people know who I am and will still respect what I do.
During your time in ROH, what was a feud that you were most proud of and one that you felt could have been developed more and why?
ROH's Caprice Coleman: I feel the Briscoes was a feud where I think the vignettes could have been pretty cool. Our feud with reDragon could have been a little better. I think there were just some things that we needed to hone before we could step up and stay on that level. If we get back together, we would definitely be on that level because of the experience that we gained.
A feud with Jay Lethal is something I would like. He's the champion now, but still, Jay Lethal is definitely someone that I would like to feud with. I'd like to be in a feud with Roderick Strong. BJ Whitmer is someone I think I could match up well with. Being two veterans I think we could always put together something positive. I'm not thinking as clearly now of what would be best, but those are some.
Wrestlers tend to take time to develop and improve their craft. At 38, you appear to get better as you get older. To what do you attribute that ability to grow & develop?
ROH's Caprice Coleman: I believe it just has to do with your surroundings and everything around. A big part of me growing has to do with me just being with better people. For a long time, I was on the indies. But I was kind of the king everywhere I went if that makes sense.
When you go somewhere and you are not the king, and there are people better than you, you either get better or you get left behind. It's helped me get better. I feel blessed with the ability to stay in shape the way that I have. To also have the ability to continue to grow. That's why I feel confident where I am at It is why I believe the best is still yet to come.
What does the balance of 2015 & the future have in store for ROH's Caprice Coleman and would you like to share, encourage or promote anything?
ROH's Caprice Coleman: I believe in the very near future I'm going to show a part of Caprice Coleman that the world doesn't know that I have. A lot more entertaining, a lot more vocal, alive, is what I would call this next phase of Caprice Coleman. I just say keep your eyes open. As things are about to change for the better, and it's going to allow me to bring out more personality.
I think young and up and coming wrestlers try to take it seriously and go all out with it. Don't let anyone tell you no and be honest with yourself. At the same time, I believe in Ring of Honor. I believe Ring of Honor is doing some great things and I look forward to their future. To see what they are going to be doing with the new things that we have coming our way. I look forward to the future and the support that I have. You can follow me @Caprice Coleman on Twitter.
To read other transcribed interviews here on Pro Wrestling Post click here.