Hello, hello! Welcome to the revamped and revitalized Pro Wrestling Post: Week-In Review. If you're looking to know what happened this week in wrestling, we got the scoops right here for you. Whether it's the dreaded Black Thursday, or announce team shake-ups, it is time for your weekly dose of wrestling news. Let's dive into this week's drama. This is the week in review for 4/18/21.
Hope You Like WrestleMania
We here at Pro Wrestling Post hope you like the "WrestleMania" tagline. Not only did World Wrestling Entertainment treat viewers to WrestleMania SmackDown, and WrestleMania 37 (nights one and two,) but they are also treating fans to WrestleMania Backlash. It was announced during WrestleMania 37 that WrestleMania Backlash would take place on May 16, 2021. The main event for this show was confirmed on the RAW after WrestleMania 37, where a #1 Contender's Match was set between former WWE Champion Drew McIntyre, Randy Orton, and Braun Strowman. Drew McIntyre would win this match and will face Bobby Lashley for the WWE Championship. Is this the beginning of the "WrestleMania Era" for pay-per-view names? Let us know how you feel about this shows title in the comment section below.
WWE Commentary Shake-Up
We've heard of WWE's patented Superstar Shake-Up, however, this year's post-WrestleMania switch-around came in the form of non-in-ring talent. Without warning, a litany of switches were made to the RAW and SmackDown announce teams, respectively.
As first announced by World Wrestling Entertainment after WrestleMania 37, former Major League Baseball analyst Adnan Virk would be joining the RAW commentary team. Virk seemed to be a talent who was not known by the majority of wrestling fans (a notion that Virk himself was surprised by.) Corey Graves would also make a move from the SmackDown commentary team to the RAW commentary team. It was originally reported that Tom Phillips would be moved to the 205 Live team. Many internet fans and wrestling outlets theorized that Samoa Joe's removal from the RAW commentary team would insinuate his return to in-ring competition, but as we would find out later, that would not exactly be the case.
Along with the addition of Adnan Virk to the RAW commentary team, the SmackDown announce table would be graced by the presence of one Pat McAfee. McAfee is a former American football punter, a podcaster, and a sports analyst. He made his debut on this Friday's episode of SmackDown, making a great first impression with the main roster crowd. It's going to be exciting to witness the newest commentary recruits grow and develop as we progress forward.
Pro Wrestling Post Week In Review for 4/18/21
WWE Expecting Live Fans for Summerslam 2021
According to Sports Illustrated's Justin Barrasso, sources within WWE have confirmed that the biggest party of the summer will be held with fans in attendance. This comes after the success of WWE's biggest show of the year in Raymond James Stadium. It's been reported that The City of Orlando, Florida, has allocated substantial money in order to bring Summerslam and Survivor Series to its region. Given WWE's current relationship with Florida in the midst of a global pandemic, it would not be surprising to see Summerslam 2021 emanate from Orlando this year. It will be interesting to see whether or not Summerslam will house fans. With the success of WrestleMania 37, one could only assume it will – but we will have to wait and see!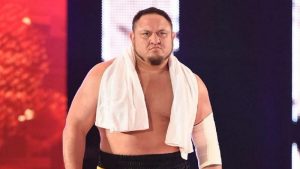 Pro Wrestling Post Week In Review for 4/18/21
Black Thursday Is Upon Us
Exactly one year from the dreaded Black Wednesday releases amidst the beginning of the COVID-19 pandemic, WWE released ten superstars. On the official WWE website, a statement was released which read:
"WWE has come to terms on the release of Samoa Joe, Billie Kay, Peyton Royce, Mickie James, Chelsea Green, Tucker, Kalisto, Mojo Rawley, Bo Dallas, and Wesley Blake as of today April 15, 2021. We wish them the best in all of their future endeavors."
Reasons were not given for the releases of these ten names. But one can only imagine it is due to the supposed "spring cleaning" WWE likes to perform from time to time. Many have attributed these releases to the return of Mr. John Laurinaitis as Head of Talent Relations, however, that appears to be speculation as far as we can see. Some of the names on this list may come as a shock and some may not. For example, we last saw Billie Kay utilized just as early as WrestleMania 37 when she scored a pinfall over Lana and Naomi in the women's tag team turmoil match during night one. Alternatively, Bo Dallas's last appearance on television was at Crown Jewel 2019. Yikes! 
The Best of A Bad Situation
Some performers are already making the best of the situation, capitalizing on the buzz generated by their releases. One member of the Black Thursday debacle, Chelsea Green, has already opened a Pro Wrestling Tees store. She has conducted an interview with Sean Ross Sapp of Fightful. Other names on the released list have stayed silent on the matter. For instance, Kalisto, who was last seen on the SmackDown before WrestleMania 37. He was in the Andre the Giant Memorial Battle Royal. We here at Pro Wrestling Post wish all of the released performers deep love and great happiness as they pursue their avenues.
*****
Be sure to stay tuned to the Pro Wrestling Post for this and additional stories from the wrestling world. Readers can rely on Pro Wrestling Post to be their daily source for all things inside the squared circle. As a result, readers can expect daily news, history, and so much more.