'On This Day' is a commemorative article series. It is dedicated to specific events, matches, and occurrences in wrestling history. We revisit those key moments and look back at how they went down and what they meant to the wrestling industry. Mitsuharu Misawa vs Jumbo Tsuruta is that match.
The golden age of All Japan Pro-Wrestling began with this match. It was the catalyst in a chain of events that led to AJPW putting on the best matches of all time. This was the moment that Mitsuharu Misawa went from a small mid-card tag team wrestler to the future ace of the company. It's a match that's as important for its historical significance as it is for its quality. Today we revisit this classic.
Background
Jumbo Tsuruta was AJPW's ace going into this match, as he had been for much of the decade prior. He was one of the biggest wrestlers in Japan and the first-ever Triple Crown Heavyweight Champion. Three days prior to this match, Tsuruta lost the Triple Crown to Terry Gordy in what many considered a fluke loss. So most people thought Tsuruta was going to win here, especially since he was still considered in peak form.
On the other side was Mitsuharu Misawa, who had spent the four prior years wrestling as Tiger Mask II. Three weeks prior to this match occurring, Misawa unmasked and attacked Tsuruta. In doing so, Misawa made his intentions known: he was coming for Tsusuta and his top spot as ace.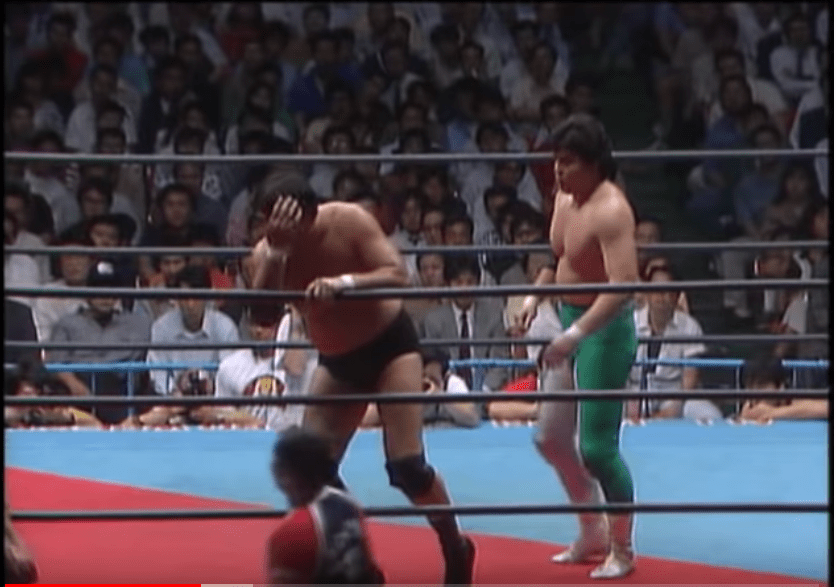 What wasn't widely known
In the days leading to this match, AJPW booker Giant Baba hadn't fully made his decision on who would win. His initial plan was for Tsuruta to win to help him recover from his earlier loss to Gordy. But Misawa ended up being a monkey wrench in those plans. The AJPW faithful adored Misawa. They cheered him louder than anyone else on the roster. They went nuts during his entrance music and whenever he did anything in the ring. So to help him decide, Baba sat next to the merchandise stands for a while. On every show, fans would rush the merchandise stands and empty them of Misawa merchandise.
Baba was in awe of this. Then, on the eve of this match, Baba made a highly uncharacteristic decision: he changed the finish of the match to have Misawa win. This was surprising because Baba was always a meticulous planner and made decisions well in advance. Even Tsuruta was surprised. So much so that he asked Baba if the finish could be changed to either a DQ to double count-out, both of which were common in AJPW during the 1980s. Baba's response was a firm "no". He wanted Misawa to win cleanly and decisively.
So the question remained: would this happen? Would Tsuruta go along with this change and give Misawa a decisive win without grandstanding or making it look screwy in some way?
Tsuruta vs Misawa
The battle begins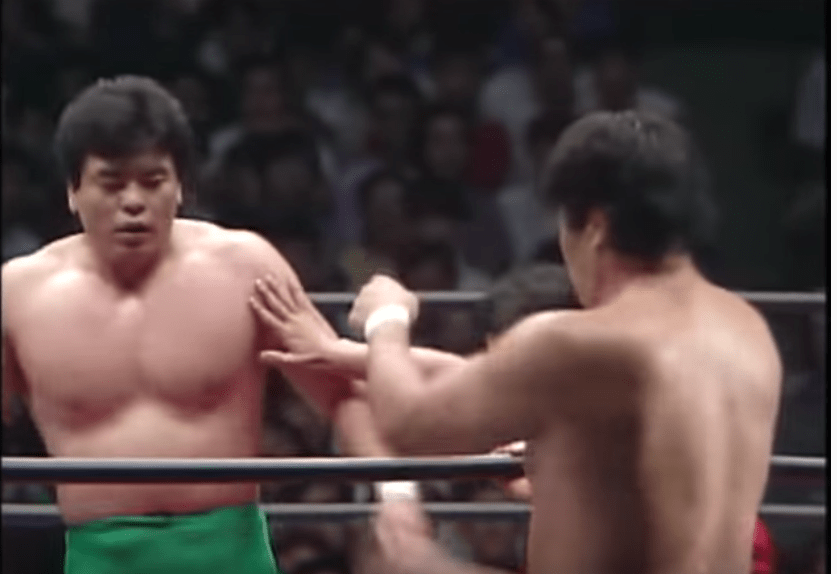 The match began with both wrestlers exchanging control. Misawa tried to mount an early offensive campaign, but Tsuruta was too big and his reach was too long. he found himself eating many boots from Tsuruta throughout the match, regardless of what he did to his larger opponent. But Misawa wasn't going to be denied. He channeled his inner David and began fighting from below against this Goliath. He began showing some of the moves that would make him famous going forward: skinning the cat, his picture-perfect dives, and the elbow suicida. Misawa controlled the first act of the match with arm holds and stiff elbows. Then, out of nowhere, Misawa slapped Tsuruta right in the face. That angered Tsurruta because he began demolishing Misawa ruthlessly thereafter.
He dropped Misawa with stiff knee strikes, heaving suplexes, and even a piledriver. From there, Tsuruta continued to dominate Misawa with his larger size and stiff strikes. But Misawa wouldn't give up. No matter how much Tsuruta threw him around, he kept fighting. He continued his onslaught of dives, elbow strikes, and reversals. Then came the big moment. Misawa reversed a vertical suplex by Tsuruta and attempted to land a Backdrop suplex, which was one of Tsuruta's signature moves. But Tsuruta copied something Misawa had done earlier and reversed the suplex into a crossbody in mid-air. So Tsuruta landed on top of Misawa and tried to pin him. Then, Misawa reversed the pin and the referee counted one, two, three. Misawa won and the fans blew the roof off Bukodan Hall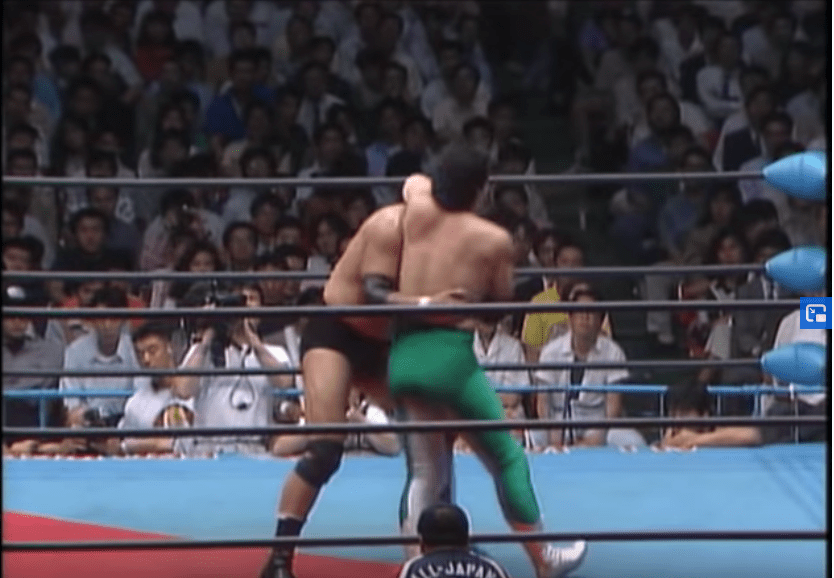 Tsuruta vs Misawa
Legacy
From a quality standpoint, there are better AJPW wrestling matches than this one. But few rival it in terms of historical importance. Match launched the greatest decade in pro wrestling history.  With Misawa as the new ace, AJPW became arguably the most critically-acclaimed wrestling company on the planet. Their tour would sell out far ahead of time, and their big Bukodan Hall shows became the stuff of legends. Misawa in particular became something of a genuine wrestling god. He put on countless stellar performances that've since withstood the test of time.
And all it took was a sudden, last-minute change from Giant Baba to make it happen.
https://www.youtube.com/watch?v=BsMQi6B7WuA&t=1678s