On this day, August 25th, 2002, Triple H vs Shawn Michaels faced each other in a Streetfight in SummerSlam 2002. Shawn Michaels had been out of action for four years. WrestleMania 14 was HBK's last match. He was rehabbing a back injury from a casket match with The Undertaker. However, a lot had changed since 1998. Triple H had become a multiple-time WWF Champion.
Many said that The Game actually surpassed The Heartbreak Kid. Recently Triple H became a fan favorite due to his unbelievable comeback from what was thought a career-ending quad injury. He gained respect after defeating Chris Jericho for the Undisputed Title at WrestleMania 18.
____________________
Triple H was being cheered like never before in his career. Unfortunately, he lost the title to Hulk Hogan due to an Undertaker interference. On June 3rd, 2002, Shawn Michaels made a surprising return as a member of WWE's version of the nWo. The nWo did not take off like it did in WCW. Shawn Michaels looked to the only man who had his back. All through Degeneration X, Shawn Michaels and Triple H were like brothers. Triple H was currently part of the SmackDown brand, but HBK convinced him to come to RAW.
Are you ready…..to play the GAME
On June 15, 2002, on Monday Night Raw, Degeneration X reunited. It appeared all was well with the two lifelong friends. However, Hunter had other ideas. When the duo was reciting their DX catchphrases, The Game kicked Michaels in the gut and pedigreed his "best friend.' Obviously, Triple H believed he was better than HBK ever was. The Cerebral Assassin was back, and a war between the two former degenerates was on the horizon.
The next week on Raw, Triple H was explaining his actions when he was interrupted by a member of the ring crew.
Apparently, someone had attacked Shawn Michaels putting his head through a car window. Shawn Michaels was a bloody mess. As he was being transported to the hospital, ironically enough, it was Triple H who promised him he'd find out who did this. Weeks went by as Triple H blamed other superstars for attacking HBK. He truly is the Cerebral assassin. A few weeks later, Shawn Michaels gave an update on his condition.
Triple H said how he knows that friends fight, and then when a real tragedy comes along, they stand beside each other. HBK said that a security camera had captured the identity of his assailant. Triple H continued to say that he would take it whoever did this to his buddy. As the footage appeared on the Titan Tron, it was painfully obvious it was Triple H that attacked HBK.
At that moment, the Game stopped his charade and gave an evil smile, and confessed.
"You're Damn right it was me, Shawn. You're Damn right. I'm glad you found out. I'm glad you know the truth. You know why Shawn, I was trying to prove a point. You are weak, Shawn. I could have crippled you in that parking lot. Shawn, face facts you can't wrestle anymore. It's over.
Your Career is finished. HBK is dead. Whether you like it or anyone else likes it, there's a new game in town. This time I'll finish the job, Shawn; I'll cripple your a**."
HBK replied back:
You think I'm weak. I recognize that I'm not in the best of shape right now, but the doctors have told me that I'll make a full recovery by, let's say…SummerSlam." In two weeks, I'm going to walk down that aisle, and I'm going to prove that sometimes you have to fight to be a man."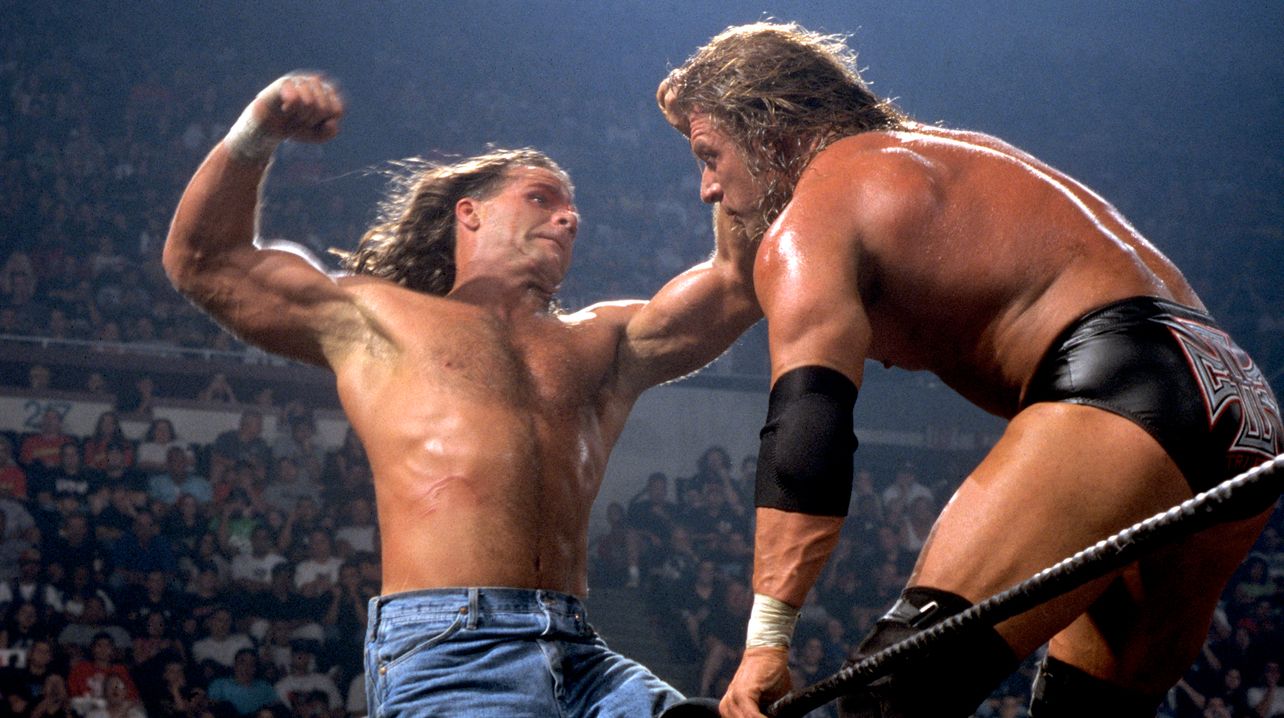 Triple H & Shawn Michaels – SummerSlam 2002 Street Fight
The WWE wanted nothing to do with this match; it was too personal. Raw GM Eric Bischoff made the match an unsanctioned street fight. HHH was out to end Shawn Michael's career once and for all. The question remained, Will we see The Showstopper at SummerSlam, or will it just be Shawn Michaels?  At SummerSlam 2002, two former best friends clashed in a blood-thirsty brawl.
After not being in the ring for four years, Shawn Michaels received a standing ovation. It was obvious Triple H was focused on Shawn Michael's injured back. The Cerebral assassin zeroed in on that weakness immediately.
Being a street fight, Michaels used a garbage can to rock HHH. Michaels even hit an elbow off the top rope. Eventually, Triple H took the upper hand. He immediately went to work on the back. As the Game hit one bone-crunching backbreaker after another, HBK screamed out in agony. Triple H then grabbed a chair and punished Michaels with it. No matter how much punishment Shawn Michaels endured, he would not give up.
Frustrated, Triple H went to his weapon of choice, the sledgehammer. Luckily, Triple H never got to use it this time. Instead, he drilled Shawn Michaels back into a steel chair. Still, HBK kicked out. Michaels was fighting for his life.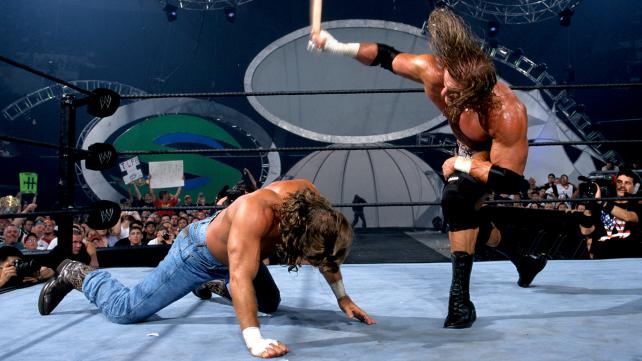 Triple H vs Shawn Michaels – Streetfight
A Sledgehammer ruins the Showstopper's Victory.
Finally, HBK was able to get a low blow-in. He capitalized on this with a bulldog into the steel steps. Triple H was busted open. Now was the time for Michaels. He grabbed his weapon of choice, a ladder, and rammed it into Triple H. He slingshot hunter into it as well. Hunter landed on a table at ringside. For the first time in 4 yrs, Shawn Michaels gained his smile back.
He climbed onto the top turnbuckle and cross-bodied Triple H through the table. HBK was back. He then rolled Hunter into the ring, climbed the ladder, and drilled his elbow into the heart of the Game.
The crowd was on their feet. Michaels started tuning up the band for some sweet chin music, but it was reversed into a pedigree. Miraculously HBK reversed the pedigree into a pin. Shawn Michaels defeated HHH. As Shawn was celebrating Triple H, he found his Sledgehammer and slammed it into Michael's previously injured back. Triple H did exactly as he said he would; he crippled Shawn Michaels.
As HBK lay on the mat in pure agony, The Game walked back to the locker room laughing. Two former best friends, now bitter enemies, were about to start a rivalry for the ages.
Once a Degenerate ….Always a Degenerate
As well all know, the duo reunited, bringing back the return of DX several times. They went on to win the tag team titles together. When Shawn Michaels officially retired from the ring, Triple H gave him a superstar send-off. Shawn Michaels was inducted into the WWE Hall of Fame by Triple H. Both Superstars, along with the rest of DX, were also inducted last year.
The chemistry between these two was unparalleled. Good Friends, bitter enemies, lifelong brothers Triple H and Shawn Michaels. However, that night at SummerSlam 2002 was arguably one of the most impactful moments of their careers.