Over the course of her twelve-year career, Toni Rossall began to build a name for herself. If the last name Rossall doesn't ring a bell, the name Toni Storm likely does. The New Zealand-born wrestler would first compete in Australia. Despite being born in New Zealand, Toni Storm moved to Australia when she was four years old with her mother. She would first compete for Impact Pro Wrestling in the fall of 2009.
Storm remarkably began competing at the age of 13. She spent five years developing her skill set and, to that would move to England at the age of 18. Toni Storm would live with her grandmother but train under Dean Allmark.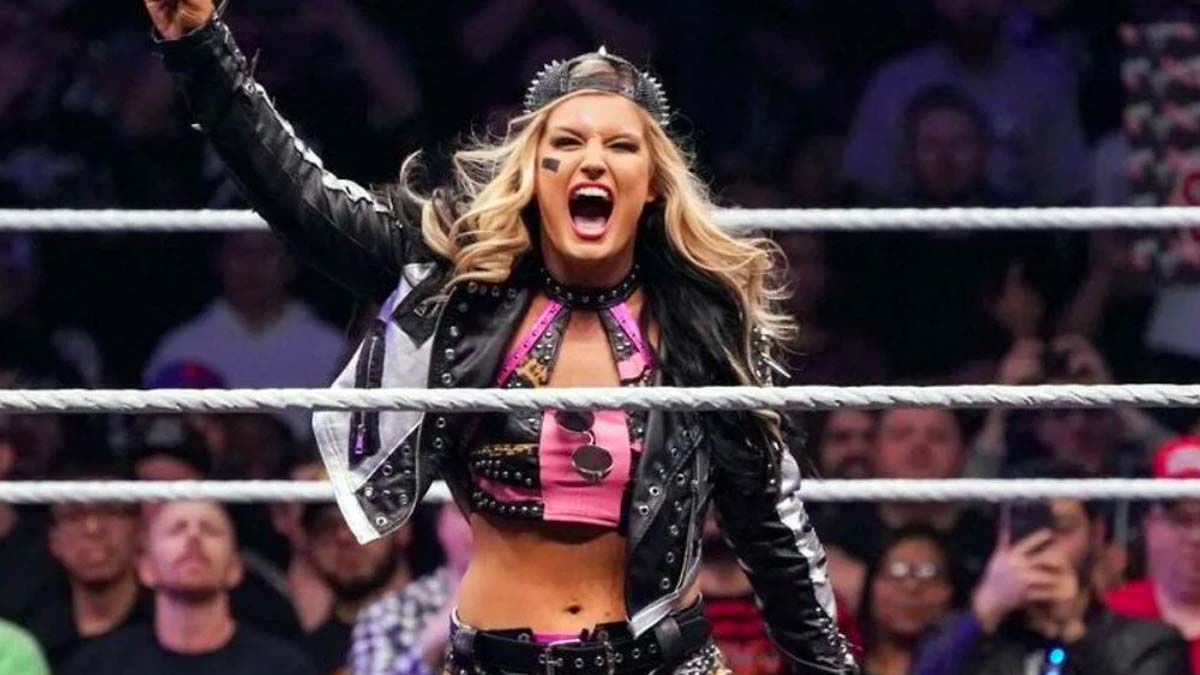 Toni Storm – Through The Eye of The Storm
This then led to her competing all over Europe. In companies such as France, Spain and Germany as well. It would be in 2014 when Storm would take part in a tryout for the WWE in Australia during the company's tour of the country. She would then try out again the following year as part of the company's UK tour.
But she couldn't rest her hope of joining the WWE. She needed to hone her craft, and that is exactly what she did. Over the course of three years, Toni Storm would compete for the UK's premier promotion at the time, Progress Wrestling. It was in the Spring of 2015 when she first competed. From there, Storm began to build quite a following in the company. In fact, it would be only a couple of years later when she became the inaugural Progress Women's Champion.
It would be against Laura Di Matteo and a woman she would long be familiar with, Jinny. The moment was commemorative because it also was the first-ever all-women's main event for Progress. Her reign saw her face women that whom she would cross paths time and time again. It is those matches with the likes of Kay Lee Ray and Jinny that also helped to elevate her in the eyes of both fans and promoters.
One's growth in the industry isn't tied to one place or one time but rather diversifying where they compete and develop. In the case of Storm, it had to go beyond simply competing in the UK or Australia. She needed to face a completely different style altogether. One that embraces past and present and showcases women as a focal point. This would ultimately bring her to World Wonder Ring Stardom.
During her time in the all-women 'Joshi' promotion, Storm would compete against the likes of Iwatani. It was while there that she captured the SWA World Championship. By the Fall of 2016 (after competing with them throughout the Summer), Storm had officially announced she had signed on with the company.
By the Spring of the following year, Storm won the prestigious 2017 Cinderella Tournament, which was later followed by her winning the 2017 5★Star GP. This marked the first time anyone had won both tournaments in the same year. A few days later, she captured the World of Stardom Championship. While the finish was originally planned, Storm won the title after Mayu Iwatani was injured during their match leading to a referee stoppage and Storm being given the title.
"I get to do the coolest things ever; I get to go to Japan and main event Korakuen Hall; I get to go out there with my best friends who are like family to me; I get to travel to New Orleans, I get to come back here and see everyone that I started with, I get to go everywhere, and that's the best—people don't get that—I'm just so blessed."
– Toni Storm on competing all over the world
With international competition under her belt, it became important to try and achieve new goals. To reach new create new dreams lends itself to new motivations and greater goals to set for one's self. This became what happened to Toni Storm when she competed in the inaugural Mae Young Classic.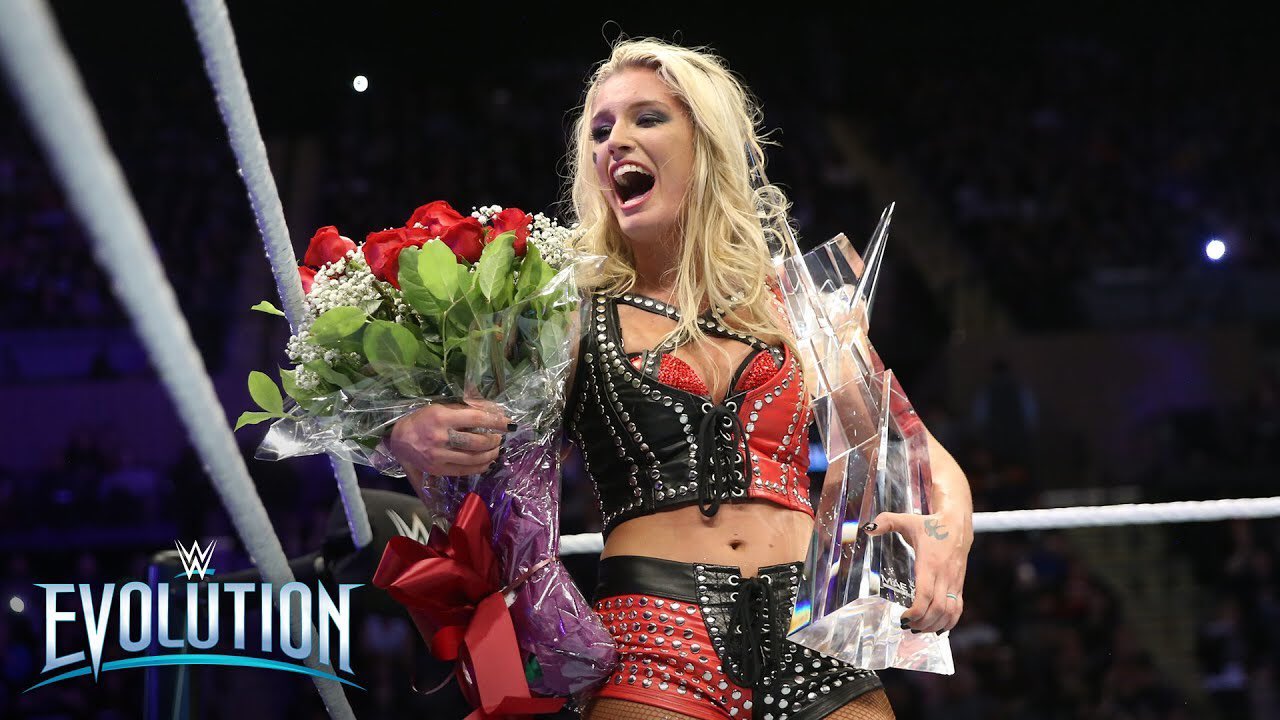 In 2017, the WWE presented an all-women's tournament that would bring together the greatest independent women in the world to be a part of this tournament. Storm was one of the first participants announced for the tournament. Her success in the tournament saw her defeat such names as Lacey Evans and Piper Niven before losing in the semi-finals to lose to the eventual winner of the tournament Kairi Sane.
In the following year of the tournament, Storm was now officially part of the WWE. Her success in the tournament was eventually met with winning the 2018 Mae Young Classic defeating Io Shirai in the finals. This would begin Storm's official run in the WWE. In 2018, Storm would lose to Rhea Ripley in the finals of the NXT UK Women's Championship tournament. But in a rematch, Storm would defeat Ripley at NXT UK's TakeOver: Blackpool.
"I love being the champion, but the belt is really heavy, pulling on my shoulders and killing me. It's not even a match; it's the luggage. Going through security, I'm sick of the same thing that happens where it gets pulled over for security, and I have to wait at least an hour all the time. No matter what, it's always me.
They got to take the belt and show it to everyone and be like, 'We got a wrestler over here,' Everyone just crowds around and start waving it, and I'm like, 'Can we not? Everyone's looking, and I don't have any makeup on, and I'm trying to go on a flight somewhere.' If security people can just back off a little, just let me get to where I need to be, that'll be great,"
– Toni Storm on her reign as NXT UK Champion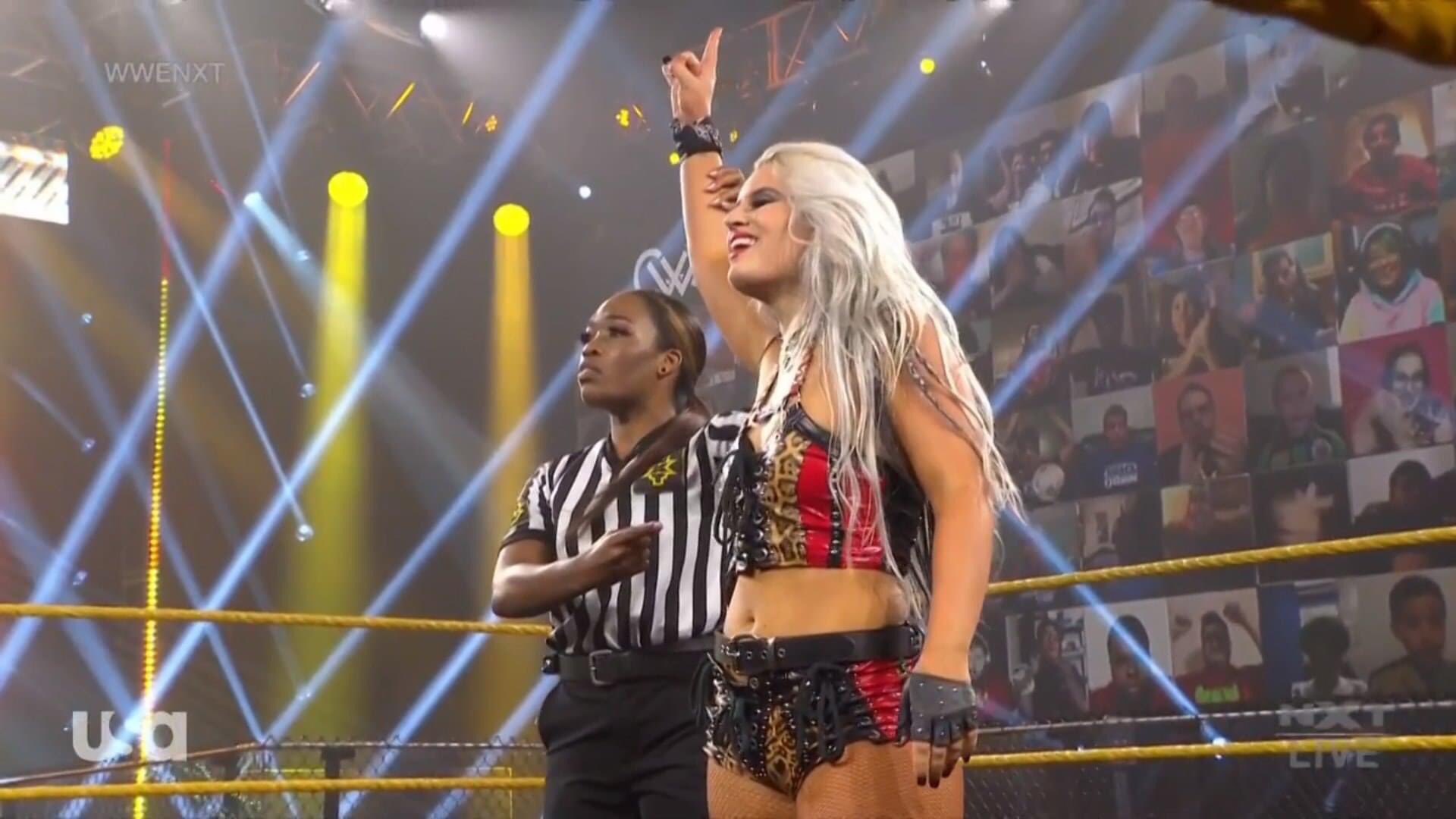 After some time as part of the NXT UK brand, Storm was transitioned to the American-based NXT program. She was immediately thrust onto the 2019 women's Survivor Series team, which also consisted of Io Shirai and Rhea Ripley. Despite moving back and forth between NXT UK and NXT, Storm would have her final match in the NXT UK brand against long-time rival
Kay Lee Ray
in an 'I Quit Match.'
But Storm would remain absent on-screen for either brand and returned at NXT TakeOver 31 after the Women's NXT Championship match between Candice LaRae & Io Shirai. The fan-favorite had returned and, in doing so, provided fans another threat for the NXT Women's title. But that would be short-lived as a few weeks later; Storm would attack Ember Moon and turn heel in the process.
She would showcase a side of her persona North American fans had not been accustomed too. While it was a character fans had seen abroad, this wasn't the case here.
Storm would join forces with fell heels, Dakota Kai, Raquel Gonzalez, and Candice LaRae as part of the NXT TakeOver: WarGames team. Her place on the card was always seen as a significant one. Whether it was a part of a prominent storyline or challenging for a title, Toni Storm showcased a great deal of skill and purpose during her time in NXT.
"I thought TakeOver was a great time, a great opportunity to get my foot in the door at NXT and start doing some stuff…Obviously, there were loads of restrictions and stuff getting out of the UK. There was a process to it, but I got here just in perfect time to start at TakeOver, which I think was a good time.
It was a very exciting night. A lot was happening, and I thought it was the best time to swoop in and show my face a little bit."
– Toni Storm on her time in NXT
She would later face Shirai and Mercedes Martinez for the NXT Women's championship. Despite being unsuccessful in her attempts to capture the title, Storm served a solid competitor in those contests.
By the Summer of 2021, Storm would join the WWE's Smackdown brand. It would appear that she was exactly what the women's division needed. She provided them another competitor with strength, speed, and agility that was well received by the fans already. But after being a part of the Smackdown women's team for Survivor Series, Storm would enter into a program with then champion Charlotte Flair.
It seemingly wasn't the right place or time for Toni Storm, and by the end of December 2021, she would ask for her release. After a live event, Storm simply left the company. Below is an excerpt from Storm of how it all transpired.
"I guess I just freaked out and went home. "I went two and a half years without going home at all, and that's after a life of like – well, about seven years of being on the road..Like, I left for England. About seven or eight years had passed, and I was like, 'Oh my God!' And then take into account the amount of negativity that you hear about WWE and then add that on top of it.
"And I'm not saying that I had a problem with WWE at all. I'm actually really grateful for the time that I got to have there. I learned so much. And you know what? It was so cool. It was real, and it was cool. But in the end, it wasn't real cool. And something just happened, and I left. And it felt – I felt like I was having an out-of-body experience, to be honest.
"I just kinda – you know, have you ever lost it? Have you ever just lost your mind? That's kinda what happened, I guess. The stress of not seeing family in years and then just so many overwhelming things all at once, and uh, yeah. I've been happier ever since."
– Toni Storm, on her departure from the WWE
After a non-complete clause had transpired, Storm had joined All Elite Wrestling.
Prior to this all taking place it would be Toni Storm would also share her openness about her sexuality, and while it doesn't define her as a wrestler, it does show and celebrate the love that she has long been a proponent of.
A member of the community and an ally. Thank you for sharing this with us, Toni Storm. We couldn't be more proud. 💖💜💙 #Pride #PrideMonth #WeAreNXT

(via @WWENXT's Instagram Story) pic.twitter.com/IowBaiTM5R

— WWE NXT (@WWENXT) June 22, 2021
"So, when it was announced that I would be taking over the Instagram for Pride month, I noticed a lot of people were like, 'Toni, are you an ally? Are you in the community…Well, now's a good time to say, well, both. I'm an ally, and I can't exactly say that I'm straight."
"I'm bi, and it feels good to say it. "It's something I've been really comfortable with for a long time. I just never expressed it."