For some, skill is developed over time. In the case of Kay Lee Ray, her skill was evident right from the beginning. Trained by  Kid Fite, Ray began her in-ring debut competing for Scottish Wrestling Alliance Battlezone in 2009. While it may not be considered to be something to some, being a part of their Battlezone Rumble for Ray, it was a beginning to a means. She would compete later that year in a mixed tag match against someone she has crossed paths with repeatedly throughout her career. Ray would face off against Barry Miller and Vyper (also known as Piper Niven or Doudrop in the WWE) in November 2009.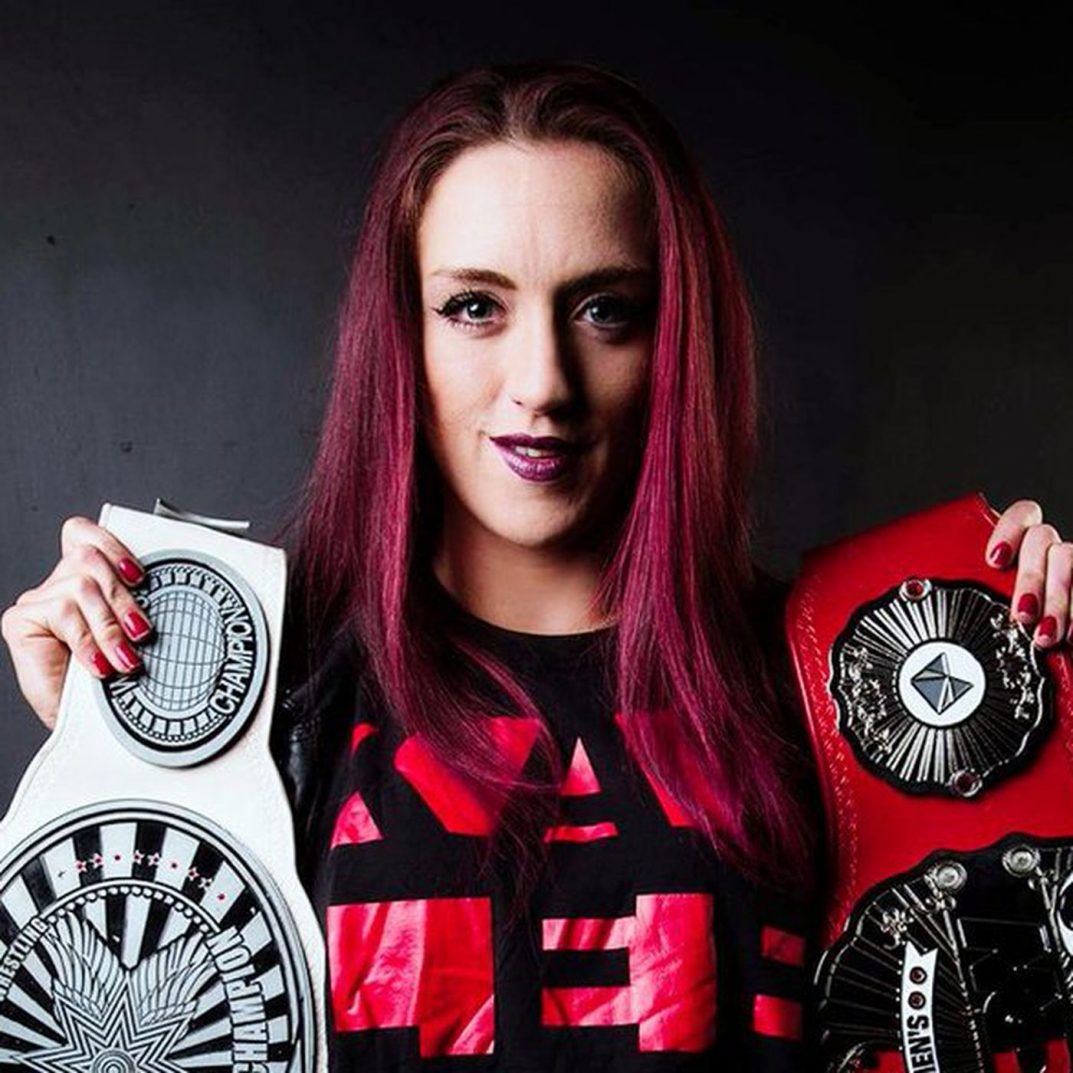 Ray's first few years in the industry was met with growth. Her first singles match was against Viper in a losing effort while with the Scottish School of Wrestling. But wrestling isn't all about the wins or losses but the journey to get to where you want to be. As the years passed, for Kay Lee Ray, so did the demand for her in the ring. Promotions such as Pro Wrestling: EVE, Insane Championship Wrestling, and Premier British Wrestling began to book her more and more throughout 2011.
I'm almost proud of you. A few months ago you had the match with Sammy Gean that ended up in a no contest and she ended up in a broken ankle. But tonight you tapped her out with that same broken ankle.
This match (between her and Viper) is not about how hard you can hit. And it's not about what you can kick out of. It's about whether or not you can endure. It's that mentality. I know I have that mentality. But I don't think you... Kay Lee Ray to Viper in a post-match promo
But Ray's growth in the industry wasn't relegated to her competing in the UK. Kay Lee Ray would compete for Emi Sakura's Gatoh Move Pro Wrestling promotion in Japan. It was while there she would face or team with the likes of such notable stars as Emi Sakura and Riho. Both women she faced have gone on to achieve success as well in both Japan and the United States.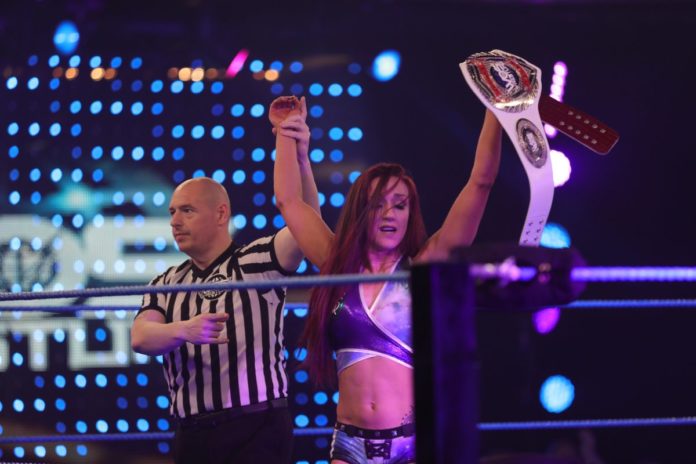 Kay Lee Ray – A Scottish Technical Wizard
As mentioned above, one of the places Ray would call home was Scottish-based promotion Insane Championship Wrestling (ICW). She initially competed for the company at the Notorious ICW event. After a couple of years of competing in the promotion, Ray would defeat long-time rival Viper to become the inaugural ICW Fierce Females Champion. One of Ray's most notable qualities is that there is no gender bias in who she competes against. A year after capturing the Fierce Females Championship, she would team with Stevie Boy to challenge for the ICW Tag Team Championship.
The following year, Ray would lose her Fierce Female's Women's title. After the title was renamed the Scottish Women's Championship to her long-time rival Viper. Her loss ended Ray's 755-day reign as champion. Later that year, the Scottish Women's Championship ended. In a triple threat match, Nikki Storm (aka Nikki Cross/Nikki A.S.H), Kay Lee Ray, and Viper faced one another in the inaugural ICW Women's Championship match. Once again, the title would be won by Viper. However, it would be the following year when Ray was finally able to exact her revenge. As Kay Lee Ray would defeat Carmel Jacob and rival Viper in a three-way match at ICW's Fear & Loathing X in a steel cage contest. The following year, Kay Lee Ray would once again defeat Viper in a Queen of Insanity Match at Fear and Loathing XI.
Insane Championship Wrestling
Ray's time in ICW was memorable as it was one of the most critical places where she cut her teeth and developed as a talent. Time and time again, she would contend or challenge for the promotion's women's championship. Her success in the promotion was integral to her growth as it was to the development of the promotion itself.
One of the first televised opportunities presented to Ray was as part of TNA/IMPACT Wrestling's British Bootcamp program. For those unfamiliar, the program focused on wrestlers from the United Kingdom that were seeking a contract with TNA. She initially faced fellow Scotswoman Nikki Storm along with Leah Owens and Kasey Owens in a fatal four-way matchup. In the programs, finally, Ray was among the final three competitors. Although she was defeated by Gail Kim, that didn't spell the end for her during her time working with TNA.
While the promotion was filming in the United Kingdom, she would take part in two separate matches as part of Xplosion. The first was a win with WWE NXT UKer, Noam Dar in a mixed tag team match against another WWE NXT UKer Rampage Brown and Gail Kim. The match was a success as Ray and Dar walked away with a victory. Her other match was as part of an eight-person tag team match. It is less about how long she worked with IMPACT as much as it was about making the most of her opportunity. Ray's talent was evident as she was a part of British Boot Camp, preparing her for a future that would soon lead her to the United States.
Before Venturing To The United States Resurrecting WOS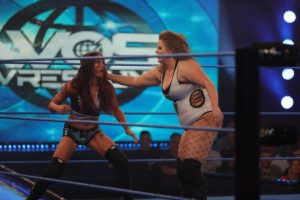 However, before her time in the United States was to take place, Ray was part of the newly resurrected World of Sport program. World of Sport was a television program that ran for twenty years. In 2018, WOS returned, and it would be Kay Lee Ray who would capture the promotions Women's Championship. She would capture the title defeating Bea Priestley and Viper in a triple threat match. Ray would defend the title throughout the year but would ultimately lose the title to long-time adversary Viper.
As Ray would compete in the Mae Young Classic and then join the NXT UK brand, it was another long-time adversary that would share what their feud was like.
It was brutal…brutal definitely was the word for it, and it did affect me a lot mentally. Kay Lee Ray legitimately was one of my best friends.
When I first moved to the UK that was the girl that took me under her wing, she showed me the ropes, she showed me how it worked up there, she did a lot for me, she was a very dear friend to me, we've had a lot of good times, we've traveled the world together, and then like, to see that all fall apart, it broke me a lot, next thing I know, she's dumping a chair over my neck and people are begging me to say I quit, like it did a lot
…it messed with me a lot, legitimately, but I'm happy I got past that, I was able to still get up after all that torture and go no, I'm gonna keep going, I'm gonna do big things and yeah, I just thought you know what?
If I can't compete for the title again, I'm gonna go somewhere else where I can – regardless, I'm gonna be a champ somewhere, sometime, that's just how it works.– Toni Storm on her feud with Kay Lee Ray
From her matches with Toni Storm to her battles with Piper Niven (Viper), Kay Lee Ray has continued to succeed and bring others along with her. The measure of a wrestler isn't just about how much they can do for those around her. Ray has continued to elevate the quality of the matches she has been a part of throughout her career and did so as she held the NXT UK championship over 600 days. Ray now shows North American audiences that she is Kay Lee Ray, a queen among peasants and an exceptional one at that.