On April 9, Tokyo Joshi Pro Wrestling held its big monthly event just two weeks after the landmark Grand Princess with a show called Still Incomplete '22. In accordance with the name, TJPW set off its spring tour with a sense of growth and new beginnings. In Korakuen Hall, the girls are always sure to bring their best.
So after an introduction from the English commentary team, a reading of the house rules from announcer Sayuri Namba, and a musical performance by the Up Up Girls, it was off to the races.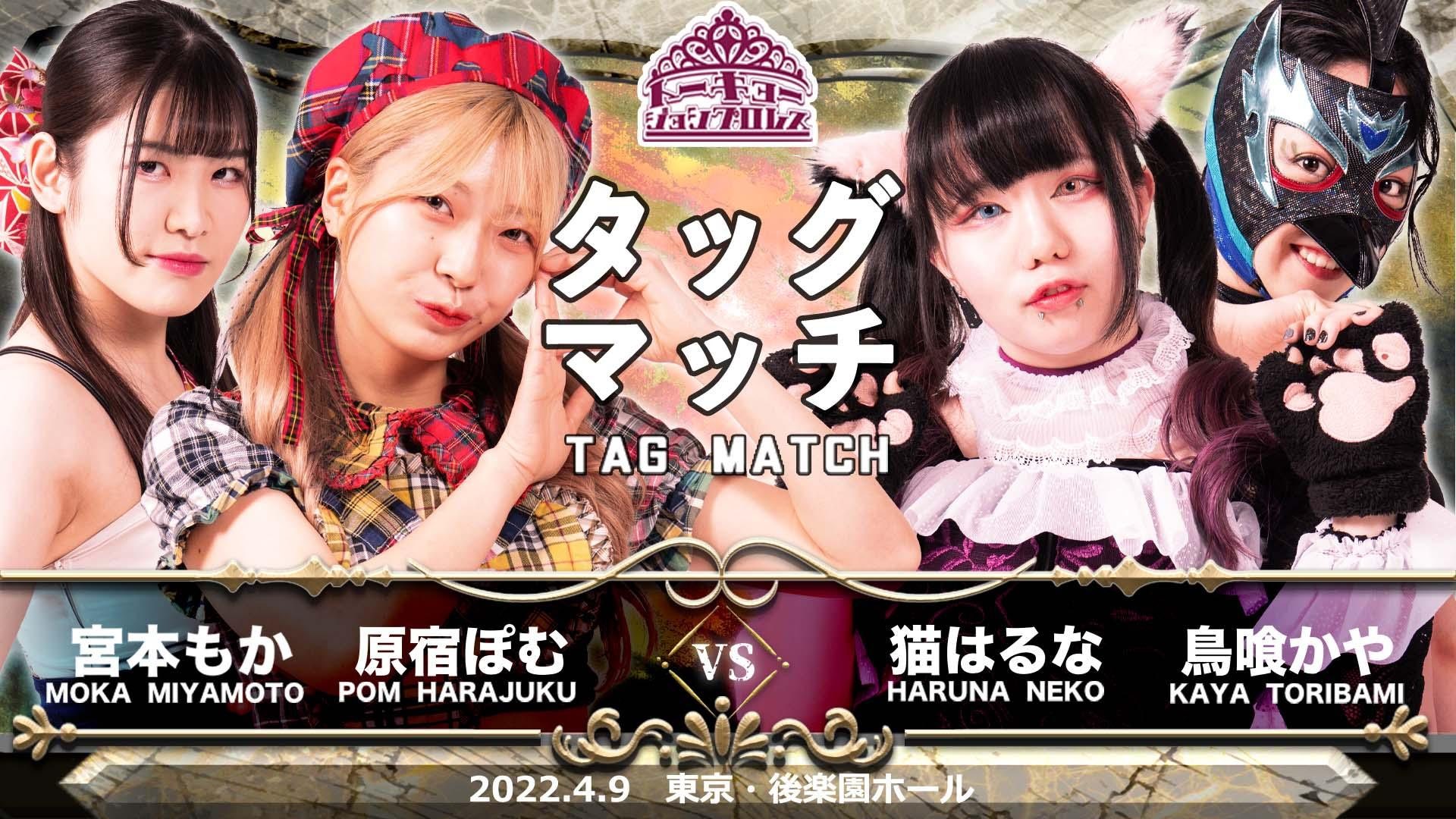 Still Incomplete '22
Pom Harajuki and Moka Miyamoto vs Haruna Neko and Kaya Toribami


The opener saw undercard talent form unconventional teams in a by-the-numbers match.
The childlike trickster Pom Harajuku and karate fighter Moka Miyamoto are coming off recent losses, still looking for a sense of direction three years into their careers. Across from them, catgirl Haruna Neko tagged with bird girl Kaya Toribami, a first-year rookie. Everyone hit their moves, with Harajuku getting the win over Toribami.
A passable bout for the young talent.
Miyu Yamashita vs. Juria Nagano


After her dominant reign as Princess of Princess champion ended last month, Miyu Yamashita introduced herself as the Ace to Juria Nagano in the rookie's second ever match. They started out with a fierce feeling out process, both wrestlers using their karate training to take their shots. Yamashita took control and killed her opponent's thigh with kicks, but Nagano was more than willing to return palm strikes of her own.
Nagano was able to hit a strike barrage, but missing the question mark left her on the wrong end of a Yamashita skull kick. One mistake ended the short match. However, the exciting sprint was enough to keep the promise in her new career, as Nagano seeks to add pro-wrestler to her nurse/actress/karateka resume.
Still Incomplete '22
Marika Kobashi vs Raku
Having debuted in 2015 at the age of 13, Marika Kobashi will be stepping away from wrestling to live her life as a college student. As her farewell tour slows to a close in a matter of 8 days and 2 more matches, she came up against the train enthusiast Raku. Back and forth action and an abrupt finish had Kobashi picking up the win. She bowed to the crowd afterward, memorializing her final Korakuen Hall show.
It isn't the end, given how young she is, but her next chapter is set to begin.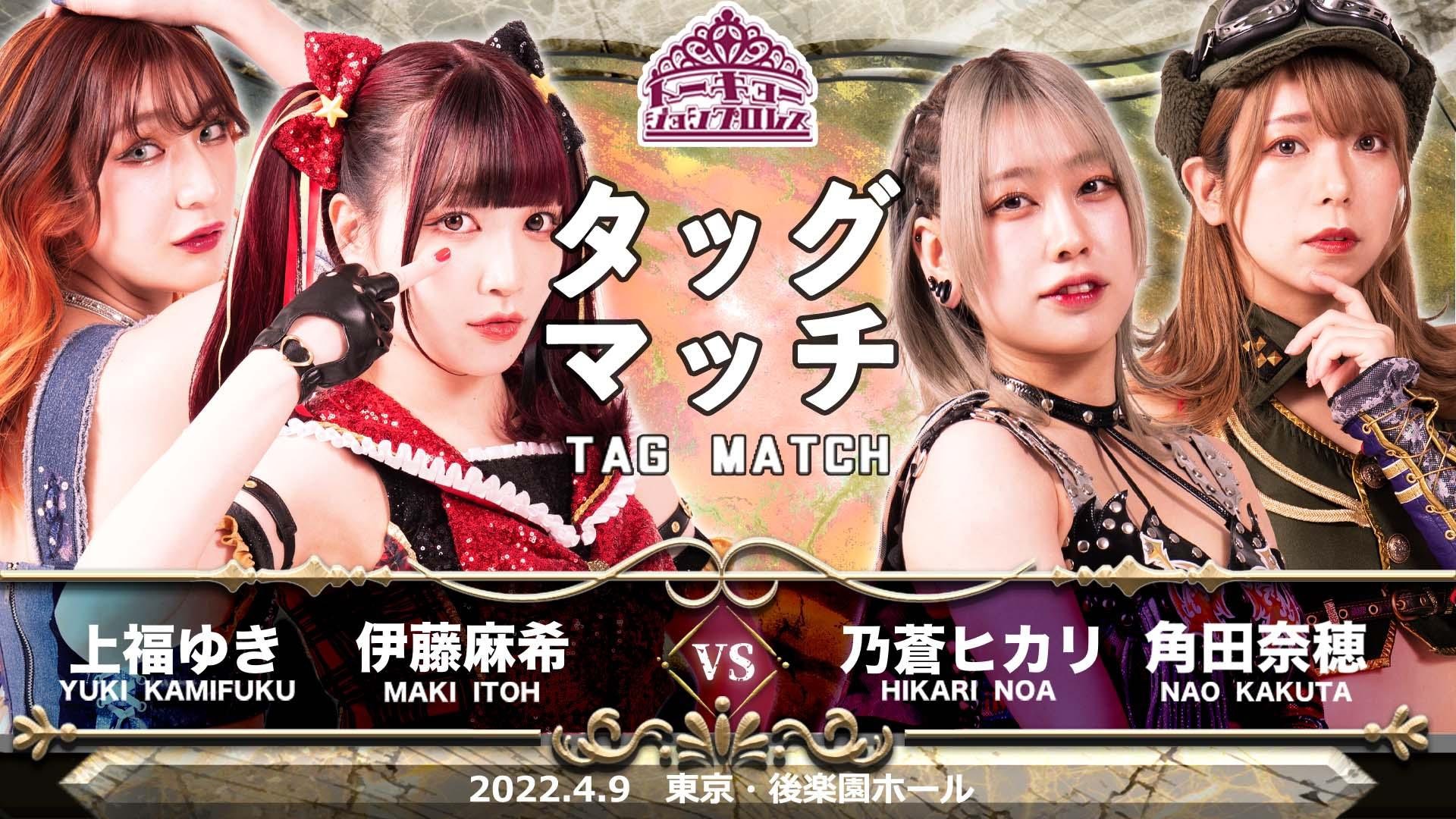 Still Incomplete '22
Maki Itoh and Yuki Kamifuki vs Hikari Noa and Nao Kakuta


Even though Miyu Yamashita is her usual tag team partner, Maki Itoh teamed with her good friend Kamiyu as part of the semi-regular tag team Makiyukihappy. They took on the newly minted team Free wifi, named because they want everyone to see their matches. Also, who doesn't love Free wifi? The match started with some trickery from Free wifi, although the Cutest and the Coolest in the World had some mischief of their own.
Noa and Itoh got into a heated strike exchange, recalling their January 4th match when Itoh won the International Princess title. Kamiyu ran wild with one of the best dropkicks in the business before getting sent into an exposed turnbuckle (untied by Noa) and finished off by Kakuta. The match picked up in the second half, with big implications later in the show.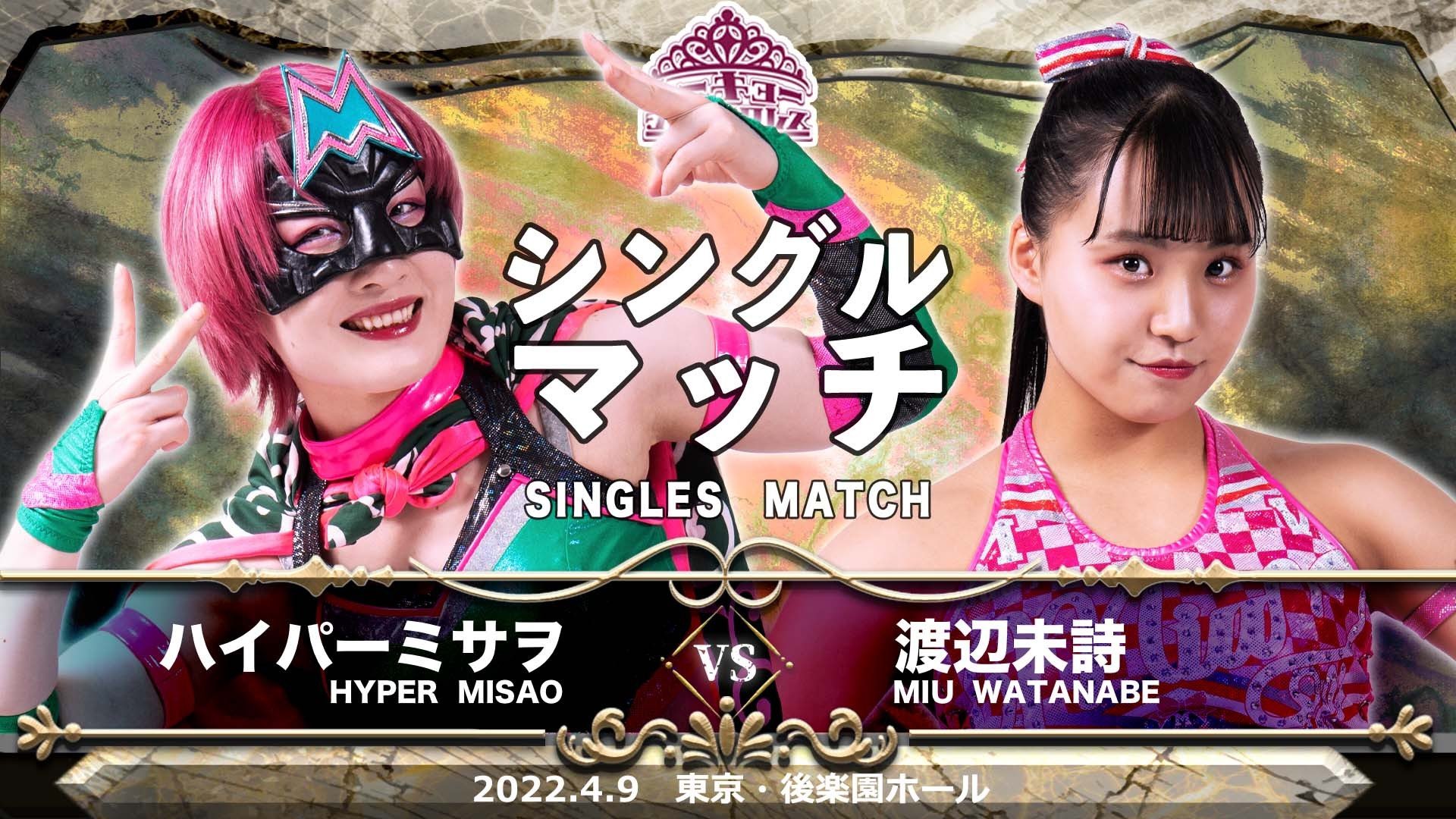 Hyper Misao vs Miu Watanabe
The next match saw a clash of wrestlers riding a bit of success as devious superhero Hyper Misao battled the energetic and muscular idol, Miu Watanabe. Misao used her typical pre-match promo to give Watanabe her resume. Watanabe's group, the Up Up Girls, are looking for a new member. Misao used the distraction to mount the offensive, eventually wrapping up her opponent in the apron, sticking her under the floor mat, and taping the contraption shut.
The countout was beaten at 19. After that, the comedy turned into a clash of styles. Watanabe used her signature power moves while Misao employed her speed and roll-ups. TJPW's masked hero survived the giant swing, withstood the backbreaker, and picked up the victory with the fate of the singles division in the balance.


Yuki Arai and Saki Akai vs Rika Tatsumi and Mahiro Kiryu


In another bout of distinctive tag teams, happy-go-lucky psychopath Rika Tatsumi teamed with her apologetic punching bag Mahiro Kiryu. Their opponents were a new team named Reiwa AA Cannon. They share a hometown, a blood type, and the fact that they each won the Tokyo Sports Award for Best Newcomer. Arai won it in 2021 and Akai in 2014. Akai, by the way, is a DDT stalwart making her long-awaited return to TJPW and is definitely not Sakisama.
The symmetry began when Kiryu was the only one on her team to offer a pre-match handshake, only to be dismissed with a tandem flip of the hair. Team Reiwa dominated and posed over her until Tatsumi made the save. Kiryu and the White Dragon worked over Arai, the second-year star who is looking for a fresh start after losing her IP title match at Ryogoku.
Akai got the hot tag but appeared evenly matched with former PoP champion Tatsumi. Kiryu ended up legal with Arai when a peculiar moment occurred. They were trading moves when Kiryu had a chance to tag her partner. She didn't. She got double-teamed by Reiwa, and Tatsumi wasn't enough to save her this time. And after taking the fall in an inter-promotional war at Grand Princess, Kiryu was defeated once again.
Could a larger story be at play?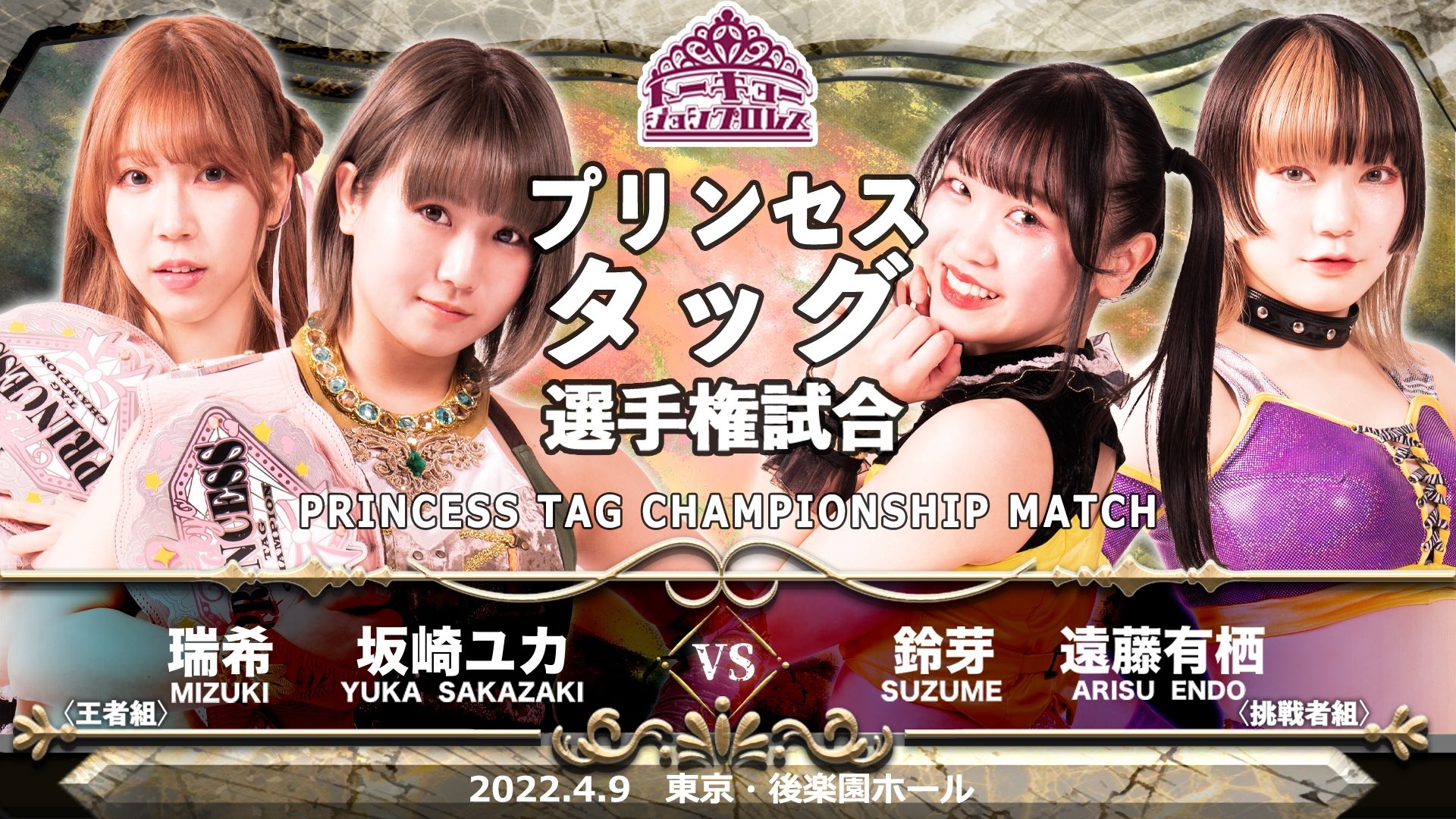 Mizuki and Yuka Sakazaki vs Arisu Endo and Suzume


Formerly known as Arisuzu, the number 1 contenders have rebranded as Daisy Monkey. The meaning is unclear, even to commentary, with the exception that Suzume is the daisy and Endo is the Monkey. They challenged the Magical Sugar Rabbits, the benchmark of the tag team division. Yuka Sakazaki bullied the young second-year Endo early. With a few more years under her belt, Suzume fared well against Mizuki using her agility.
Daisy Monkey took control with quick tags and double teams, working well together for a new unit. Sakazaki resumed no selling and throwing hard elbows as commentary renamed her from Enjoy Girl to Angry Girl. Once Sakazaki got distracted torturing Suzume on the outside, it came down to Mizuki and Endo trading submissions in the ring. The Monkey fought to get the rope break but succumbed to a double foot stomp from the Popping Sugar Rabbit.
MagiRabi comforted Daisy Monkey as they cried in each other's arms. Free wifi came out, wearing each other's shirts. They then challenged the champions for the next Korakuen Hall show on May 3. The Princess Tag champs left, acting like they couldn't understand them because of the bad connection from free wifi, though the match does appear to be on.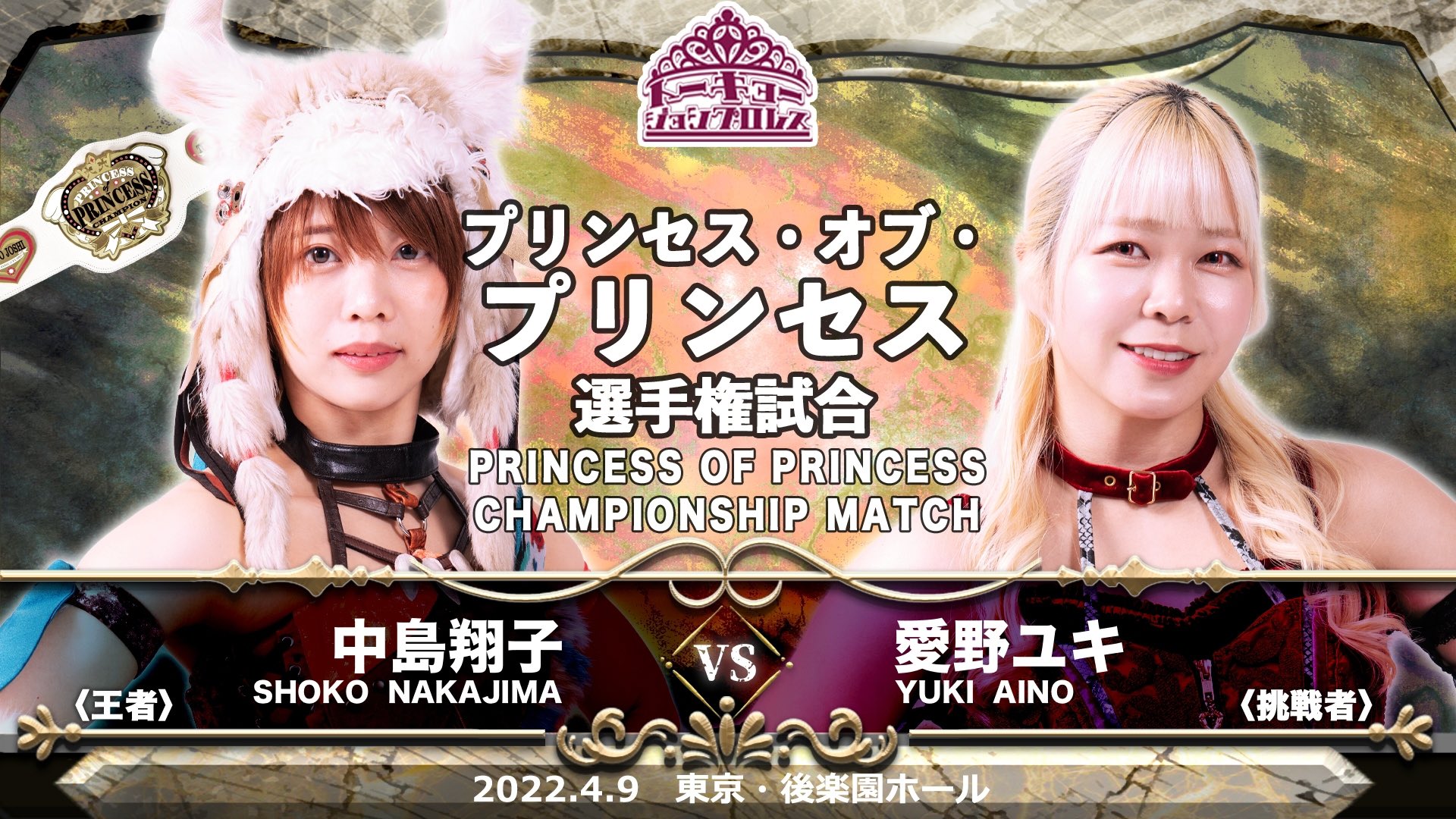 Still Incomplete '22
Shoko Nakajima vs Yuni Aino


With Shoko Nakajima making her 1st defense of the Princess of Princess championship and Yuki Aino embarking on a new journey after her tag partner's retirement, this main event had some anticipation to it. Unfortunately, a few blown spots hindered their momentum. Aino used her power to take control at first. Then Nakajima nearly broke her neck on a dive to the outside, a close call that has happened recently.
The mood seemed to shift after the scary moment. In the ring, Aino lost her on an electric chair. They redid the spot, telling the story that Aino had to modify her tag team finisher. Nakajima went for a frankensteiner off the middle rope that Aino was supposed to counter. But both wrestlers fell backwards to the floor. They managed to clear it up by the finishing sequence, with each hitting big suplexes and a strike exchange.
Nakajima won with the same finish; she won the title, a double arm DDT and senton off the top rope. Afterwards, Hyper Misao, Nakajima's tag partner, came out to challenge her for May 3. The champion accepted and was hit with a Stunner to end the show.

Still Incomplete '22 was a good show in between high profile events in March with Grand Princess and May with Yes! Wonderland. The Yamashita vs. Nagano match was a short sample of karate badassery. Top contenders were determined in good matches with Free wifi and Hyper Misao. And there were great stories told in the Kiryu saga and with Suzume and Arisu Endo. They are the best young prospects a company could invest in—an overall solid B show.
*****
Stay tuned to Pro Wrestling Post for this and additional stories from the wrestling world. Readers can rely on Pro Wrestling Post to be their daily source for all things inside the squared circle. As a result, readers can expect daily news, history, and so much more. Please visit Tokyo Joshi Pro Wrestling's official Twitter account here for news and information on the promotion and upcoming events.