It's mania season in Tokyo Joshi Pro Wrestling with their TJPW Max Heart Tournament Finals 2023. The train of the day is leaving the station soon and everyone is trying to find their path to Ariake Coliseum. Last year, the first Grand Princess was a historic event at Ryogoku Kokugikan and the biggest show TJPW had ever held until that point.
Grand Princess '23 is shaping up to be just as important and winning the Max Heart Tournament is a guaranteed ticket for a tag title shot. Everybody wants a good spot. Even their U.S. debut in Los Angeles on March 31st is standing room only. Jump on the hype train! From this point on it's full speed ahead.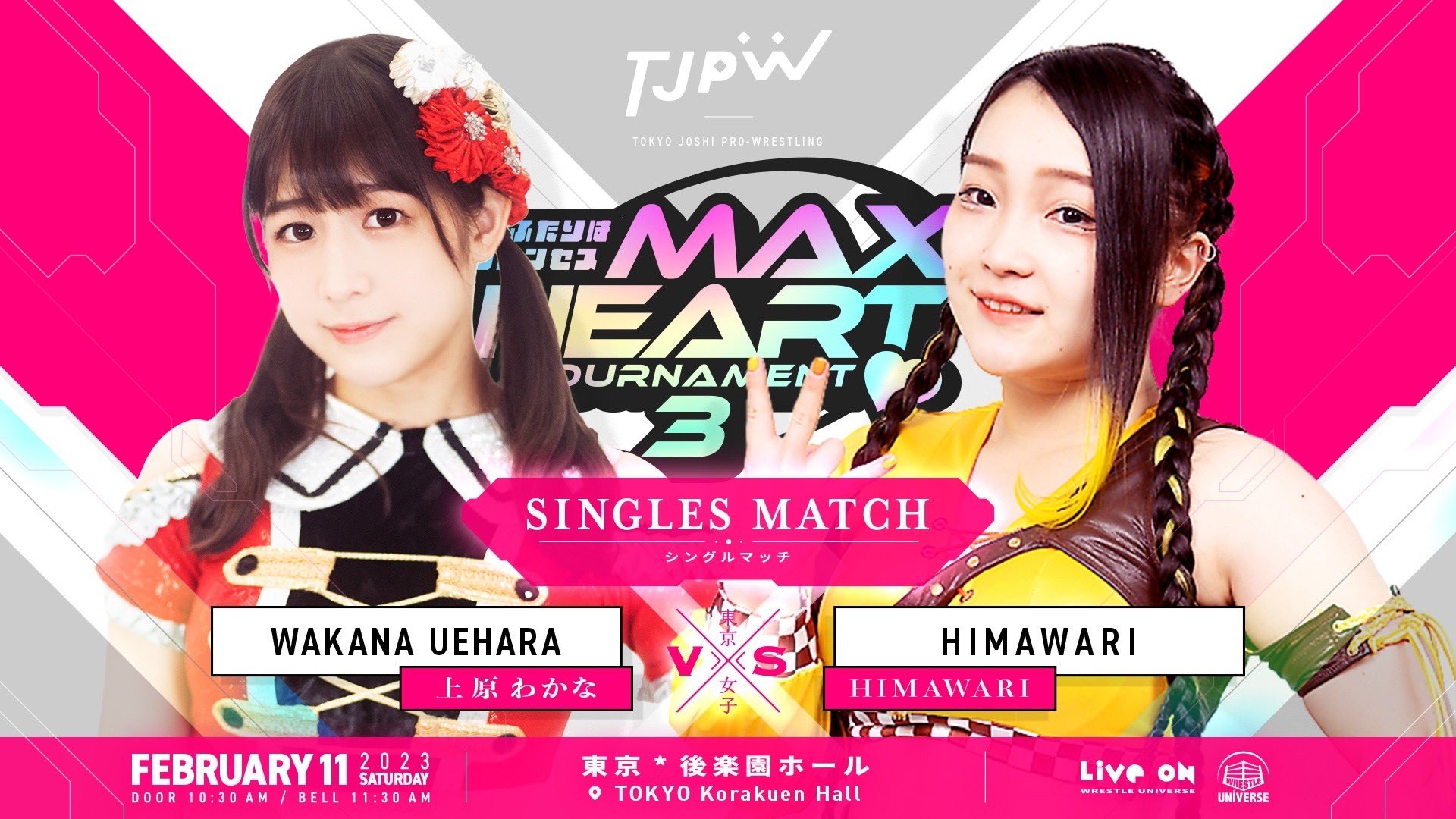 TJPW Max Heart Tournament Finals 2023
Himawari vs Wakana Uehara
Part of the allure in TJPW is watching wrestlers debut and following their development over time. The two newest roster members, Himawari and Wakana Uehara, started their journeys on January 4 in losing efforts. A month later, they've already left behind the training wheels of working with their senpais to put on a rare rookie vs rookie match. 
In a solid opening match, they both appear to have got their fundamentals down. Basic striking. Light grappling. Submission work. The finishing sequence told its own mini-story, which is the most valuable skill for a wrestler to hone. After a desperate struggle, Wakana tapped out Himawari using a chokehold. With three more trainees set to debut in March, now is a great time to invest in these young prospects.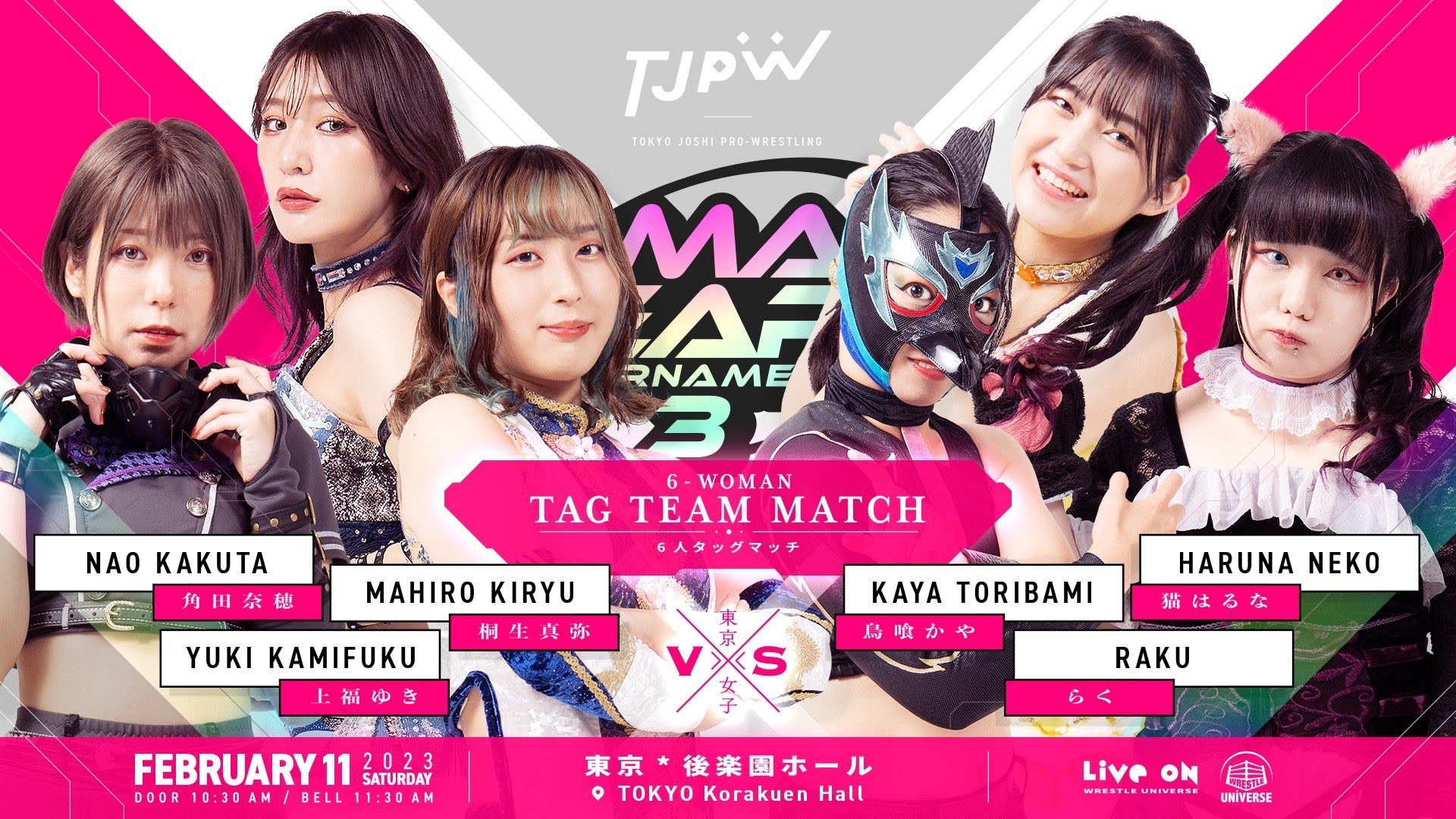 TJPW Max Heart Tournament Finals 2023
Raku, Kaya Toribami, Haruna Neko vs Yuki Kamifuku, Mahiro Kiryu, Nao Kakuta
For a get-everybody-on-the-card 6 person tag, this was quite a spirited bout. While Raku is doing her thing and Neko is doing her best, Kaya has distinguished herself as a nice project at a little over 2 years in the business. Her flips and kicks are progressing well, earning her the opening and closing spotlights in the match.
On the other side, however, is Yuki Kamifuku dominating the undercard scene. She probably could dropkick her way up the card, but something about her being a dog-person has her kicking Haruna Neko in the face on most shows. Kakuta is here and Kiryu is happy for her friends. Team K won when Kamiyu crushed baby bird Kaya with the Famouser.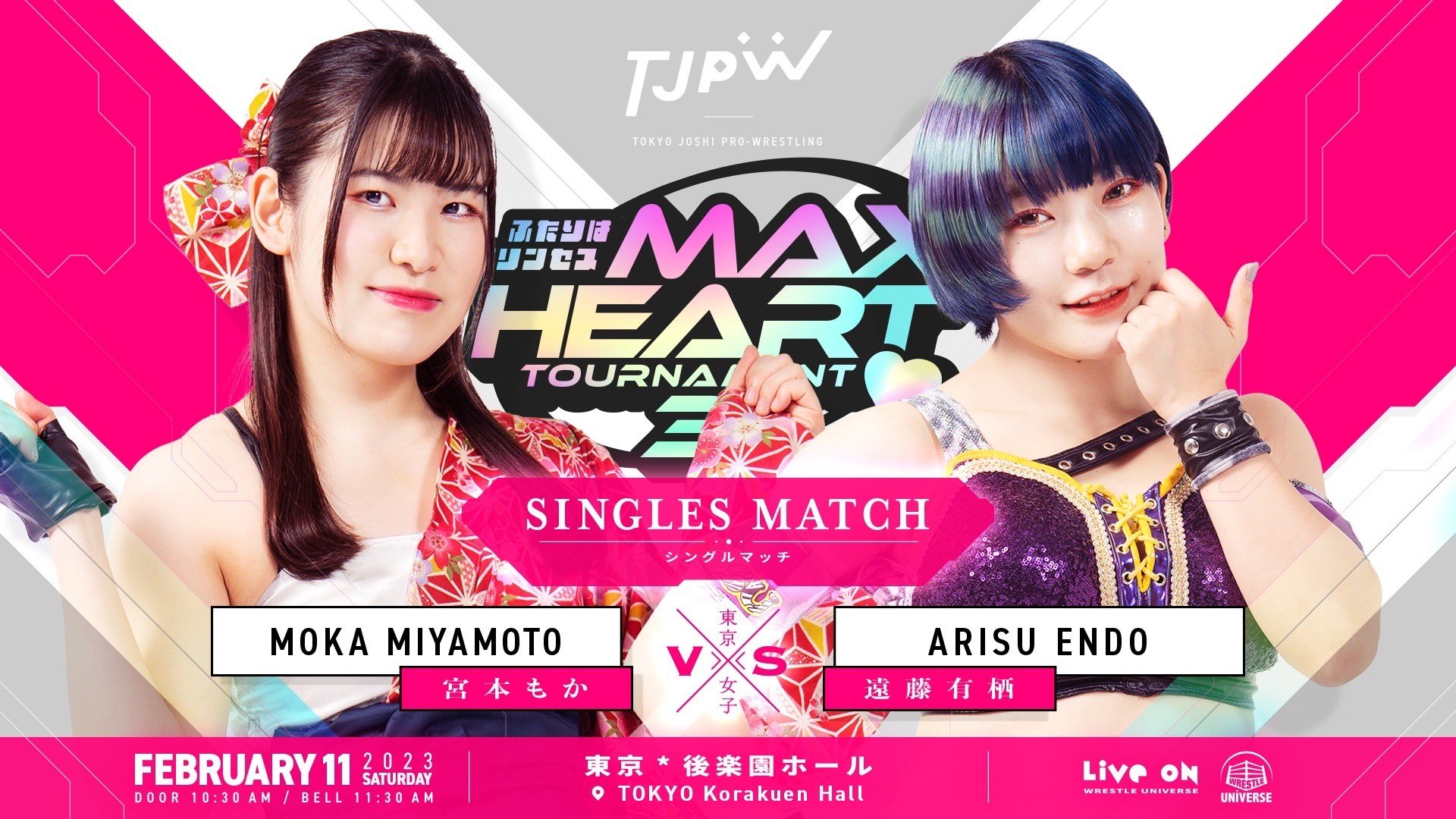 TJPW Max Heart Tournament Finals 2023
Arisu Endo vs Moka Miyamoto
Kenta Kobashi, the most perfect wrestler to have ever lived, didn't win his first singles match until a year and a half into his career, losing over 60 times. Arisu Endo did it in just over two years in 40 matches. Who's better?
Since she debuted on January 4th 2021, Endo has excelled in agility, innovation, and charisma: only lacking in that elusive first victory she could call her own. Over the last year or so, she's grown visibly frustrated at her shortcomings, especially when newer wrestlers like Kaya Toribami and even Wakana Uehara are getting their first wins before her. Meanwhile, Moka and Arisu started at about the same time and have become generational rivals, fighting for the top of their rookie class.
Endo starts the match with urgency, knowing that her contemporaries like Yuki Arai and Juria Nagano are stealing her oxygen in the room. Her own tag partner Suzume is climbing the ranks fast. In a short, hard-hitting match, Endo didn't let the moment (or Moka) get away from her and secured the victory via submission. Korakuen Hall popped big, knowing they've just witnessed history.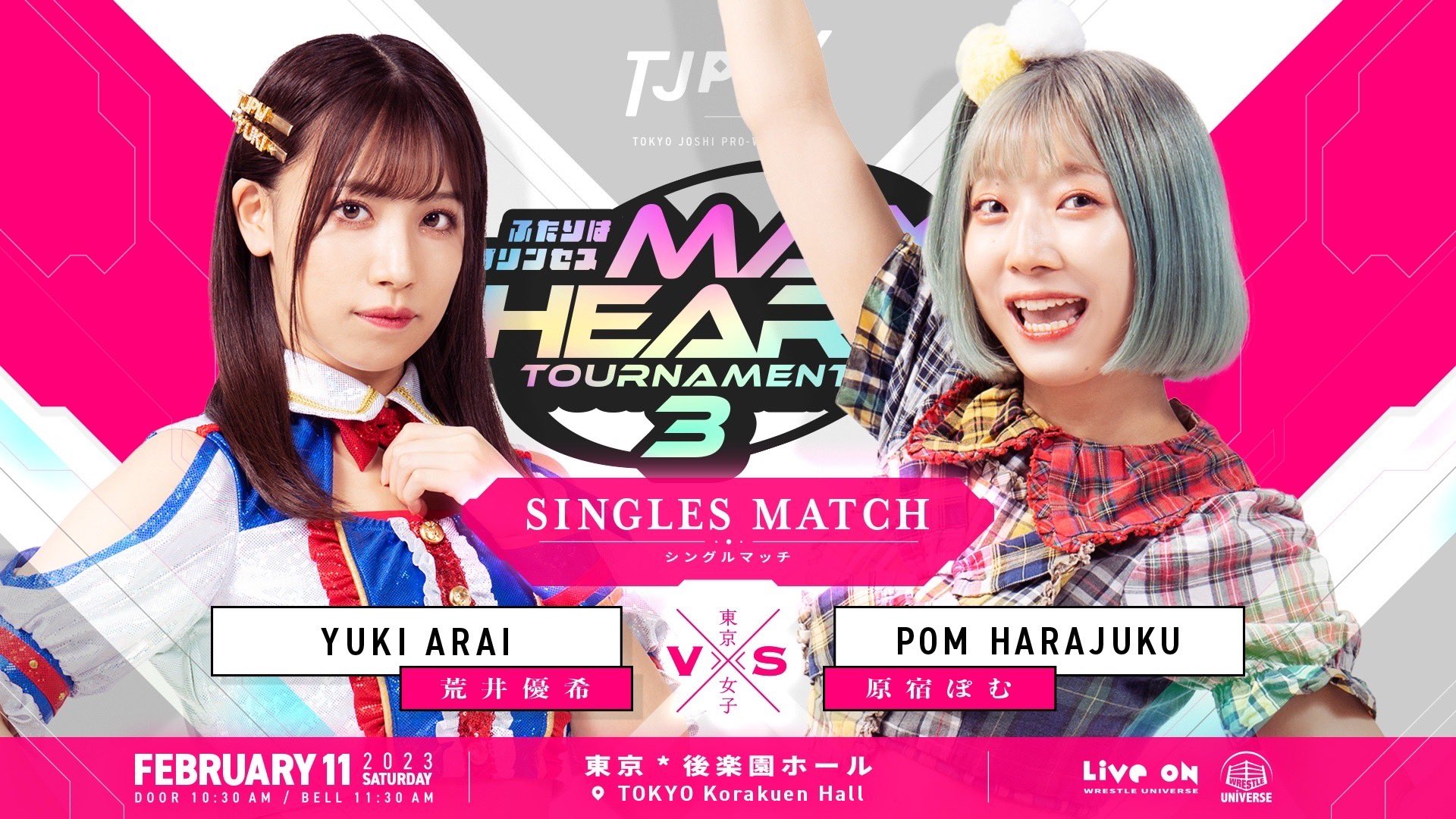 TJPW Max Heart Tournament Finals 2023
Pom Harajuku vs Yuki Arai
Not much to say about this one. Pom came out dressed like a Yuki Arai superfan. She convinced her to do a live performance. She begged to be kicked in the head by her favorite idol. Then the bell rang. Comedy will always have its place in TJPW.
Coming off losing the tag titles in January and losing in the Max Heart Tag Tournament, Arai rebounds here with a solid singles win. In March, she will be facing Aja Kong at Grand Princess. It was October of 2021 when the rookie first stepped up to the legend, proving that she wasn't just a celebrity playing wrestler. Arai's come a long way since then. Maybe she'll need some Pom trickery if she's going to pull off a miracle victory in March.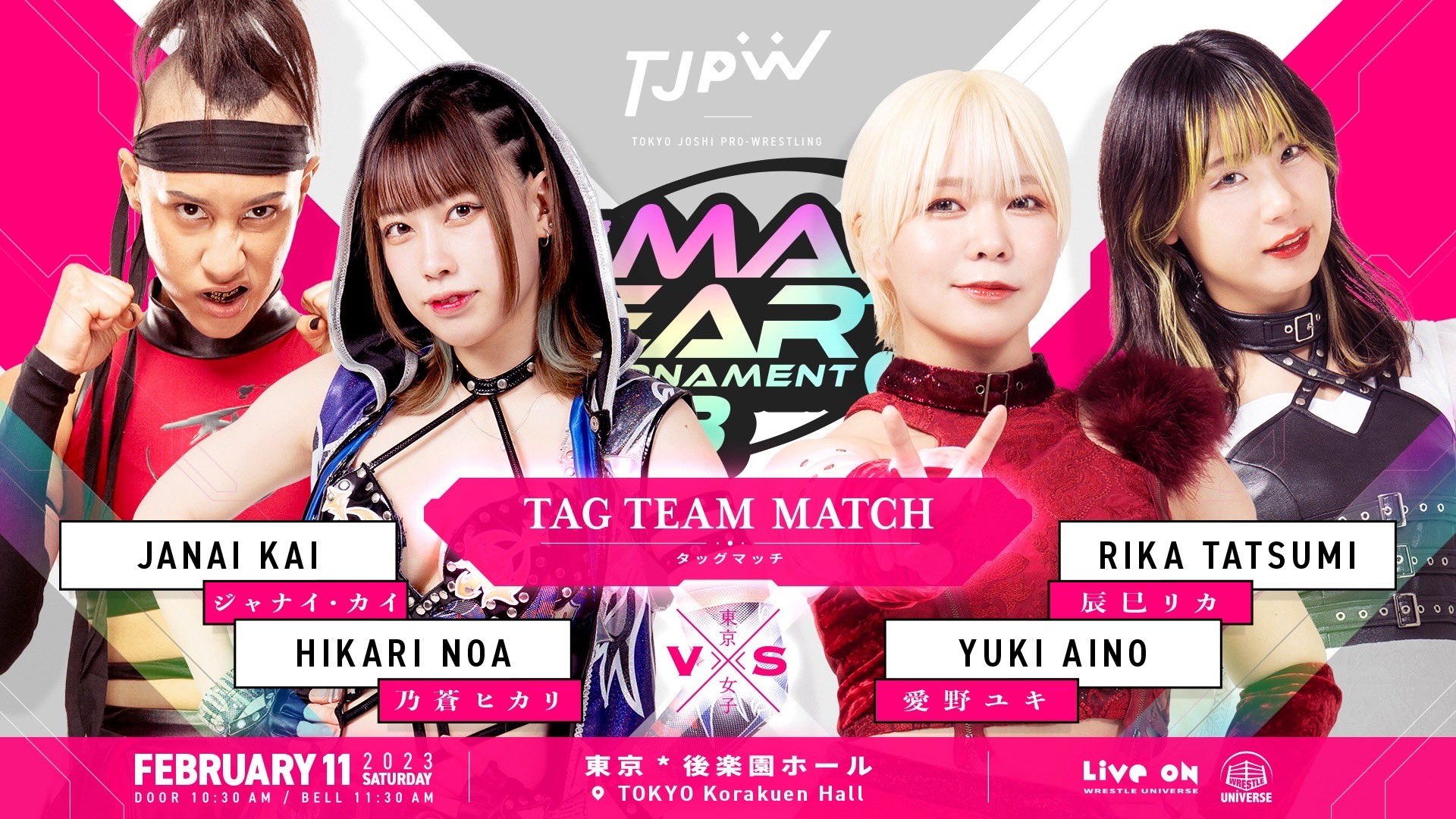 TJPW Max Heart Tournament Finals 2023
Janai Kai and Hikari Noa vs Rika Tatsumi and Yuki Aino
"The Kick Demon" Janai Kai joins a growing list of international talent coming to TJPW as Japan has relaxed their visitation restrictions over the past year: Thunder Rosa, Max the Impaler, Willow Nightingale, Trish Adora, and Billie Starkz among others. Janai fits right in with some of the tougher, more vicious members of the roster.
She not only throws great kicks, but she's got a solid grappling game as well. This one Dragon Sleeper into Dragon Sleeper is a sight to behold. Janai secured the victory over Aino with a flying spin kick, and will be challenging for the International Princess championship in one week's time.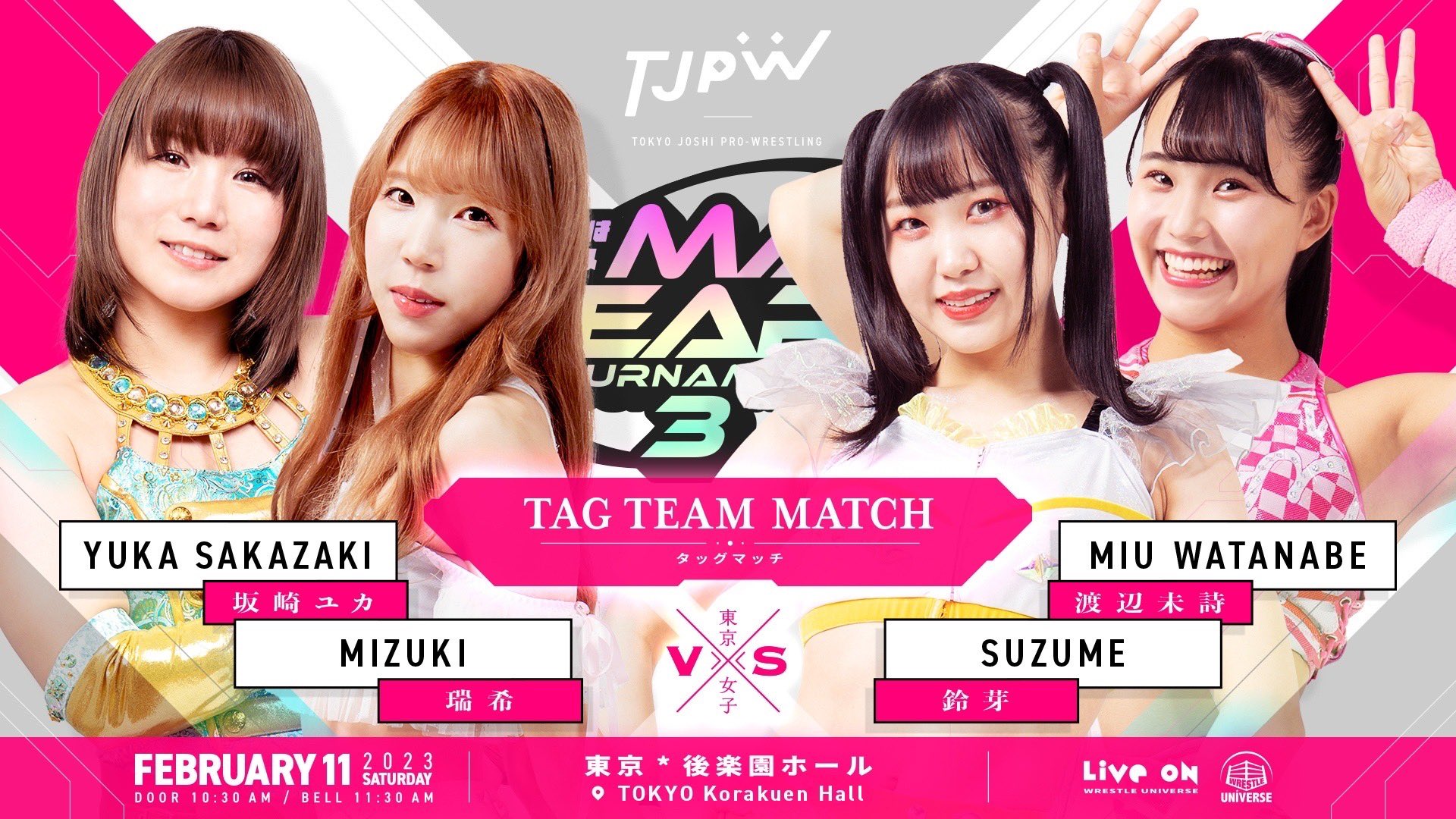 TJPW Max Heart Tournament Finals 2023
Miu Watanabe and Suzume vs Yuka Sakazaki and Mizuki
Before they battle for Yuka's Princess of Princess championship in March, the Magical Sugar Rabbits Yuka Sakazaki and Mizuki team up once more against two of the breakout stars of last year in Miu Watanabe and Mizuki. Yuka and Miu are two of the strongest competitors on the roster. Mizuki and Suzume are two of the quickest.
The matchups have high expectations on paper and they clear the bar with ease. Whether or not Mizuki is actually made of cotton candy, it's still impressive when Miu bodyslams both of her opponents at once. All four shine, but the makeshift team falls short of the two time tag champs when Yuka pins Suzume after hitting the Toy Story 4.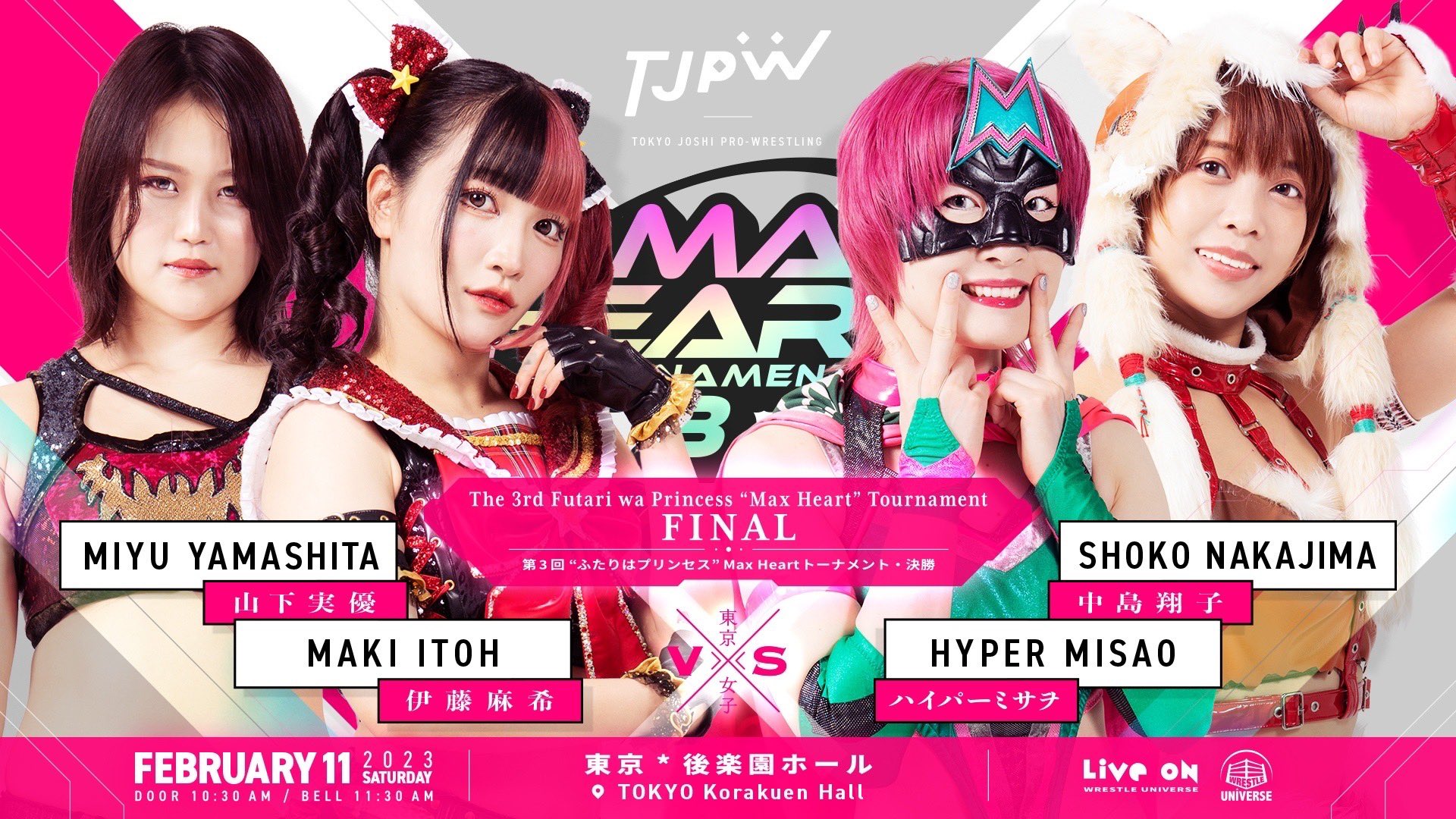 TJPW Max Heart Tournament Finals 2023
Shoko Nakajima and Hyper Misao vs Miyu Yamashita and Maki Itoh
As the 3rd annual Max Heart Tournament comes to a close, the trophies have the added weight of years-long anticipation for Maki Itoh and Miyu Yamashita. In 2021 the Ace and Dark Ace formed the team of 121000000, a love/hate relationship where they drove each other crazy and made each other better.
However, they failed twice at capturing the tag belts and went their separate ways for a portion of 2022, where they found individual success on the worldwide stage. Each coming off a loss at Ittenyon, the bracket bringing them together once again came at a perfect time.
However, Kyoraku Kyomei wouldn't roll over for the big stars without a fight. TJPW main events don't often go over 20 minutes, so these Finals turning into a 25 minute barnburner in front of a cheering crowd made this into an epic battle of win or go home proportions.
Nakajima and Misao resonated in pleasure from targeting Itoh's arms and Yamashita's legs, their opponents' signature weapons. They had the upper hand. But what they didn't account for is One to Million finding strength in each other. 
All the passion and fury from when they first started teaming came rushing back to them. Screaming at each other. Headbutting each other. Combining their respective fist pose and middle finger into one symbol. The magic was back. Both seemed impervious to pain, marching towards the same goal.
As One, their power level goes To a Million. Yamashita had never won a tournament in the company's ten year history. Itoh was watching her old partner Mizuki ascend to the top. Maki finally put Nakajima away with the Itoh Deluxe submission, echoing how she won the Tokyo Princess Cup in 2021, the defining moment of her career. With Miyu by her side, this one might have been even sweeter.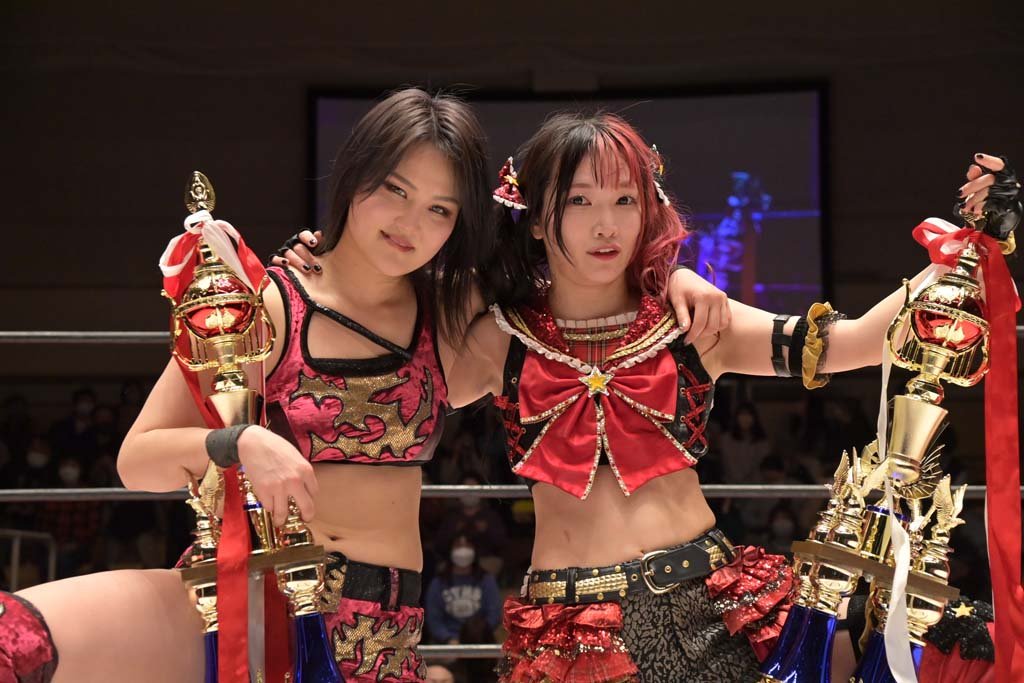 Aftermath 
Trophies in hand and emotions running high, 121000000 is headed to one of the biggest TJPW shows of the year to challenge for the Princess Tag Team championships. Wasteland War Party (Max the Impaler and Heidi Howitzer) won the titles on January 4th in dominating fashion.
They won't be easy to fight. And even though Maki Itoh and Miyu Yamashita can't quite agree if they are only business partners or something more, it is the journey through hell that makes them stronger. 
Grand Princess on March 18 is shaping up to be an action packed card. Yuki Arai vs Aja Kong. French speakers Sakisama and Mei St. Michel vs English speakers Yuki Kamifuku and Billie Starkz. And Mizuki vs Yuka Sakazaki being, with no exaggeration, the most pivotal TJPW match in the past few years.
Because the fun in following these wrestlers, caring about them, watching them fall, and bump, and rise, and learn, is that there's always an endpoint. Winning matches. Winning trophies. Winning championships.