Over the first six months of the year, Tokyo Joshi Pro Wrestling has made quite the push toward growing their brand, especially with their recent event TJPW Additional Attack 22. They performed in front of their biggest crowds at Grand Princess in March and the CyberFight Festival cross-promotion supershow in June. They've booked their top stars to wrestle in different Western promotions such as AEW, Prestige, PWG, and GCW.
They're even starting to bring in international talent like Rhio from the UK, Willow Nightingale from the US, and Thunder Rosa from Mexico. With their sixth monthly event, Additional Attack, in the books, let's take a look at the roster, how they're progressing, and where they're going.
TJPW Additional Attack 22
Arisu Endo vs Kaya Toribami
Two of TJPW's young trainees met in the opening match. Arisu Endo debuted at last year's January 4th show and has taken to wrestling with a poise beyond her experience. The company seems high on her as part of what they call the 1998 Generation, a crop of promising prospects. Endo has not had much singles success, but her tag team of Daisy Monkey with fellow 98 member Suzume saw her first challenge for gold in April.

Kaya Toribami just passed her one year anniversary and is still finding herself. Unlike Endo, who continues to experiment with new moves, Toribami has worked on honing her acrobatic moveset and perfecting her different flips. The match was a fast-paced battle for each girl's first singles victory. Kaya looked the smoothest she ever has and got the pinfall with a rollup, much to the devastation of Arisu.
TJPW Additional Attack 22
Yuki Kamifuku and Mahiro Kiryu vs Nao Kakuta and Haruna Neko
Yuki Kamifuku and Mahiro Kiryu are known as Toyo Mate because they are friends and alumni of Toyo University. Together they have the vibe of the party girl (Kamiyu) and dorky girl (Kiryu) who were paired as lab partners at school. On their own, they are two of the more featured midcard talents on the roster. At CyberFest, Kamiyu competed for the #1 Contendership to the top title and Kiryu, ever the endearing loser, picked up a big tag team win on the preshow.
Nao Kakuta and Haruna Neko are a makeshift team, part of the misfit charm of TJPW. Although Kakuta is one half of a new tag team, Free Wifi, it's hard to visualize long term plans for either of them. There was some comedy to the match and some good wrestling. Kamiyu picked up the win for her team, keeping their names in the mix.
TJPW Additional Attack 22
Yuki Aino vs Raku vs. Pom Harajuku
Every member of the TJPW roster has some relationship to the other. There are friends, contemporaries, tag teams, etc. In this case, Pom Harajuku loves Yuki Aino, who loves Raku, who may or may not be married to a demon. This triple threat match was peak character-based comedy, with the English commentary having a lot of fun with it. These three are part of the loveable misfit category, where the odd title shot here and there is probably what their future holds.
TJPW Additional Attack 22
Miu Watanabe vs Juria Nagano
Part of the expressed initiative in TJPW's recruiting new trainees is looking toward the world of entertainment. The newest recruit is Juria Nagano, an actress/karateka/nurse/influencer. Her karate moves are impressive, but the rookie received a dominant beating from Miu Watanabe. The muscular idol won by submission after a crazy-looking giant swing. Watanabe is a rising star ready to break through to the next level and will be facing special guest Willow Nightingale at the next month's Summer Sun Princess.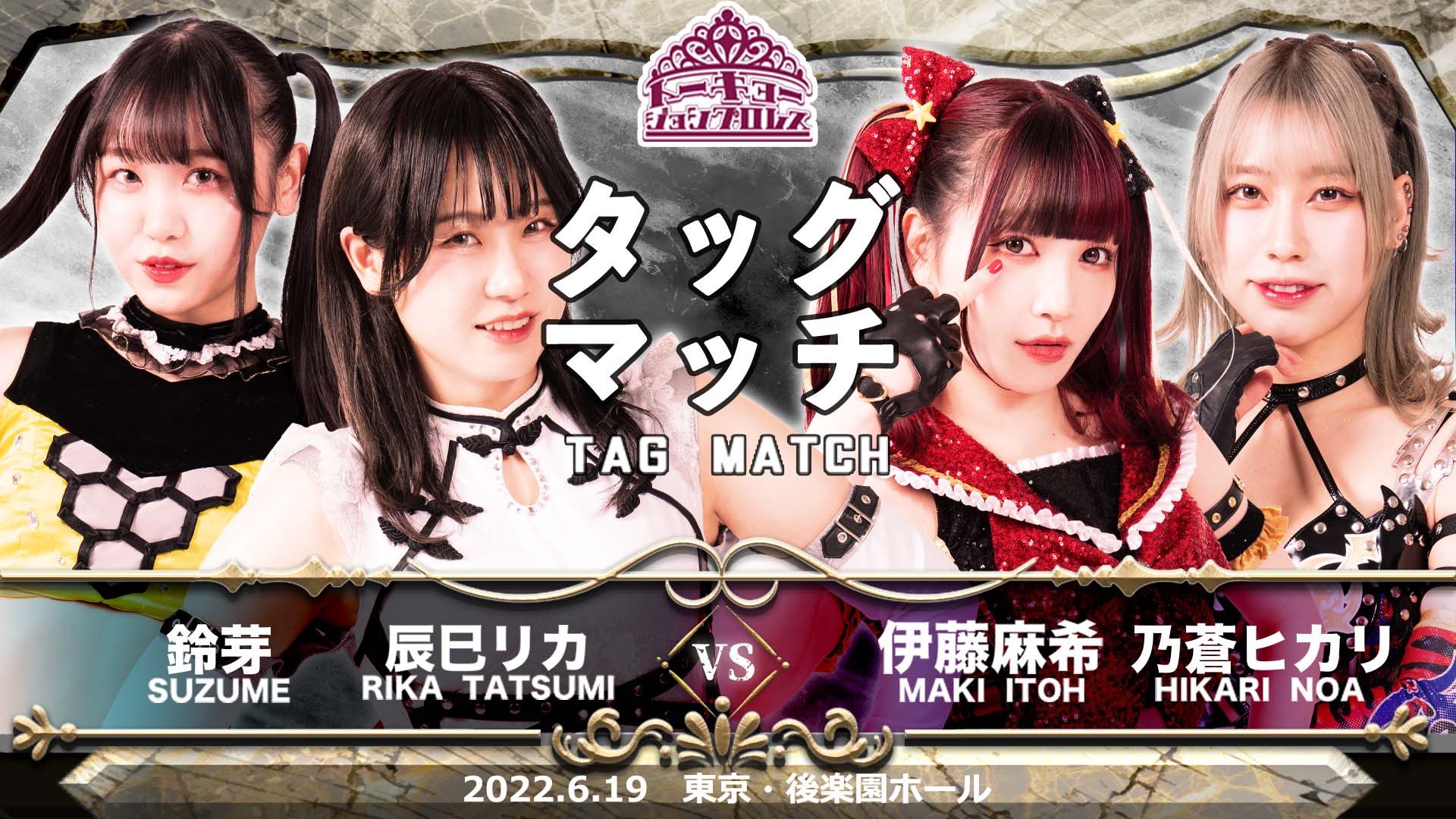 TJPW Additional Attack 22
Rika Tatsumi and Suzume vs Maki Itoh and Hikari Noa
Speaking of which, Maki Itoh and Hikari Noa are also part of the upper mid-card destined for greatness, having fought over the International Princess title on January 4. Rika Tatsumi won the aforementioned #1 Contender's match and will be challenging for the Princess of Princess Championship in July. Suzume is a part of the acclaimed 1998 Generation.
Each wrestler here has "future world champion" written all over them. They had a great match with some hard-hitting moves and intense moments. Tatsumi got the win over Hikari to carry her into her Princess of Princess title shot. Meanwhile, Maki Itoh will be defending her International title against British wrestler Alex Windsor.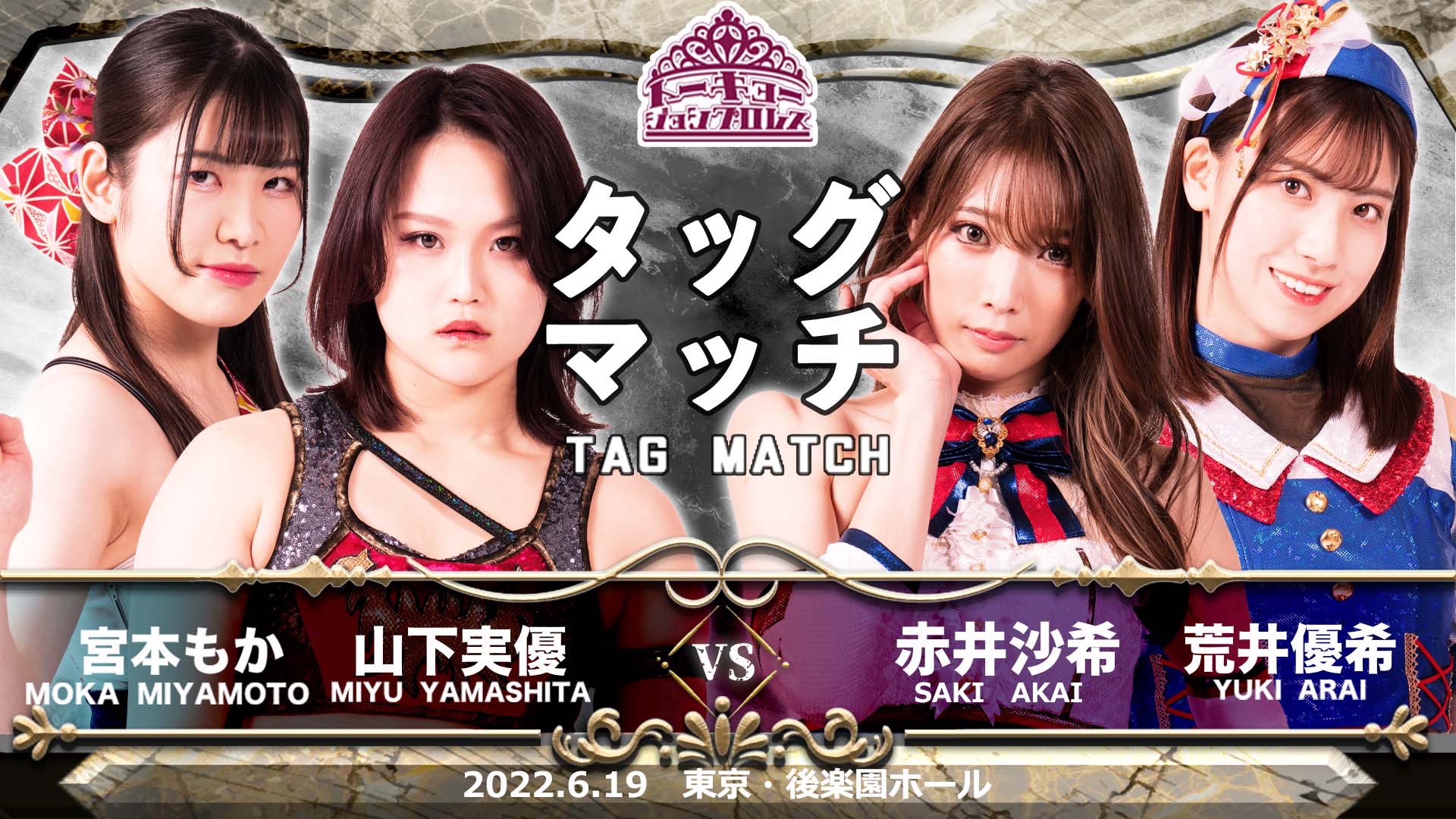 TJPW Additional Attack 22
Miyu Yamashita and Moka Miyamoto vs Saki Akai and Yuki Arai
The semifinal saw a mirror match between two high-level teams. Miyu Yamashita has been the Ace since the beginning and now feels at home in an ambassador role to represent TJPW abroad and welcome the newcomers at home. Her partner Moka Miyamoto is a fellow karate girl and another 1998 kid who as of late, has been given the opportunity to tag with the likes of Hikaru Shida and Aja Kong.
On the other side is Saki Akai, a veteran stalwart from DDT. Her partner is Yuki Arai, a popular idol and the highest-profile member of the '98 girls. Together they are Reiwa AA Cannon, a newly formed unit. The name is a tongue-in-cheek reference, but it does evoke a certain aura. BI Cannon was the name Giant Baba and Antonio Inoki used in their youth. In 2011, Kenta Kobashi and Keiji Muto teamed and called themselves Heisei BI Cannon. It was the Heisei period at the time and Reiwa is the current era of Japan, starting in 2019.
The bout saw a main event level clash between Yamashita and Akai, while Arai and Miyamoto went after each other with youthful zeal. After a spirited back and forth, Arai pinned Miyamoto to give her team a 2nd major win since their inception. While Reiwa AA Cannon are looking at a bright future in the tag division, it was announced that Miyu Yamashita would be facing Thunder Rosa in her return to TJPW at next month's Summer Sun Princess.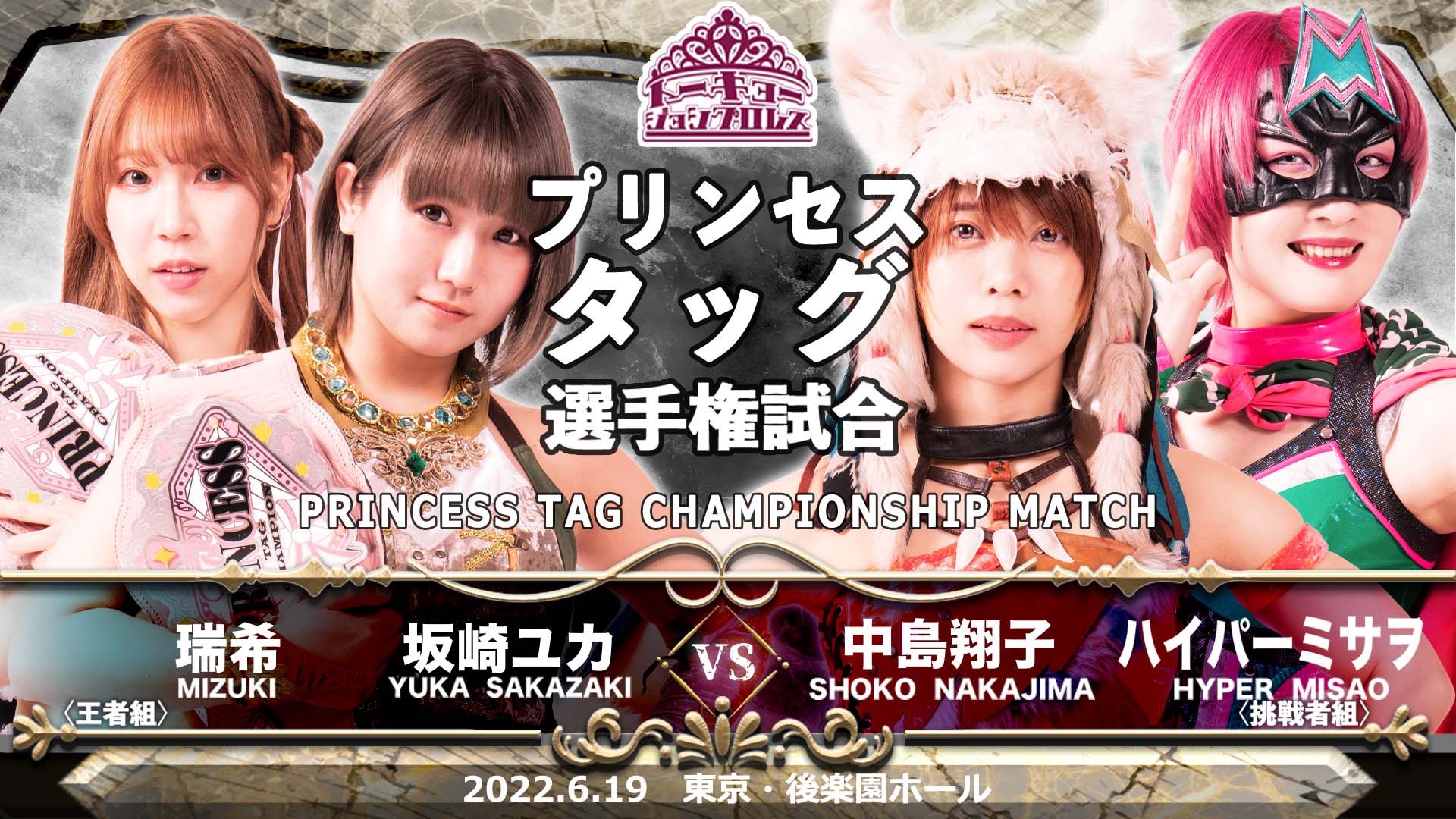 TJPW Additional Attack 22
Yuka Sakazaki and Mizuki vs Shoko Nakajima and Hyper Misao
The main event had the Princess Tag Team Champions Yuka Sakazaki and Mizuki put their titles on the line against Hyper Misao and the Princess of Princess Champion Shoko Nakajima. Magical Sugar Rabbits have had a dominant reign since October, defeating every established team. Nakajima is coming off three defenses of her belt and Misao has been elevated after her challenge for the Princess of Princess title last month.
The match started with a ref bump, silly string, and a bicycle on the outside. However, these wrestlers are talented enough to excel at comedy and transition into a big fight feel. Sakazaki and Nakajima going counter for counter at lightning speed is what makes them world-class. They, along with Yamashita, have been anointed as the flag bearers sent around the world to spread the word of TJPW. With nail-biting near-falls in a near 20-minute bout, Sakazaki pinned Misao to make their 5th defense of the tag belts.
Aftermath
To cap off the event, Yuki Arai came out to lay the challenge for Reiwa AA Cannon against MagiRabi. The crowning of Arai, the Tokyo Sports Awards Rookie of the Year, seems inevitable. And she couldn't ask for a better mentor than Saki Akai.
Additional Attack '22 is a show in between major shows, yet it's a good jumping-on point to kick off the summer. The youth movement is something to follow, as exemplified in the fast-paced opener and by the rest of the 1998 generation. The top-level talent are always going to deliver fun and exciting matches. And with a card filled with guests like Hikaru Shida, Mei Suruga, Willow Nightingale, Alex Windsor, Saki Akai, and Thunder Rosa; any women's wrestling fan is not going to want to miss the hype train for TJPW's Summer Sun Princess on July 9.