Hello again and welcome to another edition of The RIPTIDE Wrestling RETROspective, with me, Mark Blake. Those of you that have followed this series will know that so far I have covered The Storm, Black Water 2017, Deep Six 2018 and Spring Break 2018 and the RIPTIDE Rumble2018. You can catch up by clicking the links above to read those reviews.
I'd like to thank each and every one of you for all the great and positive comments. I shall continue to go above and beyond for you all with these reviews.
Enough with the gushing, let's get on and review one of the best RIPTIDE shows yet…..International Waters 2018!
Money Versus Everybody (Damon Moser & Chris Ridgeway) vs Toni Storm & Bea Priestley
For A Spot In The Brighton Tournament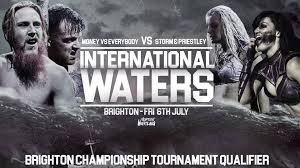 Spike Trivet's lackeys – or hired help – teamed up here to take on the dream team of Toni & Bea. And boy did the women bring the fight to Damon and Chris!
Not only did they hold their own, but I legit thought that they had the match won on two separate occasions! But those dastardly heels kept both women at bay with some great tag work. Cutting off the ring, illegal tags, and double moves, Moser and Riddy were showing lesser teams how it's done.
The gross-out moment of the match came when Ridgeway blew a snot rocket (you can imagine what that is) at Bea, which drew the ire of her and the crowd. UGH!
The referee began to lose control of the match. All four competitors hit each other with their finishers. But it was a simple rear-naked choke (and some rabbit punches to the back of her head) to Storm that gave MVE the win.
Winners – Money Versus Everybody
Charlie Morgan vs Flash Morgan Webster
For A Spot In The Brighton Tournament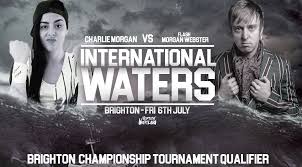 If you read last week's RIPTIDE Rumble review, you'd know that this match stems from that event. There, Flash took Morgan's spot in the Rumble by attacking her as she made her way to the ring and basically stole her spot (much like Nia Jax did to R-Truth at this year's Royal Rumble). Charlie wanted revenge and she got some right here in this match!
Morgan wasted no time in getting her hands on Webster. Fists (elbows, forearms and feet) of fury and a great tope suicido to the outside.
Charlie was like a woman possessed, catching Flash off guard was definitely a game plan that worked. Even when he decided that he'd had enough and went to walk out of the arena, Charlie chased him to the top of the stage and gave him a sweet suplex for his troubles.
Finally, back in the confines of the squared circle, Flash got his groove on slightly and gave a small amount of offense, even finding time to tell the crowd how great he was. Which lead to his undoing as Morgan rolled him up into a tight small package and grabbed the win!
Winner – Charlie Morgan
Aussie Open Challenge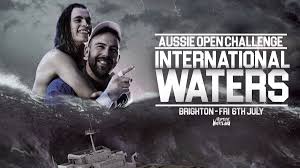 The now-famous Aussie Open challenge was issued and not one but TWO teams answered the call at this event.
As the South Pacific Power Trip (Travis Banks & TK Cooper) were making themselves known to the crowd, out came Lord Gideon Grey and Kurtis Chapman to spoil the party and join the fun. But it wasn't fun for them much longer as the other four men beat down Kurtis and Grey within an inch of their lives!
With the heels now out the way, Aussie Open and SPPT were now free to give the crowd a great match. And that's exactly what happened. Some great back and forth action between the two teams had the crowd on their feet and chanting for all four men. Great stuff!
It wasn't long before Grey and Chapman returned to get in the mix, but again they drew the ire of both teams and were dispatched out of the ring. A nasty ref bump nearly brought this match to an early conclusion but luckily referee Shay Purser toughed it out.
Chapman took the pin after Aussie Open hit their "beautifully" named finisher 'Close Your Eyes And Count To Fuck' to a rapturous ovation from the partisan crowd.
Winners – Aussie Open
Chuck Mambo vs Eddie Dennis
Winner Entered Into Brighton Championship Tournament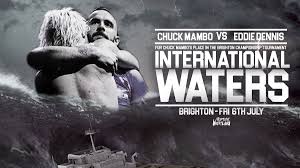 At the end of the last show, Eddie congratulated Chuck on getting his spot in the Tournament and asked for a match. Chuck responded by not only agreeing but putting his spot in the tournament on the line too!
Eddie had spent the past few months injured and many wondered if the dreaded ring rust would hamper Eddie. But we needn't have worried as he, along with Mambo, put on a fantastic performance.
Both men were neck and neck with each other, matching move for move and hold for hold. Eddie even went outside his comfort zone and hit some high-risk moves, he really was desperate for that shot at the Brighton Championship. But unfortunately for both men, and the crowd, things soon took a turn for the worse.
Once again Lord Gideon Grey and Kurtis Chapman made their presence felt. Chapman smashing a keyboard over Mambo's head to give the DQ victory to Chuck. Grey then gave Eddie a low blow for good measure, then cut a promo saying that the pair of them will do whatever it takes to get the proper recognition. What utter bastards!
Winner – Chuck Mambo via DQ
Jordan Devlin vs Jack Sexsmith
I think it's a tie between Jack and Chuck for the most loved wrestler on the RIPTIDE roster, as Jack came out to a HUGE ovation!
Jordan Devlin is, in my eyes, one of the most improved wrestlers in the past two years. His star is shining so bright right now and was the perfect opponent for Jack here. Two junior heavyweight style wrestlers battling it out in front of one of the greatest crowds in RIPTIDE's young history.
A great sequence where a uranage suplex into a standing moonsault from Devlin, then a massive superkick into a Sliced Bread #2 from Sexsmith got the crowd even hotter than ever. Seriously the speed that this sequence happened was insane!
But as is Jack's luck in RIPTIDE, things didn't go his way…
As he was locked up in a tight sharpshooter from Jordan, the referee inexplicably called for the bell just as Jack was making it towards the ropes, indicating that Jack had tapped out! And just as Sexsmith was about to lose his stack, whose music should begin? Yup, the evil Spike Trivet came out and handed the referee a huge wad of cash! The little shit had paid off the referee.
Winner – Jordan Devlin
Spike then began to tell the crowd that heroes don't exist and money really does talk. Jack looked absolutely heartbroken, that the realization that he really can't fight back had dawned on him. Such great character work from both guys here. And well done to RIPTIDE for making this story happen and giving the talent involved the time to really express themselves.
WALTER vs Mike "Speedball" Bailey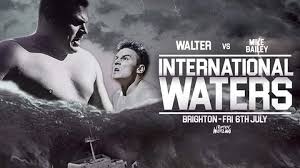 Oh wow, what a main event this was! In case you didn't know, you don't need to be a subscriber to Powerslam or RIPTIDE on-demand to see this epic main event. It's on their YouTube channel and I urge each and every one of you to seek this out and watch it.
IT…IS…INCREDIBLE!!!
The power and viciousness of WALTER versus the speed and agility of Bailey. The age-old story of David and Goliath is more apt than ever in this match.
The match began with Bailey ducking, weaving and dodging WALTER while placing some stiff kicks to the leg of WALTER. This carried on for a few minutes until a Speedball mistake led the leader of RINGKAMPF a way back into the match. A chop that sent the soul of Bailey flying into the ether was just a taster of things to come.
A slam and a senton splash made everyone at ringside wince and feel for poor Mike Bailey. But it wasn't too long afterward that Bailey got the upper hand. Those leg kicks, chopping down the tree trunks of WALTER enough to hit two moonsault knee drops for the closest two count you'll ever see!
The most amazing spot of the night award goes to these two warriors. I kid you not, WALTER chopped Bailey out the air….as he was performing a shooting star press!! It was insane!
That spot led to the finish as WALTER used the momentum and slapped on the Gojira (???) clutch to make Mike submit. The place went crazy as they knew that they had seen the best match in RIPTIDE's history.
Winner – WALTER
And that folks is today's big finish! Once again I'd like to thank RIPTIDE Wrestling and Powerslam.tv and as always, your wonderful selves for not only reading this piece but all the fantastic work right here at Pro Wrestling Post
So until next week…..ADIOS!!!
Click the image below to check out Powerslam.tv where not only can you watch RIPTIDE Wrestling but many more promotions from around the world!