Hello, one and all and welcome once again to my weekly RETROspective of RIPTIDE Wrestling. Over the last two weeks, I have covered The Storm and Black Water 2017, and you can read both of those if you click their respective links. It cheers me up no end to see that both articles have been warmly received by yourselves and those at RIPTIDE and Powerslam.tv.
I mention Powerslam.tv as I use their online portal to watch these and all of RIPTIDE's events. Have a look at their site to see the huge array of content
And without further ado, I give to you the first RIPTIDE show of 2018….Deep Six 2017!
Flash Morgan Webster v David Starr
The crowd was very much against Flash here, after last events' actions (basically turned heel against Matt Cross), and cuts a promo against the crowd saying he doesn't need them. Usual heel promo fare here.
As you can imagine from these two seasoned pros, this match was a great opener and crowd-pleaser. The story of this match was Starr to get Webster to admit that deep down he was a bit of a Rocker (not the Shawn/Marty kind) and not the Mod he makes himself out to be.
Flash is tricked by David into admitting that he loves all things AC/DC, Joan Jett and more before realizing his mistake, swinging a chair that rebounds off the top rope and smacks him full in the face!
The devious Webster claimed victory when he uses Arabella (his motorbike helmet) to low blow Starr and applies the Strangler submission, to a chorus of boos from the crowd!
As I said, a great opening bout to get the crowd hot with a good story told throughout.
Winner – Flash Morgan Webster
Before the next match begins, Jinny makes her way out to tell the crowd that she won't be able to compete in her match against Chris Brookes later in the evening, but she has a great replacement…..it's only Millie McKenzie!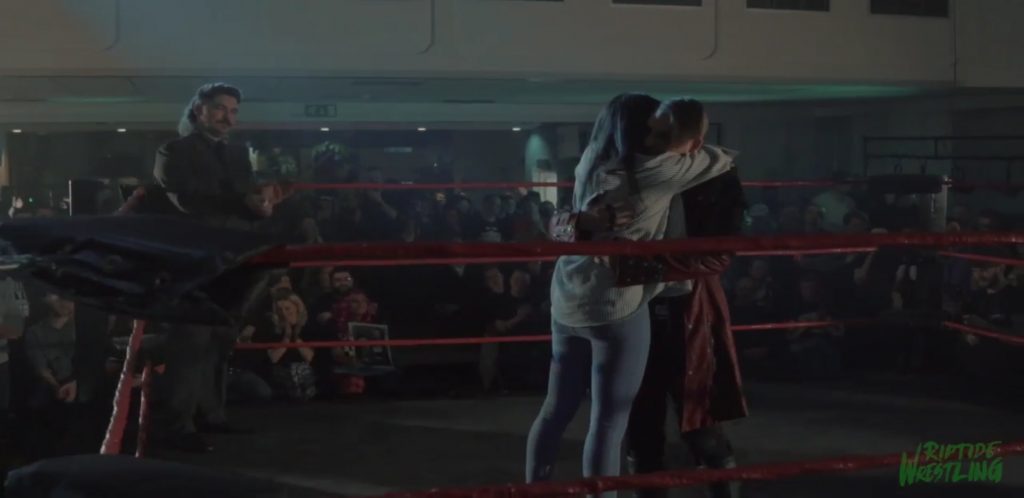 She then goes on to thank the fans and asks Jimmy Havoc to the ring to thank him for training her. From the back comes Jimmy….who then forearms her to the canvas! And just like that Toni runs to the ring and the contest starts.
Jimmy Havoc v Toni Storm
A pretty quick match here that engrosses you so much that you forget that this an intergender match. Jimmy being Jimmy, he doesn't change his style for anyone, male or female (and rightly so), and Toni is such a star already here in this match, before she shines in the Mae Young Classic. But I digress….
A strong back and forth start finds it's way to the RIPTIDE bar (where Session Moth Martina is working for the night), and Jimmy made Martina give Toni a drink….which she promptly spat into the face of Havoc, who takes exception and replies with an eye poke. Great start!
I'm not kidding when I say that Storm took one hell of a beating here, and if you've seen Jimmy wrestle before, you know exactly what I'm talking about. But she gave as good as she got and even hit her Strong Zero finisher for a very close near fall.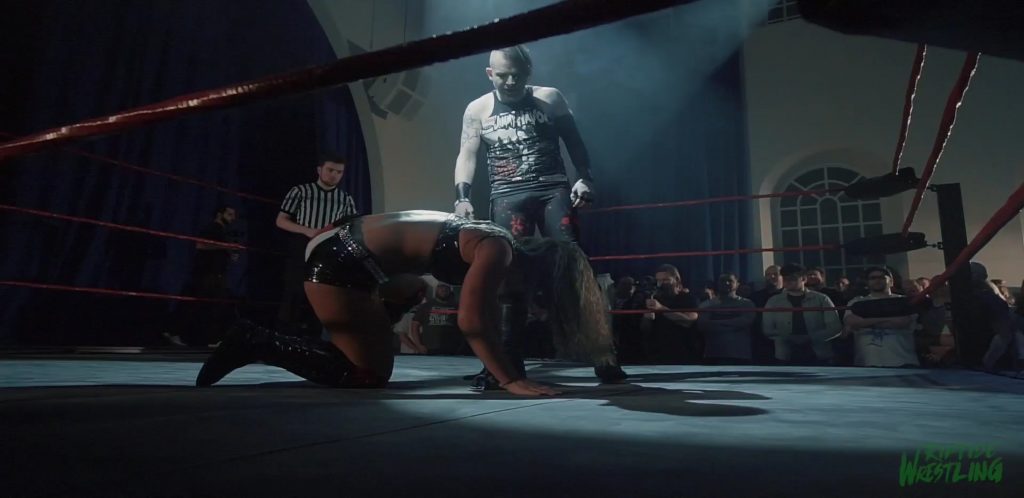 But it just wasn't enough as Havoc hits his Acid Rainmaker finisher which ends the match and gives a hard-earned victory to The King Of The Goths!
If you weren't sure about Toni then I strongly suggest watching this match. You will come away with a newfound respect for her.
Winner – Jimmy Havoc
Brighton Championship Qualifier
Candyfloss v Lion Kid v Veda Scott v Cara Noir v Roy Johnson v Chuck Mambo
It's not a RIPTIDE show if there isn't a multi person match on the card, and Deep Six '18 is no exception. And this one has some high stakes. The winner of this match will be entered into the Brighton Championship match later in the year.
A caveat to start with – as with all multi-person matches, it's frickin hard to write down all the action, so bare with me please 🙂
Veda Scott, fresh from Ring Of Honor, begins by stamping on a beach ball as she hates Chuck Mambo (Mambo's gimmick is a surfer type dude – hence the beach ball) and unleashes a hellacious dropkick onto Candyfloss, knocking her out the ring. A free for all then happens and it's really hard to keep up!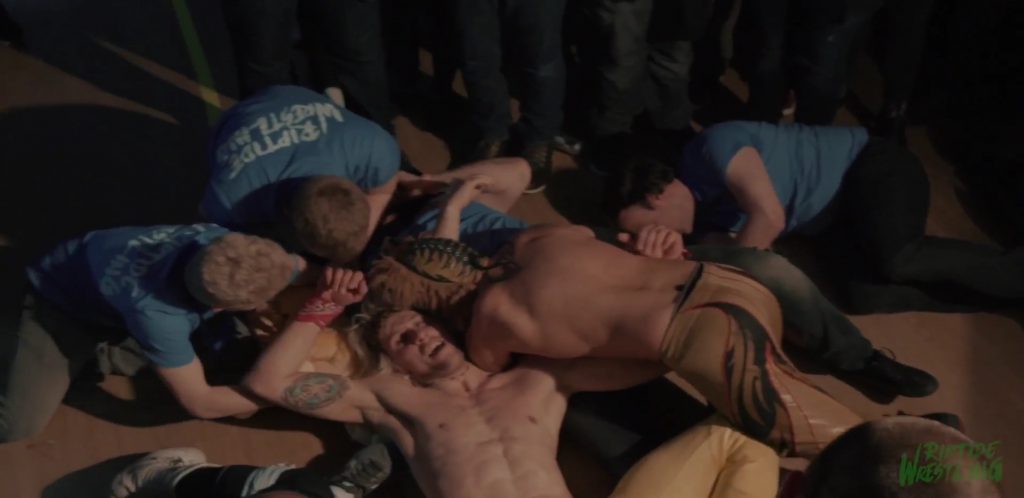 A great spot where Mambo ties up Lion Kid in a Mexican surfboard is quickly turned into a "chain of events" submission off with the rest of the competitors slapping on a submission to the person already doing a submission….until Cara Noir slithered in and licked everyone. The dastardly freak!
A sick looking package piledriver from Noir onto Lion Kid draws a very close near fall and gasps from the crowd, such a great move when delivered effectively as Cara does.
Cara then takes Candyfloss onto the top rope to hit that same package piledriver once more, but she reverses it into a sweet-looking Destroyer! Scott sneaks in to take the glory but only gets a two. Candyfloss is enraged after Veda's antics and slaps on an armbar to gain the submission victory and a place in the Brighton Championship match!
Winner – Candyfloss
Chris Brookes v Millie McKenzie
What. A. Match!
Chris has had a hand in helping train Millie (who is 17 when this match took place) and you can see the chemistry they possess in this match. Some of the spots they do here would only happen once you have the trust from working with each other for a long time.
But this match wasn't all about the spots, the psychology was great too. Chris working on the arm of Millie while she is looking to hit her patented German suplexes.
Chris is in total charge of the entire match, showing Millie that although she is a special talent, she's not at his level yet….but hot damn if she didn't take him close to the wire though.
Seriously folks, go out of your way to see this match, the confidence of McKenzie grows throughout this contest and, in my opinion, continues after this match and into the whole of 2018. Millie truly does have the world at her feet right now and this match sets the tone.
Predictably Chris Brookes wins with his Preying Mantis bomb finisher (which looked super deadly I might add) but all eyes were on Millie.
Winner – Chris Brookes
Travis Banks v Mike "Speedball" Bailey
The Kiwi Buzzsaw versus Speedball. Kicks are the order of the day in this match, with two of the hardest hitting guys in the business, literally kicking the crap out of each other the entire match.
A quick Lions Clutch attempt by Banks breaks up the kick-fest, but Bailey makes it to the ropes before it's really synched in.
It's back to the kicks, which are now resonating all around the Brighthelm Centre, making everyone in the crowd wince in sympathized pain for the two in the ring.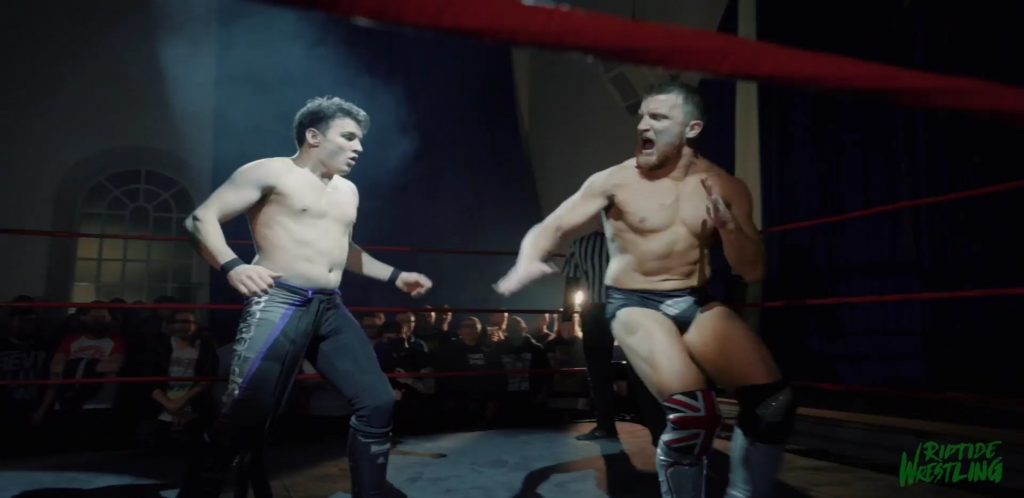 Travis really picks up his game during the middle part of the match, taking control and really taking charge. A Kiwi Krusher, two Slices of Heaven and another Kiwi Krusher only get a two count from the resilient Speedball, much to the chagrin of Banks.
Even after that sequence, Bailey pushed through the pain and hits standing moonsault knees, following it up with some bloody impressive shooting star knees to pick up probably the hardest fought victory of the evening.
Winner – Mike "Speedball" Bailey
Spike Trivet & Damon Moser v Chris Ridgeway & Jack Sexsmith
Already this feud has been elevated to a blood feud, such is the animosity between Trivet and Sexsmith – two of the UK's brightest talents in 2019, trust me.
The match began at 100 miles an hour, as you would expect from Trivet and Sexsmith, the two standouts so far in RIPTIDE's young history. Fists (and feet) of fury were flying all over the place!
Moser and Trivet do an excellent job of isolating Sexsmith and really laying a beating onto him. You really do feel Jack's pain which is a testament to all involved for getting that across.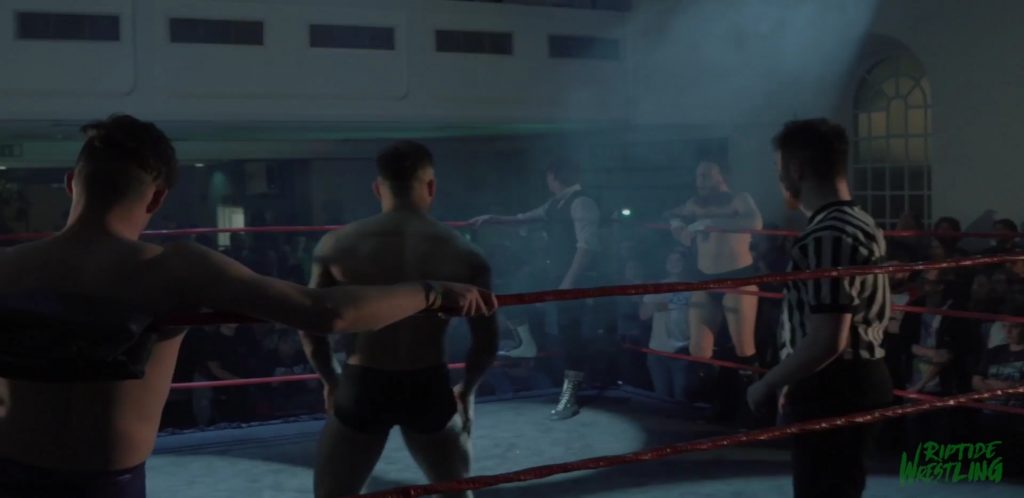 Ridgeway gets to tag in but again, is taken apart by Spike and Damon, but when Chris and Jack finally get a chance to show what they can do, they do it in spades! Even sharing a sneaky kiss or two to their adoring public.
Which makes the finish of this match even more heartbreaking….Ridgeway turns on Jack and joins Spike & Damon to form "Money V Everything".
Winner – Spike Trivet & Damon Moser
It seems that Spike's millions seem capable of buying anyone, Ridgeway included, seemingly in Trivet's pocket from the get-go of this match. Great booking, leaving us fans wanting more from RIPTIDE in this twisting and weaving storyline. Bring on the next event!
And that folks is today's big finish. Once again I'd like to thank RIPTIDE Wrestling and Powerslam.tv, and not forgetting yourselves for reading our work here at Pro Wrestling Post.
But never fear folks, I shall return next week with the review of Spring Break!
So until then peeps….
ADIOS!
Click the link right here or the image below to check out Powerslam.tv where you can watch RIPTIDE and many more promotions from the UK and around the world!