Welcome back folks to my weekly look back at RIPTIDE Wrestling's shows via the Powerslam.tv site!
Last week I wrote about The Storm (which you can read right here) and this week I carry on in chronological order and bring to you Black Water 2017! The last show of 2017 and RIPTIDE wanted to go out with a bang!
So without further ado, here's my review of RIPTIDE Wrestling – Black Water 2017….
Zack Gibson V Chuck Mambo
Chuck Mambo is the adopted son of the RIPTIDE Wrestling crowd. He is loved and adored in equal measure and, as these reviews move along, will become the golden child. More of that in the coming weeks….
Ahhhhh, Zack Gibson. The man that everyone loves to hate and waves their shoes at. The most HATED heel in British wrestling and boy is he fantastic at getting everybody against him. I've met him once at a seminar and I can confirm that he is an absolute gentleman, nothing like his character at all.
This match, being the opener, starts at breakneck speed, with some super quick pin attempts from both men. Eliciting applause from the hot crowd.
Other highlights from a good opener were some great tope suicido's to the outside (where the majority of this match took place, to be honest), followed by some stiff forearms to each other, as is the British way. A Gibson Ticket To Ride in the corner that looked brutal, and a Shankly Gates submission countered so many times before Chuck got hit with a great looking Helter Skelter.
Mambo hit his Chuck You (what a great name) finisher to pick up the win and stay undefeated in RIPTIDE Wrestling!
Winner – Chuck Mambo
El Phantasmo V Lion Kid V Kip Sabian
Both ELP and Lion Kid were featured in last week's RETROspective, and long-time readers will know how I feel about Kip Sabian, so I won't bore you with introductions for them all, I'll dive straight into the action….
It begins with all three hitting a few strikes amongst each other before finishing the sequence with all of them hitting missed dropkicks to each other. Always a great start to a competitive match up.
ELP walks the top rope, kicks away Kid before hitting a sweet hurricanrana on Sabian. Lion Kid, pissed, hits a Code Red onto ELP for the disrespectful kick and slaps another 'rana on Sabian. He's really having a tough time at the start here!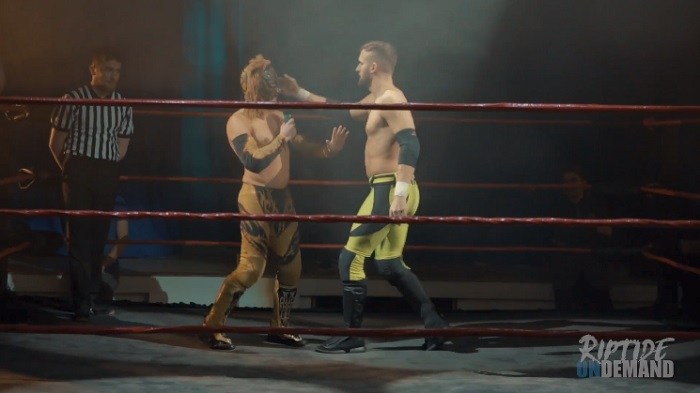 The match doesn't let up as Lion Kid comes into his own with some sweet tornado DDT's, a great Quebrada (basically a moonsault but in honor of Ultimo Dragon), and reverse DDT's – he's quite adept at the DDT's you know!
That's not to say that Kip and ELP were left in his wake, it was a very typical three-way dance where they all had a chance to shine, I was just impressed with Lion Kid more that's all.
A Sliced Bread by Kid onto Sabian grabs the 1-2-3 and a great win. A brilliant match by three outstanding talents.
Winner – Lion Kid
Aussie Open V Spike Trivet & Damon Moser
The now regular Aussie Open Challenge is answered by the new team of Trivet and Moser, and as all four are known for a pretty brutal style, this match was pretty frickin brutal!
Moser took one hell of a battering here, mostly with Spike at fault for it too! When Trivet tried to spray his champagne into Mark Davis's face, Moser took the bullet for Spike and received some nasty Aussie chops to his chest!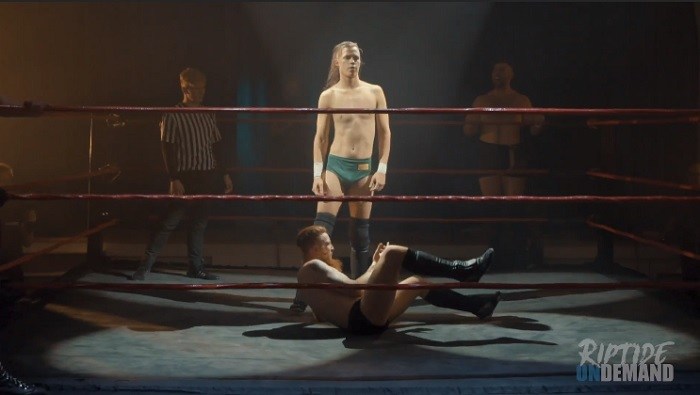 Some shenanigans later in the match saw Moser and Trivet tie Davis to the hands to the ring post with zip ties, after eating some superkicks that sent him outside, that left Kyle Fletcher by his own and on the end of a beatdown.
Those ties couldn't hold the strong Aussie Davis and he soon broke free and vented his anger on Moser with his pull up piledriver finisher – seriously it looks vicious as hell but is safe as a daisy.
Winners – Aussie Open
Rhia O'Reilly V Kaggy V Charli Evans V Candyfloss V Laura Di Matteo
RIPTIDE Wrestling management sure loves a multi-person match!
Unfamiliar with Kaggy, I did some research and found out this was her debut RIPTIDE appearance, and she trained at Dragon Pro. Not a bad proving ground to be honest!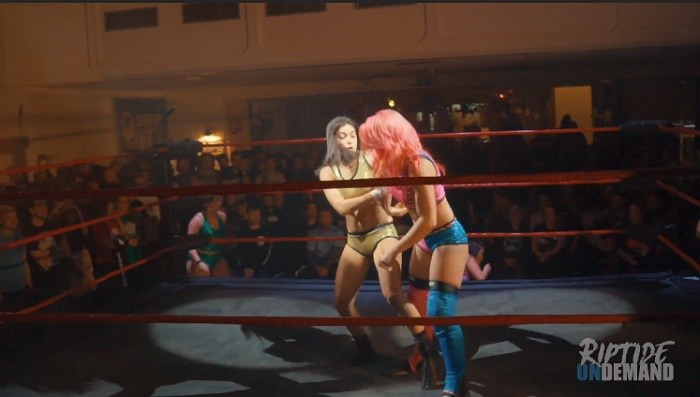 In the beginning, everyone paired off as most of these matches start to be honest, but a nice near submission by Candyfloss onto LDM had the crowd engaged., but not as much as the sick Japanese arm drag Candy used on Laura! Flew halfway across the ring!
Soon after it was time to play trade the forearms, with Laura winning that convincingly. This woman is underrated! A Jeff Jarrett style Stroke from by Charli onto Rhia almost seals the win but Kaggy, making her debut remember, breaks up the pin and then STEALS the match with the obligatory handful of tights! What a night to remember for Kaggy!
Winner – Kaggy
Matt Cross V Flash Morgan Webster
A rather unfortunately short match (over-ran somewhere on the card?) but what a match!
Another debut in the way of Matt Cross (criminally underrated in the world of pro wrestling), and possibly the greatest match I've seen Flash in for quite some time.
A nice double stomp from the top rope onto Webster takes this match up a notch as Cross gains strength from this raucous crowd. Flash replies in kind with an Eton Rifles attempt but it's countered into a backbreaker for a very close near fall.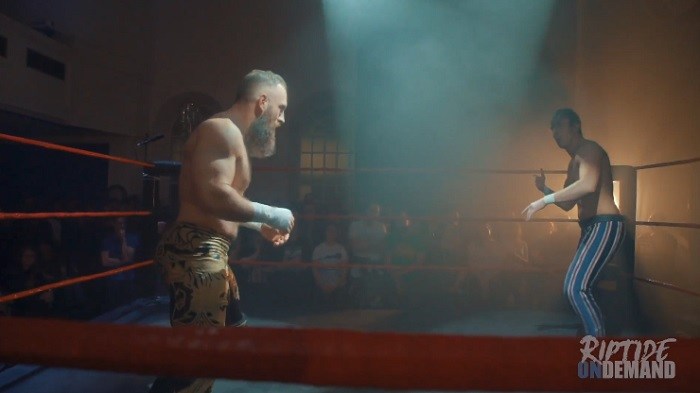 A powerbomb attempt by Flash but Cross escapes by backdropping out of the maneuver, reversing a Brit Pop Drop into one of his own, bringing this hot crowd to its feet! Fantastic action!
A flying crossbody from Cross, Angels Wings by Flash, and a handspring back elbow leads us to the end of this great contest. A crisp Shooting Star Press gives Cross the win. Such a good match, but imagine what they could have done with an extra 8 minutes or so…..
Winner – Matt Cross
After the match, Morgan Webster grabbed the mic and sung the praises of Cross. Matt was the better man, thoroughly deserved the win, etc, etc. As Cross went in to shake Flash's hand, Webster headbutted Matt to the canvas in an apparent heel turn! He then cusses out the crowd as he walks to the backstage area.
CCK (Travis Banks/Chris Brookes) & Jinny V Mike Bird, Wild Boar & Jimmy Havoc
The underlying story here is that Jimmy Havoc trained Jinny. And this would be the start of a great rivalry between the two here in RIPTIDE, and we'll get to those matches in the coming weeks, don't worry 😉
Mike Bird and Wild Boar make their way to Brighton from Wales and are stalwarts of the British scene, with Bird, in particular, having a hand in training some of today's UK talent.
OK, I'm going to get this out the way right now. I can't do this match any justice by writing about it. I mean I'll give you all a brief rundown of how the match went but seriously, you have GOT to watch this match. It is all kinds of crazy wrestling insanity…
With that disclaimer out the way, I'll begin telling you some of the spots! –
Chops, so so many hard chops!
Forearm party! Everybody threw and tasted around 50 forearms each!
Top rope double stomps
Acid Rainmakers….yes plural!
Flying 'rana's!
Michinoku Drivers!
Lungblower (Lykos tribute)
Jinny picks up the big W in possibly the best way to close out RIPETIDE's 2017. What a match!
And that's the big finish folks! But never fear, I'll be back next Saturday with another RIPTIDE Wrestling RETROspective, powered by Powerslam.tv
And talking of Powerslam.tv, click the link right here or the image below to check out their site, where you can watch RIPTIDE and many more promotions from the UK and around the world!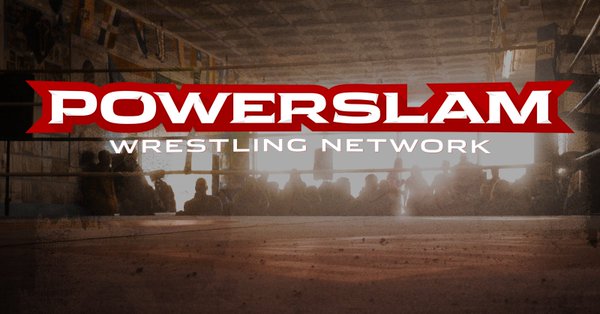 So until next week….
Adios!!!