Hello again and welcome to another edition of The RIPTIDE Wrestling RETROspective, with me, Mark Blake. Those of you that have followed this series will know that so far I have covered The Storm, Black Water 2017, Deep Six 2018 and Spring Break 2018 and the RIPTIDE Rumble2018. You can catch up by clicking the links above to read those reviews.
We're getting to the end of my RIPTIDE Retrospective run here at Pro Wrestling Post. After this piece I will have three more events left before you're all caught up! The time has flown by folks 🙂 I hope you've enjoyed reading them as much as I've enjoyed reviewing them for you all.
But as always, you're not here to hear me waffle, you want the action! So I'm laying out now and giving you the first night of RIPTIDE Wrestling's Brighton Championship Tournament!
Spike Trivet vs The OJMO
The ultimate heel in RIPTIDE, Spike Trivet, earned his spot in the quarter-finals by putting away the talented OJMO in a good opening match. The story was OJMO's athleticism against the brutality of Spike.
Trivet bullied around The OJMO but was nearly caught out a few times. a picture-perfect moonsault that garnered a very close two count from the referee was a particular highlight.
But Spike walked away the victor with his Birth Right finisher – a butterfly suplex into an over the knee neck breaker. Seriously it looks brutal.
Trivet walked to the back knowing he had one foot in the semifinal, no matter who he would be facing.
Winner – Spike Trivet
CandyFloss vs Cara Noir
A grudge match here as Cara had been a thorn in CandyFloss's rear for the last few shows. Showing up in her matches and generally being a nuisance.
CandyFloss went all out in this match and once again impressed me. In my opinion, she really is one of the best female performers in the country. She tried to make Noir tap out a few times, to a kimura and armbar, which both looked painful. Just as they should 😉
Cara retaliated in kind with some brutal kicks to her head and a beautiful flip-up kick which almost ended up with CandyFloss being given Noir's trademark lick…..UGH!
A simple jackknife pin is all it took for CandyFloss to put away Cara Noir and advance to the quarterfinals, where she would face off against Spike Trivet. Oh dear god…..:(
Winner – CandyFloss
Angelico vs Chuck Mambo
The in-ring debut of Angelico brought the crowd to its feet. Their first time seeing the death-defying Lucha Underground member left a mark ion each and every one of them after this match.
The match didn't start as everyone expected, mat-based grappling began this match. And to be honest not much high flying action took place, which I for one didn't mind. It's great seeing two professionals have a change of pace.
Angelico was the aggressor here, really laying it into Chuck, who for the most part just ate it up. It wasn't until Mambo received a nasty stomp to his back that he fired up and got back onto the match.
A gutbuster, a blockbuster and a double foot stomp off the apron, and Chuck was really on fire, much to the crowd's delight! Angelico was swarmed by Mambo's offense and succumbed to the springboard splash as Chuck picked up the win and advances on.
Winner – Chuck Mambo
Damon Moser vs Mark Davis
Davis is significantly larger and stronger than Moser here, advantages he uses to his advantage in this match. Throwing around Moser and treating him like a rag doll. The only way Damon was getting anything out of this match was by nefarious means….and as a member of Money Versus Everybody, that comes easily to him.
Avoiding a piledriver, Moser rolls up Davis, and with the help of the ropes that were close by, picks up the shock win! The crowd was stunned before they booed the hell out of Moser!
Winner – Damon Moser
David Starr vs Charlie Morgan
The two faces shake hands to begin the match, and the crowd appreciates it by clapping and cheering both on empathically.
Morgan targeted the arm of Starr, while David himself would rely on his superior strike ability in the early goings.
Charlie was really giving the left arm of David some serious hurt, a huge superkick to the arm followed by a short-arm scissors hold added to the damage. Luckily for Starr, he power bombed her out of the hold before any serious damage could take hold.
David picked up (at the time) improbable victory with a high rope-assisted knee onto her own knees, and then slapping on a bow and arrow/cloverleaf combination submission for the win.
Surprisingly both shook hands after the match, a rarity these days. Good stuff!
Winner – David Starr
Jordan Devlin vs Kyle Fletcher
Here's a doozy of a match for you all, another to add to the "you gotta seek this out and watch it" match! Devlin and Fletcher brought it and then some here!
Both men are known as high flyers but they did that and so much more in this contest. Strikes, submissions, psychology, mat-based grappling….seriously, whatever floats your boat is catered for.
The best sequence of the match? Devlin going 110% with a tiger suplex, sit-out powerbomb, plancha to the outside to hit a frog splash from the top turnbuckle for a two count. It was so fast, it was like watching Usain Bolt in his prime. Just fantastic stuff.
I could watch both these guys go again and again, but unfortunately, there can only be one winner, and that winner was Jordan Devlin. A frickin fantastic Canadian Destroyer followed immediately by a package piledriver got the big W for the Irishman.
Get this match watched folks!
Winner – Jordan Devlin
Chris Ridgeway vs Millie McKenzie
Whoa there! Hold your horses! How do you follow a match of the night? By putting on ANOTHER one, that's how!
McKenzie puts the rest of the world on notice on just how good she is here, and Riddy really helps her shine in this match. The physicality and technicality of both is off the scale, especially as it's intergender. It's up there with Jimmy Havoc vs Jinny levels of intensity.
Chris was really concerned around the halfway mark that Millie was still standing and going toe for toe with him. He knew he had to put her down, and keep her down. Cue multiple submission attempts. A rear-naked choke, Rings Of Saturn, you name it he tried it. But Millie is no slouch at the ground game and always found a way to escape. Riddy was losing his composure.
Eventually, Chris snapped and repeatedly hit her with some really stiff cross faces which gave the referee no option but to wave the match off and call for the stoppage. And with that Moser and Trivet rushed the ring to celebrate with their MVE brethren.
Winner – Chris Ridgeway
WALTER vs Jonah Rock
What a way to close the first night's events! Were RIPTIDE management worried that these two behemoths would crush the ring, hence being last on the card? 🙂
The battle of the super heavyweights was exactly as you imagined it would be…BRUTAL! Jonah tried to shake WALTER's hand but it was kicked away, which drew some gasps from the crowd.
Both men were trying to take each other off their feet, WALTER even tried to bodyslam Rock but collapsed under the weight of the Australian. Both men were finding it tough work to gain an edge. A mistake from Jonah was all that WALTER needed as he finally slammed him to the mat.
Rock fired back with a suplex and a uranage for a two count. Both men were finally finding out how to take each other down. But then the pace changed, and the strikes came into play. And sheeeeesus did they come into play! WALTER was hitting Rock with the hardest chops I have ever seen. It legit looked like you could see Jonah's chest plate cracking under the slap!
But Jonah persevered and with his patented Bullfrog splash, put away the RINGKAMPF leader and earn his spot in those quarterfinals.
WALTER finally accepted the handshake from Jonah after the match, and what a brutal brutal match it was, but oh so watchable!
Winner – Jonah Rock
And that brought to a close the first day of the Brighton Championship Tournament. A lot of action I'm sure you'll agree, and a lot of interesting match up's for the second day. Money Versus Everybody is through, RIPTIDE's own Chuck Mambo proved his credentials and takes part in the second day. So many more stories to tell. Bring on Day Two!!!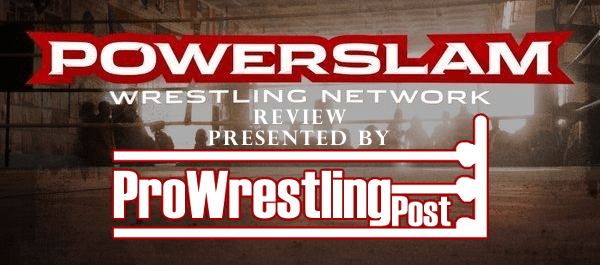 That folks is today's big finish! A shed load of matches but not once did the action drop. All power to the wrestlers and RIPTIDE management. I'll be back, same time, same place, to bring you Day Two of the Brighton Championship Tournament 😉
Once again I'd like to thank RIPTIDE Wrestling and Powerslam.tv and as always, your wonderful selves for not only reading this piece but all the fantastic work right here at Pro Wrestling Post
So until next week…..ADIOS!!!
Click the image above to check out Powerslam.tv where not only can you watch RIPTIDE Wrestling but many more promotions from around the world!