With her piercing glance and tall stature, Susan Tex Green has an intimidating look similar to Clint Eastwood. Green has a cast-iron jaw with a diehard work ethic. Despite suffering numerous injuries that would make an average human whimper, she continues to train. She has not stopped wrestling during her 40 plus year career. They call her Tex because this motorcycle riding, a hard-hitting farm girl who also worked corrections. She is as tough as they come, and she continues to look ahead for that next match.
The words;
"I can't" don't exist in her vocabulary as she has expressed numerous times, "I can't means I won't. It's your choice if you can."
Despite her toughness, she is truly a kind-hearted individual and has always helped those in need.
She grew up in Corpus Christi, Texas; at 15 years old, she already stood six feet tall. In High School, she was a champion swimmer and tennis player. She was and still is very close with her family. Her niece Debora Shipley recalls a memory. One while growing up with her aunt who lived down the street at the time;
"I was seven years old and we were riding horses and all of a sudden my horse began acting up. I was terrified; however, somehow, she made it sit down so I could get off. I was amazed, and I have never seen that happen before to this day. To us, she was a superhero like the Lone Ranger; she means the world to me."

Photo / Susan Tex Green
Debora inducted Susan Tex Green into the Pro Wrestling Hall of Fame 2017
"When most fans think of Professional Wrestling stars that represent the state of Texas, they mention Von Erich's, Funks, Romero's, and Guerrero's, but only one lady wore the name Tex in the ring…That was Susan "Tex" Green. Susan was as tough as she was tall, and she proved it against the best of the best during her long and storied career,"

– James Beard of SWE Fury.  
When she was a kid, she and her father would attend the local wrestling matches, and that is where her interest began.
"My father took me to my first wrestling event, and Joe Blanchard announced girl's wrestlers, which caught my attention. We always sat in section B, seats 9 and 10. We had those seats for ten years. Joe Blanchard trained me the summer before my junior year in High School. My first match was at 15 years old, and I took a beating of my life when I went against Millie Deleon. My favorite wrestler to watch was Bobby Shane. He knew how to wrestle and brawl,"

– Susan Tex.
For a long time, Susan took a lot of punishment in the ring, as were a lot of the veteran females. It wasn't until the late Danny Hodge, an Olympic silver medalist in wrestling and a highly respected pro wrestler, took Susan aside one day and taught her how to defend herself.
"Danny Hodge would see the scars and bruises a lot of the female wrestlers could take advantage of me because I was so light. He would teach me how to take care of myself in the ring. He would tell me, "I'm going to teach you how to hook so this will never happen to you again, kid" I am very thankful for both him Bobby Shane also showed me maneuvers as well,"

– Susan Tex.
Susan also admired fellow Pro Wrestling Hall of Fame inductee Beverly "The Hammer" Shade.
"Beverly is one of the toughest ladies to every step in the ring. She and Tracy Richards became arm and hammer tag team, and they were phenomenal and the first female tag team that worked a Russian gimmick. Beverly had the in-ring knowledge, and Tracy was the strength."
Tex was booked by Beverly and her husband when they ran shows with Eddie Graham.
When Susan had found out that Tracy Richards had been diagnosed with Cancer, she would drive four hours almost every day to that hospital to see Tracy. Beverly would have come; however, she had several personal obligations that prevented her from going.
"I have tremendous respect for Susan Tex Green. She is truly one of the most amazing people I have met, and it means a lot to me that she was there for Tracy,"
– Beverly Shade
One of the last found memories Susan had with Tracy was when she took her out to go to Myrtle Beach, SC, for a nice steak dinner. Within two weeks, Tracy would pass away from Cancer. Susan was by Tracy's side until the end, which truly speaks for her; as an individual, there will never be another Susan Tex Green.
January 1977 in Texas at the Historic Dallas Sportatorium for All-Star Wrestling, Susan Tex Green beat the Fabulous Moolah in a legitimate shoot fight. As a result, she had taken the title on her terms. How this transpired was referee Mike Mazurki gave instructions to both women in the ring, and Moolah, instead of shaking Susan's hand, slapped her in the face as hard as she can. Susan cupped her eye, looked a Moolah like a gunfighter ready to shoot, and said, "beat me if you can!"
Susan grabbed Moolah and executed called an Indian deathlock which puts pressure on the knees and legs. Within seconds Moolah (Lillian Ellison) was forced to tap out and squeal the words "I quit." The belt was then given to Susan and the so-called steak of 20 plus years was not as consecutive as what some purists will admit. We have to be aware that this was when kayfabe was real, and promoters did anything to protect the business. The promoter was Fritz Von Eric, and the title actually wasn't his; it was Moolah's herself. So Moolah had contacted Vince Mcmahon Sr to ask to get the title back.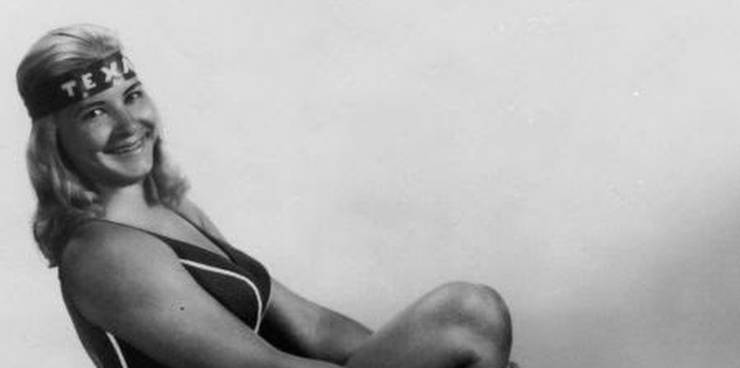 "Vince Sr was forced to buy the belt back from me, and both he and Moolah had to agree to my terms in regards to employment. My stipulations were I wanted the freedom to work anyplace I wanted and book anyplace I wanted to. I still worked for Moolah from time to time, but it was under the radar because I beat her in D prior to the incident for nine years, Moolah had Susan living on her property, and she was in charge of booking her. "Moolah had 25 acres of property, and we were in charge of the upkeep of the place. We all had jobs. My job was to mow the lawn with a push mower. She would only book us if she needed money or if we owed her money."

Susan expressed that it was like slavery, and Moolah would take at least half her paycheck as she did with the other girls as well," explained Susan.
As a result of Susan standing up for herself, she gained the attention of pioneer wrestling legend Mildred Burke. Susan ended up working for Mildred, who was the fabulous Moolah's competition at the time.
"Mildred taught me the business and how to get booked and how to make personal appearances as well as properly market myself. If Moolah wasn't so greedy, she could have helped the girls as well as the future of what women's wrestling could have been, but she didn't, and for a while, women's wrestling suffered,"
– Susan Tex
Susan was able to travel on her own and ended up in Japan, where she gained great admiration and respect from both wrestlers and fans. Tex is the only female, especially at that time, to be accepted by the men. Legends like the late Ron Bass, Bobby Eaton, and Black Jack Mulligan treated Susan as an equal.
However, there is one male wrestler that is a true living legend and dear friends with Tex. Multiple Hall of Fame inductee Ric Flair has great admiration and respect for Tex. Ric would always make it so Susan would be booked when they would go on tour. This time though, they were on a 21-day tour that ended up in Tonga, and this is where they got into some trouble with the locals.
"When we got there, we had passed this area that had gallows and a guillotine in the middle of the town. We didn't think anything of it at the time and thought it was some sort of Halloween decoration. So Ric and I ended up going to the beach to tan for a bit. Both of us were in our bathing suits, and we didn't think anything of it until all of a sudden, I was surrounded by guards with swords. We were taken to the King, and he had informed me that my legs were not allowed to be bare because I was a woman and failure to obey is punishment by execution. We then recalled the various torcher devices we had passed early that day…I guess they weren't Halloween decorations like we originally thought. That night I was supposed to wrestle, and you better believe I had my legs covered. The King was in the audience that night, and I would point to my legs and wink at him, and he would laugh. That was an experience that I will never forget,"
– Susan Tex.
Her training career began at a young age when she was at Moolah's. Susan had pointed out that often times Moolah wouldn't train the girls. It was up to herself and Donna Christanello to train the girls. Former WWE Women's champion Leilani Kai has consistently pointed out that it was Susan Tex Green who trained her.
Susan Tex Green acquired Joe Blanchard's old ring and opened a pro wrestling school in Columbia, South Carolina, "The Gym of Pain and Glory." One of her current students is a 400 plus pound wrestler Big Hoss Furman Jeffords, who is arguably one of the world's strongest wrestlers who have ever lived. 
As he is famous for bench pressing 500 lbs for reps. Susan trained him very well, and he is incredibly agile for someone of his size, and his in-ring IQ is at a genius level.
On March 20th, Tex Green, along with Demolition Ax will receive a lifetime achievement award at the Augusta Fairgrounds in Georgia. She will be inducted into their pro wrestling Hall of fame, which eventually will be a museum. Selena Majors will also be there as well. The Promotion is bad boys pro wrestling. This will be the third hall of fame that recognizes her.  
Susan Tex Green has been a successful promoter, manager, trainer, referee, and a champion pro wrestler. She has done everything in pro wrestling and done it better than anyone despite gender. Susan Tex Green, her secret to success, was the advice given to her by Joe Blanchard.
"Be a duck and let things roll off your back. People will try to aggravate you. It's your responsibility not to allow them to."