On Sunday, June 18th, 1995, Sting wins the WCW US Championship for the second time. The venue was the Hara Arena in Trotwood, Ohio. The match was against Meng, but Sting defeated the monster after a hard-hitting battle between them.
After a 117-day reign, Vader was no longer the champion. The title was deemed vacant as of April 23rd, 1995. Next was a series of matches that led to this particular matchup —several men jocking for position to become the new champion. The road to this match was as part of a tournament to decide on a brand new WCW United States Champion. It included such names as Mr. Wonderful Paul Orndorf, Macho Man Randy Savage, Marcus Bagwell, Stunning Steve Austin, and Hacksaw Jim Duggan.
Before the match began, a video aired of all those involved in the United States Championship tournament. Quickly followed by Col Rob Parker with Meng addressing their upcoming matchup with Sting. Parker says that Sting will be in for the fight of his life; regardless of what he knows going into this match, he will need to know a little more. Tonight is the night to put the title around Meng's waist.
This was followed up by a separate interview between Mean Gene Okerlund and Sting. Before the days of the dark and brooding Sting, we had the surfer Stinger that brought a lot of high energy to his promos and this was no different. He came in focused on what he had to do in his upcoming match with Meng.
Before The Match
'You've got Col Parker…Col Parker talking about how far he has traveled to get here, and he's not going to leave here with nothing. Well, you are talking to the Stinger I've traveled a long way myself, Col Parker. And then you've got Meng, I've spent years here years at WCW paying dues learning the hard way against some of the best wrestling has to offer, and I am still here. I have been Champion, US, Television, and World on quite a few different occasions, so I know what to expect. The question is do you know what to expect…maybe not…
– 
Sting on facing Meng for the WCW United States Champion
Parker led Meng to the ring, coming into the match weighing over 300 lbs. Over the years, Meng's size grew, as did the reputation of his toughness. He is legitimately one of the toughest men in wrestling history, and this match would help to further that. With an over 50-pound weight difference between them, Sting would then would proceed to the ring. Fans in attendance were universally behind the Stinger. As soon as the bell rang, Meng immediately got the jump on Sting. The focus early on was on his upper body. The monster Meng then transitions into a modified Tongan Death Grip around the throat of Sting.
 Meng is relentless
Meng then transitions into repeated kicks to the midsection of Sting. Sting would attempt to mount an offense, but it appeared as though Meng wouldn't relent. For every kick, punch, or chop, Meng was able to absorb this punishment. Meng would once again continue to work on the neck and back of Sting. However, as Sting would return the favor, he would again resume his offense by fighting off the monster. Once the match made its way to the outside, Meng resumed control beating down Sting with kicks, chops, and as they say 'knife-edge chops.'
Meng appears to stalk Sting, standing over the beaten and battered body of the Stinger. Tony Schiavone reminded fans that a win here by Sting wouldn't be his first US Championship. Meng was relentless as he controlled the action early on in this matchup.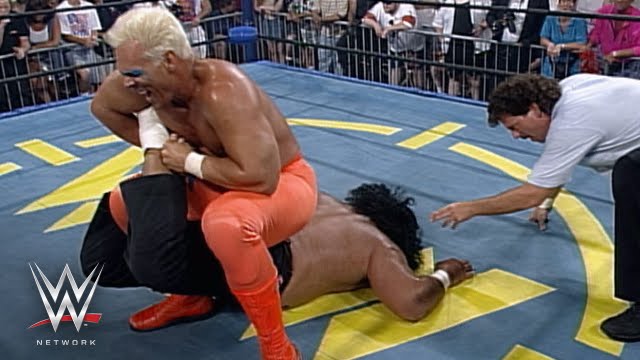 As the match reached its closing moments, we see Sting mount a comeback, attempting to work over the bigger man. Could he eventually take the big man off his feet? Meng once again fights off Sting's best efforts. In a test of wills, both men hit opposing ropes with Sting hitting a leaping lariat on Meng, knocking the big man down. Sting then clotheslines Meng over the top rope to the floor. Col Parker attempts to get involved, but Sting thwarts those efforts. After rolling Meng back into the ring, Sting locks in the Scorpion Deathlock on Meng, but he gets out of it! Sting follows up with a top rope clothesline knocking Meng down. He follows this up with a jumping DDT and a pinfall for a 1…2…3
Sting Wins The WCW US Championship