When people think of  'the longest wrestling PPV ever', the first name that usually comes to mind is (pre-COVID) WrestleMania. Before the pandemic hit, WWE's approach to its annual spectacle was to stretch it out as much as possible. After all, the company was no longer beholden to PPV providers, so who was to tell them to stop shoving so much content onto a single show?
But even though WrestleMania 35 is the longest WWE show in history, it isn't the longest wrestling show ever. That honor goes to an event that took place twenty-five years prior, and it's the show we're revisiting today, on its 27th anniversary.
It's a show called Big Egg Wrestling Universe.
Big Egg Wrestling Universe was, and still is, a record-breaking wrestling event. It holds the record for the longest overall show, clocking at over ten hours long. Why did it go that long? Because it featured twenty-three matches, another record that still stands to this day. But those aren't the only reasons the show was so famous. It was also a notable show because it was put together by All Japan Women's Pro-Wrestling (AJW), the premier women's pro-wrestling company in the world at the time.
The Longest Wrestling PPV Ever
In simpler terms, Big Egg Wrestling Universe was a bigger, longer, more extravagant, and more successful version of WWE Evolution in 2018 and NWA EmPowerrr before those shows were even on the drawing board.
When it first took place, BEWU shattered records. Even though Joshi wrestling was more niche than men's wrestling in Japan, AJW still managed to get 42,500 fans into the Tokyo Dome (a.k.a. The Egg Dome, hence the show name). As if that weren't impressive enough, when all was said and done, the show was said to have grossed around the equivalent of $8 million US.
That was more than some of the early WrestleManias. And this was for a company that didn't have PPVs. This was a live show, with interest spread through traditional word of mouth and through old-school promotion methods.
Naturally, thinking about such a long event, one must ask themselves, 'how would they keep fans interested for over ten hours?' Luckily AJW had a creative answer to this question.
BEWU didn't just feature AJW wrestlers; it also included women from other promotions as well. And the card didn't just have professional wrestling matches on it; there were other combat sports contests on as well. There were even special attraction matches, one of which featured male wrestlers and another featuring dwarf wrestlers. So there was something for everyone on this show.
The undercard matches were the biggest mixed bag in terms of what was offered. They ranged from inter-promotional singles matches (GAEA vs. JWP), to the aforementioned dwarves' match (including some guy named 'Great Little Muta') to some boxing, kickboxing, shootboxing, and amateur wrestling matches.
It also included some big matches involving the women's wrestling legends and pioneers from the 1980s like Jaguar Yokota and Lioness Asuka.
Then there was the second half, which was where AJW really began to showcase their talent. Central to this part of the show was something called the V*TOP Five Star Tournament. It was basically an eight-woman tournament to crown the best woman in AJW and it featured a veritable who's who of Joshi at the time. The wrestlers involved included, among others:
Akira Hokuto
Dynamite Kansai
Kyoko Inoue
Anyone that followed women's wrestling back then or that has gone back in time to look back at the Wrestling Observer's 5-star matches has seen these names before. These women were among the best wrestlers in the world at the time, regardless of gender. And they were put together in a single tournament to see which of them was the best.
These tournament matches ended up being hands down the best matches of the night. In what has been described as a show-stealing performance, the first-round match between Aja Kong and Manami Toyota was an absolute spectacle and received an at-the-time-still-pretty-rare 5-star rating. That match can be viewed here:
The Longest Wrestling PPV Ever
But even though that match was, and to this day is largely still seen as, the best match in terms of quality, it wasn't Kong that won the whole tournament. Despite incredible performances from her, Kansai, Inoue, and others, it was Akira Hokuto that came out on top. Then again, that shouldn't come as a surprise. Hokuto was largely seen as the best women's wrestler on the planet at the time.
And even if some women could challenge her for that honor, no one could match her in terms of sheer toughness. After all, how many other women could break their neck on a second-rope Tombstone or cut their knee open and continue wrestling?
Show-closing tournament aside, there were some other surprise matches in there as well. There was a random six-man match involving wrestlers from Michinoku Pro-Wrestling. It involved the Great Sasuke, Super Delfin, and Jinsei 'Hakushi' Shinzaki. But that match served nothing more as a buffer between the tournament's first and second rounds. The other interesting match here was that WWE was involved in this show.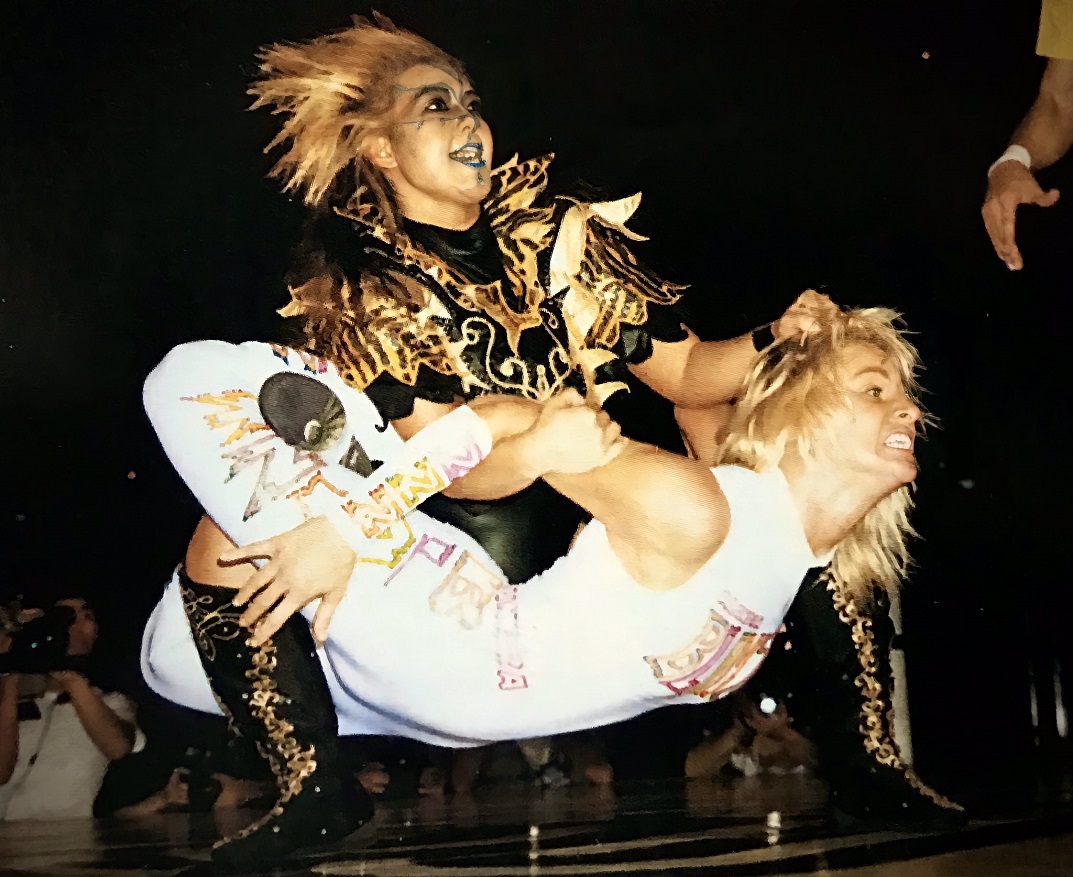 The Longest Wrestling PPV Ever
The penultimate match on the card was a WWF Women's Championship match between champion Alundra Blayze and challenger Bull Nakano. This was during that weird period before the Attitude Era when WWE had a de-facto women's division. But it lacked in terms of regular challengers and thus sent its champion elsewhere to try and elevate the title's credibility. Alas, it didn't really stick, even with Nakano winning the title and running roughshod through WWE around that time.
In a surprising stroke of good luck, the entire event is available for free on YouTube.