With this being the 30th anniversary weekend of The Undertaker's debut at Survivor Series, staff will share their memories of his time. Over the next few days, we here at ProWrestlingPost.com will come together to share their thoughts on The Undertaker. We present to you 30 Memories of The Undertaker. Today Clint Dye and Ian Abugov share memories of 20 – 11 of his time in the ring and what he meant to them.
________________
Clint Dye: This Sunday, the WWE says its final farewell to the greatest character in pro wrestling history, The Undertaker. With that in mind, I'm taking a look back at some of the best Undertaker memories and sharing them with you all…
30 Memories of The Undertaker
20. The Brawl
After his shocking, world-shattering loss to Brock Lesnar at WrestleMania XXX, The Undertaker vanished from WWE television. His eventual return to the WWE came a few months later at Battleground. That night, vengeance came in the form of a swift kick to Brock Lesnar's cojones. The following night, I was at the Sprint Center in Kansas City when Lesnar and Taker had one of the best pull-apart brawls in wrestling history. With me, that night was my 17-year-old niece, Hayley. She wasn't a wrestling fan, just tagged along after my buddy had to cancel. Paul Heyman's taunting of The Undertaker eventually brought out The Deadman, and before you knew it, the two rivals were engaged in battle once again.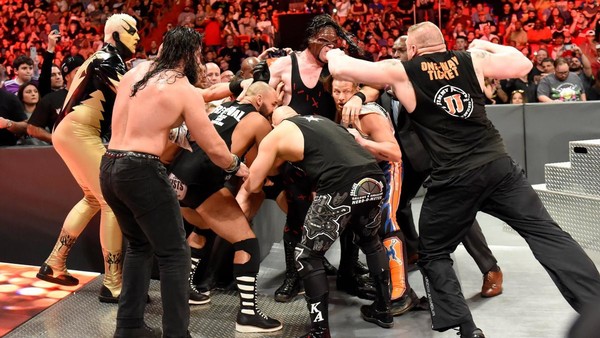 The crowd erupted when Lesnar's music hit, and the excitement continued to elevate as the brawl raged on. Triple H, in a feeble effort to stop the fight, brought out security, and the two titans easily dispatched them. Plan B was to use the entire locker room of superstars to separate the two. Chants of "Let them fight!" and "This is awesome!" rang throughout the Sprint Center. Even my niece, who was bored until this point, joined in on the chants, proving once again that when pro wrestling is done right, anyone can be hooked in.
19. Brother vs. Brother
"Kane is alive!" When Paul Bearer uttered those words, so began what I feel is the greatest WrestleMania build of all time. Throughout 1997, Paul Bearer, the one-time friend, and manager of The Undertaker, proclaimed he would get revenge on The Deadman. Bearer's threat became a reality during October's Bad Blood pay-per-view and the first-ever Hell in a Cell match. The Undertaker was well on his way to victory over Shawn Michaels when the arena's lights went down.
Fire and brimstone at the entrance ramp signaled the arrival of Kane. Vince McMahon gave us the incredible "That's gotta be Kane!" call on commentary. Kane forcefully removed the cage door before flattening his brother with a Tombstone piledriver. From here, the story developed into a legendary mythos. The Undertaker's refusal to fight his brother, Kane, was uniting with his older sibling, and then, of course, the ultimate betrayal.
At the 1998 Royal Rumble, Kane looked to be coming to his brother's aid, but once again turned on his sibling. The interference once again allowed Shawn Michaels to win, this time in a casket match.
After the match, Kane proceeded to lock his brother into the casket before setting it ablaze. Gone for a few weeks, The Undertaker made his triumphant return before WrestleMania in one of Monday Night Raw's greatest moments. The stage was set, and the two eventual Brothers of Destruction had a war at WrestleMania 14, with Undertaker winning after three tombstones. Over the years, their rivalry had its share of ups and downs, twists and turns. But nothing matched the Shakespearean beginning to their legendary feud.
30 Memories of The Undertaker
18. Classic with The Hitman
SummerSlam 1997 is known for two things. Firstly, the botched piledriver that shortened "Stone Cold" Steve Austin's career. And secondly, the classic main event WWF Championship match between Bret "The Hitman" Hart and The Undertaker, with Shawn Michaels as guest referee. If you want to see three all-time greats deliver the goods on all fronts, check out this match. The Undertaker enters as champion and Bret as the top contender. Bret and Shawn's rivalry is well documented, so adding HBK as referee just amps up the tension.
Could Shawn be an impartial ref, knowing how much he and Bret hate each other? This is close to thirty minutes of brilliant storytelling. Bret and The Undertaker had such great chemistry together, and it all stemmed from the respect they had for one another. In the end, Shawn costs The Undertaker the championship with one errant swing of a steel chair, which led to their classic rivalry. While not my #1 The Undertaker match, it's comfortably in the top five.
17. Rivals
My favorite Undertaker rivals are:
Kane – This feud tops the list.
Mankind – Before Kane, nobody put The Undertaker through as much pain and anguish as Mankind.
Shawn Michaels – From Bad Blood 1997 to their WrestleMania classics, there is no better big man/little man combination.
Brock Lesnar – The Beast was Bane to The Undertaker's Batman, even breaking The Deadman at WrestleMania XXX. The chemistry was off the charts between these two.
30 Memories of The Undertaker
16. First Farewell
This Sunday is the final farewell for The Undertaker. And only the future will tell if this is, in fact, true. But a few years ago, his farewell at WrestleMania 33 was about as storybook as you could get when saying goodbye to the greatest character in professional wrestling history.
As we all know, at WrestleMania 33, The Undertaker lost to Roman Reigns. This came off as a true passing of the torch type moment. It was a lackluster main event, filled with botched moves and a painfully slow pace. But after the match, The Undertaker seemingly said goodbye. Alone in the ring, The Undertaker slowly removed his gloves, jacket, and, most importantly, the hat that had been synonymous with his character his whole career.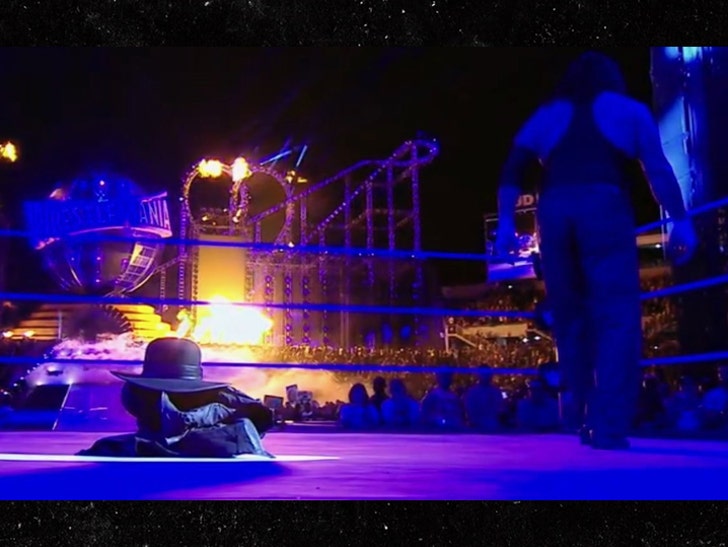 Leaving each piece of his character in the ring as he disappeared into the darkness. It was the perfect way to symbolize the end of his story. It was subtle, yet powerful, and damn-near impossible to match. That image of his gear alone in the ring in one word was iconic. After watching his WWE documentary, I get it. The Undertaker felt like he needed to go out on better terms, and that's understandable. But for me, the Undertaker's true farewell should have been WrestleMania 33.
15. An Elderly Aunt's Passion for The Phenom
Ian Abugov: My Great-Aunt Frances was a sweet diminutive woman with sparkling eyes, a warm heart, and a real sense of style. She enjoyed golfing, playing bridge and could barely be seen from behind when she drove around town in her battleship sized Buick.
At a family function many years back, a group of us were discussing wrestling. My aunt, much to our surprise, chimed in. She expressed her fascination for the Undertaker. I put her to the test and asked about this curious revelation. Turns out she knew quite a bit about the Phenom. She got hooked on the WWE very late in life, all because of the Undertaker. I realized at that moment what amazing mass appeal the character had when he could make a fan out of my prim and proper aunt. Who you could imagine sitting comfortably at a country club with a lovely pearl necklace.
One last nugget about my aunt. She really disliked Brian Pillman. Her exact quote was –
"I don't care for him at all; he has such a filthy mouth".
30 Memories of The Undertaker
14. WrestleMania 36 – Riding Off Triumphantly
Over the past few years, I have found many of Taker's matches to be cringeworthy. Even before his WM debacle with the Tribal Chief in 2017, it appeared to me that his tank was empty. Watching him perform was like watching an oldtimer's hockey game. Slow but not steady at all. Basically, botches looking for a place to happen.
That all changed in this very nightmare-like 2020 and his clash with AJ Styles. The promos leading up to this match were tremendous. It was awesome to see Taker cut excellent and dramatically compelling segments. A performer of his reputation could have merely phoned it in with the usual catchphrases and rolling of the eyes. This added a tremendous sense of intrigue to the match. And made it a lot easier to embark in the suspended reality.
The cinematic storytelling was perfectly laid out. At the end of the segment, The Undertaker's parting words were delivered with amazing dramatic acumen. The result was like a collaborative effort between Eli Roth and Quentin Tarrantino. Riding off on his motorcycle was the perfect close to a highly successful segment.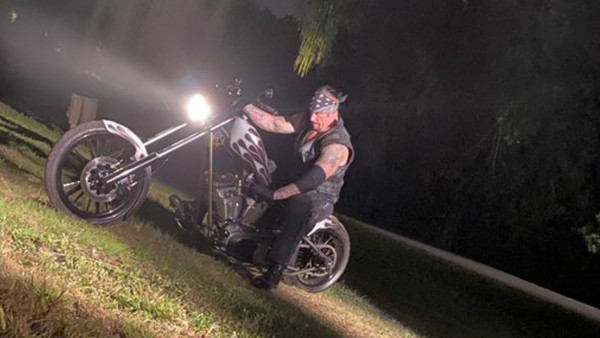 You could not ask for a better way to write the final chapter of a historic career.
13. An Eventful Last Ride
The Last Ride series turned out to be a total surprise. I decided to watch the first episode, merely out of curiosity. I had recorded it and was set up for late Sunday night viewing. In my weekly ritual, shows watched at that time are not terribly engaging or interesting. They're basically candy for the mind.
This series, though, was a very pleasant surprise. Not at all the soft toss questions I expected. Nor a collage of anecdotes about ripped tights guys devouring 48-ounce steaks. The shows gave us a candid glimpse of Mark Calaway and his unwavering devotion to the company. Contrary to what we learned from interview time with Ric Flair, Calaway portrayed his character as opposed to living it.
The price he paid to perform and participate in his craft was astounding. Even if the performances weren't necessarily what he aspired to.
It would have been acceptable for him to do a fair bit of preparation and phone in a performance. Instead, he put himself through physical torture to prepare adequately. The "start" bell would invariably go off in January. And Callaway would go beyond his limits to be at his peak. To him, major surgical interventions and months of re-hab were about as daunting as getting an oil change.
The Undertaker was his harshest critic. After grueling preparation and leaving the ring in a state of total exhaustion, the Phenom would focus on what could have been pulled off better.
We also witnessed many family moments as well with Calaway. Particularly engaging was when we learned of his brother passing away suddenly. In the last analysis, Calaway bared his soul throughout the series. We truly got to know the man behind the character.
30 Memories of The Undertaker
12. WrestleMania 26 – The Undertaker vs Shawn Michaels
Imagine headlining the biggest event of the year yet having no titles on the line. The stakes could not have been any higher for Wrestlemania 26 when The Undertaker put his undefeated streak on the line against Shawn Michaels's career. This was the second consecutive WM featuring this confrontation.
Both performers were in their mid-forties and laid it out on the line. There was excellent storytelling leading up to the match. And during the hookup too. Michaels had lost to the Taker at WM 25 and had a chip on his shoulder. He even became dangerously close to losing his smile. Michaels exacted a measure of revenge when he helped Chris Jericho capture the championship from The Undertaker. A little bit of the bubbly perhaps sweetening the lingering taste of sour grapes.
Michaels lobbied for a rematch in Arizona, but his pleading fell on deaf ears. HBK snapped. Taking out both Charles Robinson and Teddy Long, the match was agreed upon. But with the following stipulations. It would be a no DQ, no count-out affair. If HBK were to lose, he would be forced into retirement.
The contest went over 30 minutes and featured some very high drama. Both competitors used their finishing moves repeatedly but to no avail. Taker injured his ankle on a missed kick. Michaels followed the convention of working over the injured body part.
Michaels was eventually put down with a Tombstone Piledriver. The multi-time champion who claimed he wouldn't lay down for anybody did so for arguably the greatest of all time.
30 Memories of The Undertaker
11. Superstars Debut Match – December 15th,1990
Survivor Series saw The Undertaker match up with a brochette of legends where he certainly turned heads. Talk about a passing of the torch when in your very first appearance, you hook up with Dusty Rhodes.
Thirty years ago, primetime weekly network WWE broadcasts did not exist. Instead, the federation sold its syndicated Superstars to different stations. Which usually showed them either at noon on Saturday or late night Saturday/Sunday. Those of us who go way back in time will remember the theme music being Elton John's "Momma Can't Buy You, Love". And Vince's famous sentence read with auctioneer speed "The following wrestling EXHIBITION requires participatory viewer discretion". We saw this as the beginning of the end of Kayfabe.
Superstars would feature squash matches primarily. With perhaps one close to even contest per week. It would always have Vince comment, "Well, this is a highly competitive match up."
The Undertaker kicked his television career off with a three-minute dissection of Mario Mancini. The latter appeared almost weekly as an enhancement performer. Mancini, to my recollection, was the only wrestler I saw as being billed from Rhode Island. There's a Final Jeopardy contest looking for a place to happen.
30 Memories of The Undertaker
The match was completely one-sided. Mancini did not even get in the time-honored fruitless and weak punch to the gut. Brother Love led Taker to the ring but was less red and his accent less thick than what we became accustomed to. The Phenom was introduced as Kain the Undertaker. He performed his usual move set, which included walking across the top rope and the Tombstone Piledriver as his finishing move. He, like he always did, took care of his opponents while making every move look credible. It was this elusive balance that he was able to refine further over his best years.
Overall, greatness is often a collection of small and intricate details. These were shown to the best of his ability over three decades and on the grandest of stages as we recall 30 Memories of The Undertaker.
________________
Keep with us here at ProWrestlingPost.com. There will be more memories from the staff tomorrow for part three of 30 Memories of The Undertaker.